There are countless options to consider if you're planning a visit to Universal Studios, but renting a vacation home gives you even more value, space, and privacy. Our guide below to the best Airbnbs near Universal Studios, Orlando, should get you started!
Packed with rides, gastronomy, entertainment, and shops, Universal Studios is a true touristic hotspot. The most popular rides and attractions at Universal Studios Orlando include The Wizarding World of Harry Potter, the Hollywood Rip Ride Rockit rollercoaster, and the Jurassic Park River Adventure.
Here Are The 8 Best Airbnb Near Islands Of Adventure, Orlando
The 8 Best Orlando VRBO Rentals Near Walt Disney World Florida
The 8 Best Orlando Airbnb Homes Near Disney World, Orlando
The 8 Best Airbnb Spots Near SeaWorld, Orlando
If you want to enjoy more of a home-away-from-home feeling during your Orlando vacation, why not think about choosing one the many rentals close to the theme parks themselves? We found eight of the best Airbnbs near Universal Studios, Orlando.
A Family Home Harry Potter Would Love, By Universal Studios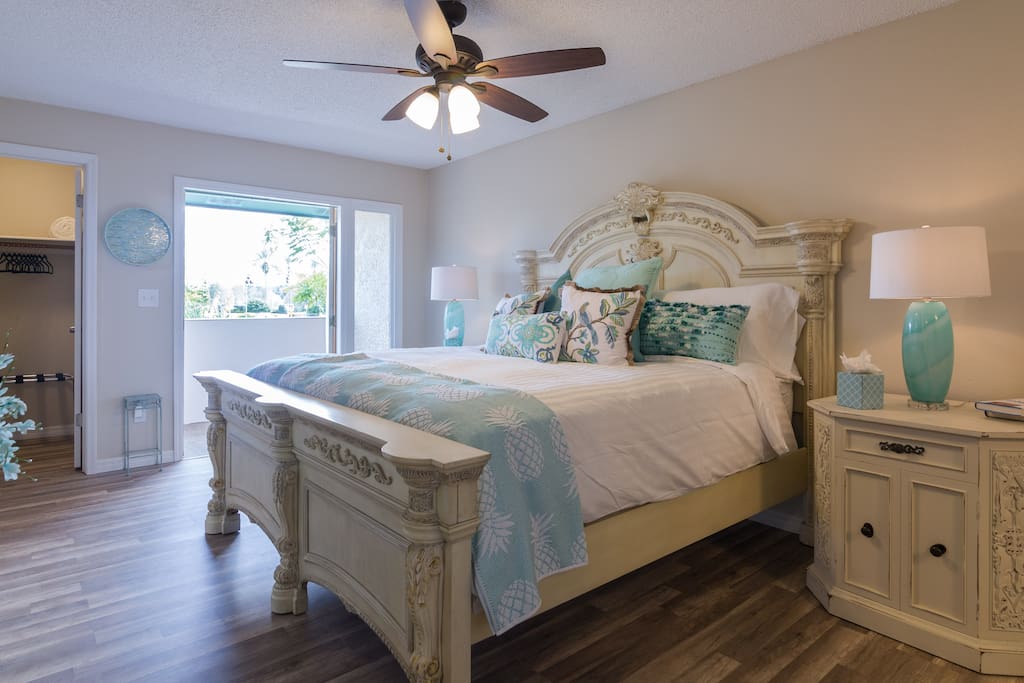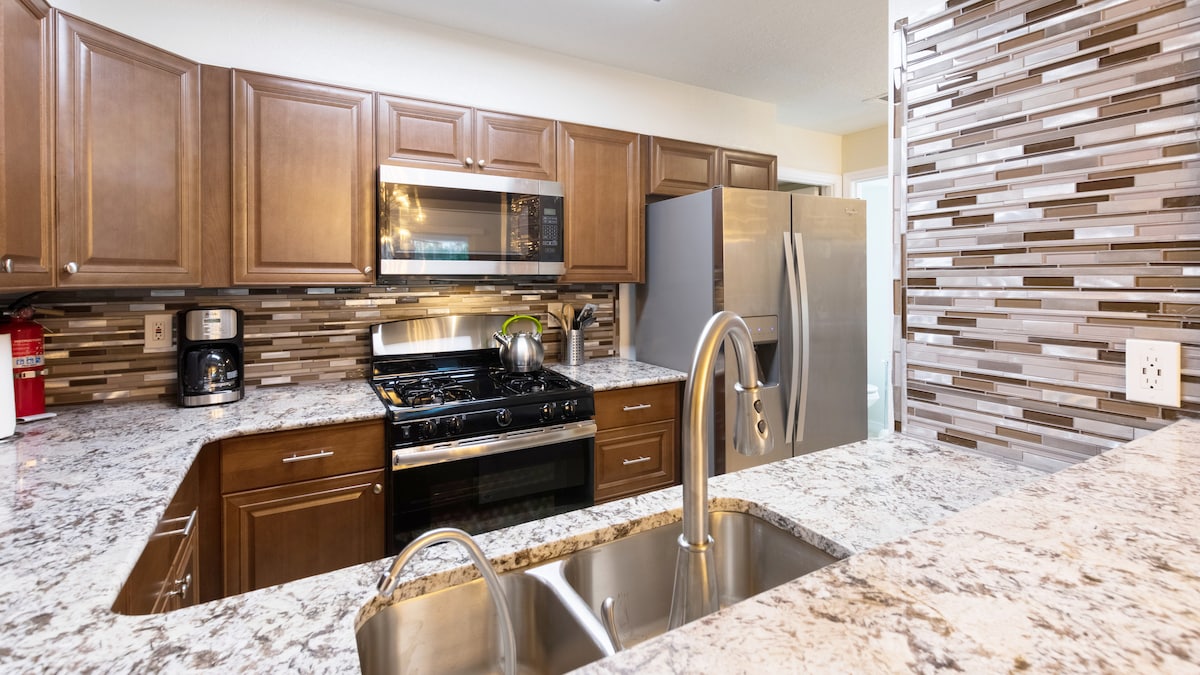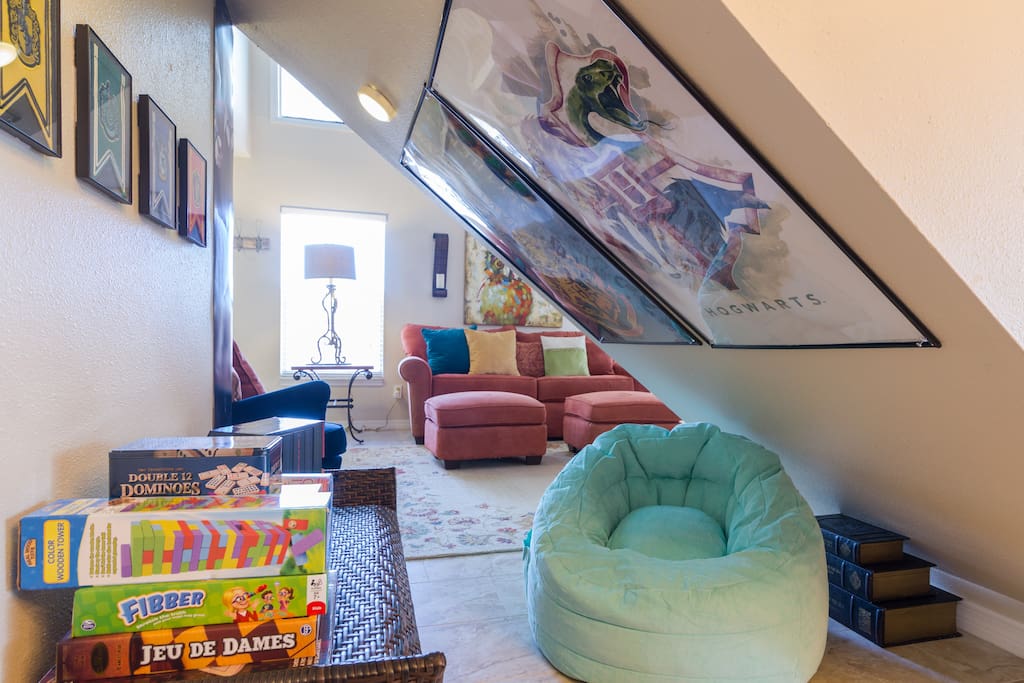 Perfect for a family who wants to enjoy Universal Studios, then head home in comfort at the end of the day. This spacious family home in Orlando is the ideal choice, nicely appointed with several fun and quirky amenities perfect for families. Situated right on the edge of Universal Studios, you can look out the windows and see the rides!
With space for up to nine guests, this house has three large bedrooms and two bathrooms, perfect for a family of up to 9 guests. One of our favorite features is the "reading nook" created under the stairs — a step up from Harry Potter's cupboard bedroom — and filled with games, toys, and inspiring books for the kids. Outside, the large fenced backyard is great for letting the kids roam freely while an outdoor fireplace is perfect for cozy, cooler evenings. This family-friendly house features a fully-equipped kitchen, wifi, and parking, as well as countless restaurants and shops within easy reach. All this from just $220 a night is a great value!
Large Luxury Suite Just 5 Minutes From Universal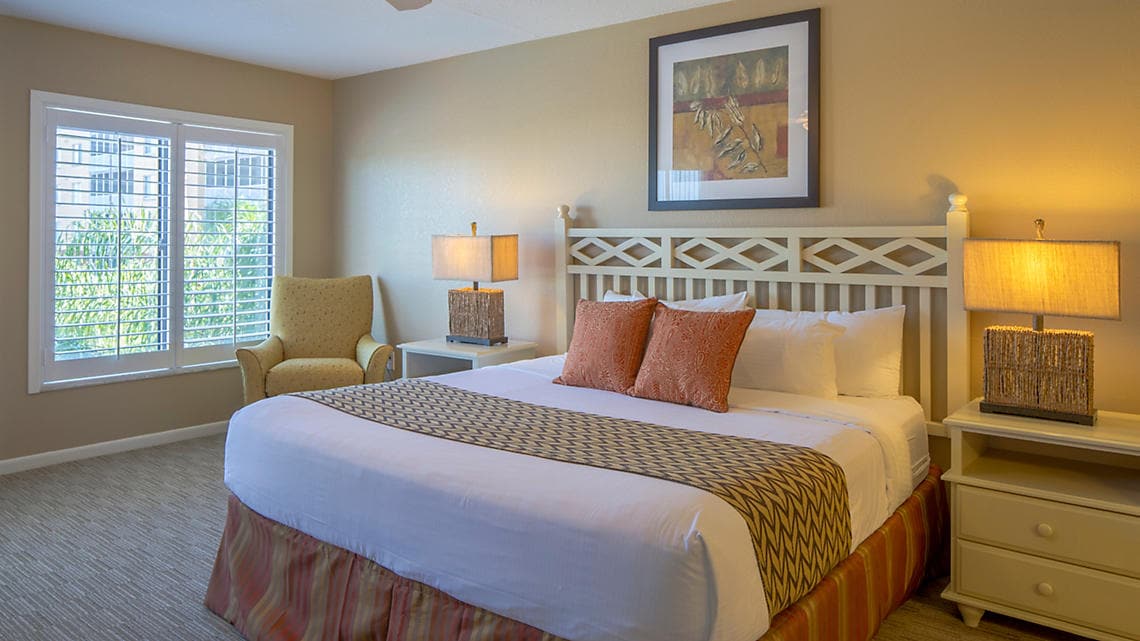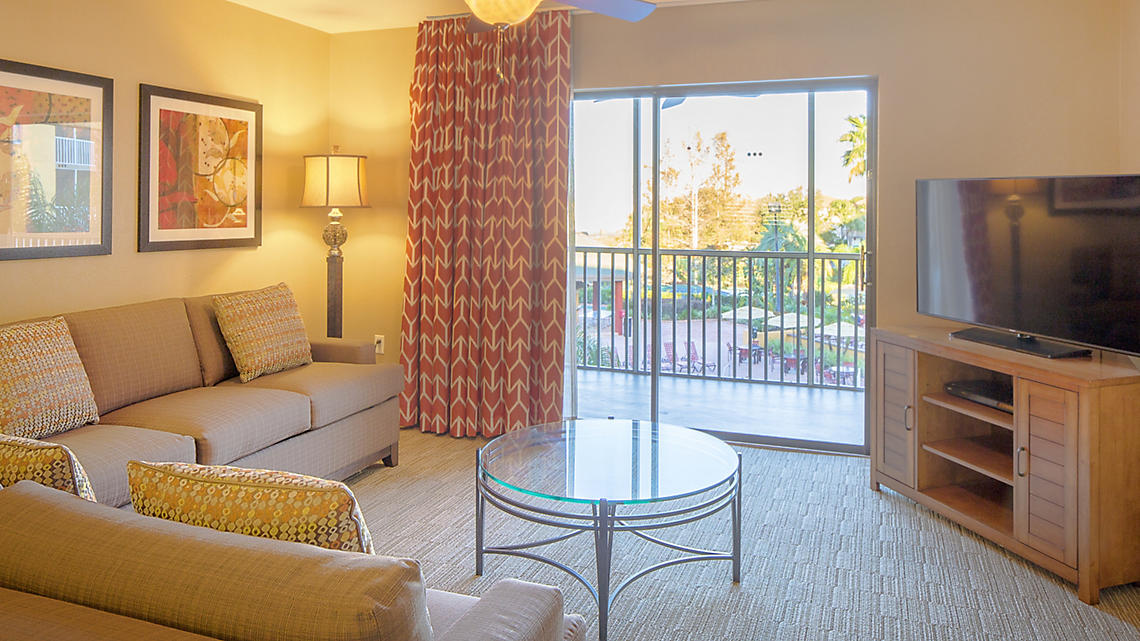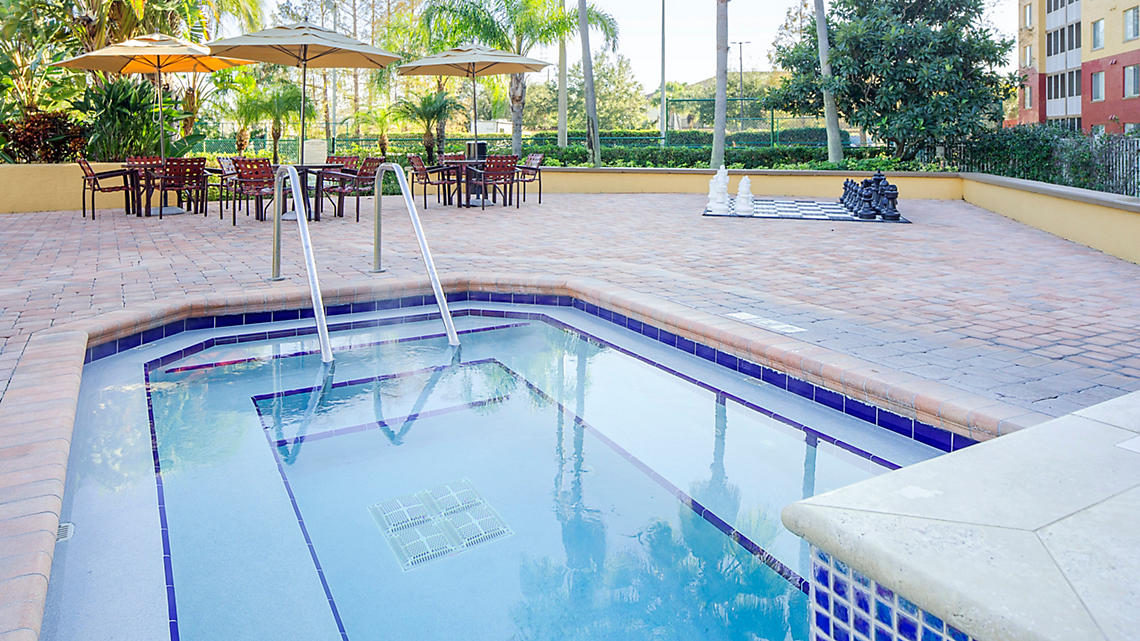 For those who literally don't want to travel more than five minutes to reach the fun of Universal Studios, this two-bedroom luxury condo in Orlando is a perfect choice. With space to accommodate 6-8 people, there are two large bedrooms, two bathrooms, and plenty of space to roam.
This large and modern Orlando condo also features a private swimming pool, and plenty of other resort-style amenities on-site. This spacious condo-style suite includes free parking and free wifi with a fully equipped kitchen and elevator access. At just over $220 a night, this is the ideal property for a small family looking to stay close to Universal Studios.
Lakeside Condo With Tropical Vibe Near Theme Parks
Book this beautiful lakeside luxury condo for up to 8 guests, ideal for families looking to visit Universal Studios and other Orlando theme parks. Boasting generous lake views and high-end amenities, this luxurious condo is a relaxing retreat just minutes from all the action. There are four bedrooms and two bathrooms, as well as a lovely balcony overlooking the lake, perfect for chilling in the evening.
The kitchen is fully equipped with everything you could possibly need, but there are also many restaurants within walking distance too! The complex's large resort-style swimming pool and terrace area are perfect for swimming and sunbathing in style. The condo itself has a large living room with flat screen TV and cable channels, ready for a peaceful evening spent together as a family.
Stylish And Modern 3-Bedroom Penthouse In Orlando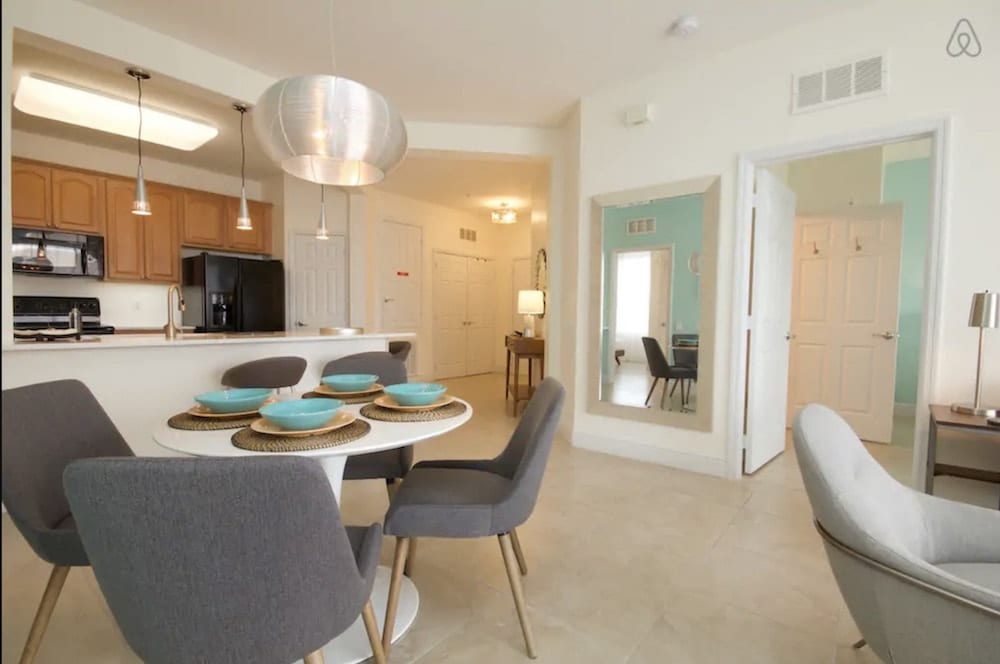 One of the best Airbnbs near Universal Studios, Orlando is this stylish new penthouse apartment for 6 guests. Located in the secure, gated Vista Cay Resort complex, this newly renovated penthouse apartment is just a short drive from Universal Studios and many other Orlando attractions. Perfect for a group of style-conscious friends or three couples, this Orlando vacation rental is a great value at around $220 a night.
The condo is nicely equipped with a fully-fitted kitchen with quartz countertops, stainless steel appliances, and a breakfast bar. Admire the dreamy Florida sunsets from your private balcony, just off the living room. The three bedrooms are bright and beautiful, each with a comfy queen-sized bed. The condo also has free on-site parking, making it easy to get to Universal Studios and even further afield.
Lovely Family Home With Pool, 7 Minutes To Universal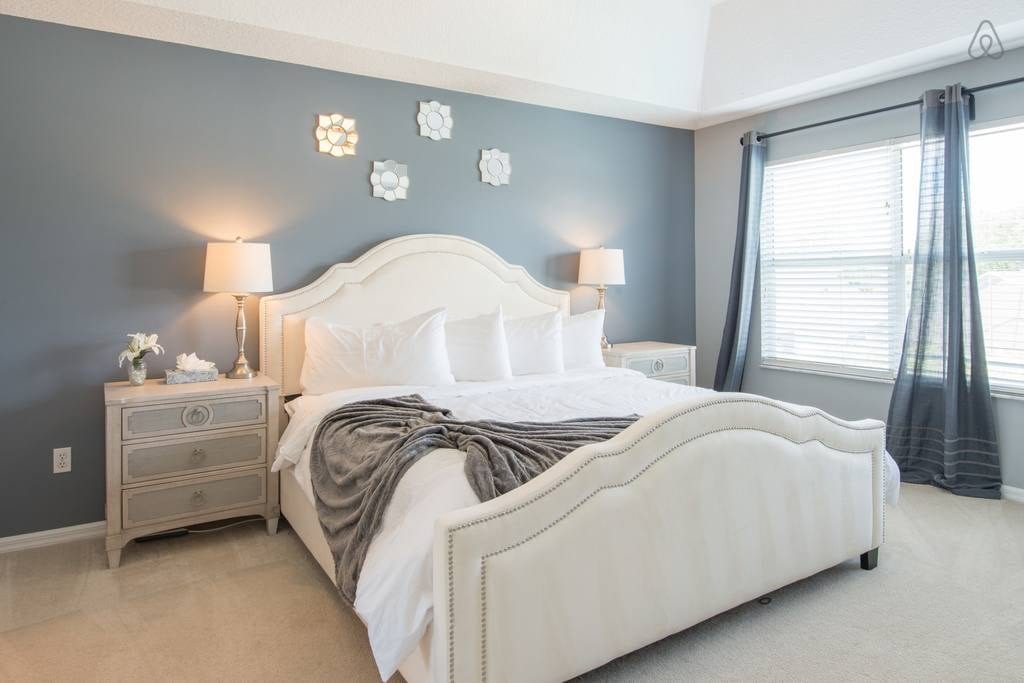 Live like a local in Orlando when you book this lavish family vacation rental with pool near Universal Studios. Available from just $199 a night, this lovely family home is just a 7-minute drive from Universal, in a quiet residential neighborhood. The home can accommodate up to 8 guests easily, with four big bedrooms and 2.5 bathrooms.
Beautifully decorated in a fresh, modern style, this luxurious home features a sparkling kitchen with high-end stainless steel appliances and granite countertops. The large living room is a comfortable place to unwind after a long day spent exploring the theme parks, while a generous backyard with a huge private swimming pool will surely be a hit with the kids!
Renovated Downtown Orlando Bungalow With Pool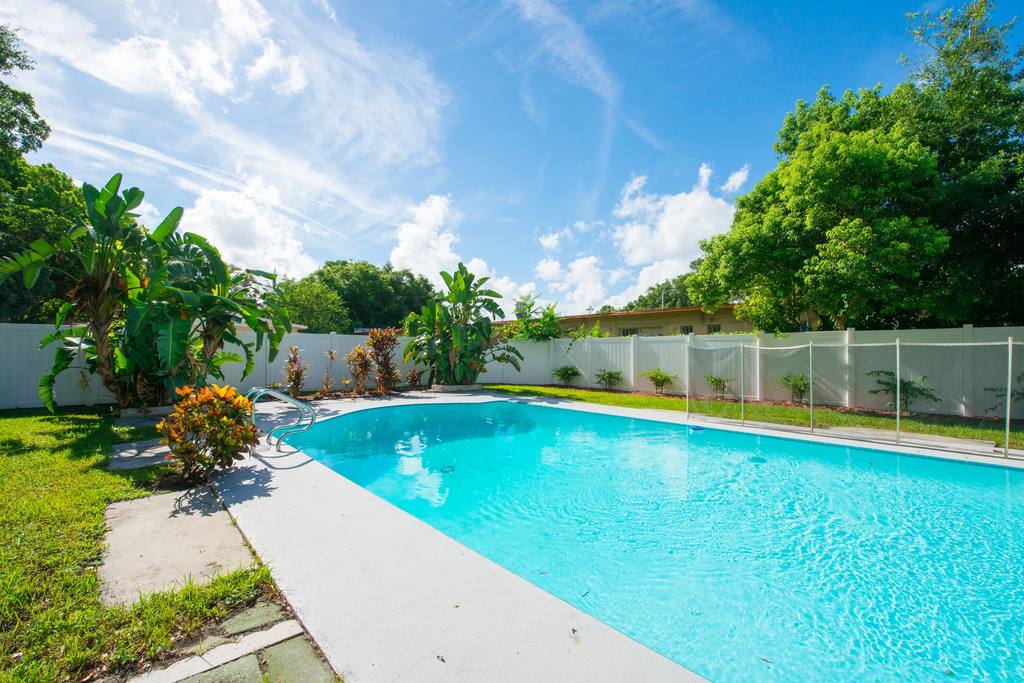 Get away from the madness of I-Drive and venture into one of Downtown Orlando's most charming streets. With the park entrance just a 13-minute drive away, this renovated mid-century bungalow near Delaney Park could be one of the best Orlando Airbnbs near Universal Studios. Available from around $179 a night, this three bedroom, three bathroom charmer is a great find.
Up to 6 guests can stay here in casual comfort, making this a great vacation rental choice for a group of friends or small family. Beautifully renovated to exacting standards, the home features high-end amenities, tons of natural light, and plenty of space for everyone to stretch out in style. The large, fenced backyard is great for kids while the enormous private swimming pool is fun for all ages!
Hip, Industrial Studio Loft In Downtown Orlando
If you have more than just a visit to Universal Studios on your itinerary, this hip and stylish Downtown Orlando loft might be the perfect vacation rental for you! Universal Studios is just a 20-minute drive away, but solo travelers and couples might prefer the appeal of staying right in the heart of downtown. This upscale studio loft is best suited for a single or couple but can accommodate up to 4 guests in total.
Close to lovely Lake Eola and the hip Milk District, this spacious loft is steps away from many of Orlando's best restaurants, nightlife, shopping, and art. You'll love the bright and airy open-concept floor plan, complete with high-end appliances, boho decor, and industrial loft-like ceilings.
Luxury Downtown Penthouse, 15 Minutes To Universal
One thing we love about Universal Studios is just how close it really is to Downtown Orlando! This sleek and sexy, luxury penthouse rental gets you the both of both worlds: a hip, downtown location with just a 15-minute drive to Universal. If you have the budget, it can be all yours from just around $1,000 a night.
This jaw-dropping penthouse has three bedrooms and 2.5 bathrooms but can accommodate up to 8 thanks to single daybeds in the living space. Enjoy sweeping city views from floor-to-ceiling glass windows in the open-concept living space. The opulent design includes tons of sleek, black furnishings, giving the space a sexy vibe without feeling dark or closed-off at all. The complex also has a fantastic swimming pool and fitness center available for guests to use, included in the price, of course!