These are the best Airbnb homes in Cambria! Between glammed-up L.A. and uber-sophisticated San Francisco, California can sometimes feel a bit extreme.
Luckily, the towns of central California feel like a great mix of the two. It's not a place where one should expect custom spas or the latest Bose sound system in every house (think more along the lines of board games and places to curl up and read), but you can certainly look forward to stunning coastline, clean air, quirky characters, great food, a slow pace, and a really, really good time.
5 of the best Airbnb homes in Huntington Beach, California
The 6 best Airbnb homes in Santa Cruz, California!
From tiny houses to estates that will allow for Hearst-level parties, here are 8 fabulous Cambria Airbnb homes.
The Big House – Approximately $829 a night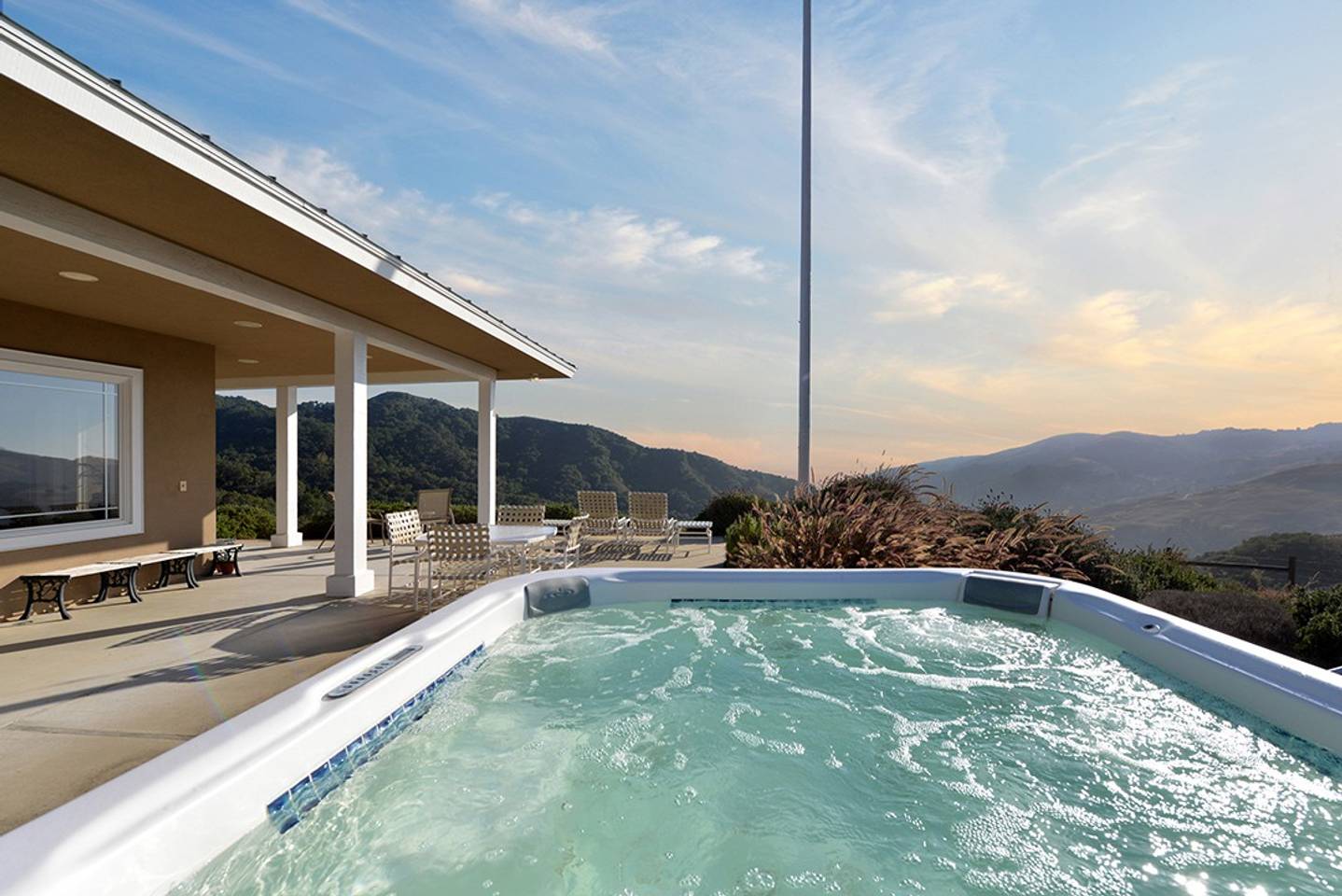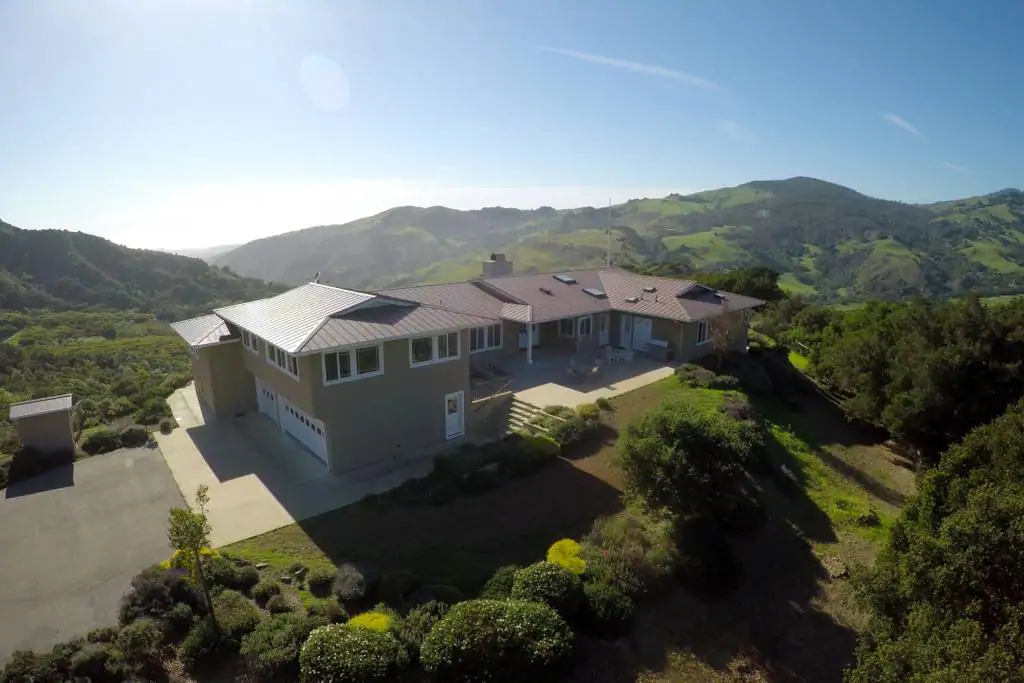 Looking for a place that can accommodate a large group? Situated on a 470-acre ranch, this sick, five-bedroom, four-bath ranch house known as "The Big House," is perched so high you'll actually be above the clouds.
With views of the Santa Lucia mountains as well as the Pacific Ocean that are just not to be believed, you'll probably spend 90% of your time outside, but just in case you decide to come in at some point, there's a huge game room with a pool table, ping pong table, and big screen TV.
There's also a fireplace, fully equipped chef's kitchen with Viking range, two refrigerators, two ovens, and no less than three sinks. The dining area is equally as impressive with a large dining table and gorgeous picture windows.
Outside, there's a hot tub and plenty of room for entertaining. And as a guest, you're welcome to roam the ranch where you're sure to run into a few pigs and even cattle. If this doesn't give you a Hearst-like experience, nothing will!
Elevation – approximately $298 a night

Like Hearst Castle nearby, this three-floor Airbnb has its own elevator and while you can't rent the castle, you can rent this amazing three-bedroom property.
The views of the Pacific Ocean are so incredible here that you can actually witness migrating whales from the living room window and the master bedroom even has a private deck, so you can keep track of the surf and the sky all day and all night.
Just steps from the legendary coastline, when you're not inside watching the wildlife, you can be outside, enjoying it up close and personal. In addition to windows for days, there are also several skylights which give the house such a happy feel.
There's also high-speed wifi, but frankly, we recommend you pretend there isn't and head down to Main Street (yes, that's the name of the main drag here. We told you Cambria was adorable!), and maybe grab breakfast at Lilly's or dinner at Linn's.
If you happen to be with kids, Linn's has a cute little gift shop for some good-behavior rewards.
Huntington House Airbnb – approx. $468 a night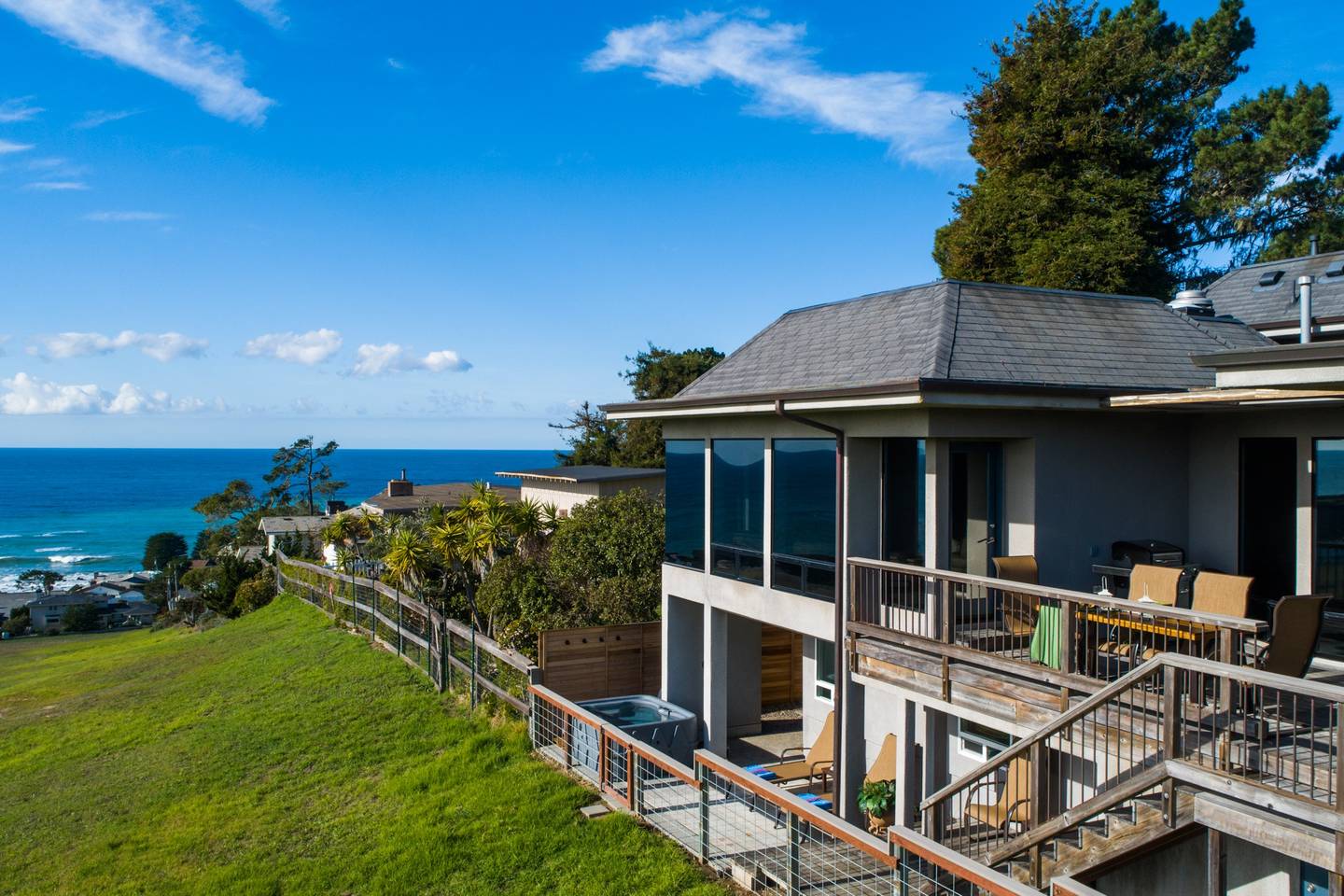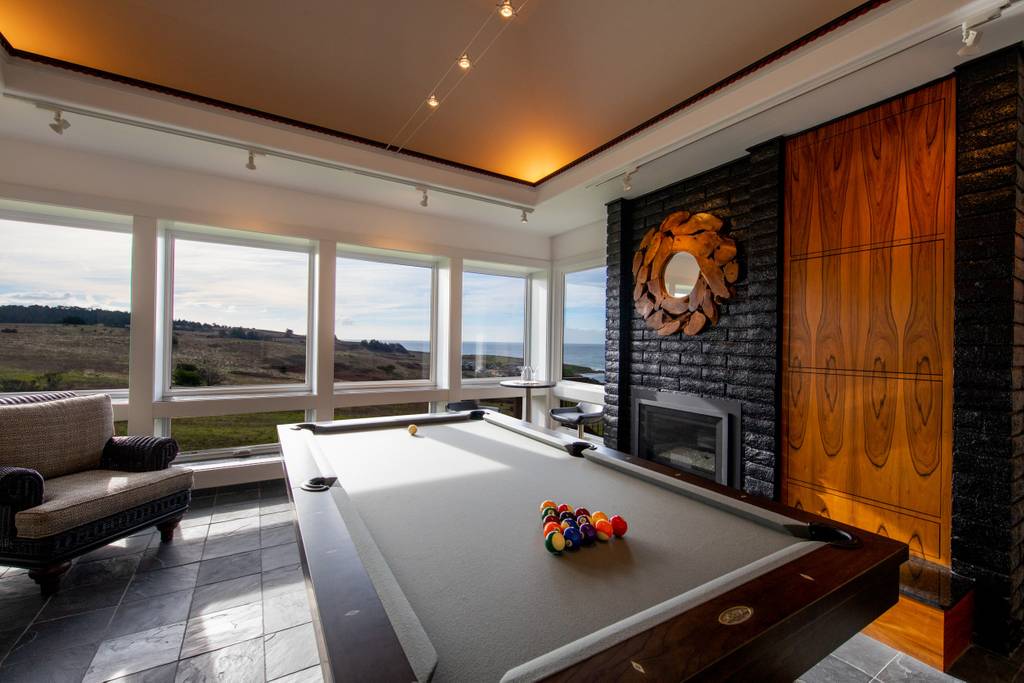 While it's definitely not the place to bring a family (waaaay too many pieces of art here), this three-bedroom Airbnb is a pretty fabulous place to stay in Cambria (especially if you're staying a while as they offer discounts on weekly and monthly stays).
Newly renovated, this 3,400 square-foot house includes all kinds of fun extras like a gourmet kitchen, sunken jacuzzi, private outdoor patio, billiard table, two separate laundry areas, gas fireplace, double head shower and get this: a rotating electric closet!!!
There are also five TVs in the house, but we really don't know why you'd watch them with all that beautiful ocean in front of you. Instead of catching up on GOT, why don't you head over to nearby Fiscalini Ranch Preserve and take a hike or bicycle ride or download the list of local birds from their website and see how many you can spot?
Sea Spray – approx. $760 a night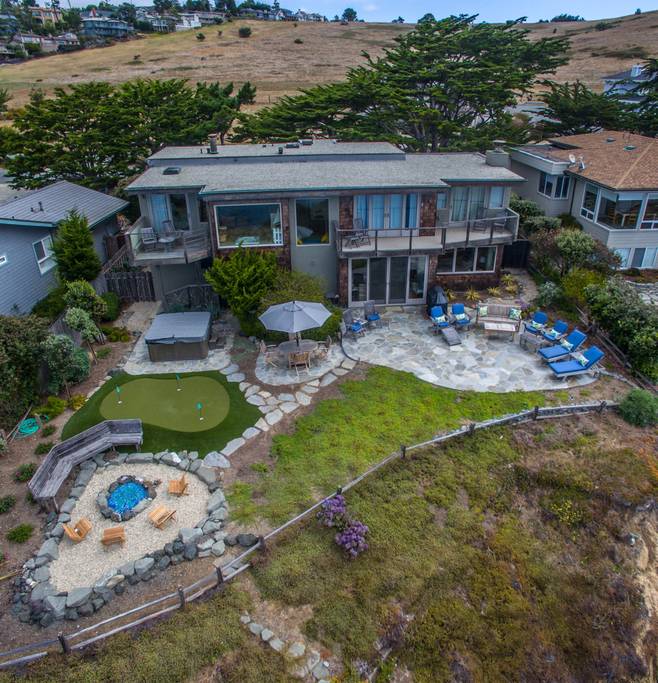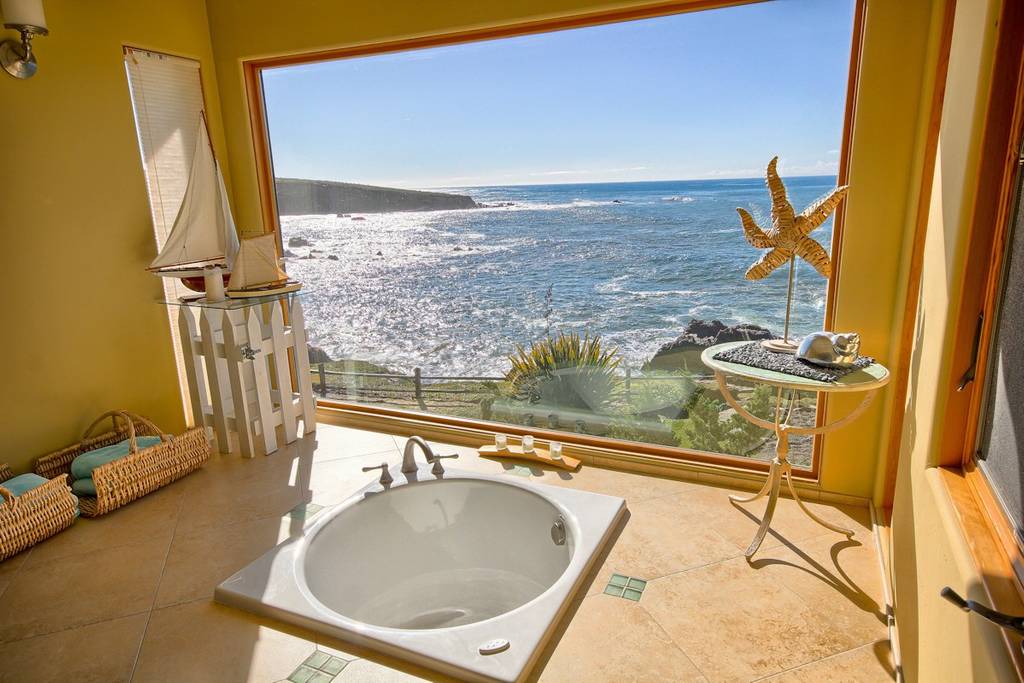 We don't know about you, but one session spent in that hot tub, looking out on to the ocean and you'd have to pry our dead bodies out to make us leave.
Seriously, between that and the little reading nook, it's amazing the hosts of this incredible Cambria Airbnb are willing to leave long enough to let someone stay there. Recently remodeled, this home is in the exclusive SeaClift Estates area and features amenities like a small putting green, multiple outdoor sitting areas, a stunning fire pit, and views of the Pacific from every possible angle.
Although you could easily spend all your time here, we strongly recommend you get out and have a glass of wine at nearby Hearst Winery and whatever you do, you MUST have a burger at Sebastian's. Vegetarians take note: they also have a GREAT veggie burgers!!!
The Mermaid – approx. $705 a night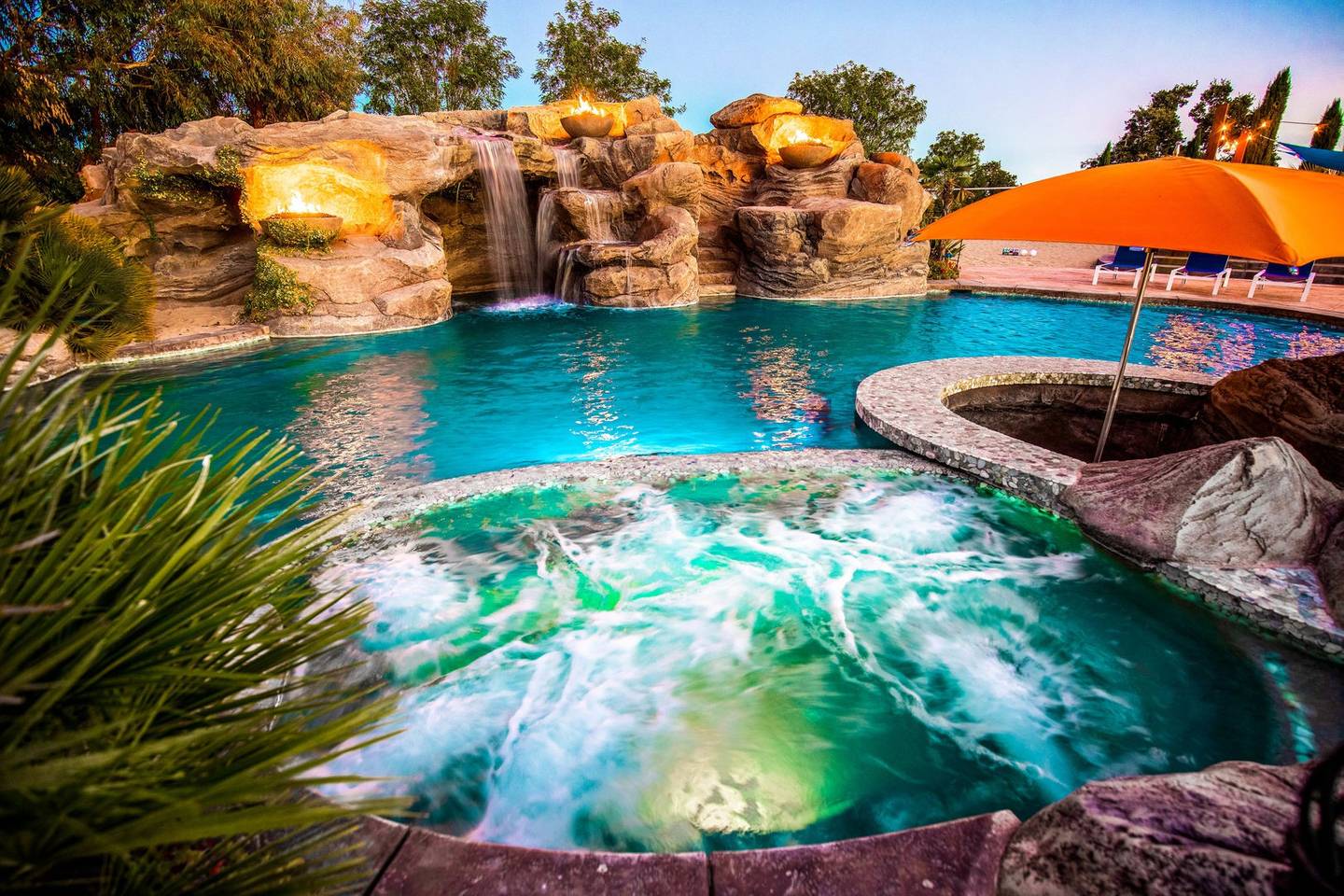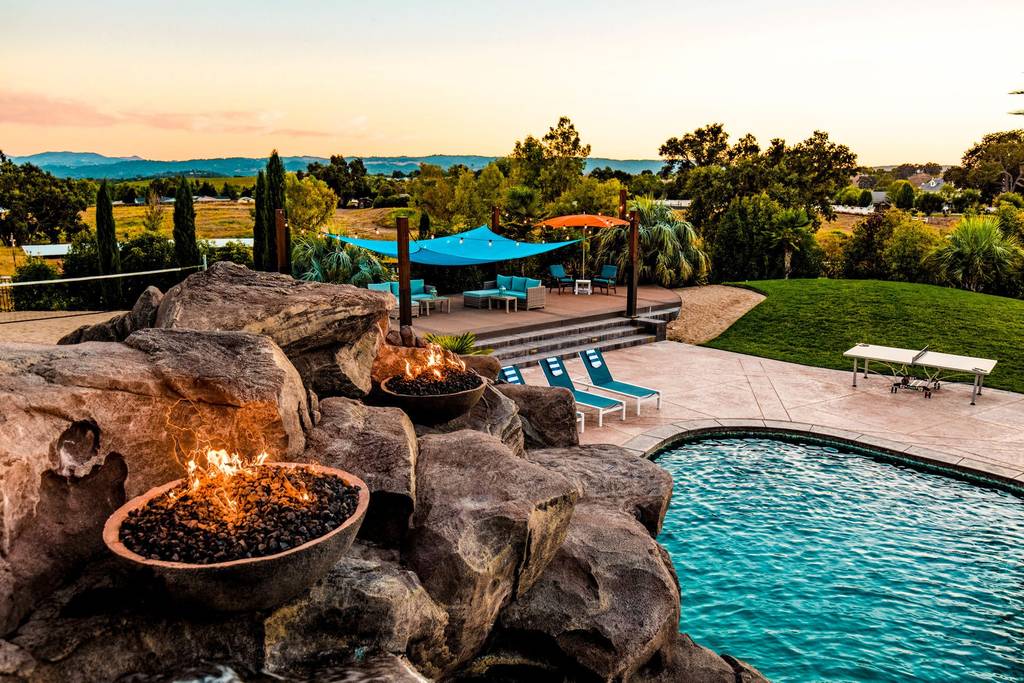 Well, just as Hearst had his toys, this Paso Robles Airbnb has more toys to play with than a toy store.
Between the air hockey, the Golden Tee video golf game, Dance, Dance Revolution, the two "smart" TVs, the sand volleyball court, the horseshoes, the pool with the swim-up bar, the heated floors, the bocce and shuffleboard courts, the giant air hockey table, the indoor bar, and a giant fish tank so big it was featured on HGTV's "Tanked," you're going to have a lot to keep you occupied.
There are a lot of other great features like a hot tub with a view out of a magazine and things like wall murals, but they're literally too numerous to mention. Parents: You're going to be the coolest parents on the block if you book this Airbnb!
Moonstone Retreat Cambria Airbnb – approx. $684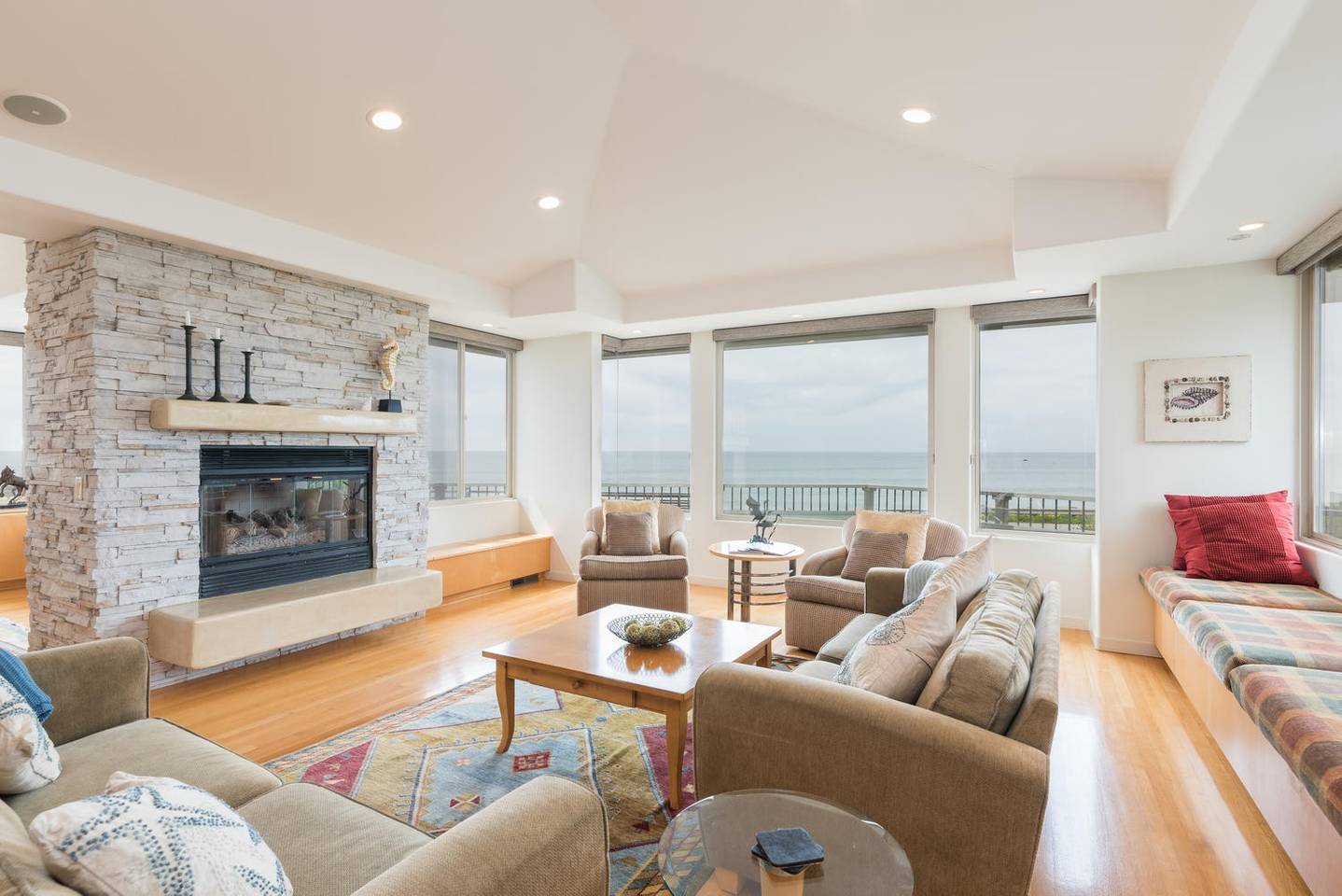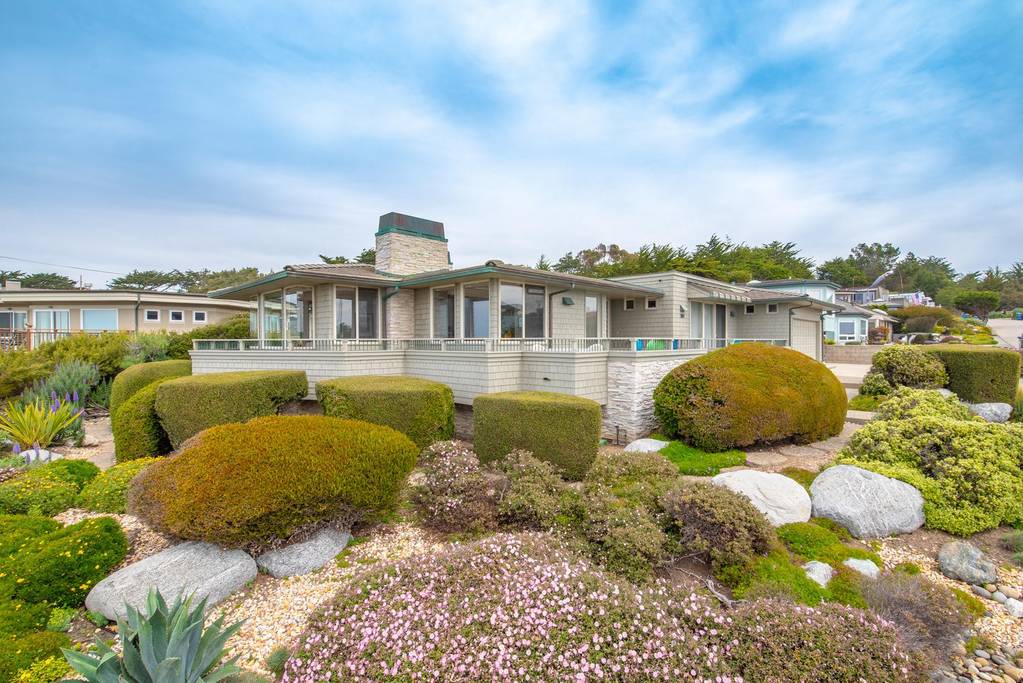 Sometimes, less is more, especially when you're traveling with kids and this Cambria Airbnb is a perfect example of that.
Simple, but with everything you need, this three-bedroom house offers 180° views of the ocean from the deck. A single-story house (so no worrying about little ones falling down stairs), this home has a spacious living area, large bathrooms will full bathtubs, and a massive laundry room!
When you go into town, we strongly recommend Creekside Gardens for breakfast and Indigo Moon for dinner (they actually have a great kids' menu). We also think kids will love a store called Spellbound which has all kinds of cute little fairy terrarium goods and a cool potpourri room where you can mix your own potpourri.
We also recommend the shops at the Garden Shed, a small shopping complex with a great mix of contemporary stores.
Best Airbnb in Cambria: Inn Above Tide – approx. $468 a night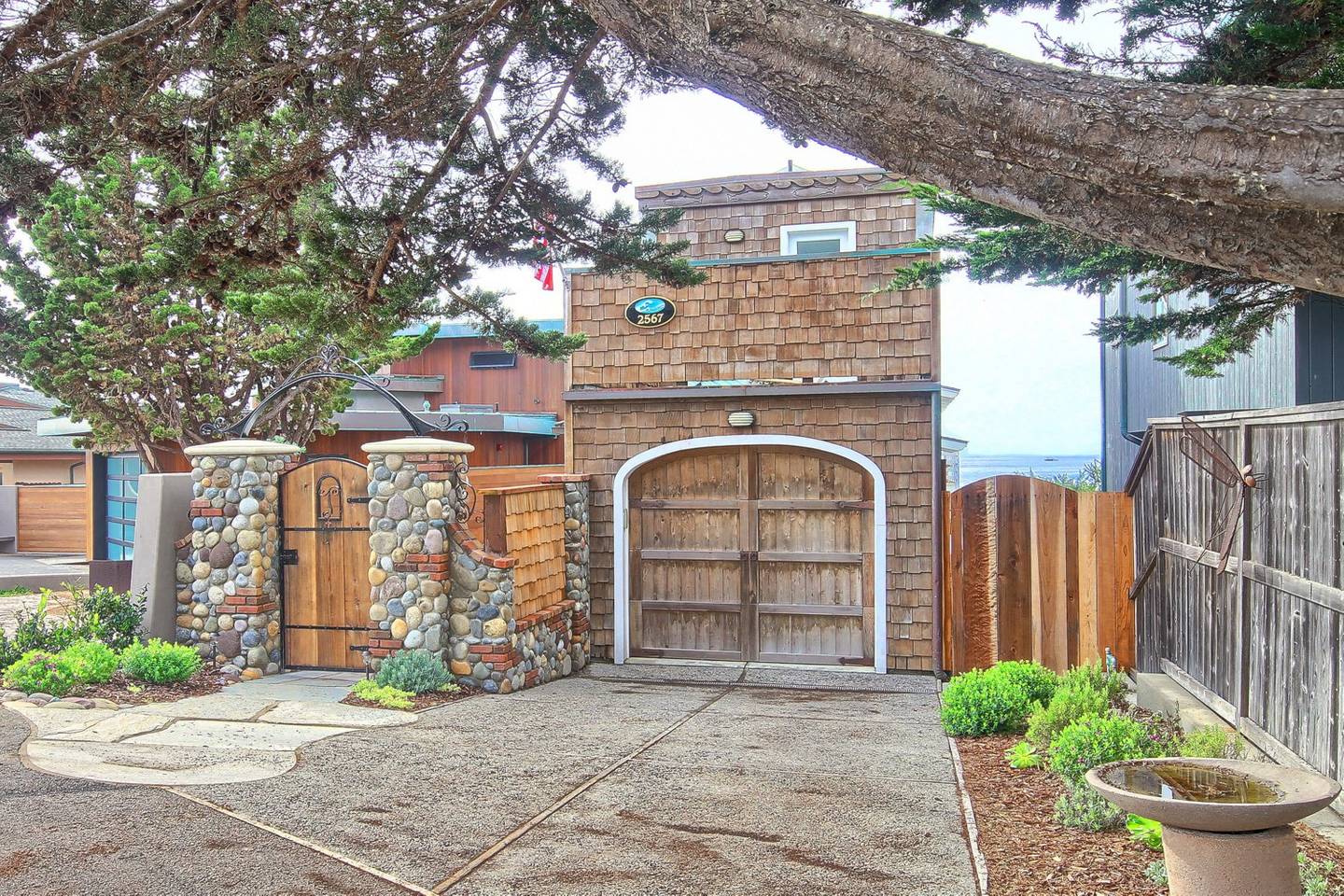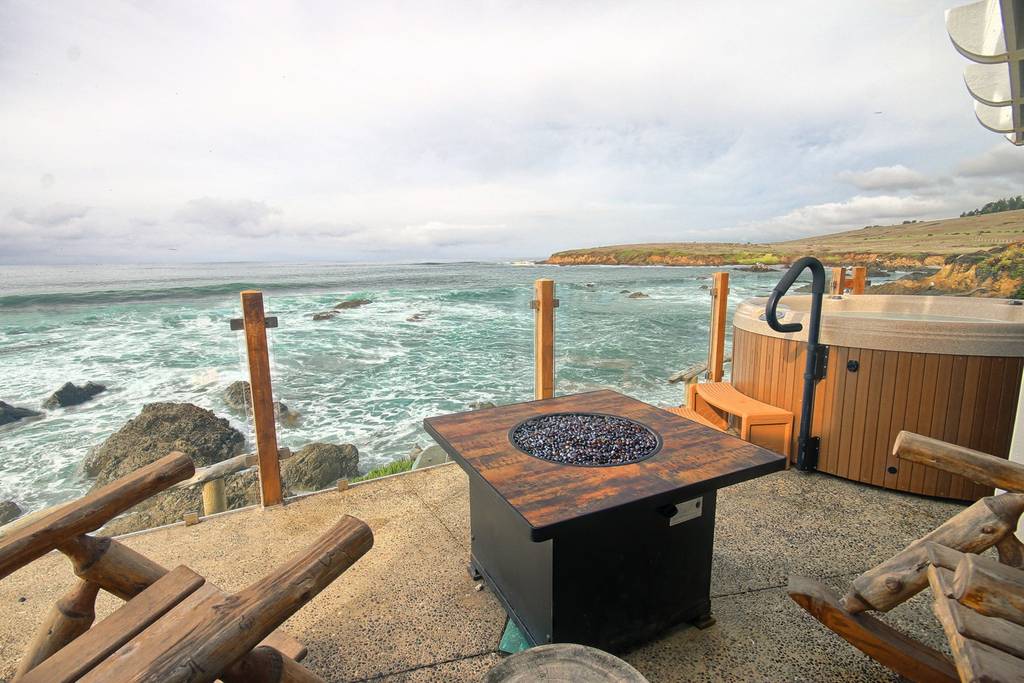 Cambria wouldn't be Cambria without a little quirkiness and this Airbnb definitely has just the right touch of quirky!
With two beautiful decks overlooking Otter Cove, one of which has a jacuzzi and a fire pit, you're going to be spending a lot of time outside. Like a true, old school, SoCal beach house, this one-bedroom, two bath house has timbered ceilings, indoor fireplaces, and a little set of stairs that lead directly down to the water.
We can only imagine how many meals you'll have at that cute little bay window or how many games of chess you'll have at the chess table, or how long you'll rock in that rocker, just looking out at the ocean.
If you do venture out, there are his and hers bicycles as well as a charging station for an electric car so try to take the Tesla when you come!
Humming Bird House – Approx. $159 a night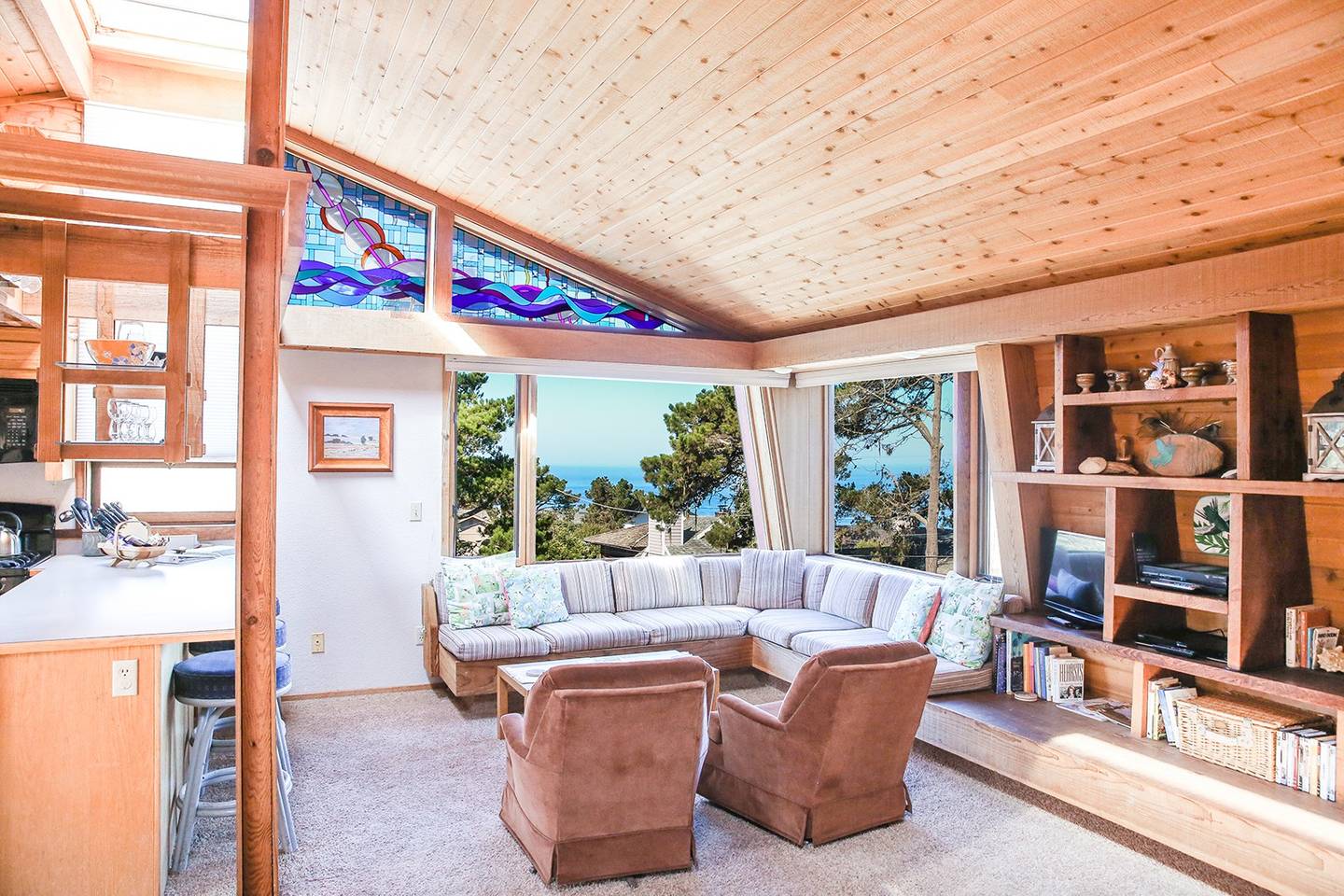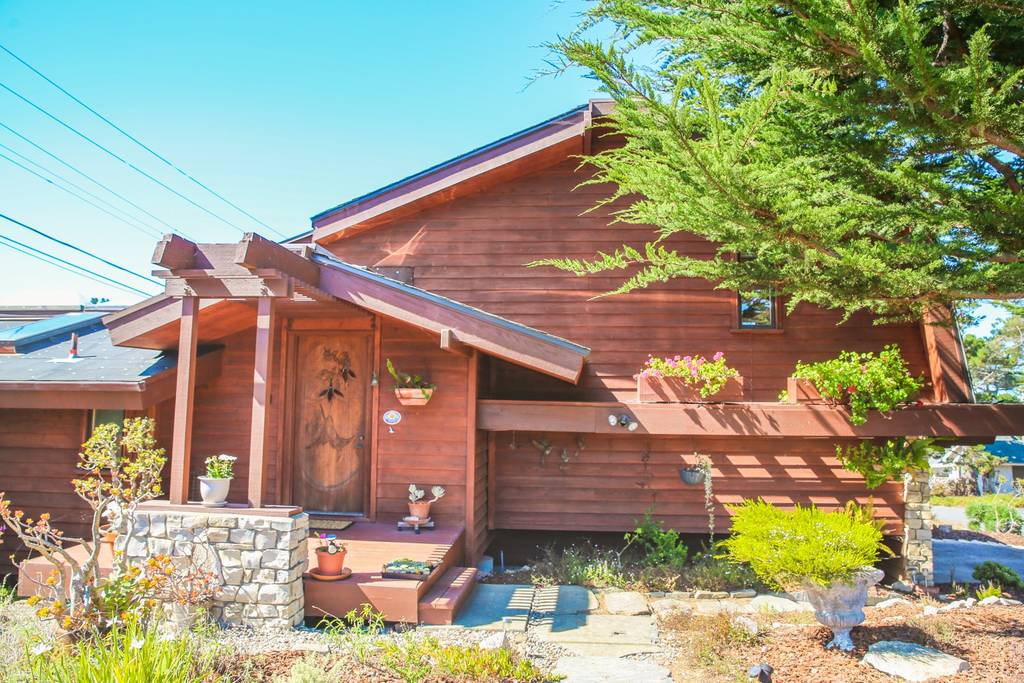 This adorable, cozy little mid-century gem is so tailor-made to the beach life we almost expect Gidget and Moondoggie to come out any second! With a cabinet full of board games, skylights everywhere, and a gorgeous deck from which you watch the ocean, we have a feeling you should stop by Costco on your way here because you're going to want to come in, shut the door, and not leave until your stay is over.
This multi-level house has just a slightly hippie/70s vibe to it, with lots of original art from local artists everywhere and a cool hummingbird theme running through the rooms (it's even in the hand-carving of the front door!).
Spotlessly clean, the hosts of this Airbnb are known for their hospitality and will leave you a detailed manual about the house as well as a well-stocked kitchen. Just minutes away from hiking trails, this is the perfect place for someone who likes to move during the day and then take it easy at night!