One of the country's trendiest travel destinations right now is Joshua Tree, California. Everyone from celebrities and musicians to the ultra-stylish Instagram set is flocking here to indulge in a memorable and beautiful desert escape. To have your own glam getaway, you might want to consider some luxury Joshua Tree Airbnb homes from our list below.
Musicians have long drawn inspiration from Joshua Tree's alluring desert beauty and it seems other creatives are catching on. Visiting the small neighboring towns of Joshua Tree and Yucca Valley, you'll discover a variety of live music venues like Joshua Tree Saloon, beloved local eateries like Pie For The People and hip vintage shopping at boutiques like The End.
While it's easy to find campgrounds or budget accommodations here, this effortlessly cool SoCal destination is increasingly becoming a go-to for a luxe getaway. With little to no 5-star lodging in sight, you'll definitely want to book one of these luxury Joshua Tree Airbnb spots instead.
8 Joshua Tree Airbnb Homes Guaranteed to Inspire Creativity
We Found 8 Of The Coolest Airstream Airbnb Homes In Joshua Tree
8. Luxury Joshua Tree Ranch With Swimming Pool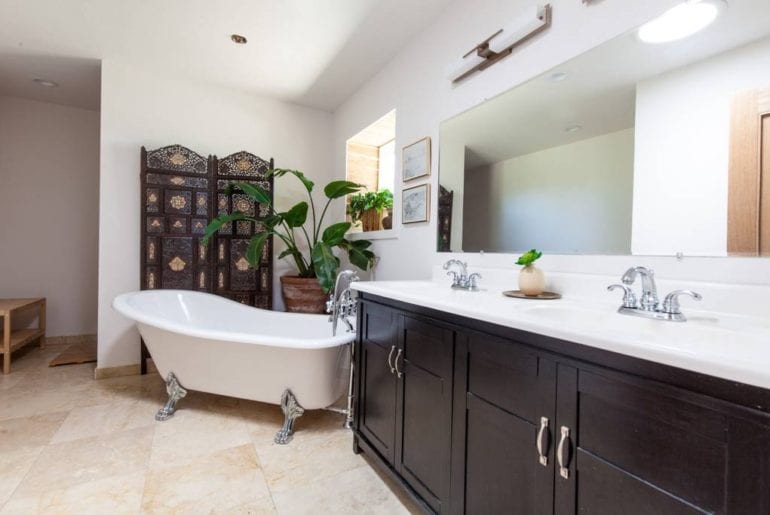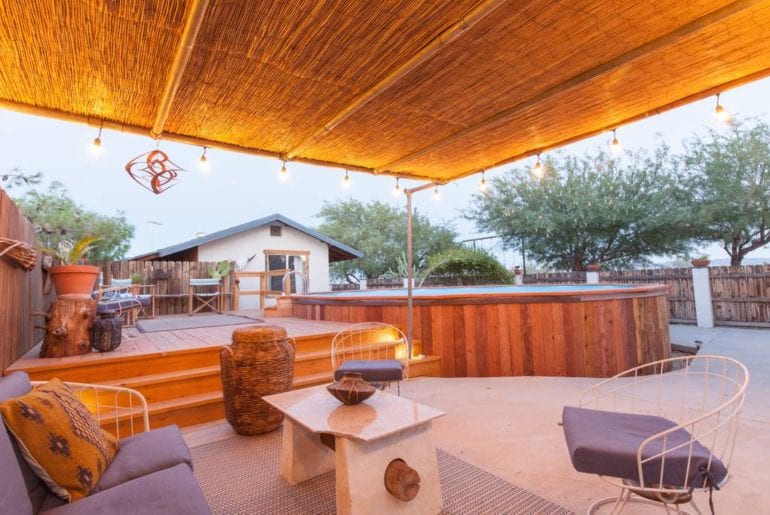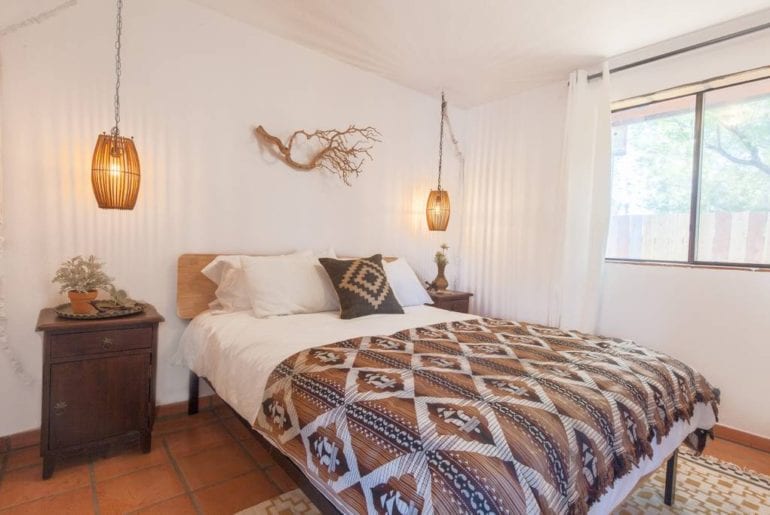 Located between the National Park and local hotspot Pappy & Harriet's Roadhouse, this luxury ranch Airbnb in Joshua Tree is ideal for a group getaway. The ranch sleeps up to 10 comfortably with six beds and three spacious bathrooms across three separate buildings. The Upper House's open living space is perfect for entertaining and relaxing together as a group, but it's the outdoor areas that really up the luxury!
Courtyard walls provide total privacy within the property, where multiple outdoor lounge spaces create plenty of room to unwind. The property has a spacious hot tub jacuzzi, huge above-ground swimming pool and deck, an outdoor grill and two covered dining areas. This one-of-a-kind, luxury desert ranch resort experience can be all yours from just $480 a night.
7. Huge Luxury Estate With Yoga Studio, Spa & Pool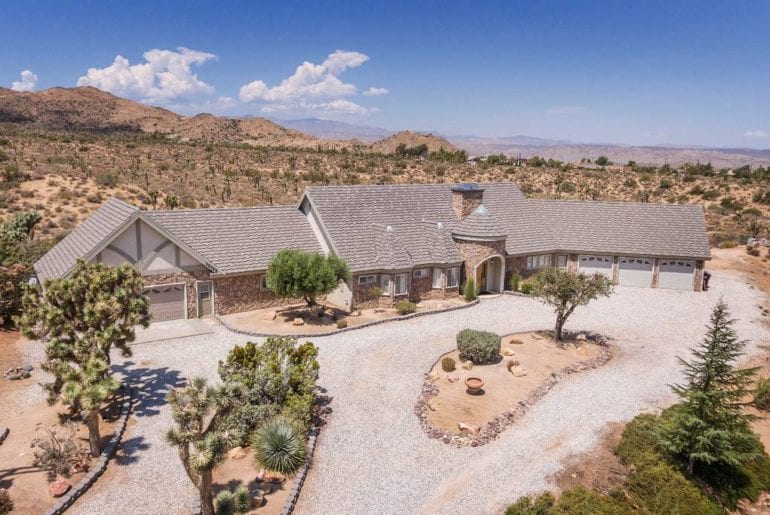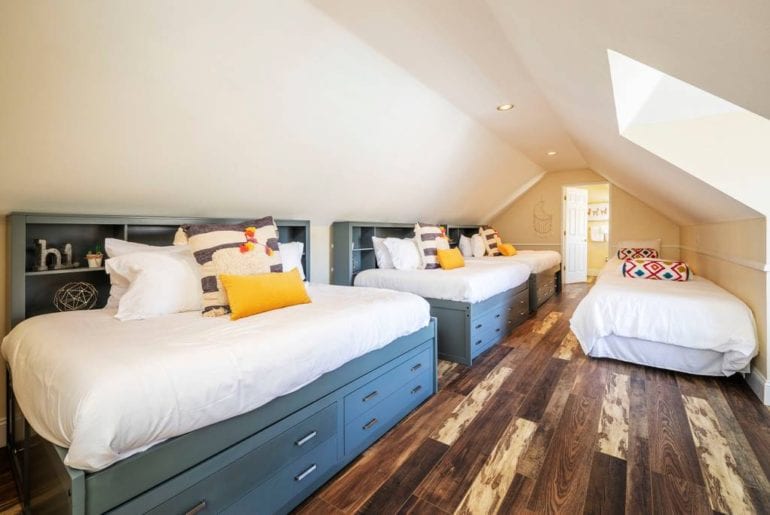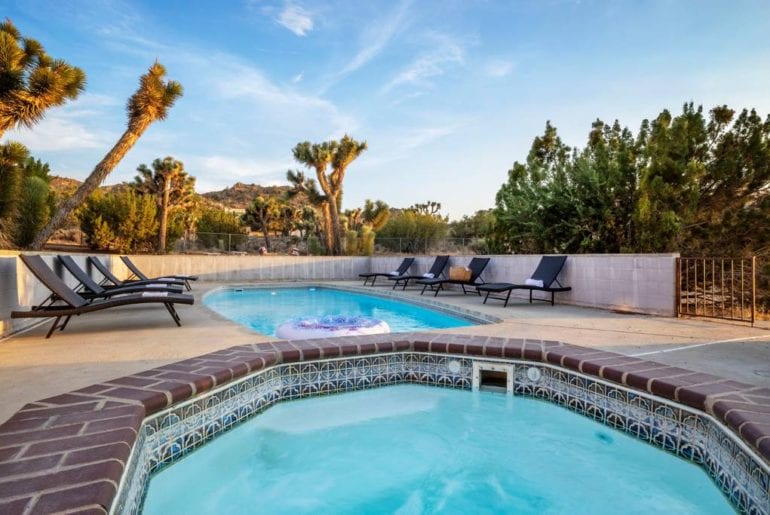 One of the largest luxury Joshua Tree Airbnbs available, this sprawling desert estate with yoga studio, spa and pool can easily accommodate 16+ guests! If you're planning an ultra-luxurious group getaway, family reunion, or retreat, this is the Airbnb rental you've been looking for. This enormous estate is situated on 6 acres of land running adjacent to the South Park area of Joshua Tree National Park. For $749 a night, you can have this luxury Joshua Tree rental all to yourself.
The property has seven spacious bedrooms, most with a king- or queen-sized bed and a separate sitting area. There's also a huge loft-like bedroom perfectly set up for kids with three full beds, two twin beds, and an ensuite bathroom. There are four bathrooms in total, plus many more enticing luxury amenities for you! Enjoy a daily practice in your very own on-site yoga studio or cool off in the home's large swimming pool. Large patios, outdoor dining areas and two outdoor fire pits, complete the exceptional outdoor entertaining options.
6. Desert Views & Bocce Ball At This Private Luxury Retreat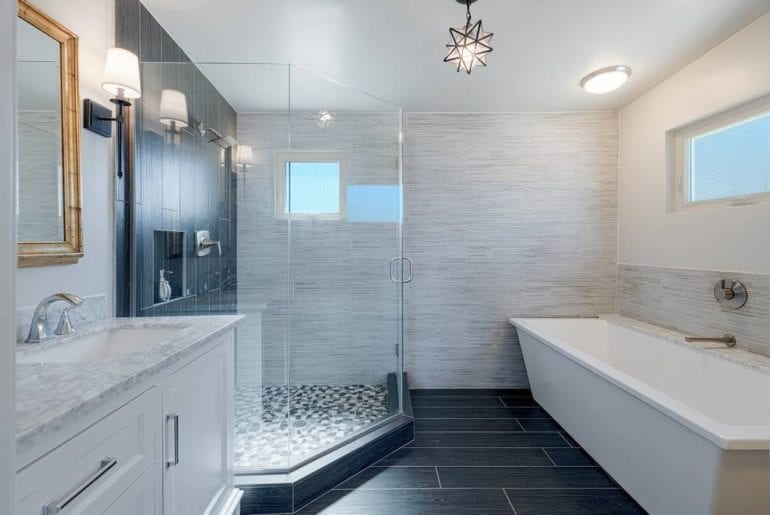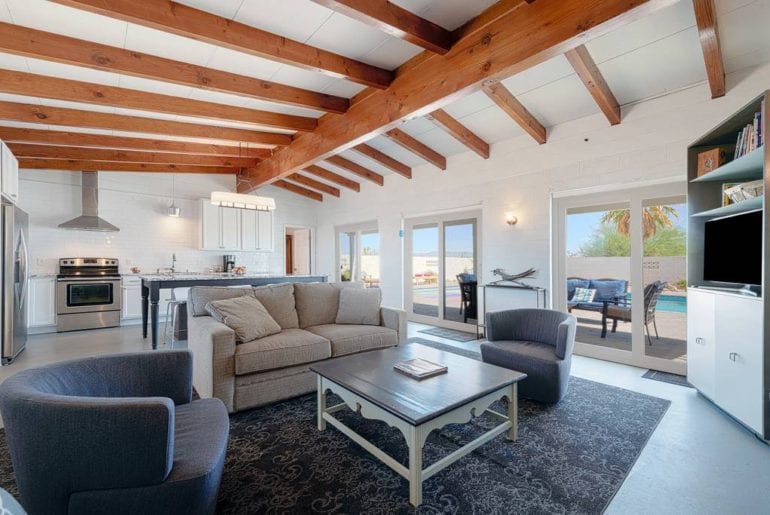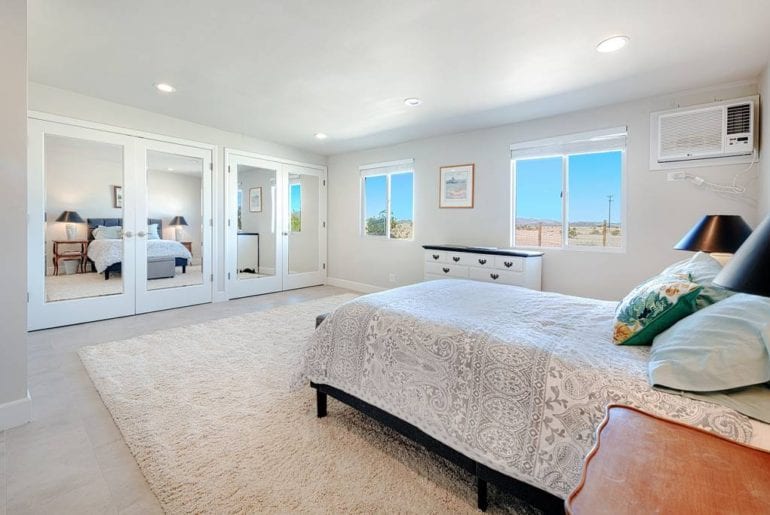 Set on three private acres surrounded by desert, this luxury family compound in Joshua Tree is perfect for families or a group of friends. Enjoy lazy days lounging beside the large swimming pool or get together for a rousing game of bocce ball in the courtyard. This stylish property consists of a large main house, a self-contained studio guest house, and an additional pool house for entertaining.
As if all that wasn't enough, you can relax in the dry sauna, stargaze from the fire pit in the yard, and enjoy sprawling desert views from just about everywhere. Able to accommodate up to 8 guests comfortably, this luxury Joshua Tree Airbnb is can be yours from $400 a night. It's easy to self-cater from either of two gourmet kitchens, but this property is also ideally located just a 10-15 minute drive into town.
5. Luxe Tiny House Architect-Designed For Stargazing In Joshua Tree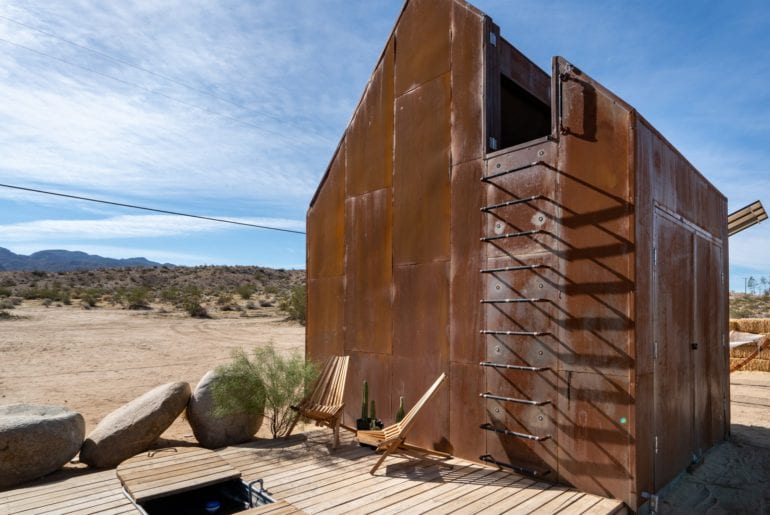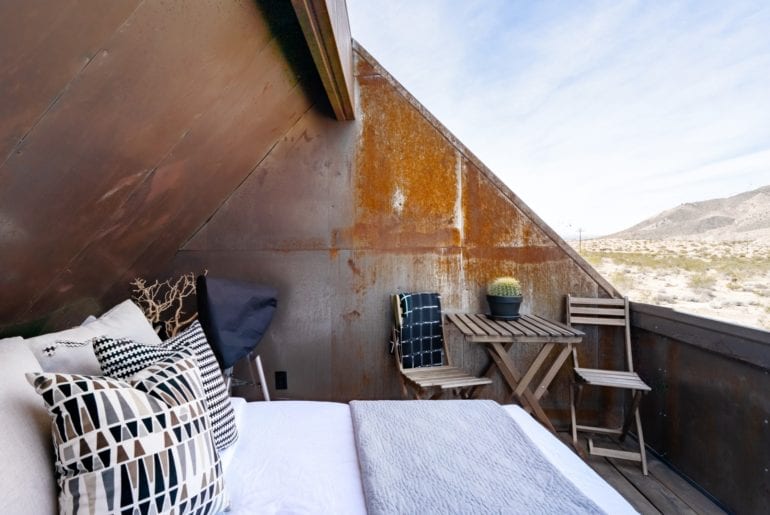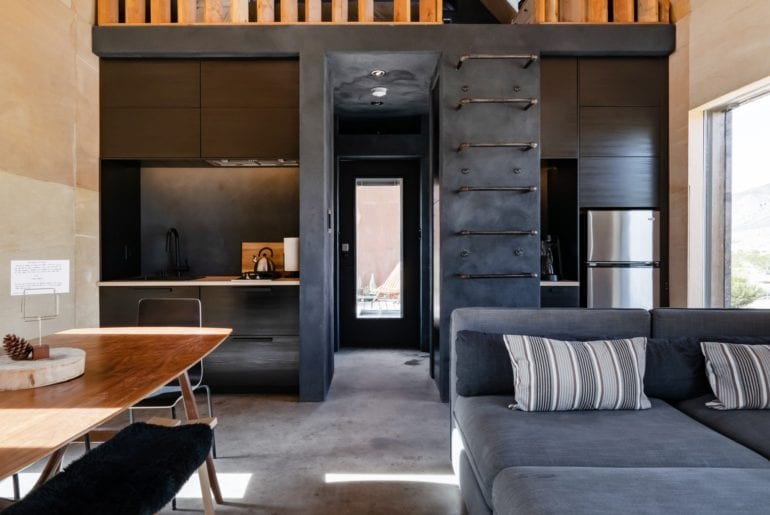 Architect Malek Alqadi designed this incredibly unique luxury Joshua Tree Airbnb with stargazers in mind. The tiny house's steel corten structure is chic and minimalist, with a thoughtful loft-like layout. The main living space is smartly laid out with a large chaise-style sofa, flatscreen TV, dining table, and well-equipped kitchen with two burners and a full refrigerator. Outside, enjoy a spacious deck as well as two hammocks perfect for relaxing beneath the stars.
The absolute highlight of this unique Airbnb is the main bedroom. The open-air design allows you to literally sleep beneath the stars! If stargazing in Joshua Tree isn't quite your thing, there's a second, fully-enclosed lofted bedroom as well. Every design detail of this unusual tiny house is absolutely on point. One of the best luxury Joshua Tree Airbnbs for stargazing could be yours for a cool $475 a night.
These Are The 8 Dreamiest Joshua Tree Glamping Airbnb Homes Ever
These Are The 8 Most Luxurious Joshua Tree VRBO Rentals
Beat The Heat In These 8 Joshua Tree Airbnb Homes With Pools
4. Joshua Tree Luxury In A Mediterranean-Style Mesa Villa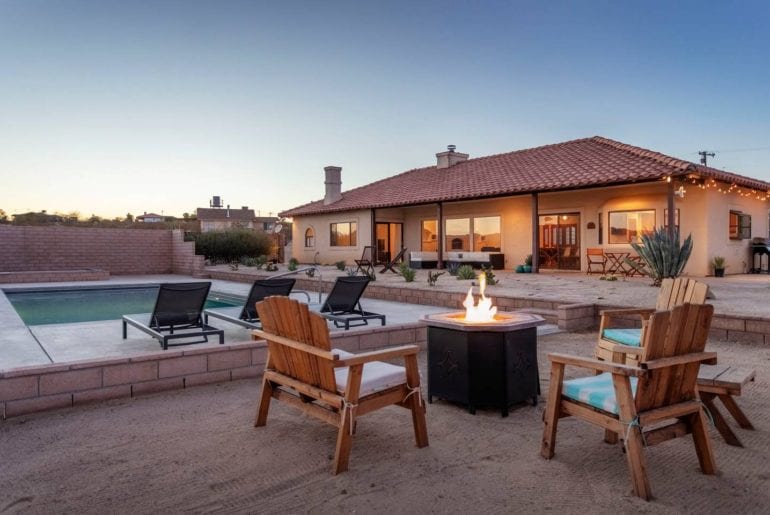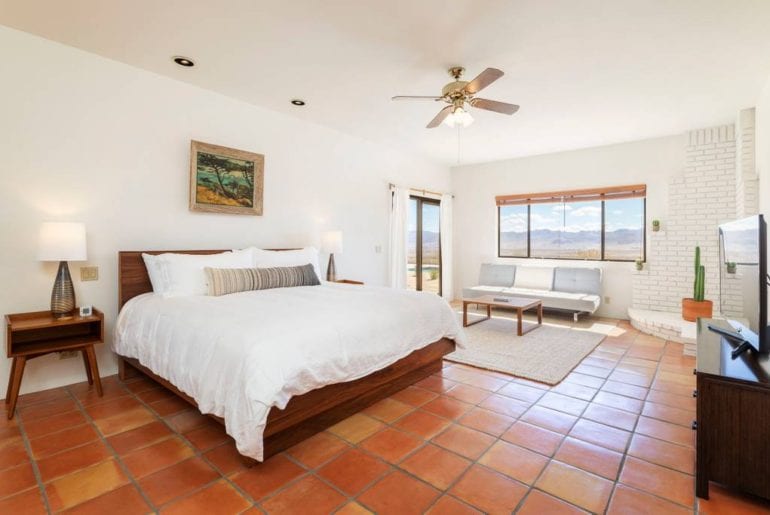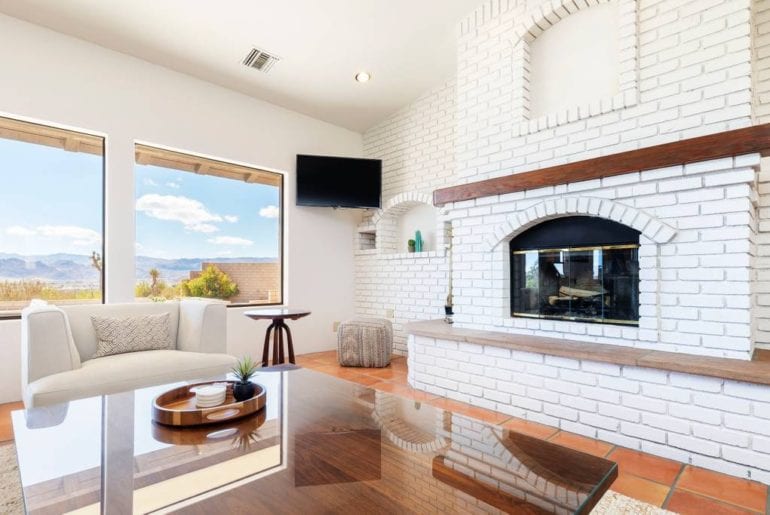 Picture yourself in a healing, tranquil environment, surrounded by the majestic Mojave Desert on all sides. This sprawling Mediterranean villa in Joshua Tree is the ultimate place for a relaxing desert retreat. Tucked away in the Joshua Tree hills, this beautifully renovated and restored villa has three large bedrooms and two bathrooms, set on 5 acres just 15 minutes from the entrance to Joshua Tree National Park.
One of the finest luxury Joshua Tree Airbnbs we've seen, this huge villa property is dripping with luxe amenities and high-end styling. Enjoy the enormous in-ground swimming pool in your backyard, the perfect place to cool off with friends or family on a hot summer's day. The fantastic hosts at this luxury Airbnb can also arrange in-house yoga sessions, massages, facials, and more. Your perfect luxury retreat in Joshua Tree awaits, from just $250 a night.
3. Bohemian Luxury Joshua Tree Airbnb With Pool & Spa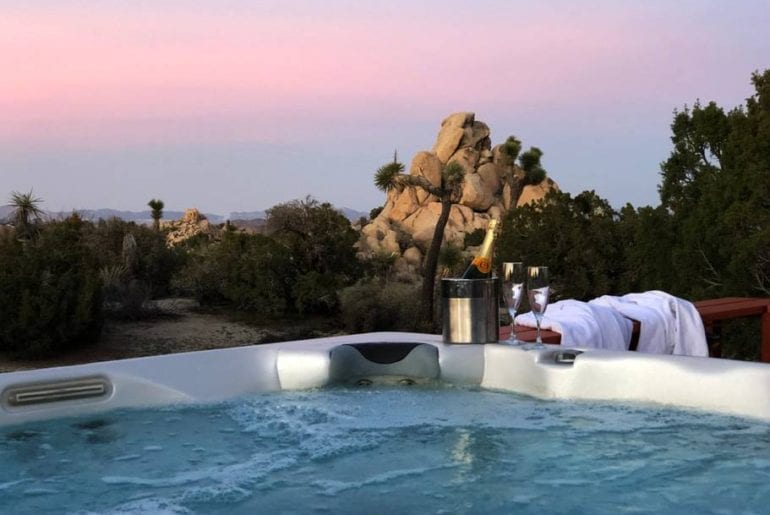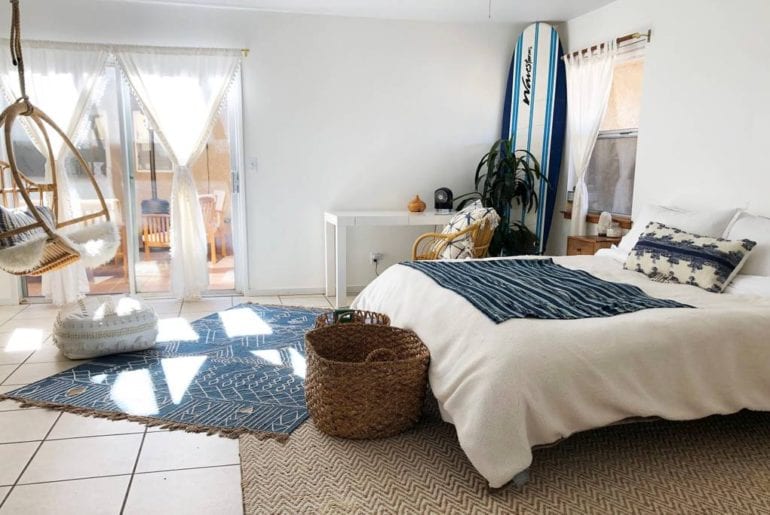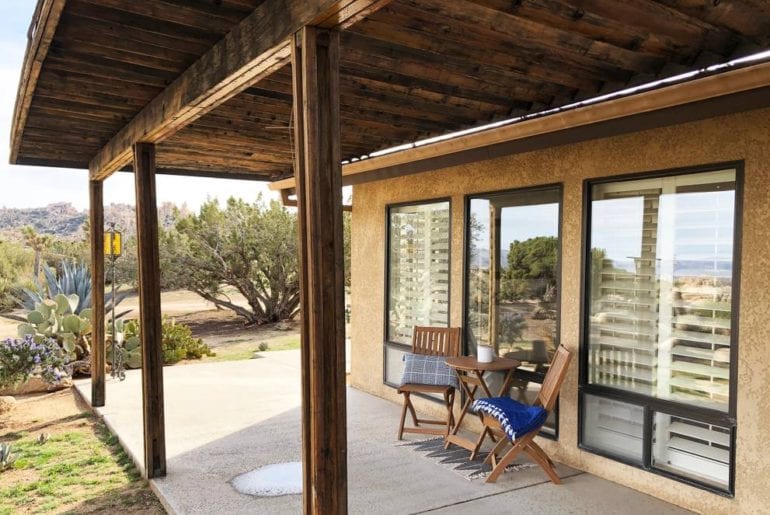 Perched atop Pinon Ridge overlooking Yucca Valley and the Mojave Desert, this breathtaking luxury Joshua Tree home with pool is an excellent choice for your next luxe desert getaway. Set upon 5 acres of high desert terrain, the property is well-positioned for explosive sunrises and picturesque sunsets. Enjoy an early morning stroll around the property and admire the early morning show from atop one of the unusual rock formations that make this SoCal desert so iconic.
One of our top luxury Joshua Tree Airbnbs for groups of friends, this property can typically accommodate 6 guests, with extra options for up to 14. There are three individually-designed ensuite bedrooms, each with its own personal boho flair. Outside, bask in the abundant SoCal sunshine from the large swimming pool or take a relaxing soak in the private hot tub, both of which offer stunning desert views. This fantastic luxury Joshua Tree Airbnb is available from $500 a night.
2. Cool And Colorful Family Getaway With Pool & Game Room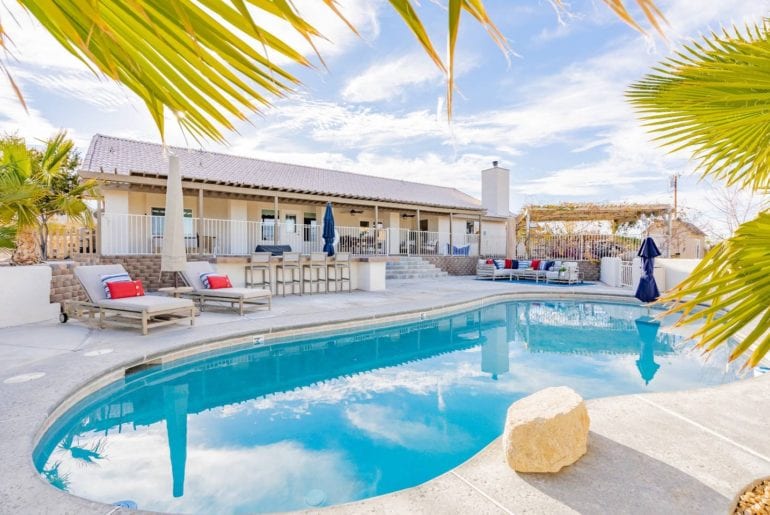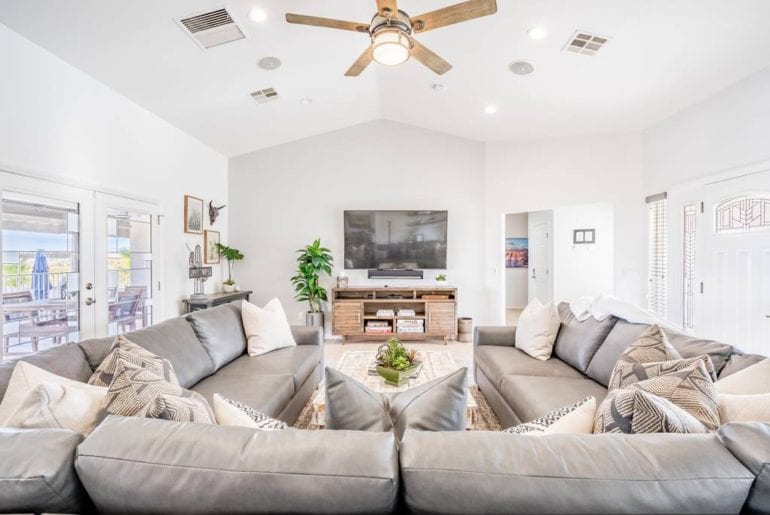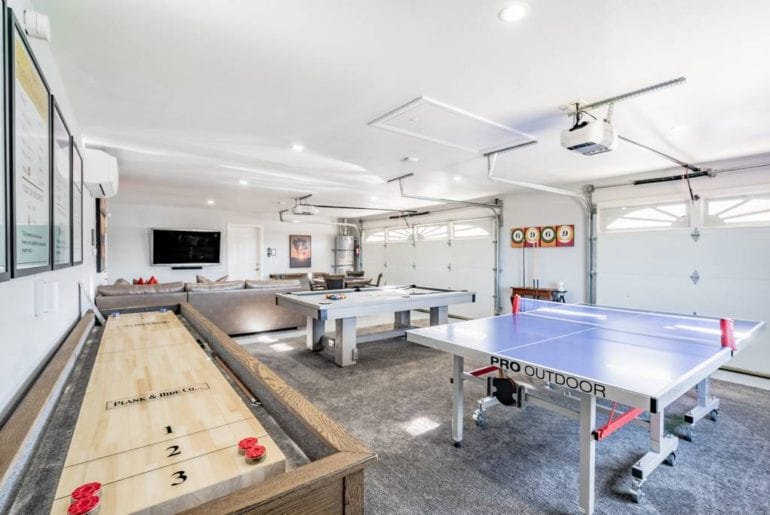 Enjoy the luxury experience of a hotel from this warm and inviting family home Airbnb in Joshua Tree.  The perfect spot for a luxury family getaway, this large, 2.3-acre property is located just under two miles from Joshua Tree National Park's Indian Cove Entrance. Kids and teenagers will love the home's huge entertainment room, complete with a billiards table, ping-pong table, poker table (for the grownups), and a 65-inch flat screen TV with comfy sectional ideal for video game nights.
Don't worry, there's plenty for the adults to enjoy as well. This luxury Joshua Tree Airbnb features another beautiful, comfortable living room, a modern chefs kitchen, and three spacious bedrooms including a master with ensuite. Outside, enjoy summer BBQs using the outdoor kitchen and wet bar. Don't forget to take a dip in the inviting swimming pool and soak beneath the stars in your own hot tub. All this space and luxury for your family getaway in Joshua Tree is available from just $225 a night.
1. Mid-Century Architectural Marvel With New Hot Tub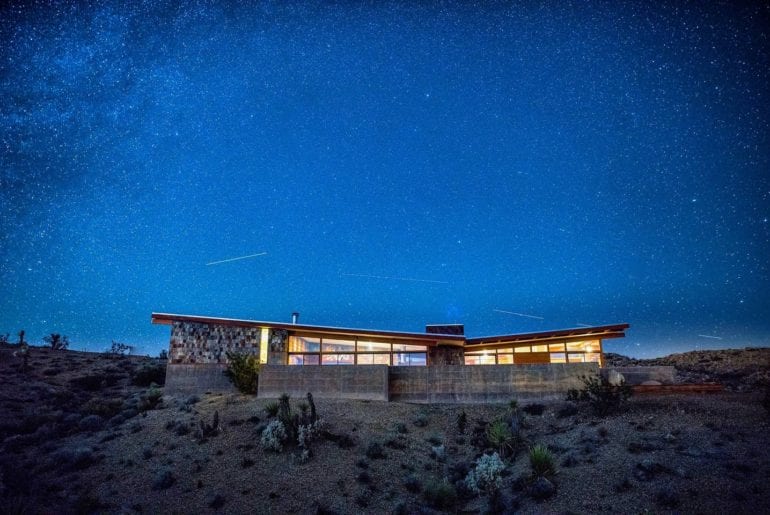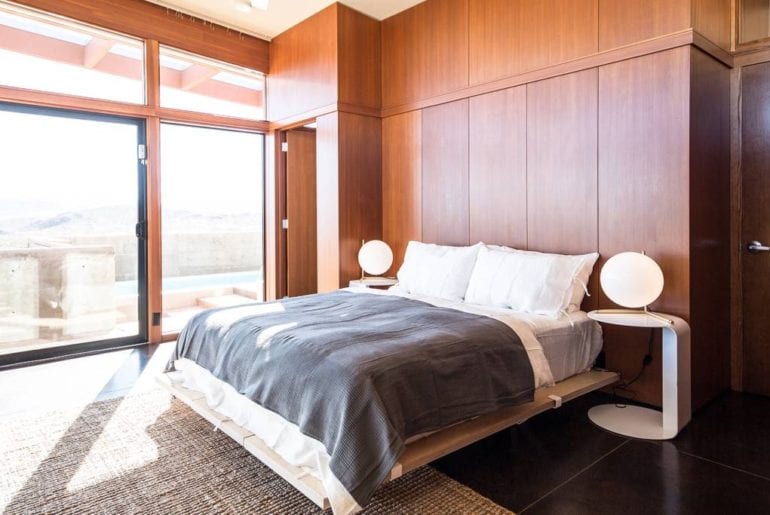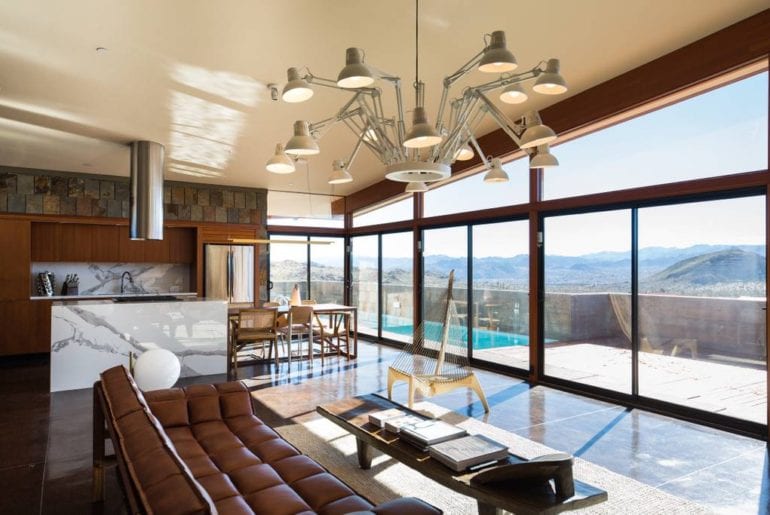 Enjoy sprawling desert and mountain views from every room of this mid-century luxury home in Joshua Tree. Designed by a Harvard-educated architect, this light-filled space feeds off of its natural surroundings with sleek lines and elegant, modern decor. One of the most incredible luxury Joshua Tree Airbnbs can be yours from just $425 a night.
This serene and very private rental property boasts expansive views from its perfect position in Yucca Valley close to Joshua Tree National Park. Both of the home's two large ensuite bedrooms have access to the deck and pool, with sweeping mountain views. The owner has also recently added a custom-built hot tub to the property, so you can unwind in utter luxury beneath a desert sky full of stars. Sign us up!