We found the best Airbnb homes in Knoxville, Tennessee. Knoxville is a progressive, modern city located in Tennessee. It's located on the bottom of Smoky Mountains National Park and it's surrounded by charm, poise, and beauty. One of the most famous areas in Knoxville is the well-known Market Square, as well as the Waterfront Area, Ijams Nature Center, Knoxville Zoo, Neyland Stadium, Knoxville Museum of Art, World's Fair Park, and Tennessee Theater.
These are the 8 best Gatlinburg Airbnb homes!
The 6 Best Memphis Airbnb Homes For Elvis Presley Fans
Affordable Airbnb Rentals Near the Nashville Farmers Market
If you're coming to Knoxville and want to enjoy your stay in luxury and style, then look no more! We've hand-picked the best and most luxurious properties one can come across in Knoxville. Enjoy!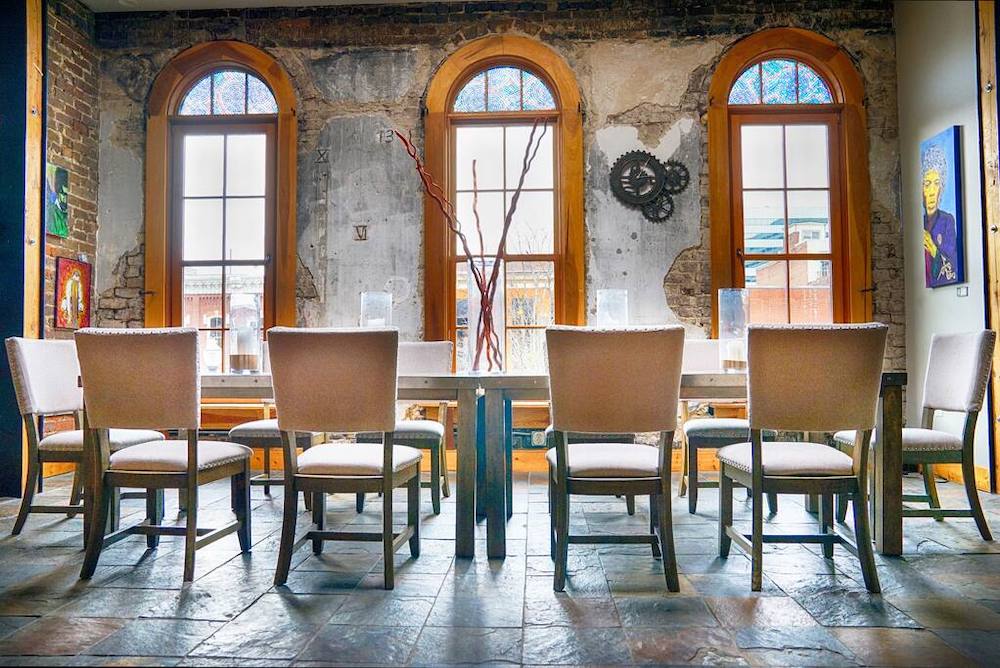 This gorgeous place features industrial décor, making it very modern and fun. It's located in the Historic Market Square, only minutes away from the Theater District, Neyland Stadium, and plenty of local shops, bars, and restaurants. It features three bedrooms, two bathrooms, and it can accommodate up to ten people. It features a fully equipped chef's kitchen, an indoor fireplace where you can sit back and relax, and a backyard patio where you can enjoy the view. This house is great for people who want to be close to everything, yet far enough to be able to relax and get away from all the city fuss. This is definitely one of the the best Airbnb homes in Knoxville, Tennessee.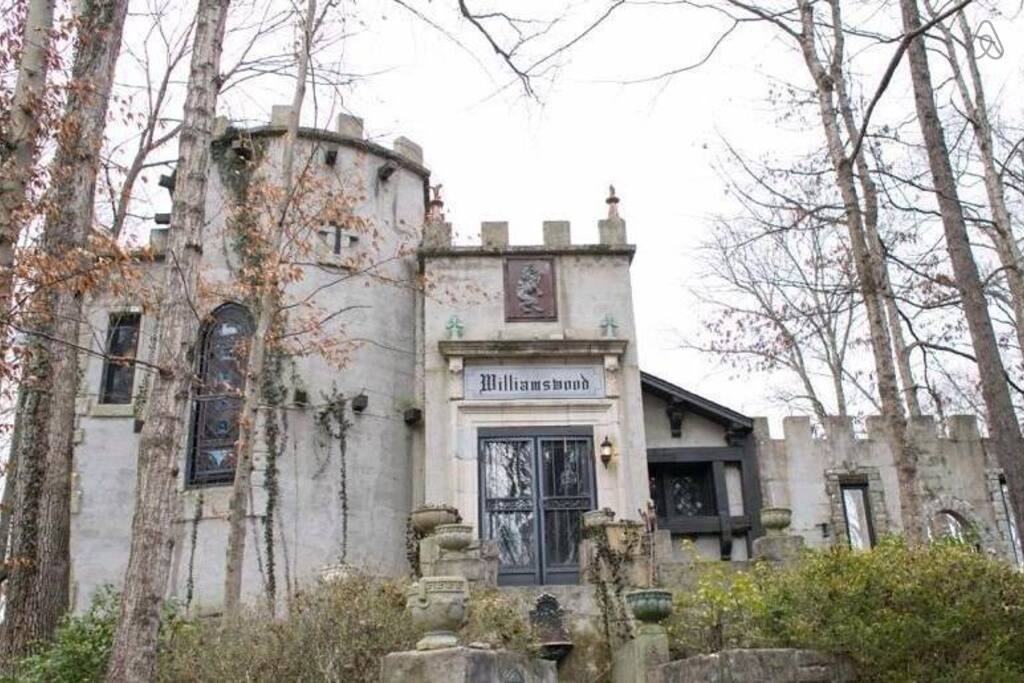 Another of the best Airbnb homes in Knoxville, Tennessee. If you thought you had seen it all, wait until you see this stunning place. What's special about it is the fact that it's actually a castle – yes, you read that right. If you want to have the most unique experience ever, then this is the perfect place for you. It's inspired by medieval Scottish castles and every inch of this place is on-theme. It looks like a museum, but this time you can stay here and fully experience the place. It has three bedrooms, two and a half bathrooms, and it can accommodate up to six people.
Luxurious Penthouse Airbnb Near Market Square, Knoxville – approx. $368/night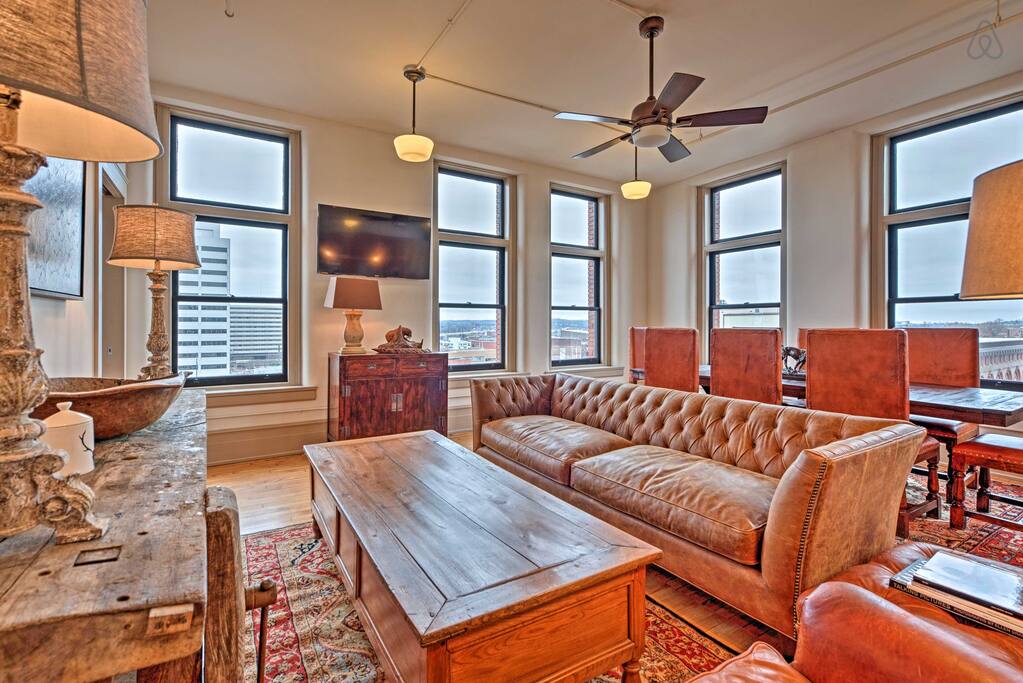 This downtown gem is located only steps away from Market Square, making it very convenient and accessible. It has two bathrooms, two bedrooms, and it can easily hold up to five people. You'll get a great view of the city and the surrounding buildings, perfect for your morning coffee. If you are hungry, then don't fret – there's an outstanding kitchen with modern appliances ready to take on all your culinary dreams. All in all, this place truly is a great rental for everyone who's looking to experience Knoxville in the best way possible. Another one of the the best Airbnb homes in Knoxville, Tennessee.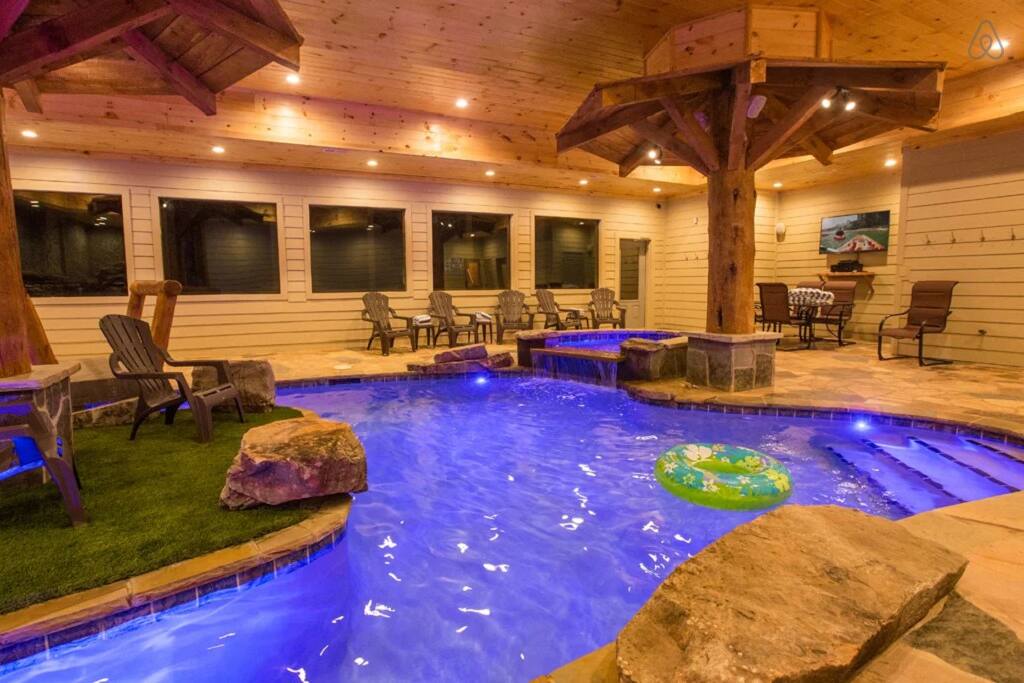 This lodge is so unique and cozy that you're bound to love it. It's all wood and leather, with great accents, décor, and furniture. You'll feel just like you're outside. It has six bedrooms, seven and a half bathrooms, and it can accommodate more than sixteen guests. There's an amazing, resort-like indoor swimming pool with chairs and faux grass, perfect for laying back and chilling out. You'll also get to enjoy an indoor fireplace, a fully equipped kitchen, a hot tub, free parking, and all other necessary amenities.
Contemporary Loft Overlooking Downtown Knox – approx. $90/night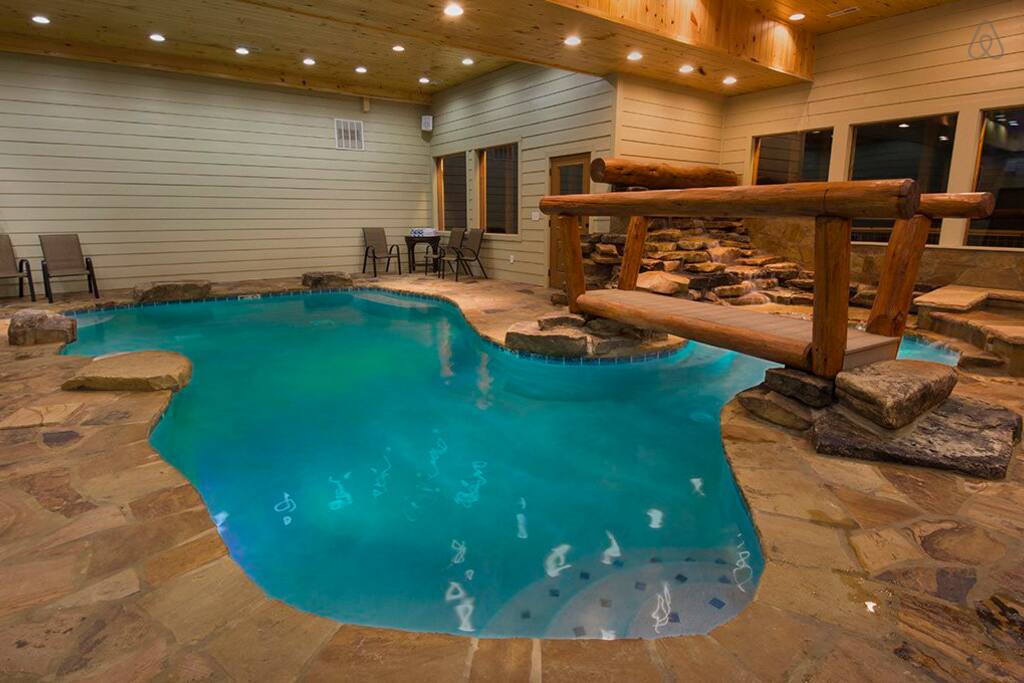 Arguably the best Airbnb home in Knoxville, Tennessee. Can you believe the price per night at this place? It's so incredibly cheap, while it offers an amazing space and all the necessary amenities. It is located right in the heart of Downtown Knoxville, making it extremely convenient and accessible. It has two bedrooms, one bathroom, and it can hold up to eight guests. The décor is very modern and fun, and walls appear as though they've been stained, just adding more dimension and texture to the whole place. You'll have access to a gym, free parking on premises, and a fully equipped kitchen.