These fancy spots are the best Airbnb homes in Tulum, Mexico! Tulum is a town located on the Caribbean coastline of Mexico's Yucatán Peninsula. It is a popular tourist destination that is known for its beaches and the well-preserved ruins of this ancient Mayan port city. The famous El Castillo is perched on a rocky cliff above the white sand beach and turquoise sea. Close to the ruins is the Parque Nacional Tulum, a coastal area with mangroves and cenotes, which are natural limestone sinkholes. The park attracts visitors and tourists throughout the year.
The 8 best Airbnb homes in Mexico City!
These are the 8 best Airbnb homes in Cancun, Mexico!
These are 6 of the best Airbnb homes in Albuquerque
8. A Magnificent Beach front home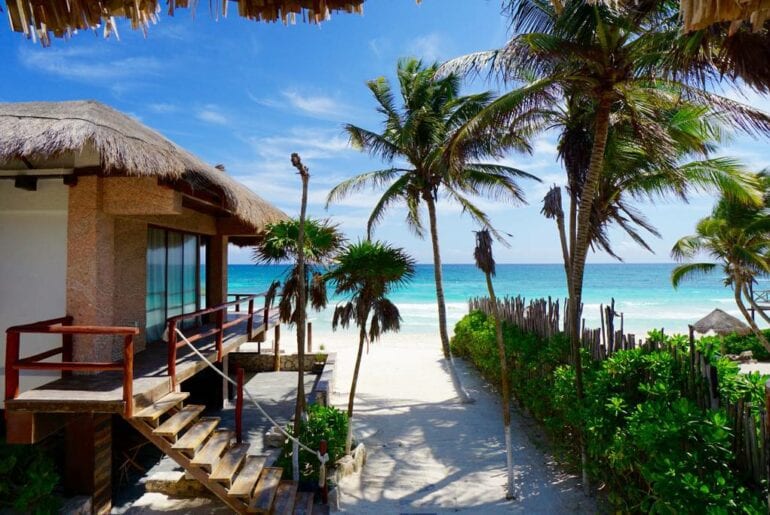 This magnificent Tulum property provides high end luxury and comfort that will make your stay a memorable one.  Villa Aakbal is private and peaceful and close to the beautiful beaches of Tulum. Enjoy views of the sparkling blue ocean. The property is located in walking distance of the areas best restaurants, bars and shopping. $1198 per night.
7. A Newly built and luxurious property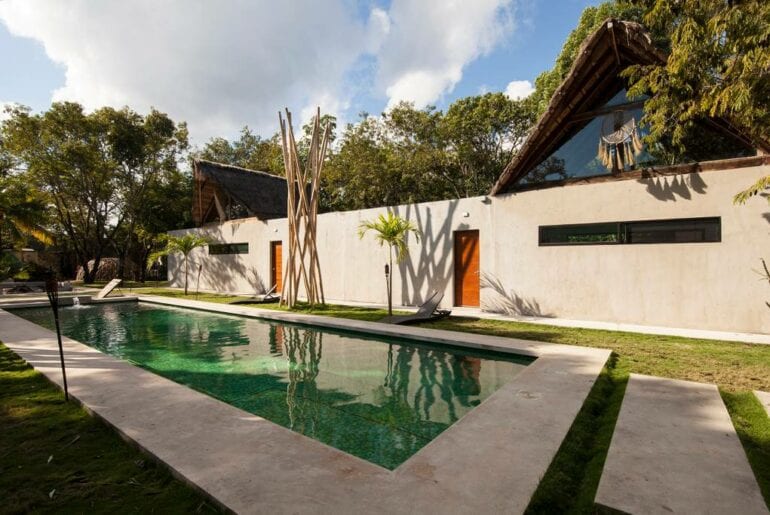 Situated right next to one of the best restaurants in Tulum this large home has everything you could need for your stay.  It is newly built and thoughtfully designed to blend with the outer surroundings and in harmony with the inner tranquility of sacred Tulum. Relax in the lush gardens, take a dip in our pool, or find your centre and calm in our yoga shala. $990 per night.
6. A Mayan style private paradise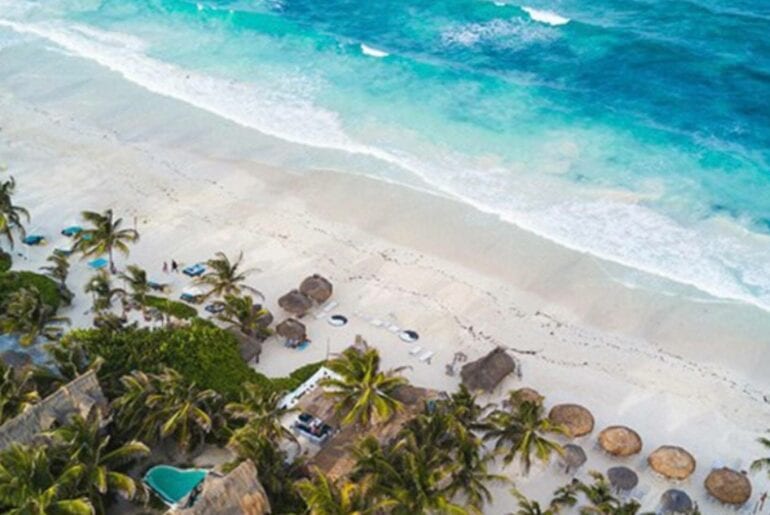 Enjoy the Caribbean in cozy, stylish laid-back lodgings beautifully decorated to reflect elegant Mayan style. This property is located in the heart of Tulum inside the newly developed Aldea Zama area, situated between the hotel zone and downtown. Just a short walk from pristine beaches and surrounded by restaurants and local shops. $1440 per night.

5. A Gorgeous Loft in the Mayan Jungle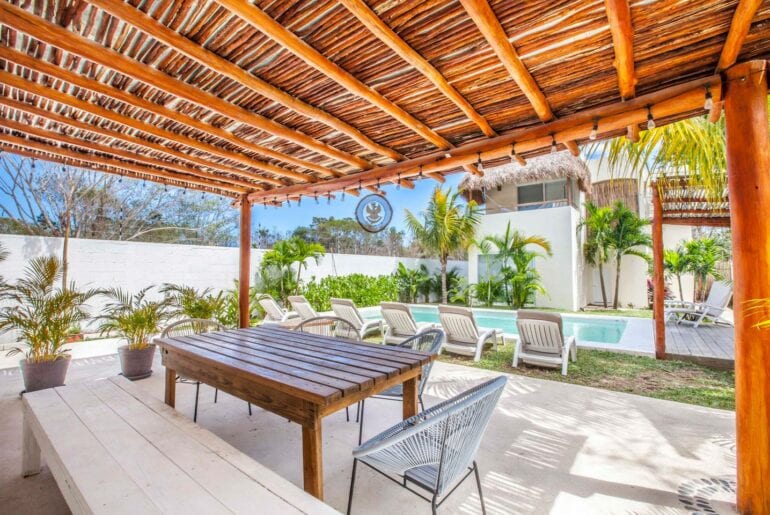 This loft is located in a small quiet complex right in the peace and nature of the jungle. Features all amenities and a private balcony this Tulum airbnb home is restful and tranquil but close to everything you will need. Take a dip in the swimming pool or enjoy a short walk to all the popular restaurants, bars and shops that are in the downtown area. $1152 per night.
4. A Modern Beach house with a fresh water lagoon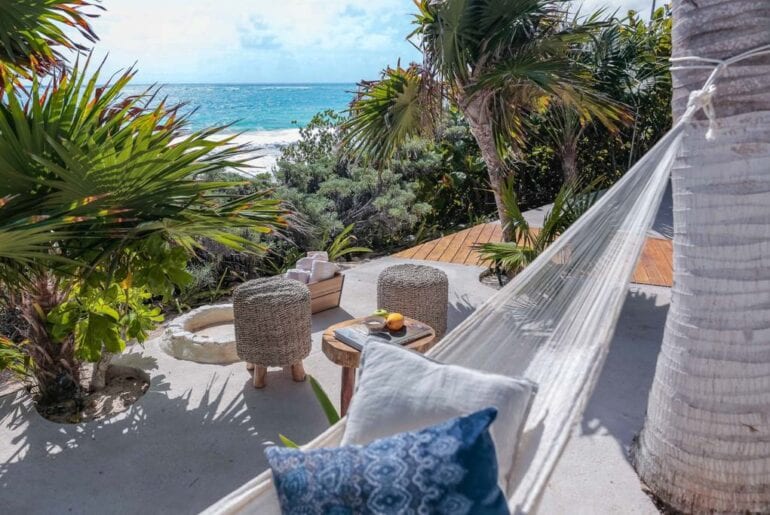 Casa Niños effortlessly achieves a blend of rustic and modern architecture and tasteful décor. Situated with the ocean on one side, with views as far as the eye can see, and lush green jungle with a fresh water lagoon on the other side. This luxury and tasteful beach house offers a secluded feel and privacy but is close to the beach and the town of Tulum with shopping and restaurants. $1531 per night.
3. A Deluxe 'eco friendly' designer home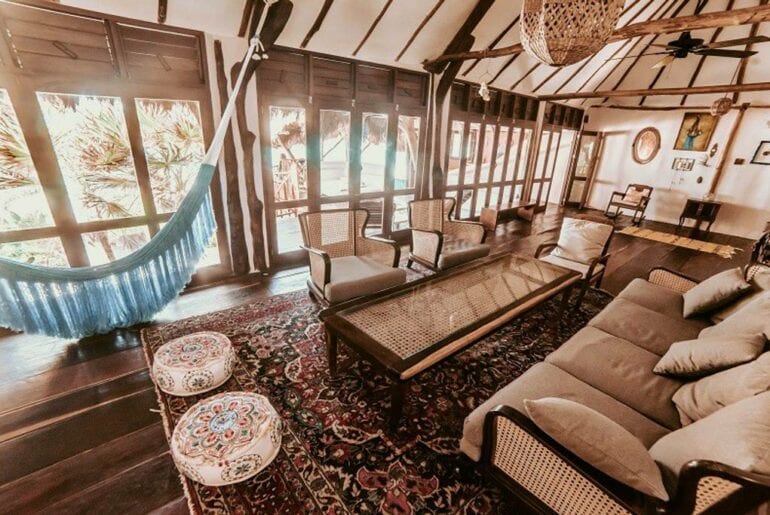 This house has been custom designed by architects and engineers to blend in with the local surroundings and make use of locally sourced materials. Enjoy the curving terraces, wide patio areas, and large plunge pool in the beautiful and lush private backyard that has been carefully landscaped. This Tulum airbnb home is a tropical paradise with a natural feel. $2100 per night.
2. A Stylish and Bohemian beach front home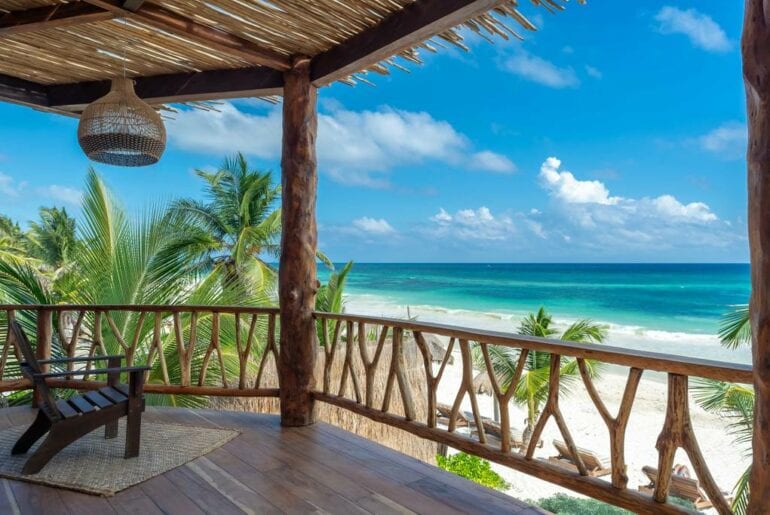 Located right in the heart of Tulum, Casa Ganesh features housekeepers, security, guest service managers and staff that are available to help you enjoy a truly relaxing vacation. Sitting right on your own private beach, this large property is perfect for large groups or family vacations. Decorated with tasteful furnishing and high quality amenities it has everything you will need. $1480 per night.
1. A private 'avant garde' oasis near the beach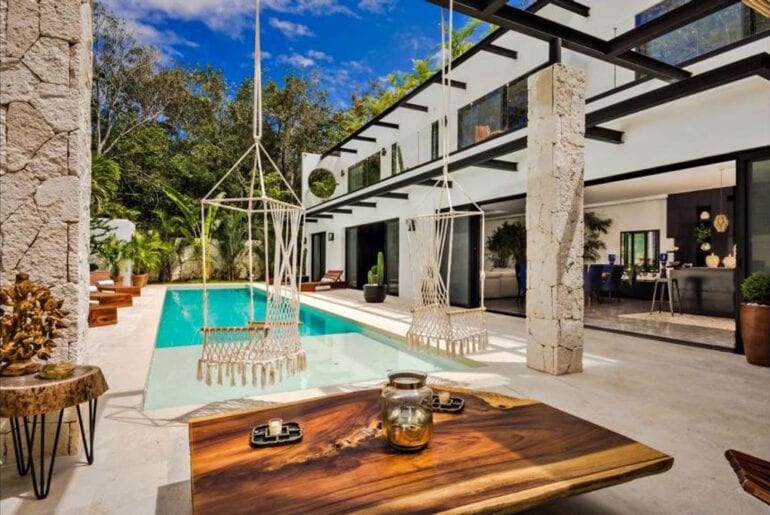 This Tulum airbnb home fuses avant-garde decor with beautiful nature. Villa Ethan is the perfect place to stay and enjoy an oasis in the middle of the jungle, but located just minuted from the beaches and town. Enjoy relaxing in the modern, clean design of this large property. Disconnect and unwind while enjoying the many amenities this resort has on offer including service staff and a private yoga instructor. $1250 per night.