Planning a dream Amsterdam vacation? You're in luck! The charming Dutch capital is a wonderful place to visit in any season and there's a wide range of vacation-ready Airbnb rentals to choose from.
Families traveling with kids will love the space and high-end amenities found in Oud-West and Museumkwartier apartments. Young, solo travelers should look to the vibrant city centre for easy access to Amsterdam's sights and nightlife, while couples will particularly love the local vibes and fantastic food in de Pijp.
You'll find that all of Amsterdam's top neighborhoods are well-connected to the main attractions and a breeze to navigate. Simply hop on the tram or do as the locals do and rent a bicycle! Whether you choose to stay in a cozy, bohemian studio or a spacious houseboat for the whole family, booking one of the below Airbnbs we've chosen for you will make your next Amsterdam vacation easier than ever.
8. A Huge, Family-Ready Apartment Near Jordaan And Center
This incredible home is perfectly set up to accommodate a family or group of friends. From just $200 a night, this central apartment near Jordaan has room for everyone with 4 bedrooms with 6 beds, plus 3.5 bathrooms. The host even offers a valet parking service, should you be driving into the city to start your Amsterdam vacation!
7. A Luxurious, Feminine Design On Brouwersgracht Canal
Perfect for a chic, girly Amsterdam vacation, this luxury apartment on the edge of Jordaan is an absolute dream. Starting at $284 a night, this private, luxury home boasts high-end upgrades and lots of romantic charm. All six apartment windows have views of the beautiful Brouwersgracht canal while Jordaan's trendy eateries and stylish shops are just steps away.
6. A Charming Loft Bedroom In Friendly, Central Guest House
Solo travelers or friendly, sociable couples will love this charming loft bedroom with ensuite. For just $89 a night, this private room is on the top floor of a small, friendly guest house in the heart of the old city center. Make use of the shared kitchen and enjoy a continental breakfast with your fellow guests. Or set out to explore the numerous cafes and attractions nearby.
5. A Private Studio On Luxury Docklands Houseboat
Get a taste for authentic, maritime living in Amsterdam's Eastern Docklands. This private studio apartment on a luxury houseboat has a shared sundeck and starts at $154 a night. This gorgeous rental is on the upper deck of a classic ship. It has its own private entrance, modern kitchenette, luxurious bathroom, and separate seating area. The neighborhood is just outside the tourist center, but still within a short bike ride of Centraal Station and Amsterdam's best attractions.
4. A Budget-Friendly Private Room Near Dam Square
Located in a recently renovated, 16th-century building, this stylish private room near Dam Square is a steal at just $90 a night. With over 500 5-star reviews, this budget-friendly room is managed by a Superhost and perfect for a solo traveler's first Amsterdam vacation. Many of the city's top museums and attractions are within a short walk from this budget-friendly rental.
3. A Central Amsterdam Apartment With Bedroom & Loft Office Space
Located just a 5-minute walk from the canal belt, Dam Square, and Centraal Station, this bright, spacious apartment with separate loft office is ideal for a single business traveler or couple on an Amsterdam vacation. The master bedroom is filled with natural light and charming, exposed wood beams. The living space's 4-meter ceilings give the apartment and open, airy feel. So with its central location and bonus loft space with office, this apartment is a great find at $211 a night.
2. A Modern, Family-Sized Houseboat On The Amstel River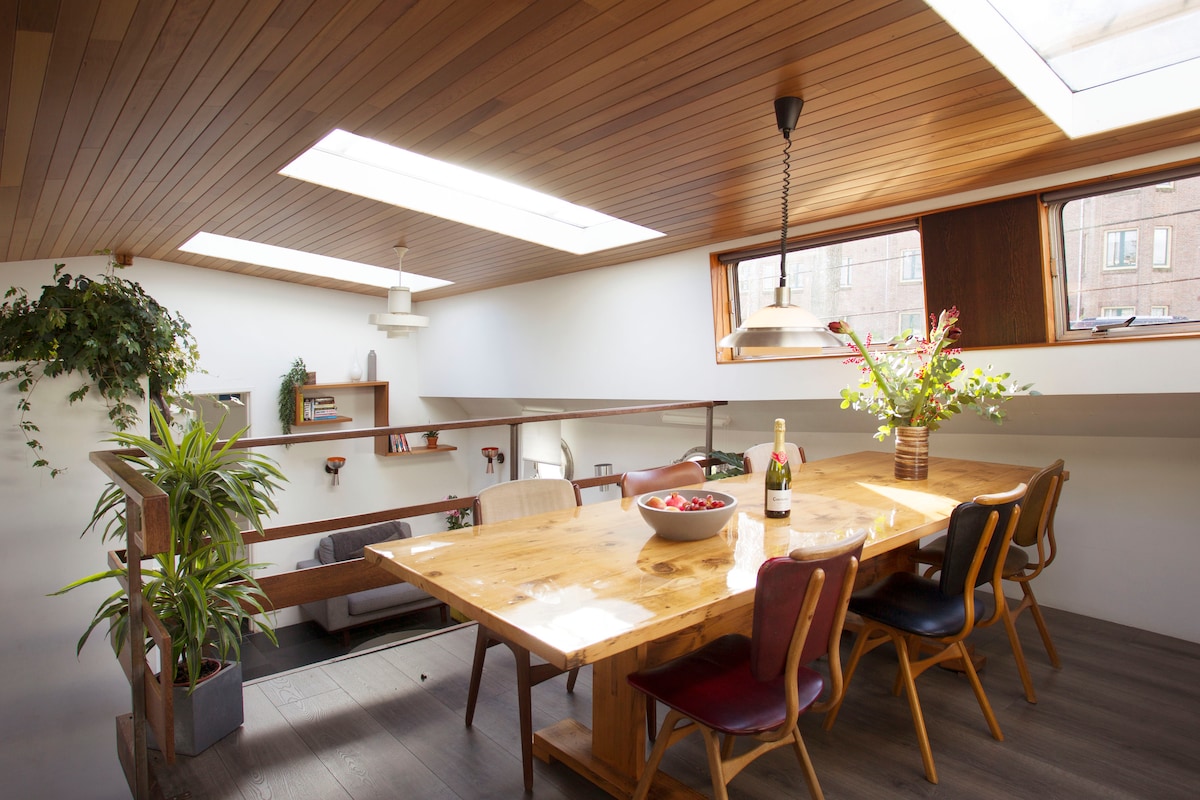 For a truly authentic Amsterdam vacation, this family-sized houseboat on the Amstel River is absolutely perfect. At just $149 a night, there's space for the whole family inside with 3 bedrooms, 3 bathrooms, a fully-equipped kitchen, and comfortable living room. This is docked on the eastern edge of de Pijp. So, you're just a short walk or bike ride from some of Amsterdam's best restaurants and popular attractions.
1. Large, Central Home Near Dam Square, Great For Groups
With three king-size bedrooms and a huge, open plan living space, this large, central home near Dam Square is perfect for a group Amsterdam vacation. Starting at $308 a night, this Airbnb rental is a great value if you're traveling with family or even a group of three couples. Lively Dam Square is just around the corner, with sights like the Anne Frank House also just a short walk away.