It will come as no surprise to anyone that there is a strong bohemian vibe here in New York and no matter where you are in the city, you can find it. From downtown lofts to Upper East Side townhouses, non-conformity is often, paradoxically, the norm here so with that in mind, we've sussed out 8 New York Airbnb homes perfect for Bohemian folks like yourself. We promise that like New Yorkers themselves, every one is a true original!
8 Airbnb Williamsburg Rentals For Your Next Stay In Brooklyn
8 Brooklyn Airbnb Homes Perfect For Influencers and Instagram Models!
8 Of The Most Fabulous Airbnb Homes in Queens, New York
The 5 best Airbnb homes on the Jersey Shore!
8. Bloom Where You're Planted – approx. $800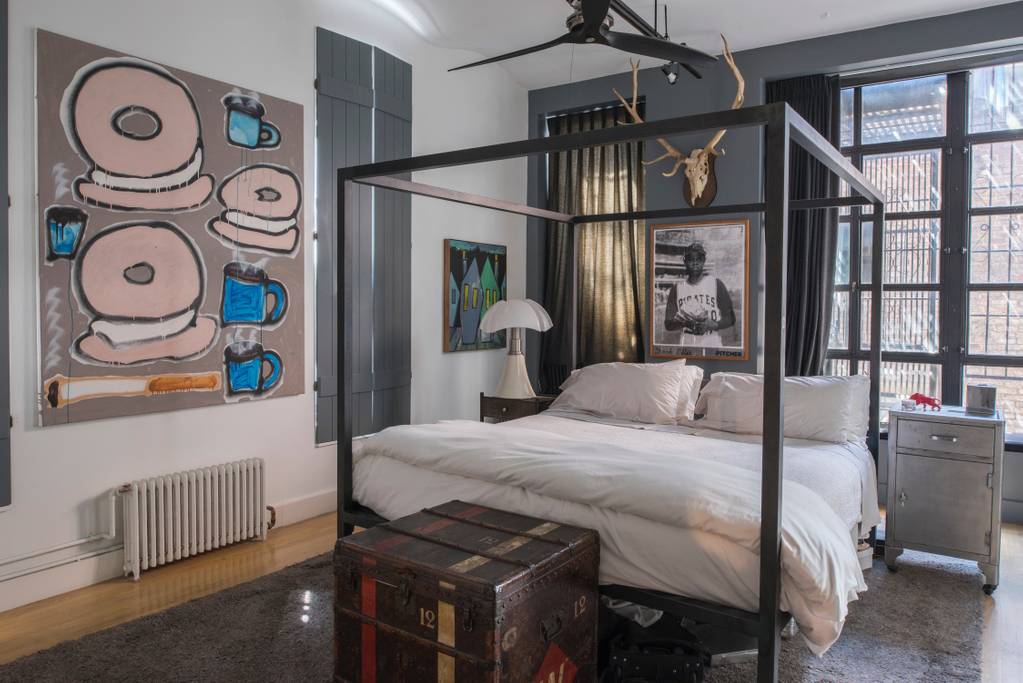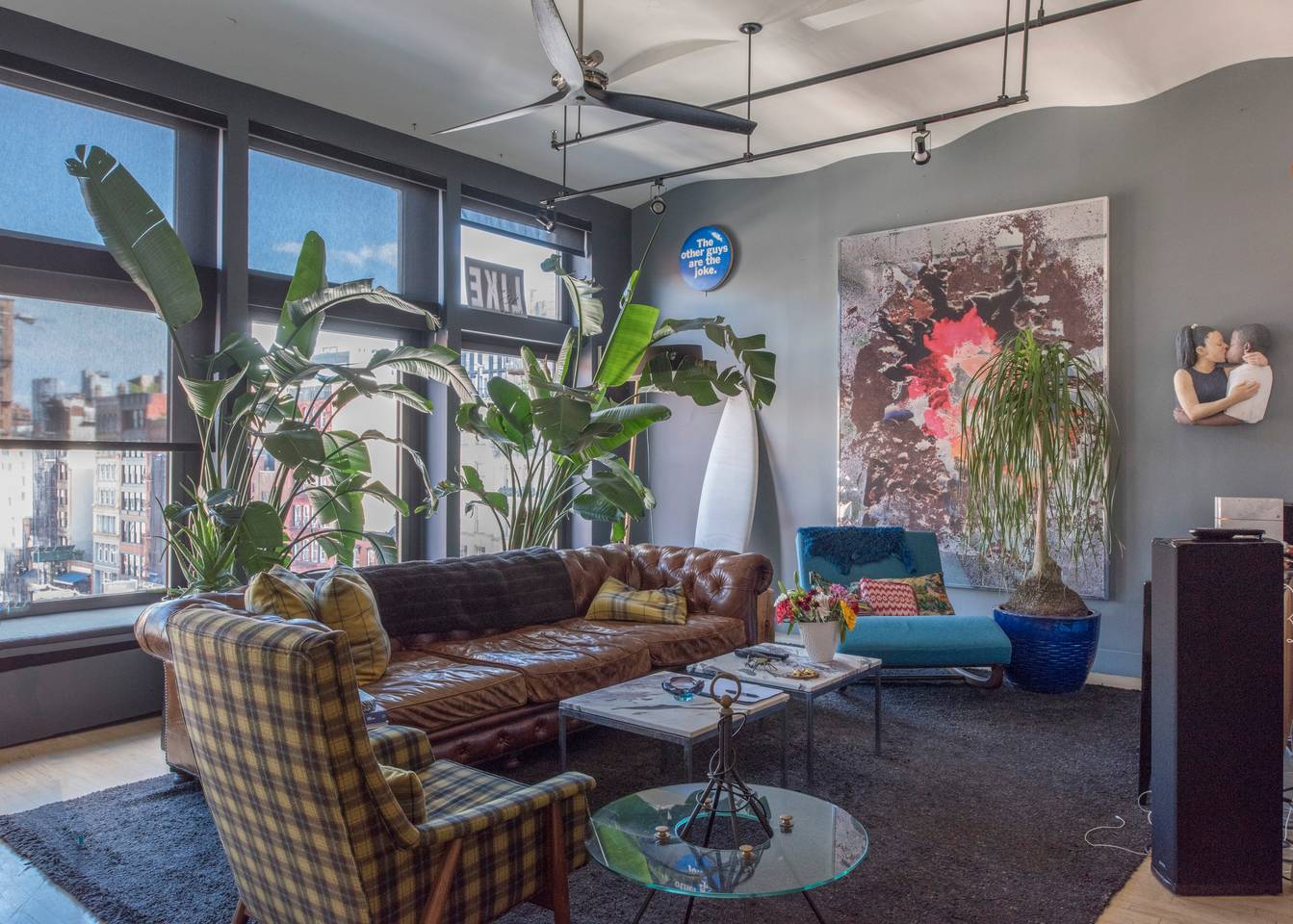 The flower pots are perpendicular to the wall in this Airbnb. If that doesn't tell you enough about this place we're not sure what will. With an elevator that opens up right in to the apartment, this two-bedroom, two-bath Manhattan apartment has high ceilings, steam shower, projector, Jacuzzi, and marble bathroom, full chef's kitchen, and even a bar.
Believe it or not, those aren't the only incredible features of this place. It also has a digital doorman, Play Station 4, a 65" TV, Miele washer/dryer, wireless speakers, wifi, and of course, cable TV and that's not even touching on the art collection.
Near famed Great Jones Street, this bohemian Airbnb will put you near the Public Theater (which is where "Hamilton" premiered), the Housingworks Book Café, and the legendary Strand Bookstore where you'll find just about all of New York on any given day. We have a feeling you might go home and re-evalute how you're displaying your flower pots.
7. Designer Bohemia – approx. $739 a night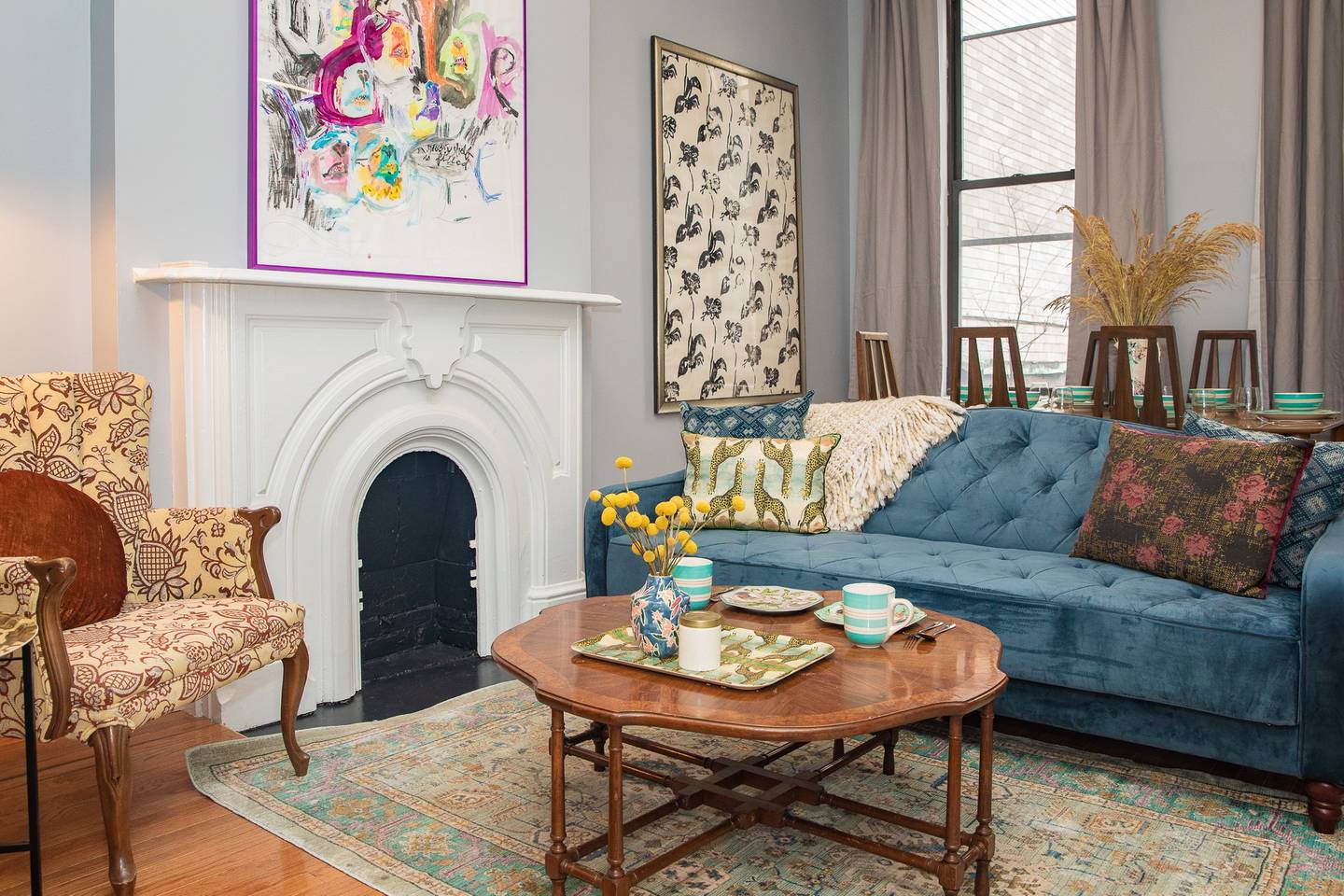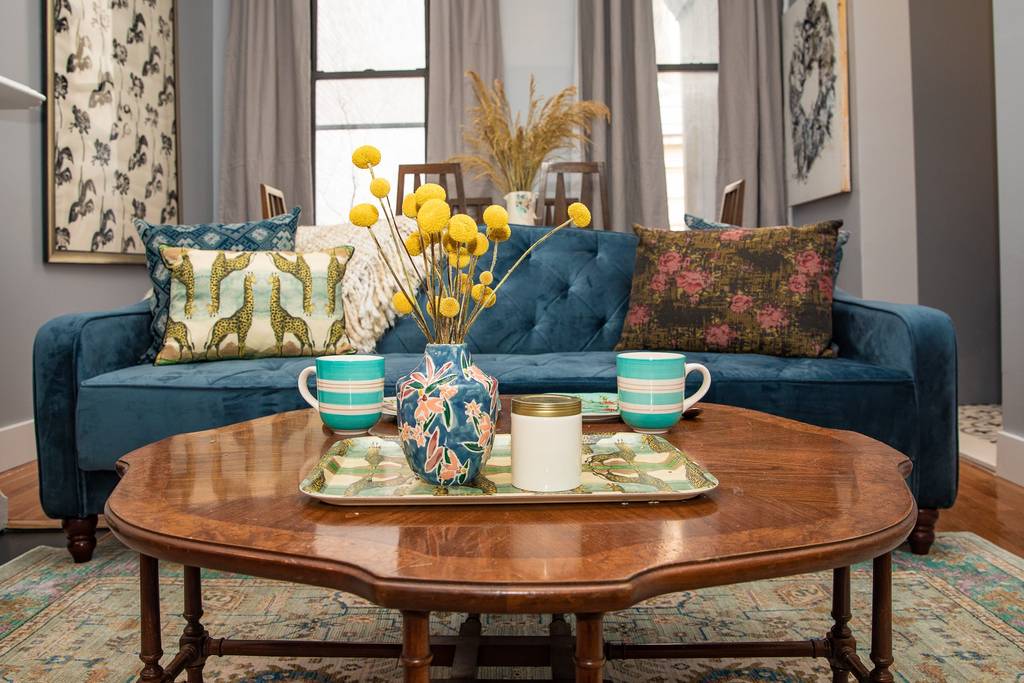 Beaded curtains, modern art, and just a touch of exposed brick all combine to make this mid-town loft feel decidedly downtown bohemian. Sleeping up to eight people in three bedrooms, this place is right in the middle of town, giving you endless options of places to go and things to see in New York.
The Museum of Modern Art is super close by as is the main New York Public Library which is not only worth seeing for the architecture but the exhibits. Close by is Museum Mile which contains the Metropolitan Museum of Art, the Museum of the City of New York, the Guggenheim Museum, and the Cooper-Hewitt, among others.
For shopping you'll be right near Bloomingdale's, Bergdorf Goodman, and Madison Avenue which is almost nothing but shops (like Barney's, Lilly Pulitzer, and of course, Chanel). Finally, we recommend a visit to "The Top of the Rock" from which you can see the entire city. You might even be able to spot your little apartment!
6. Joni's Pad – $750 a night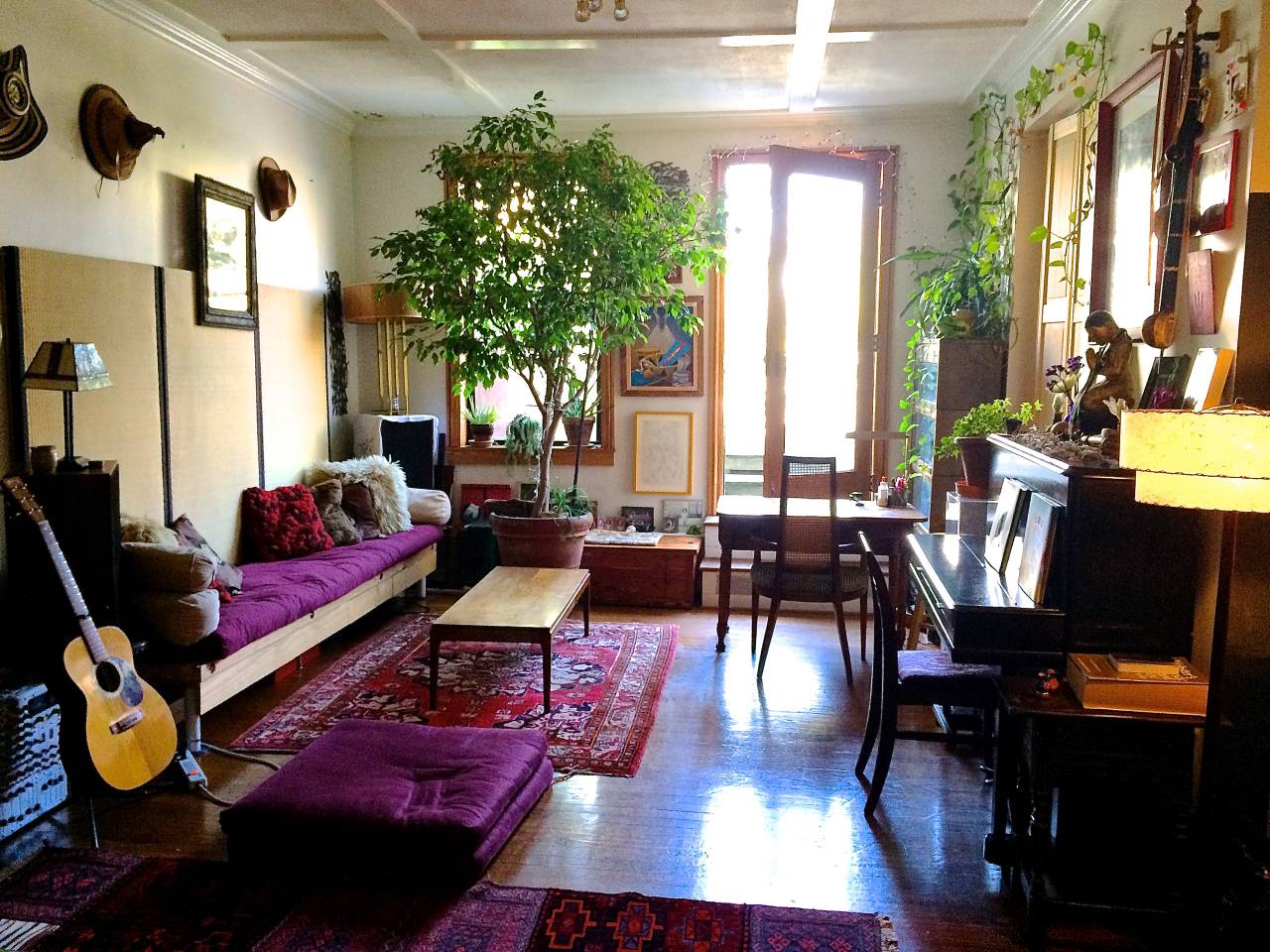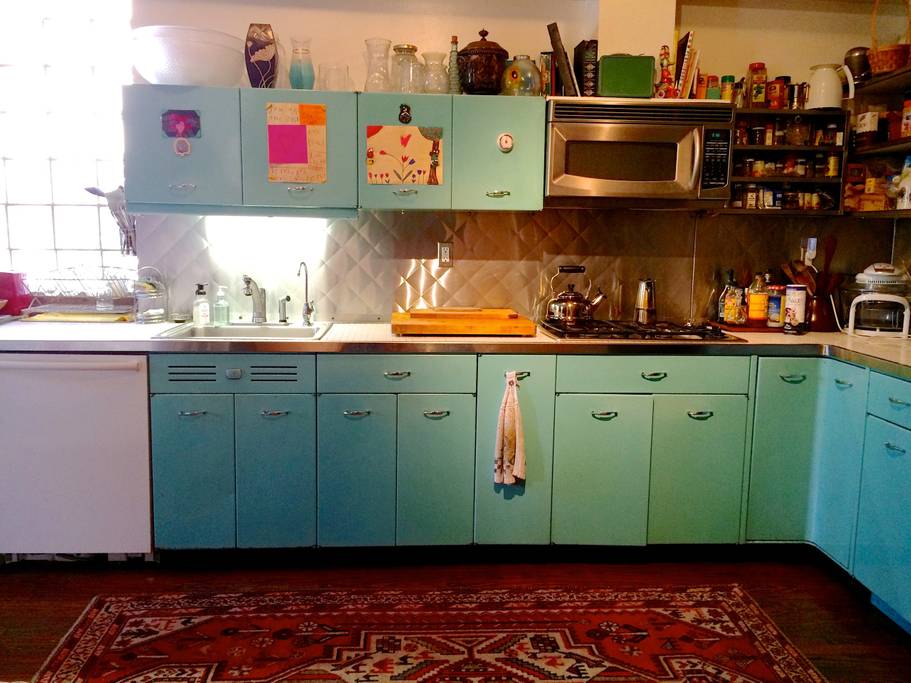 Is it us, or does this look like the kind of place Joni Mitchel would have had in the 70s? Let's see: A few guitars, an upright piano, some antique rugs, and a little collection of plants? We can definitely see her writing "The Circle Game" here.
With all of Williamsburg at your fingertips you'll never be at a loss for something to do. Why not see a show at the Music Hall of Williamsburg or have a picnic at the East River Park or McCarren Park? Check out Brooklyn Bowl where you can not only go bowling but listen to live bands at the same time or the Museum of Food and Drink?
If you're more into eating then learning about food, have a bite at the Greenpoint Fish and Lobster Company or have a fabulous parmigiana at the old school Bamonte's or have a steak at Peter Luger's Steakhouse. And don't forget a trip to the Brooklyn Art Library where you can leaf through thousands upon thousands of sketchbooks sent in by artists around the country.
When you get back home you can make a few sketchbooks of your own and leave them as a thank you to your Airbnb hosts!
5. Williamsburg Wonder – approx. $221 a night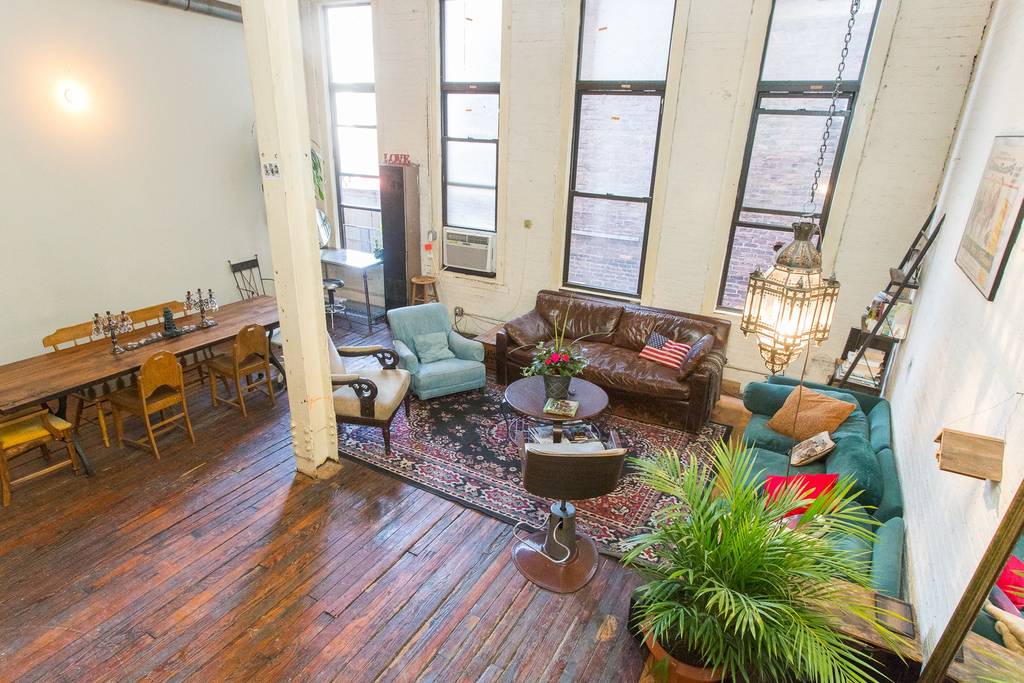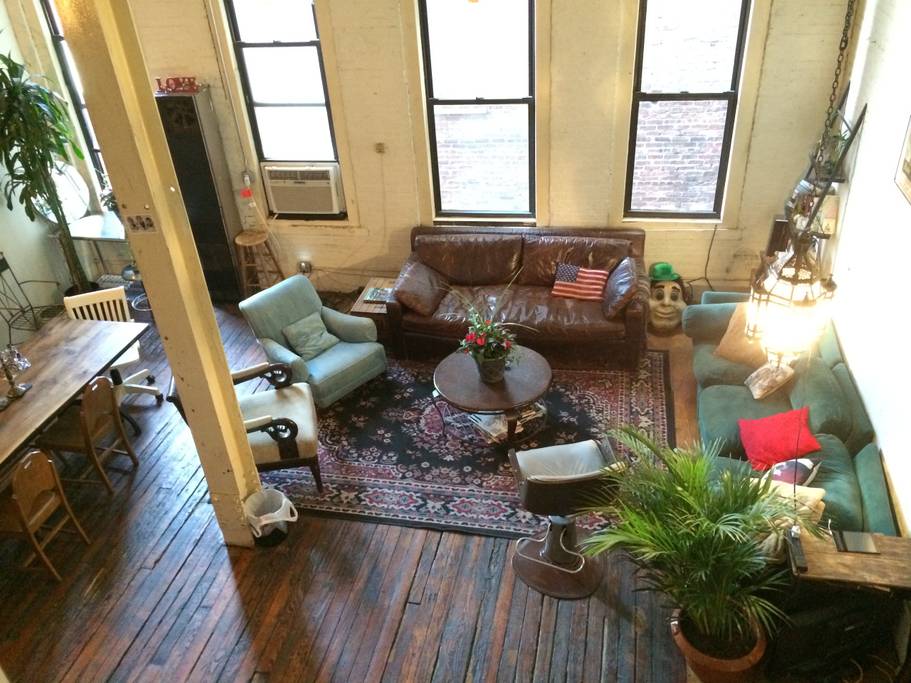 It will most likely come as no surprise that this incredible industrial chic loft has been featured on MTV, in Calvin Klein ads, and who knows where else. Renovated in 2017, this four-bedroom, one-bath Airbnb sleeps up to nine people and can accommodate even more at the dining room table if you have friends in the area.
Just some of the special features of this converted textile factory include a rooftop space with 360° views of the city, a film projector so you can see movies whenever you feel like it, a marble and stone bathroom, stainless steel appliances, an exposed brick wall and an incredible chef's kitchen.
Just a half block away from the subway, this Williamsburg Airbnb is perfectly located to get you anywhere quickly and at just $221 a night, this place is a true bohemian's bargain dream come true!
4. Star Attraction – approx. $950 a night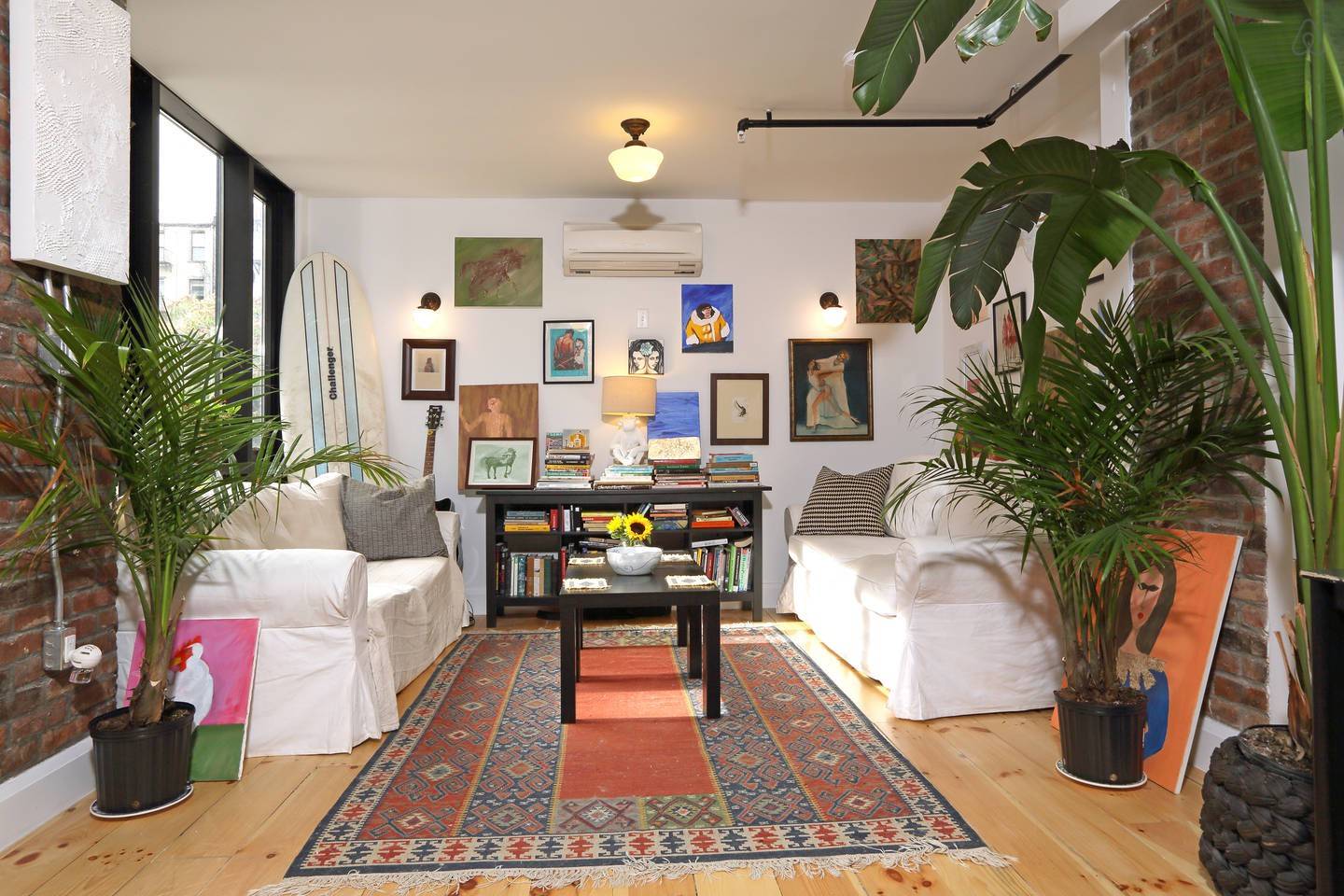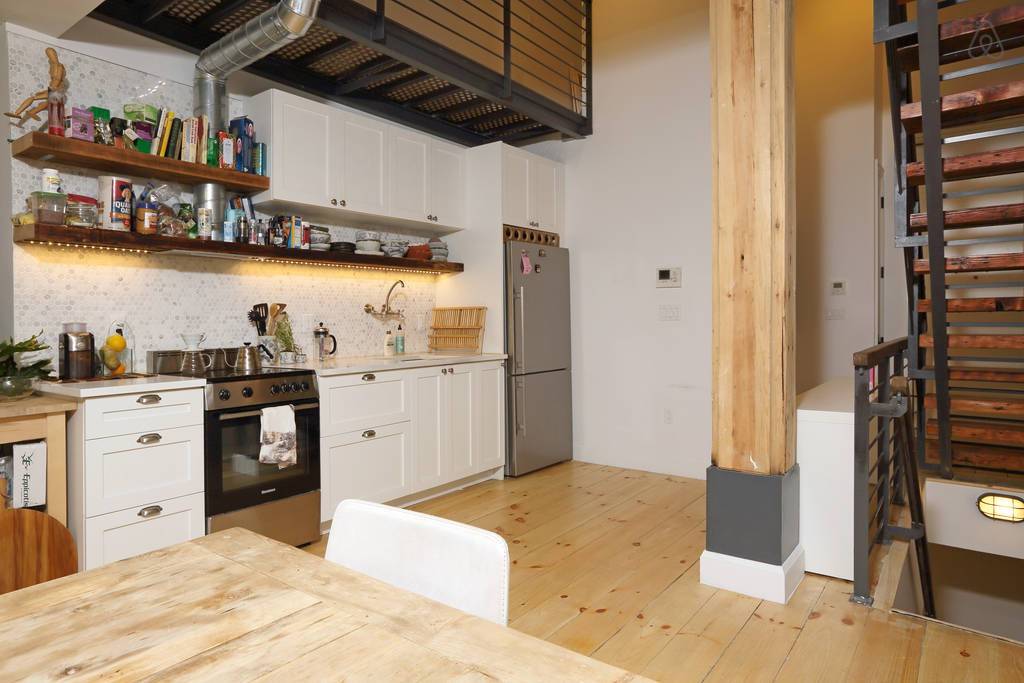 When the Airbnb you're staying in has had a full feature in "Elle" magazine, you know you're staying some place pretty incredible. This Brooklyn Airbnb, which happens to be a former church, was recently featured in "Elle" and looks pretty much exactly the way it looked in the spread.
Three bedrooms and three baths, this home sleeps up to nine people so you can invite eight of your closest friends to come with you. Right in the middle of Williamsburg, it's close enough to the Williamsburg Bridge that you can walk across it, into Manhattan.
If you do walk across, you'll be right near the new Oculus, which is an amazing architectural feat as well as a mall. Of course, if you don't feel like crossing over, you'll be just blocks away from the Knitting Factory where you can catch a band or have dinner at the divine Lilia's where the head chef has a Michelin star. Just make sure to book quickly because this place really fills up!
3. Spa Day Special – approx. $749 a night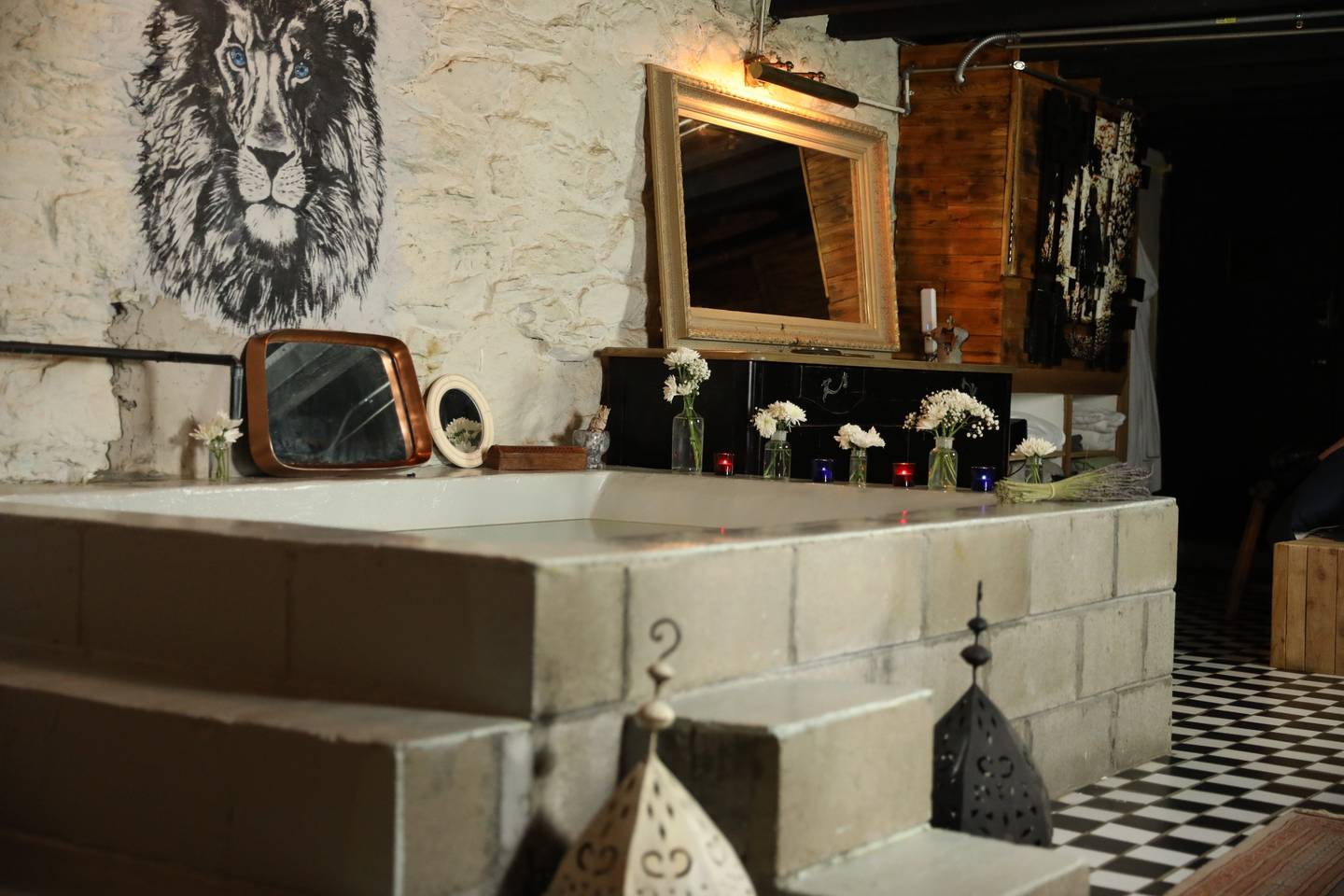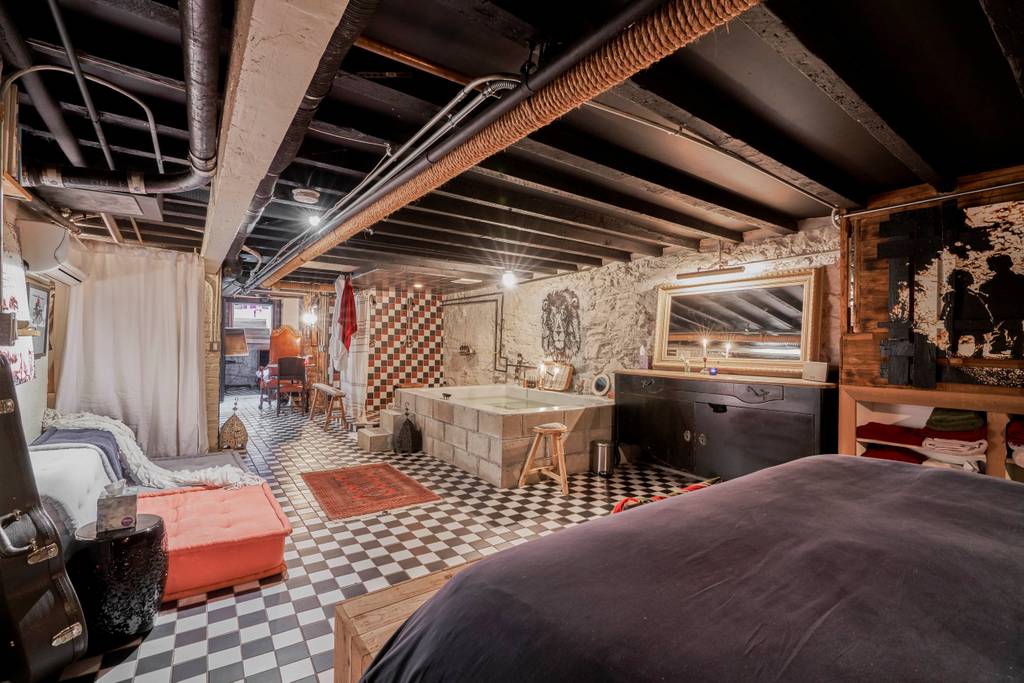 While there are thousands of spas around town, you won't need one if you stay in this three-bedroom Brooklyn Airbnb. With an outdoor soak tub that fits four, a downstairs soak tub, a two-person-deep bathtub, and a sauna that fits four, this Airbnb will give you the most relaxing vacation of your life.
You'll also find luxury bathrobes and soft, oversized towels, not to mention all the incense, candles, and even lanterns you'll need. Your hosts can also help you book a yoga teacher or masseuse if you're interested.
Known as "The Sanctuary," it also has a great outdoor space if you're coming in warmer weather. Even if there isn't, you can still take a swing on the indoor wooden swing. Just be careful not to fall asleep on it!
2. Book It! – approx. $823 a night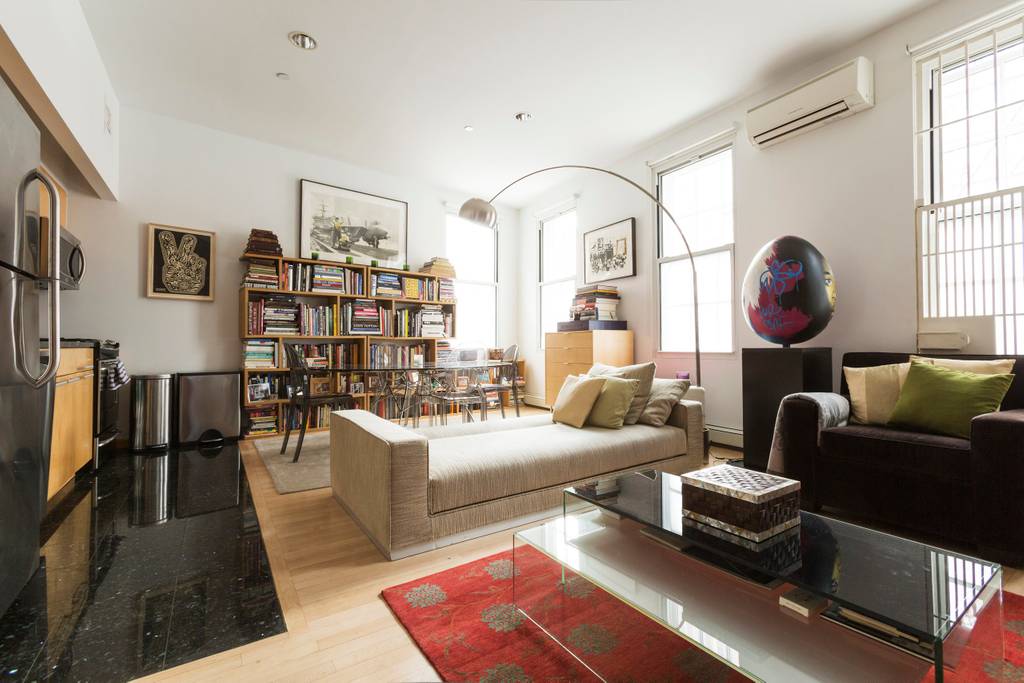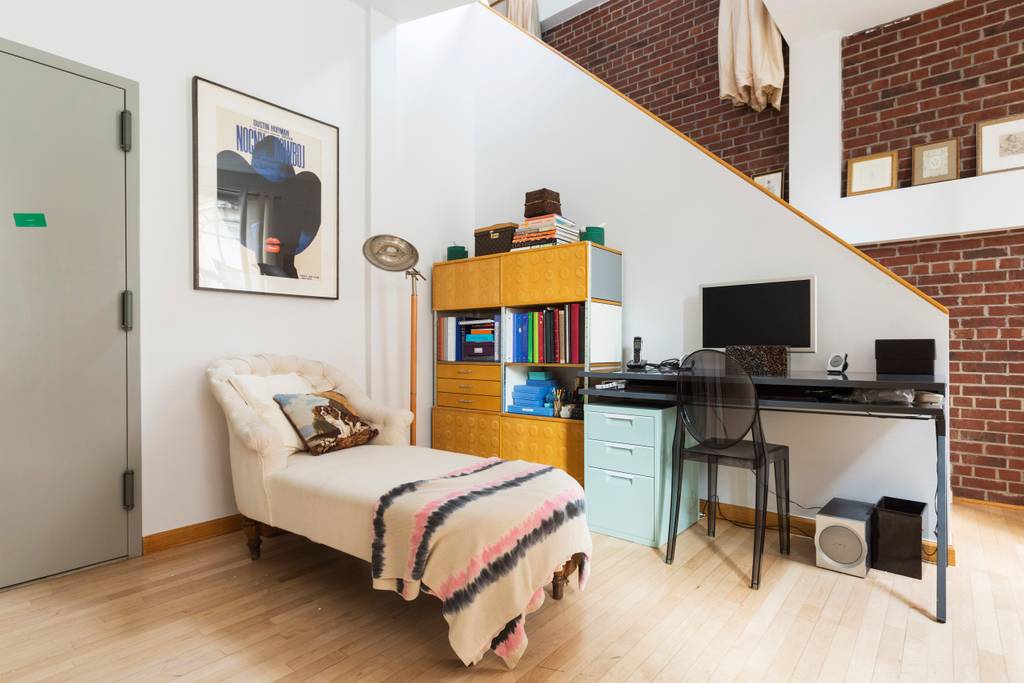 Are you a bohemian book or movie lover? If you are, this is absolutely the Airbnb you should rent! With a collection of over 1,000 completely cataloged DVDs and a TON of books on every conceivable subject. Of course, if that's not quite enough entertainment for you, there's TWC Premium cable, On Demand, and DVRs on both TVs.
Appointment with bedding from Scandia Down, Williams Sonoma kitchenware, and a Bose sound system, this place truly has the best of everything. Located right in the middle of Soho, you'll be near La Mercerie, the incredible restaurant that's part of the Rowan and Williams Guild design store, DeVera, a store which could rival the Metropolitan Museum of Art, and all the restaurants and galleries along West Broadway.
Just make sure you don't let all those books and movies keep you from going outside!
1. Flat-out Fabulous – approx. $289 a night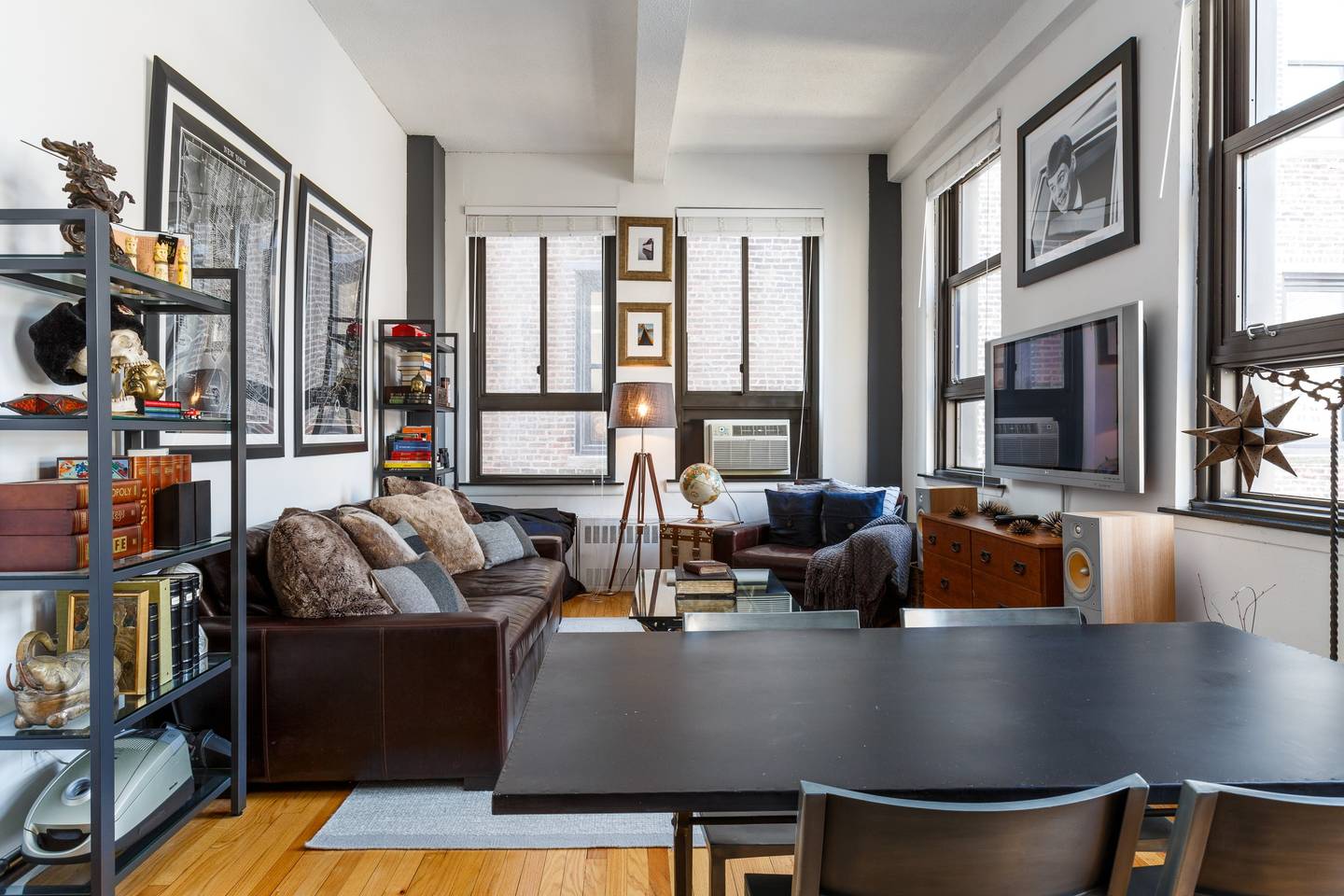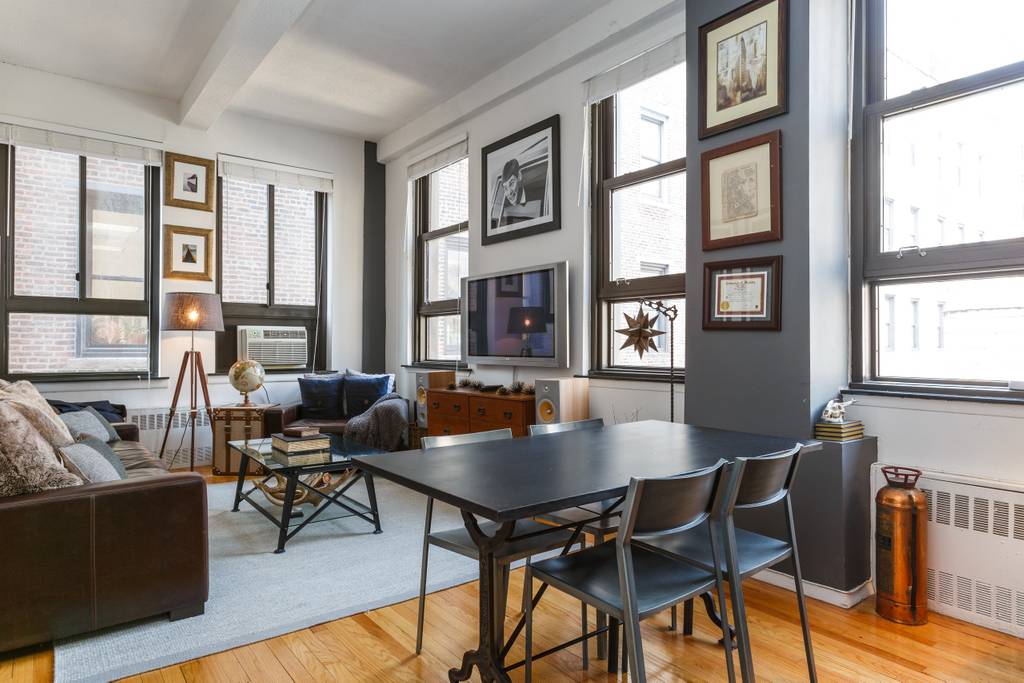 Although this neighborhood used to be known for its wholesale goods and textbook stores, today the Flatiron District one of the hippest bohemian neighborhoods in Manhattan.
Just below midtown and just north of downtown, you can easily get anywhere in the city from here, whether it's Soho, Nolita, the East and West Village, TriBeCa, Hell's Kitchen, the Upper East Side, you name it, you can get there in minutes. For food, we recommend Il Pastaio which is in Eataly, a hole in the wall called Mughlai for Indian, Maialino (OK, that's also Italian), Ess-a-Bagel for the best bagel you've ever had in your life, Park Avenue Autumn/Winter/Spring/Summer which completely changes depending on the season, and, if you want to really, really splurge, Eleven Madison Park.
For shopping, you'll be in prime thrift shop territory so check out the City Opera Thrift Shop and Vintage Thrift, as well as the Chelsea Flea Market.
For something to do, check out the Morgan Library just a few blocks up on Madison, have a stroll through Madison Square Park (where you might run into Chelsea Clinton who's been known to take a walk through the area with her very famous parents), or head slightly uptown to the Museum of the Dog.