One of the great joys of traveling is the opportunity to see a city as a whole. Not just attraction by attraction but a full view of the town from up top. While there are a lot of buildings that offer great one-time views of the New York skyline (Top of the Rock and the Empire State Building among them), there's no reason not to see a great view every day of your stay so with that in mind, we've put together this list of great city eye candy. We promise these New York area Airbnb homes with skyline views will give you a whole different perspective!
9 New York Rentals To Live Like A Local In
8 of New York's Most Unusual Airbnb Homes
These are the Best Airbnb homes on Long Beach Island, NJ
8 Eccentric New York Airbnb Homes That Will Make You Feel Like a True New Yorker
8. The Kids Are Alright – approx. $680 a night
Want to play king and queen while you're in the city?  If this New York Airbnb doesn't make you feel like royalty, nothing will. The furniture is beyond elegant and the view of Central Park is like something out of a movie.
Regardless of the season, you'll be looking at a view that's remarkable so book this place any time of the year. And remember, this posh suite sleeps five so you can bring the kids and the nanny! In the afternoon they can all go to any one of the fabulous Disney offerings on Broadway ("The Lion King," "Frozen," etc.) while you explore Tiffany's, Bergdorf Goodman, and Saks Fifth Avenue.
You can really wear them out with a visit to the Central Park Zoo, the Top of the Rock, and the Eloise attraction at the Plaza Hotel. Top it all off with a visit to the hotel's "Todd English Food Hall" which has everything a hungry kid could want.
7. A View from a Bridge – $635 a night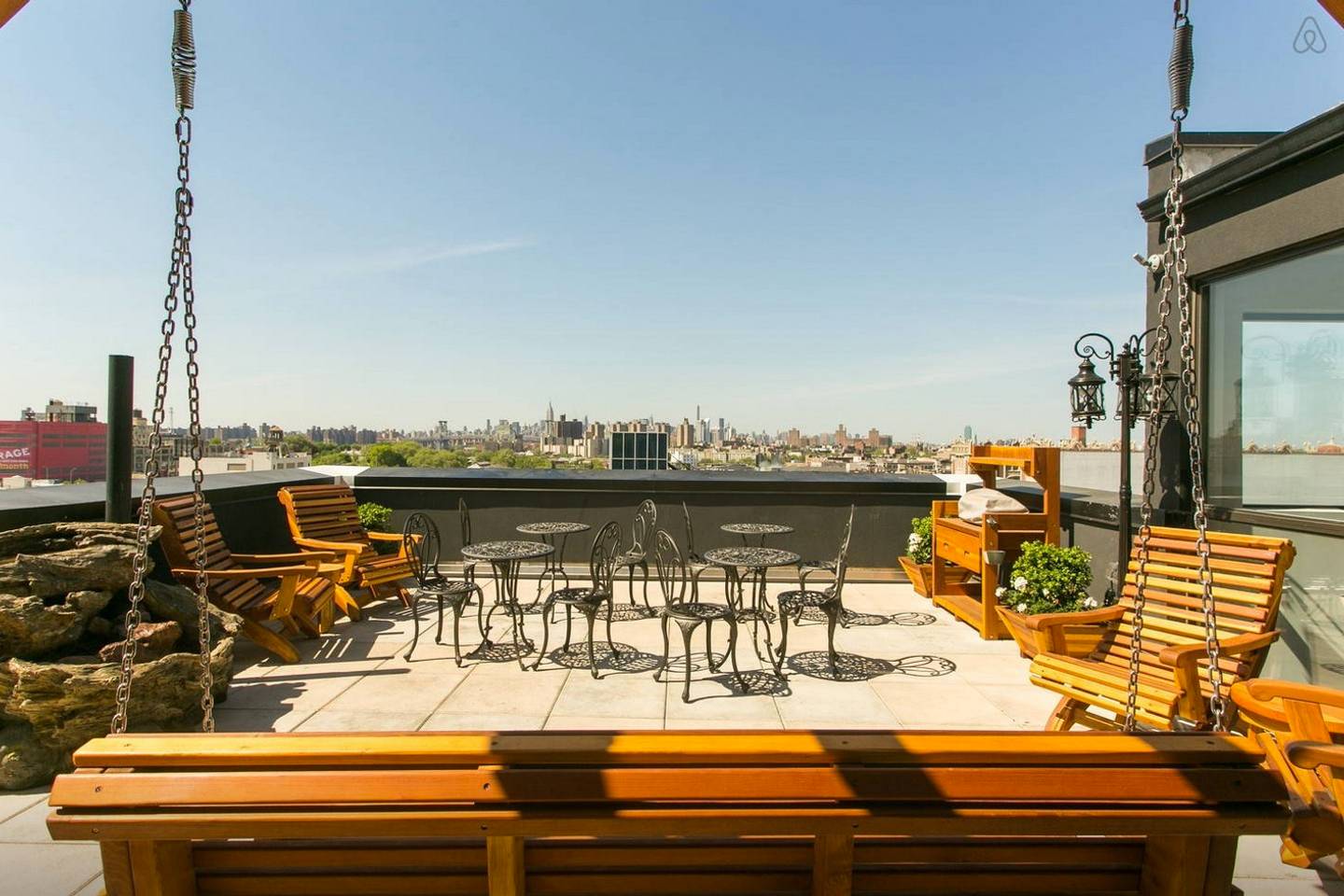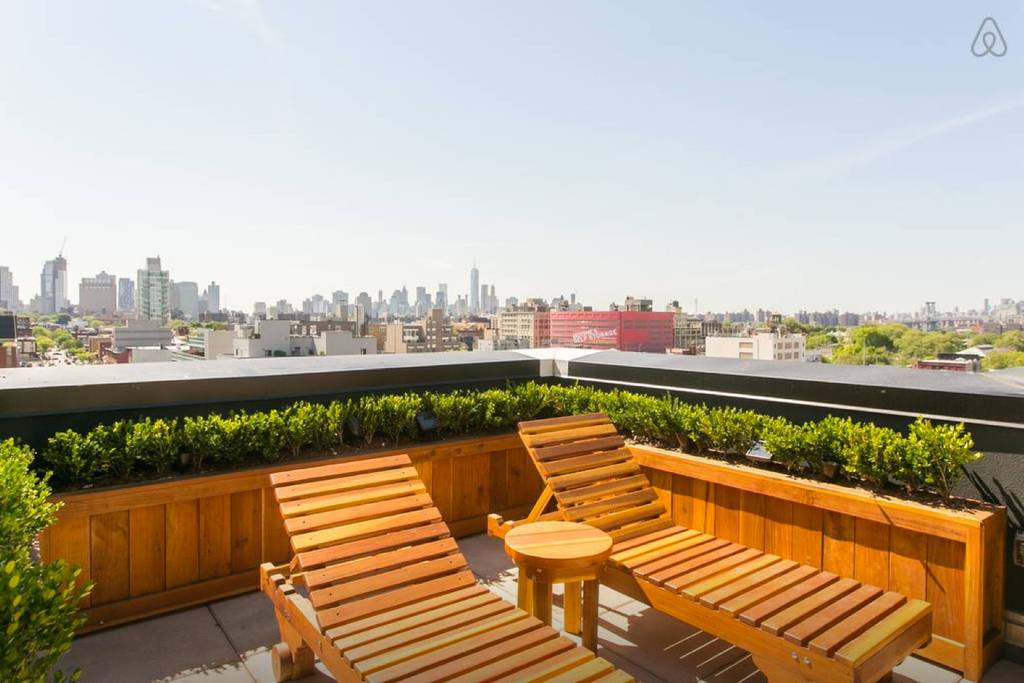 It doesn't get better than this Airbnb duplex near the Brooklyn Bridge. The enormous roof offers a view of the New York skyline that is all but unobstructed with both café tables and swing sets at your disposal (if you have friends in the city there's more than enough room to invite them over for a few drinks).
With a full gym and a game room, you'll get plenty of exercise, although you're actually close enough to the Brooklyn Bridge to walk into the city if you'd rather get your exercise that way. There's also a movie room in this complex so be sure to take advantage of that while you're here, although the scene outside really can't be topped.
6. Penthouse Perfection – approx. $399 a night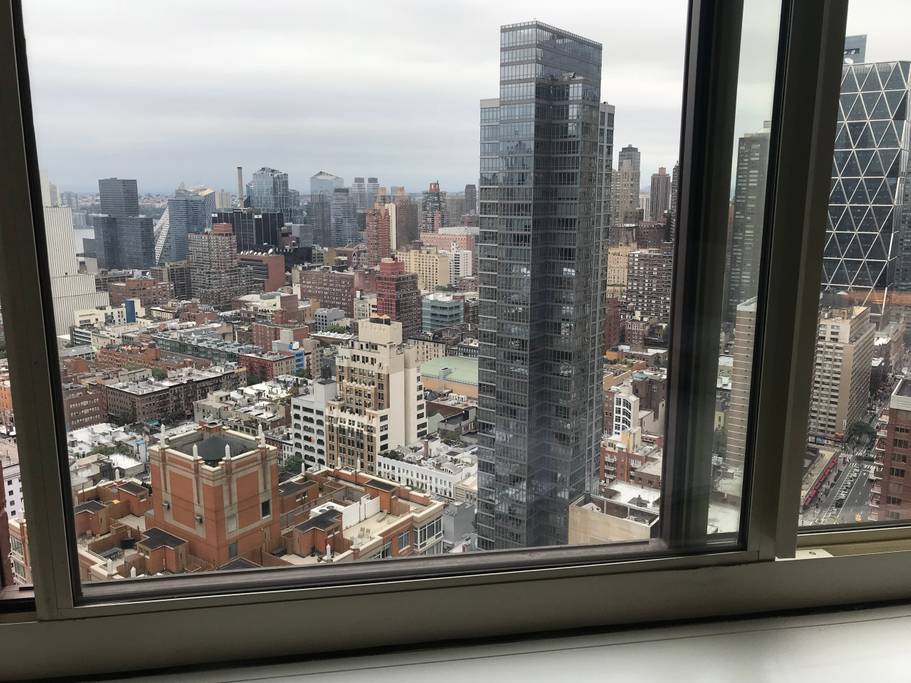 The first thing you have to do in this place is take a selfie in front of that incredible lace room divider. Got it? OK, now, get out there and see the city!
Staying at this penthouse Airbnb will put you within walking distance of Times Square, Central Park, the Theater District, Bryant Park, Rockefeller Center, Radio City Music Hall, and the newly renovated St. Patrick's Cathedral so bring your sneakers! And while you're in the area, we insist that you try a real New York street pretzel. Once you've had one you'll never be able to have a "regular" pretzel again.
While you can find one in other parts of the city, there's an exceptionally big concentration of hot dog and pretzel carts here so go for it. If you'd rather go for a splurge meal, why not try the newly re-opened Russian Tea Room or the BG restaurant at Bergdorf Goodman which may have the only view in town as good as the one from your Airbnb!
5. World Events – approx. $1,195 a night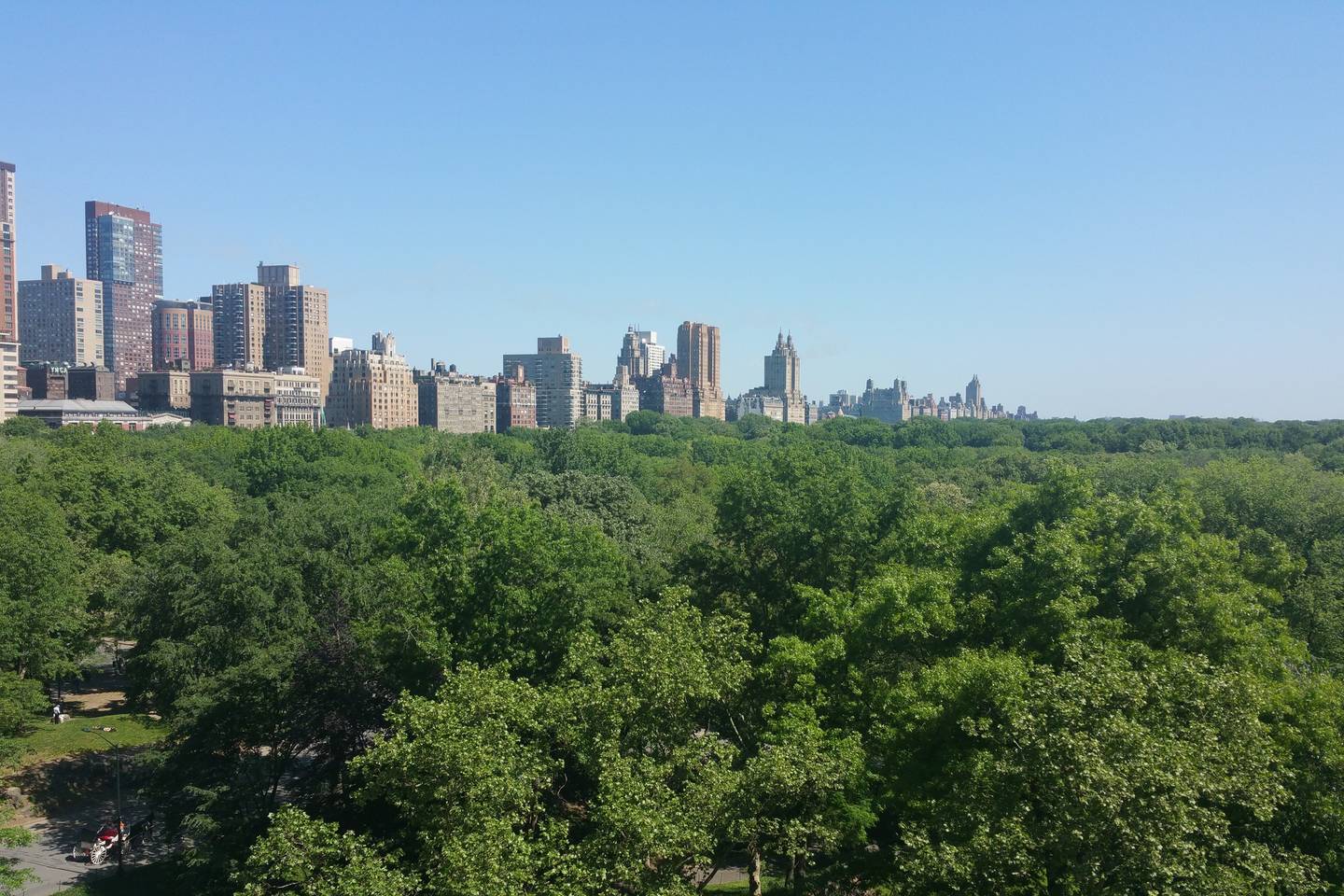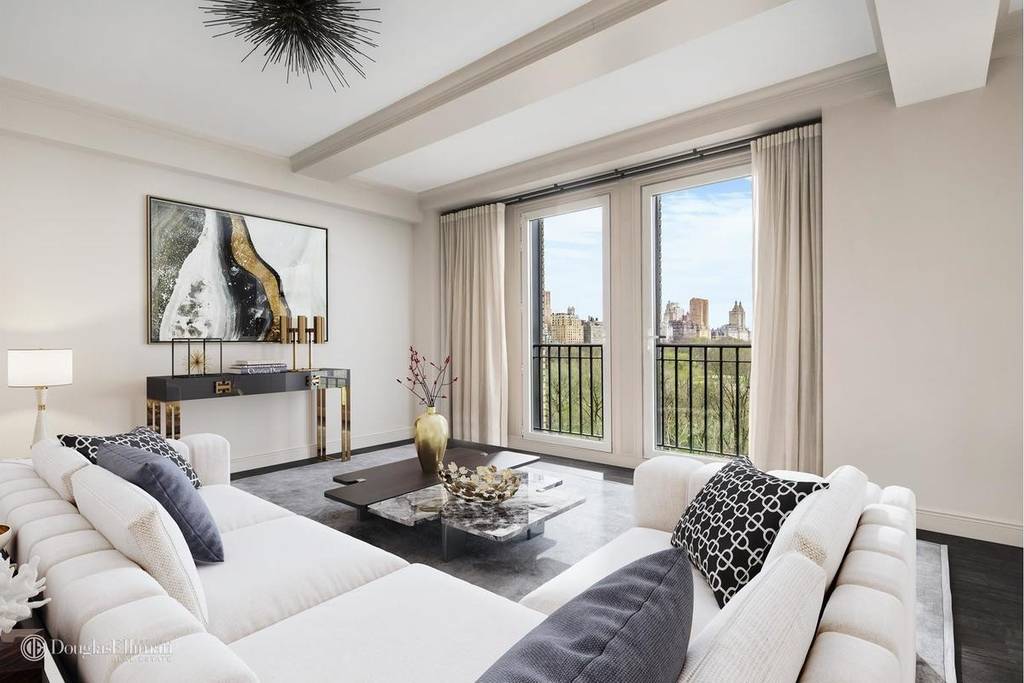 At $1,195 a night this five-star Airbnb, which sleeps four, could be a serious bargain if you get together with friends.
With an inside view as stunning as the one outside, this luxury rental is the perfect place from which to watch any of the endless numbers of parades that go up and down Fifth Avenue: the Macy's Thanksgiving Day Parade, the Easter Parade (bring your bonnet!), the Puerto Rican Day Parade and the St. Patrick's Day Parade are all big events here and this Airbnb will give you one of the most luxurious vantage points in town.
You can even see the New York City Marathon as well as the New Year's Eve fireworks from here! That said, the view from this luxury New York Airbnb are so incredible you don't even need an event for a great view. Just open the apartment's French doors and you'll find the world at your feet!
4. Line of Sight – approx. $549 a night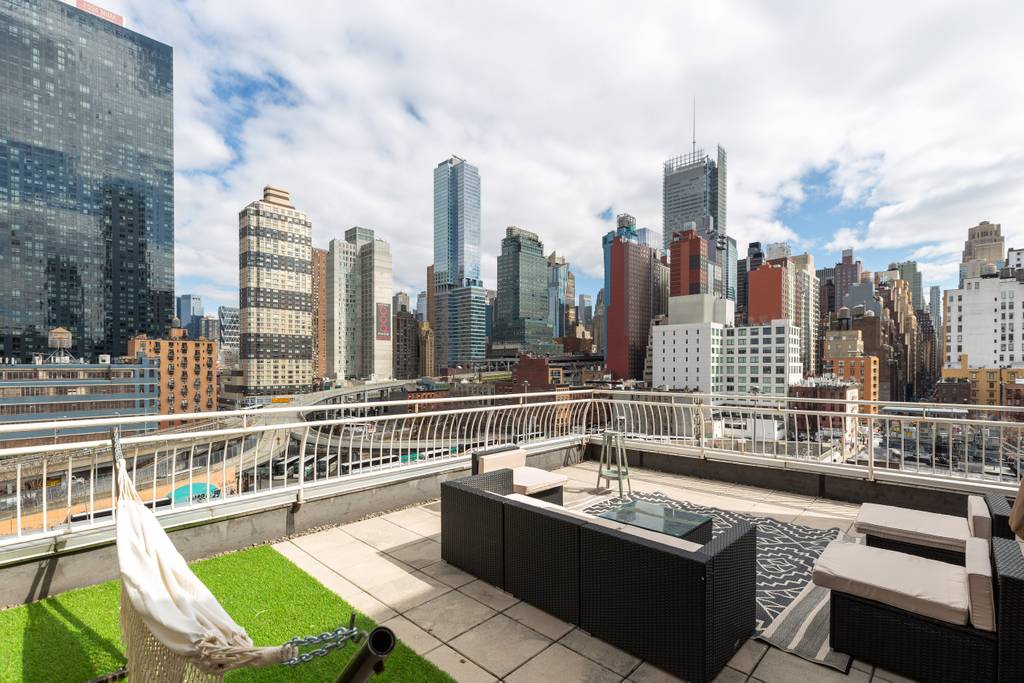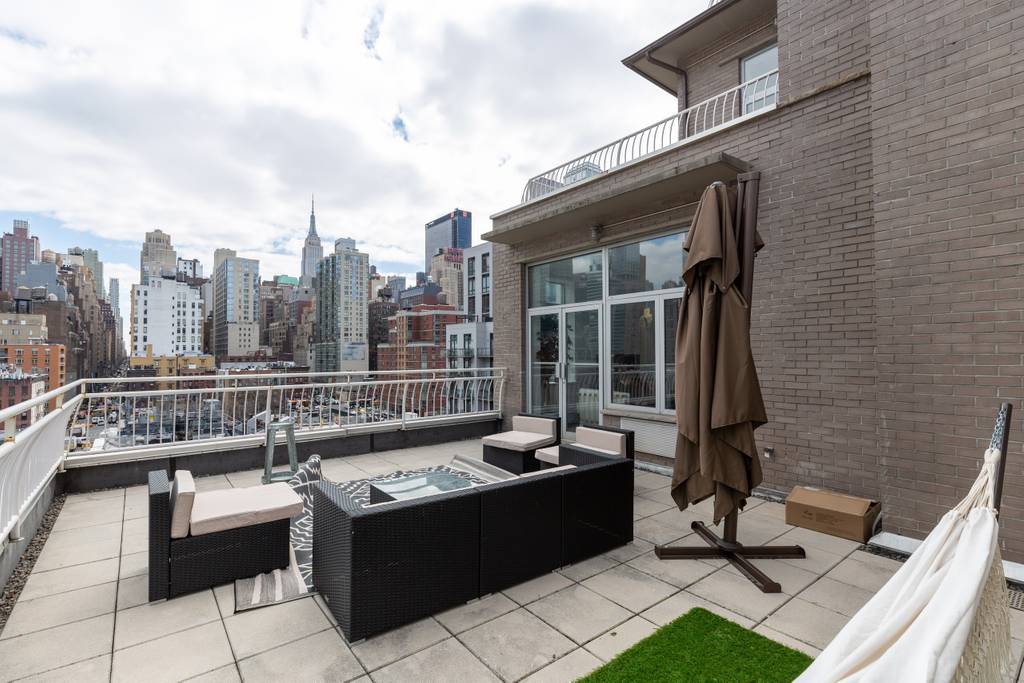 A private elevator opens on to this remarkable penthouse duplex with no less than two terraces from which to enjoy the incredible panoramic views of New York City.
This place is new, so book early before everyone hears about it (or they decide it's priced too low—right now it's $549 a night and sleeps seven, making it a real bargain). The entire apartment is bathed in light, a true blessing in a city where people are used to living like moles. The kitchen, usually the smallest, most claustrophobic room in any New York apartment, feels open and airy with enough traffic space in which to roller skate.
You'll be able to see the Empire State Building on one side and the entire west side of the city on the other. The décor is minimalist with just a touch of quirk but chances are with those views, you won't really be looking at the décor much, anyway!
3. Let the River Run – approx. $650 a night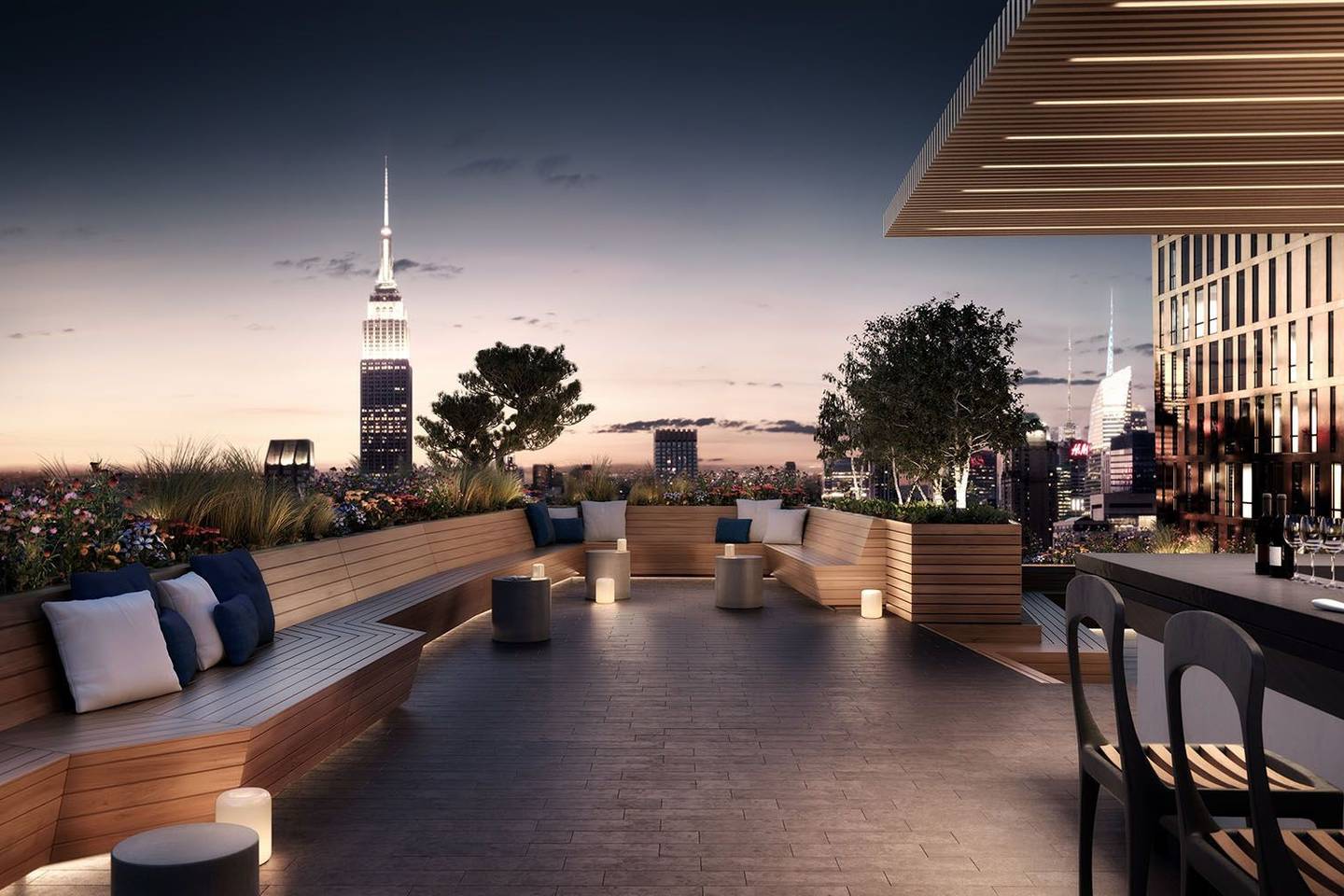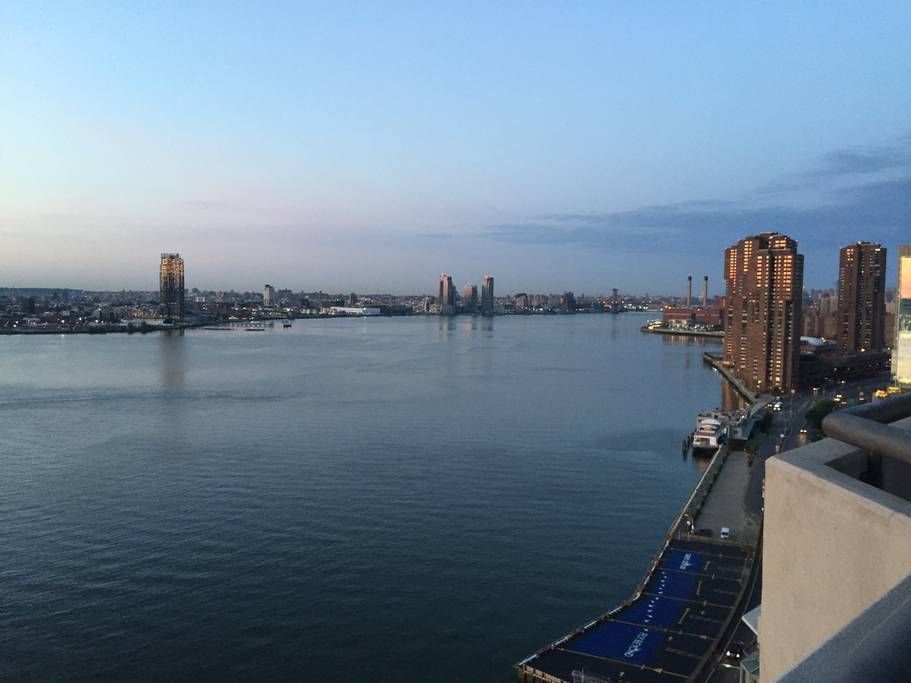 Just a few blocks from the United Nations (uptown) and Gramercy Park (downtown), this three-bedroom, two-bath Manhattan Airbnb is perfectly situated to make sure you have easy access to all parts of the city.
For instance, you'll be just a hop, skip, and a jump away from Grand Central Station, the Morgan Library, Madison Square Park, the National Museum of Mathematics, and even the Theater District. You'll also have your own private terrace with views of the East River that just seem to go on forever but if that's not quite enough, why not take the Roosevelt Island Tram for a truly up-close-and-personal look, especially at night.
And by the way, if that's still not enough, you'll have access to the building's roof terrace as well.
2. Oh, Hell Yes! Approx. $675 a night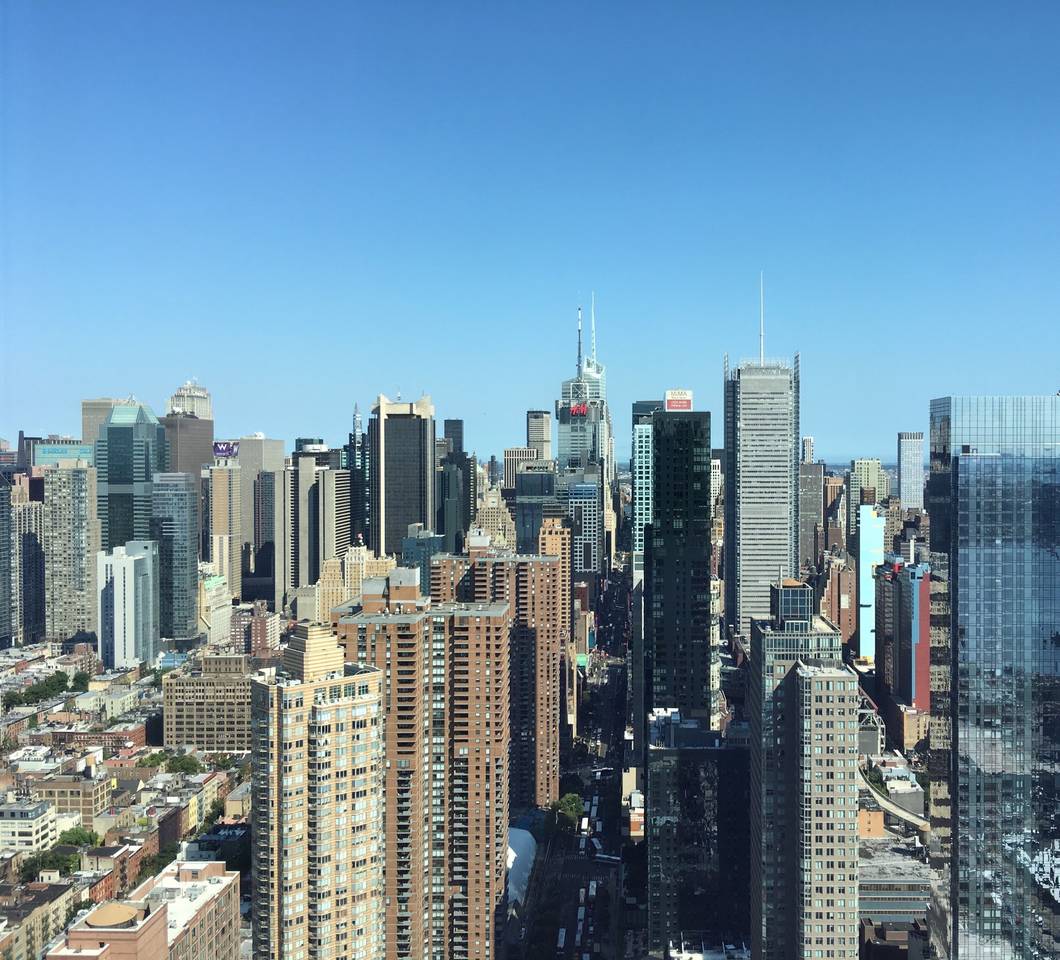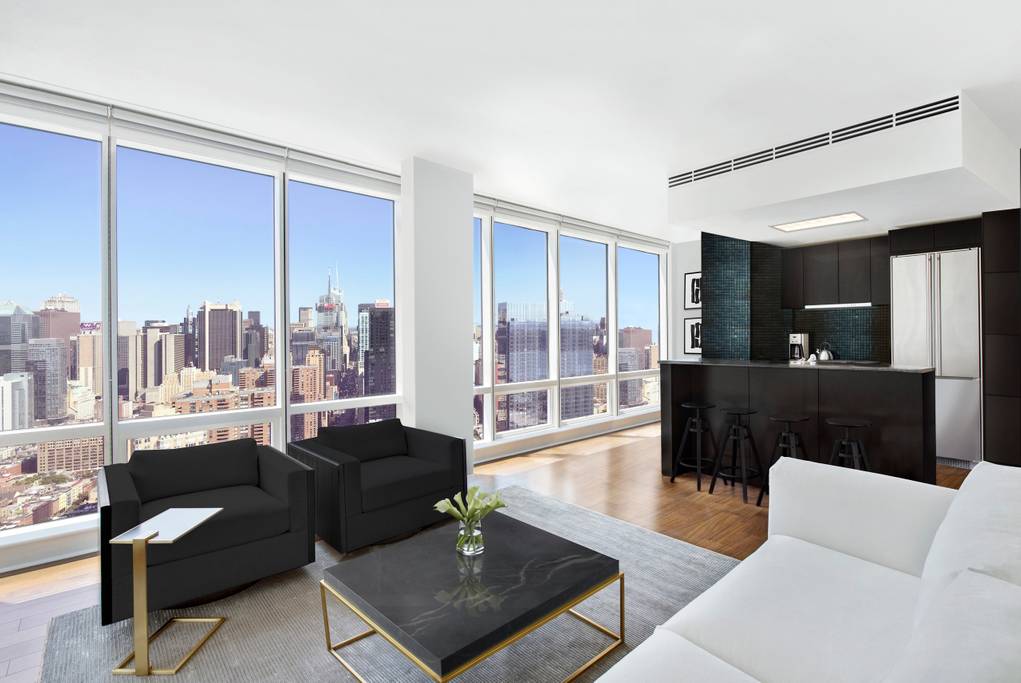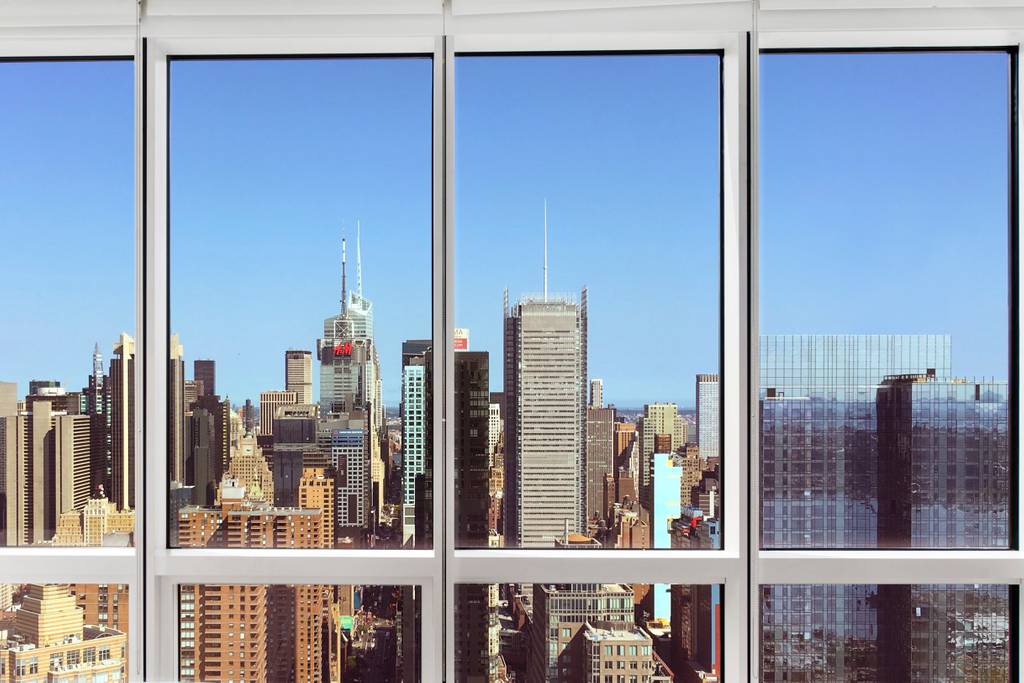 With views that literally span the north, west, east, and south of the city, you'll miss mothing from this Hell's Kitchen Airbnb. Although Hell's Kitchen used to be considered a really, really bad part of town it's now considered a highly desirable area, especially given its proximity to the Theater District, Times Square, the Museum of Modern Art, the Intrepid Sea, Air & Space Museum, the Hell's Kitchen Flea Market and Chelsea Piers.
If you decide to head out to a show (be sure to get discount tickets at the TKTS booth!), be sure to have a meal at one of the great restaurants on Restaurant Row like local favorite Joe Allen's (they make a great burger!), or even the legendary Sardi's where you can check out all the caricatures of your favorite Broadway stars.
And afterwards you can come home and check out the real stars from your bedroom!
1. Jersey Rules! Approx. $600 a night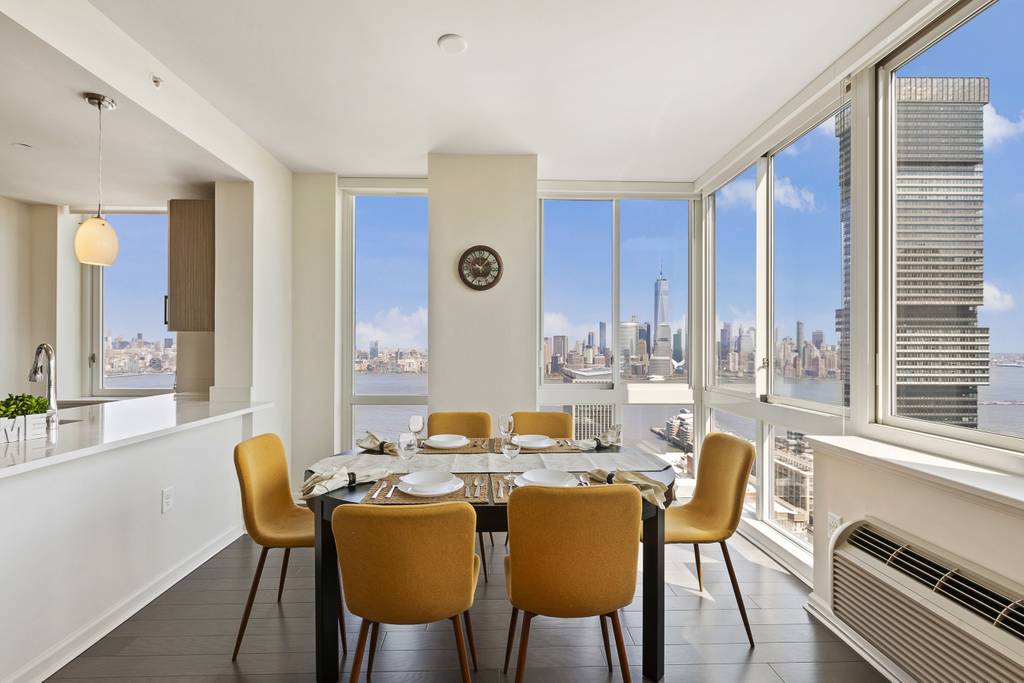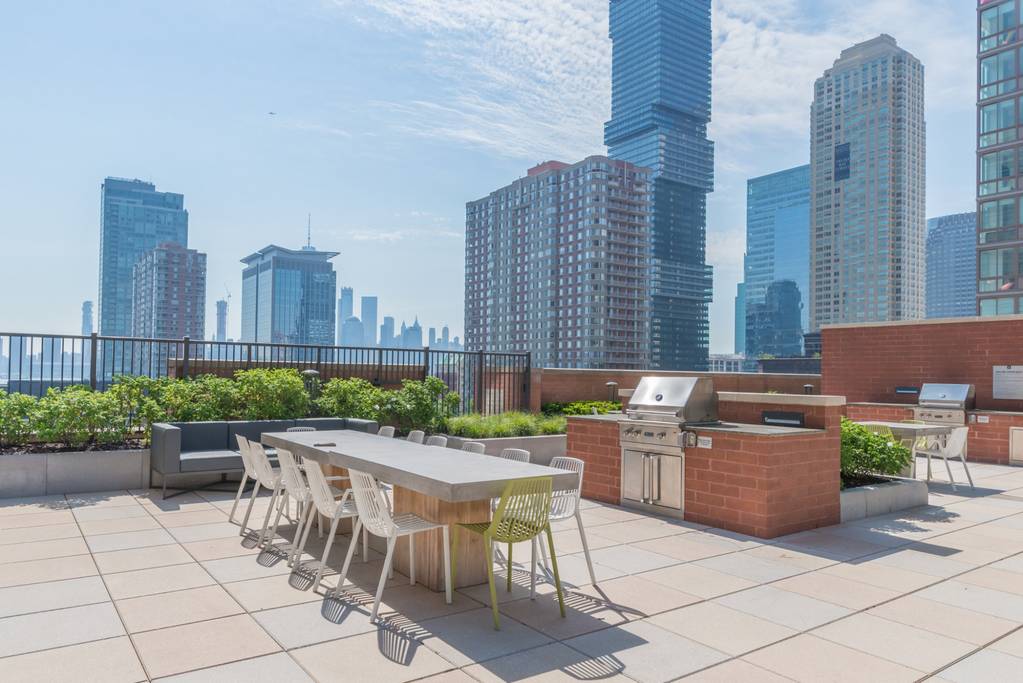 OK, it's New Jersey, but hear us out! Staying at this luxury Airbnb will give you access to the building's gym, hot tub, pool, roof top lounge, piano, business center, simulation golf center, common area, pool table, business center, and even swimming pool.
That said, you might not even use any of it since it will mean pulling yourself away from some of the most incredible views of the city you've ever seen. In fact, you'll get better views of the skyline from here than you will from Manhattan! The only downside is that once you've lived with views like these, going back to normal life is going to be a challenge.
And if you're worried about making it into the city, fear not: You'll be just a five-minute train ride away and you'll have 24-hour access to the PATH subway system, making this the perfect place to stay if you're here on a corporate trip.