These are the best Airbnb homes in Rome. Rome, also known as the eternal city, is one of the best international destinations for travelers of all ages. It's so chock full of landmarks and monuments that you could easily spend a week just sightseeing without even experiencing many of the local flavors. So, if you want to maximize your gelato tasting, see the Vatican, toss a coin in the Trevi Fountain, and more, you better get comfortable! These luxury Airbnbs in Rome will ensure that you sleep off that jetlag and get well-rested quickly to see everything you possibly can in your visit. Check out these for your next trip to Rome!
These are the 8 weirdest Airbnb homes in France!
Rooms With a View: 8 Florence Airbnb Homes with Incredible Views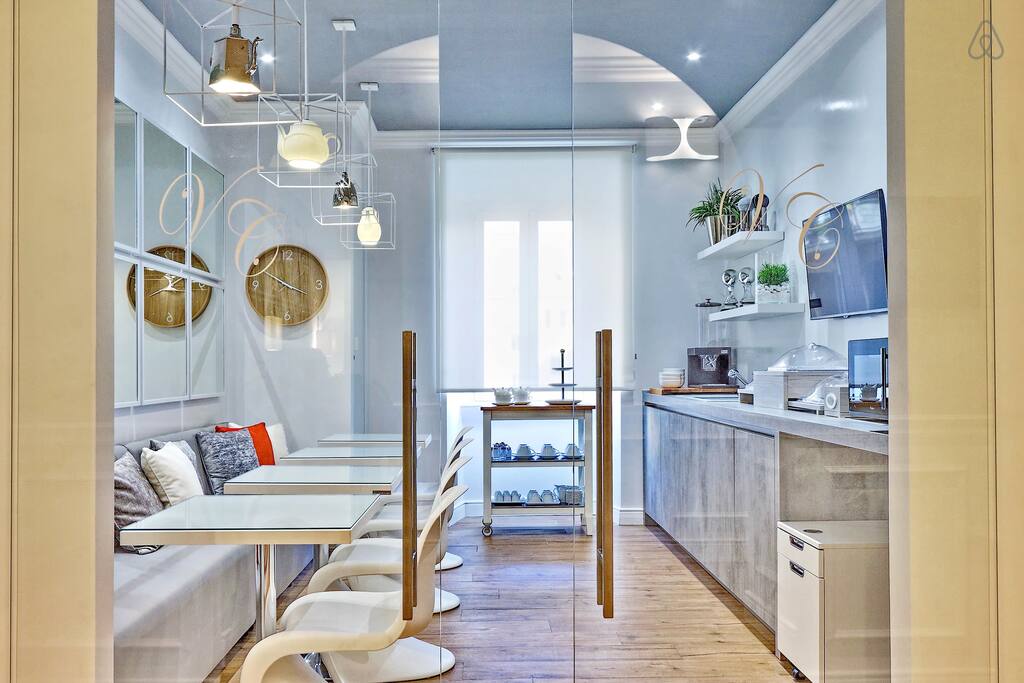 Whether you're a first-timer or you've been to Rome a handful of times previously, the Vatican is likely on your list once again. The headquarters of the Roman Catholic Church is one of the biggest sites to see in Rome. With this luxury spot, you'll be right near the Vatican and Saint Peter's square.
This large apartment is ideal for a large family or group of couples who don't want to deal with hotel living while abroad. There are 4 bedrooms and 4 bathrooms which means no one has to share a bathroom (can you say ideal?). There's also an extra sofa bed which means you can bring kiddos along without issue.
Some of the best amenities in this apartment is an elevator that promotes accessibility, hairdryer, Wifi (oh so necessary!), kitchen, and both air conditioning and heating. Cafes and restaurants are within walking distance and the area is both safe and calm at night. You'll be next to the Metro if you need it, but with so many attractions (think Vatican Museum and Sistine Chapel) within walking distance, we're not sure you'll need it!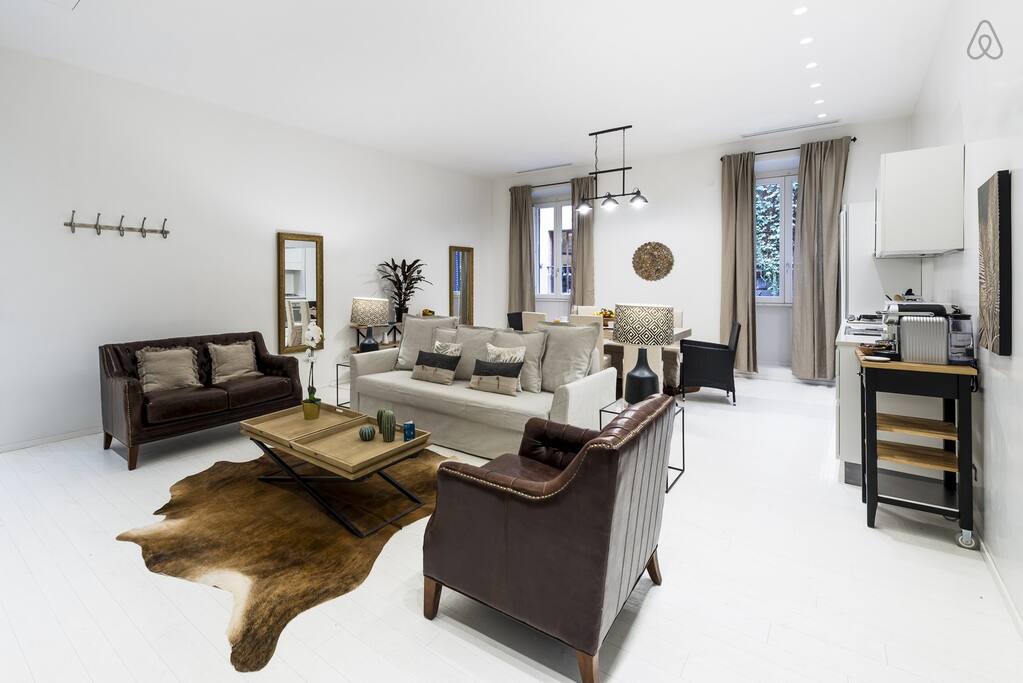 This simplistic and chic Spanish Steps apartment will have you in awe when you first walk in. It's sparkling clean with spacious rooms and 3 bedrooms and 2 baths. You can bring your closest 8 friends and family members to Rome to stay in this spot. You'll be able to expect the finest linens and towels, high-end toiletries, a safe, an elevator, a fully-equipped kitchen, a Nespresso machine with capsules, and you haven't even left the apartment yet!
Once you're done pampering yourself in your new apartment, you can talk a stroll to one of the many surrounding restaurant, bars, shops or sites. We recommend the Spanish Steps (hence the name), Park Villa Borghese, and Via Condotti. You also have Metro stations and bus lines at your beck and call to take you wherever else you may want to go in the city. This upscale location is one of the best in Rome, and you'll be in the heart of all the action!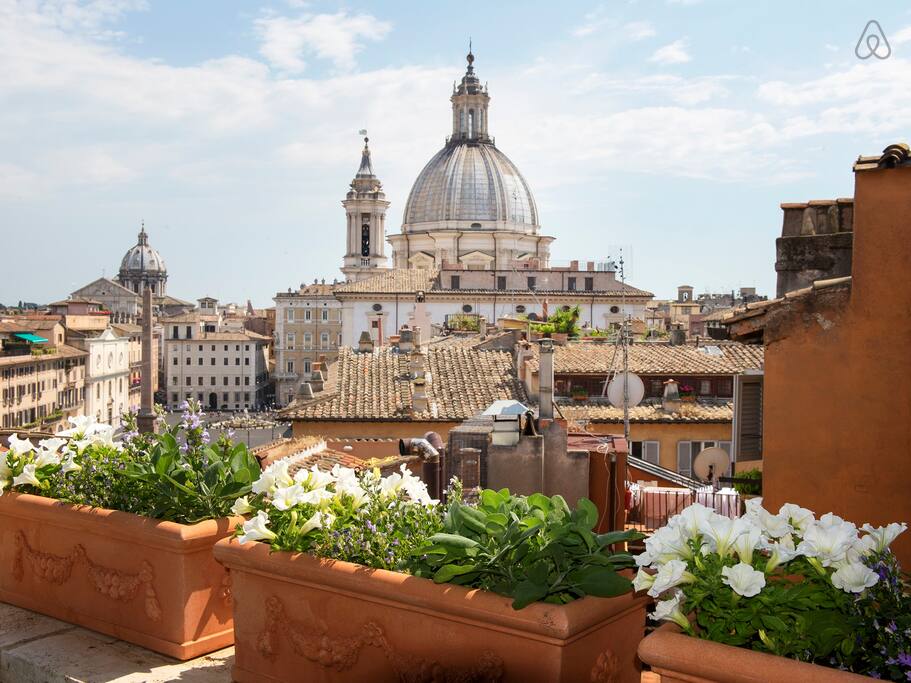 If you're looking for a cozy little apartment with an incredible view of a historic city, this is the place for you. This luxury penthouse is perfect for a family making their first trip to Rome. Its location is ideal, and you'll be able to walk to must-see attractions like the Pantheon and Trevi Fountain.
Did you know the Trevi Fountain has nearly 3,000 euros thrown into it every day? Join the tradition and bring the whole family. You'll be well-rested thanks to your accommodation. You can look forward to 3 beds, 3 baths, a full kitchen, and a TV for all-night entertainment. For relaxed evenings, you can cook meals in the kitchen and overlook Piazza Navona. Book this spot for your next stay in Rome!
Is the Colosseum on your bucket list? The famous amphitheater that is known for hosting public battles, animal hunts, executions, and other events is one of the spots you can miss while visiting the eternal city. This Airbnb will ensure that it's the very first thing that you hit in Rome. This definitely one of the best Airbnb homes in Rome if you're a history nut.
The neighborhood is full of some of Rome's other best sites including the Palatine Hill, the Roman Forum, Basilica of Santi Quattro Coronati, and more. History, art, architecture, and cuisine awaits all who visit. For ambitious travelers, this is a great place to get your feet wet. Everything you could possibly want to see is easily accessible by walking or public transportation.
The amenities in this Airbnb are superb. You'll be treated to Wifi, cable TV, heating and air conditioning, all bedding and bathing essentials, a full kitchen, coffee maker, and washer in the building if needed!
With 3 bedrooms and 3 bathrooms, you can split this apartment with 2 families of four for a memorable trip or a big group of friends traveling Europe together. Either way, all your needs will be met, and you'll leave Rome with high expectations for your next destination.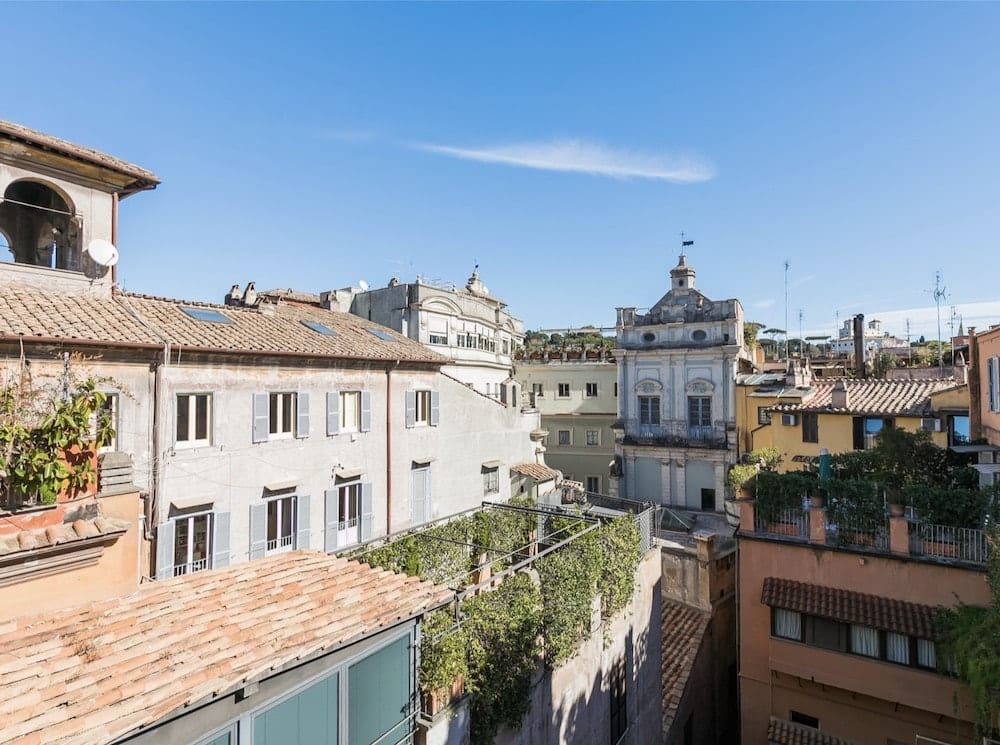 Alright, we did say luxury. We know this apartment look a little bit more like a palace than you were expecting, but yes you can actually book to stay here. This 5-bedroom, 2-bathroom apartment with a full kitchen is definitely a plus experience. Better yet, you won't sacrifice anything in your experience. This is without a doubt one of the best Airbnb homes in Rome.
While you may think you have to go further from the city to get space and luxury, that's absolutely not true. You're still right in the city overlooking the historic street of Via Ripetta. You'll be close to Piazza del Popolo and Villa Borghese as well as other central shopping and restaurant locations.
Other amenities include a washer, dishwasher, Wifi, TV, bedding and bathing essentials, coffee maker, hairdryer, indoor fireplace, and elevator. Better yet, breakfast is included, and you'll get the personal assistance of the host during your stay. Get ready to sit back, relax, and enjoy!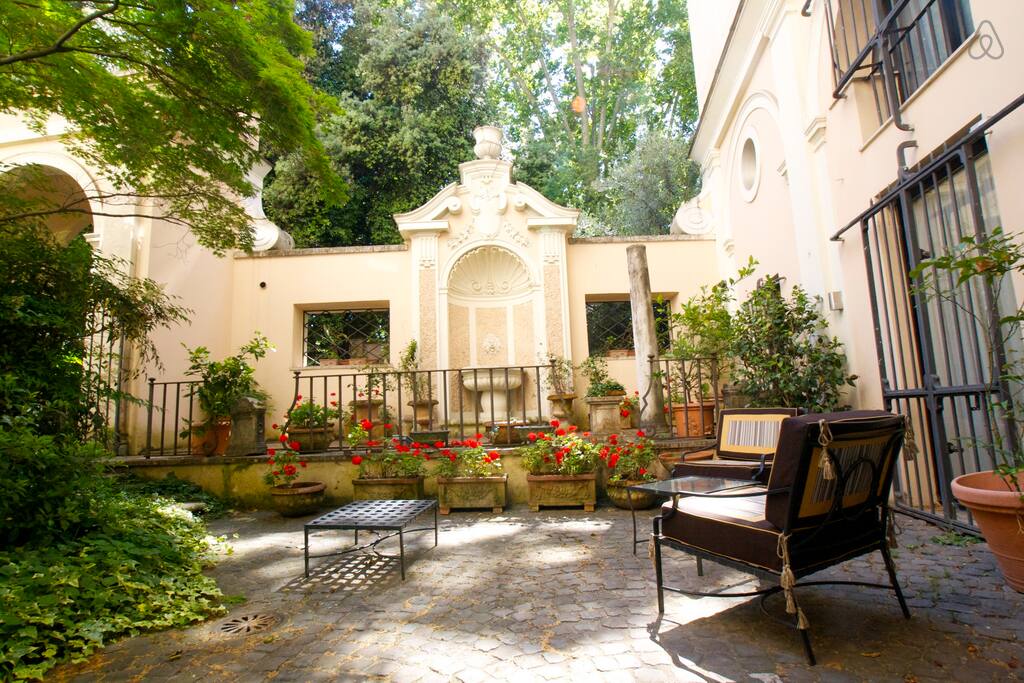 You'll really feel like you're in Italy with this luxury apartment. In fact, we wouldn't describe it as modern and chic but rather classic and historic. It feels like you're stepping back in time to the Godfather era. Who wouldn't want that kind of authentic Italian experience?
There are 4 bedrooms with 5 beds and 4.5 baths in this apartment so everyone can have their own space and privacy. Two of the bathrooms even feature jacuzzi tubs so this is another great spot for a couple's trip. Other amenities include a washer and dryer, Wifi, air conditioning and heating, bedding and bathing essentials, TV, family must-haves, free parking, a fully-equipped kitchen, and luggage storage if needed.
When you're not out getting lost in the neighborhood's narrow streets, perusing the farmer's markets, going to see art and churches, and enjoying all the sites of Rome (the Pantheon is just 15 minutes away!), you should take advantage of one or both of the two beautiful gardens on the property.
There's enough outdoor furniture for everyone to join in for happy hour, a spontaneous picnic or breakfast. It's an incredible way for you to feel local even when you're traveling. Fall in love with Rome and visit this Airbnb when it's spring or summer so you can truly enjoy what the garden has to offer. This definitely one of the best Airbnb homes in Rome.