A top choice for tourists, Montréal is a city for travelers. Its not just the  beautiful landscape and aesthetic scenery, but the luxury of grand apartments, fancy hotels and top class restaurants that attracts visitors. Of course. It is the largest city in Canada's Québec province and a world headquarters of the UN. As you you would expect from a metropolitan area the city is full of luxury, elegance, and charm. Trendy neighborhoods, a great foodie scene and great area attractions make Montreal a delight to visit.
Here is our list of the best Montreal apartments for $250-$400 per night.
8. Private Loft in the Heart of Montreal – $256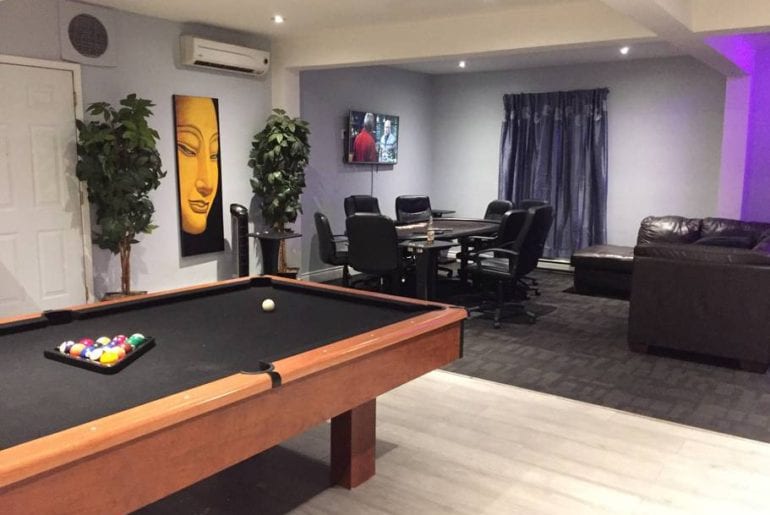 Private loft providing 1 bedroom and suitable for 2 guests. Situated in the heart of Plateau with a keypad check-in system for maximum security. The property provides reliable WiFi, cable TV, pool table, and poker tables. There is a state-of-the-art modern kitchen and laptop friendly work space along with many more modern facilities. If entertaining is your thing, the fully furnished party space at the property can handle 15 guests.
7. Old Port Montreal Historic Loft – $259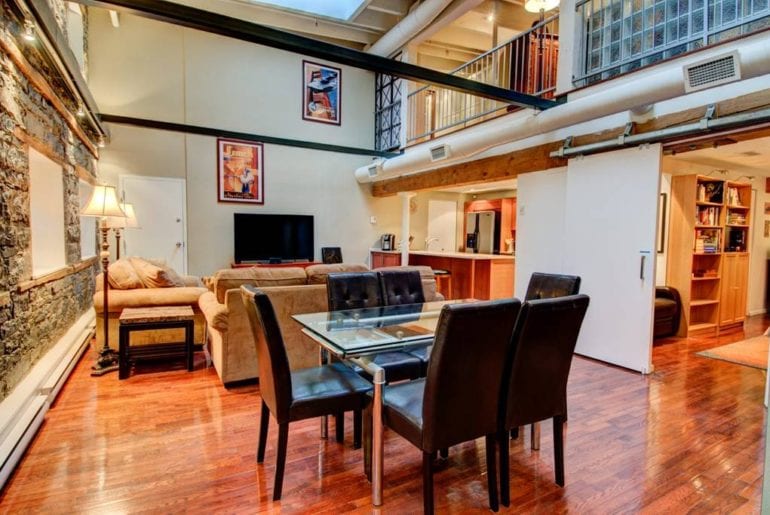 Nineteenth century building in the heart of Montreal. Large spacious loft with ample parking for guests. 2 bedrooms suitable for up to 6 guests, and provides Cable TV, WiFi, Laptop friendly work space. It has a modern gym available right next-door.
6. Luxury Loft in central Montreal – $261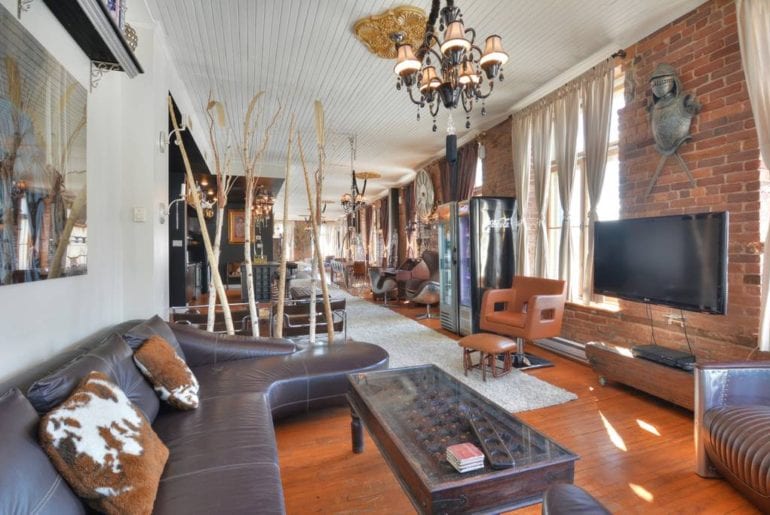 This is a luxury loft located in the middle of all that Montreal has to offer.  It is a luxury 2-bedroom space for up to 8 guests, with every modern facility you could wish for. An island bar, self-check-in, high-speed Wi-Fi, videophone, Cable TV, Kitchen and other world-class facilities are provided. Just a few minutes' drive from the airport.
Looking for a rental on a budget? Find affordable Montreal properties HERE. 
5. Industrial Loft Studio By The Old Port – $132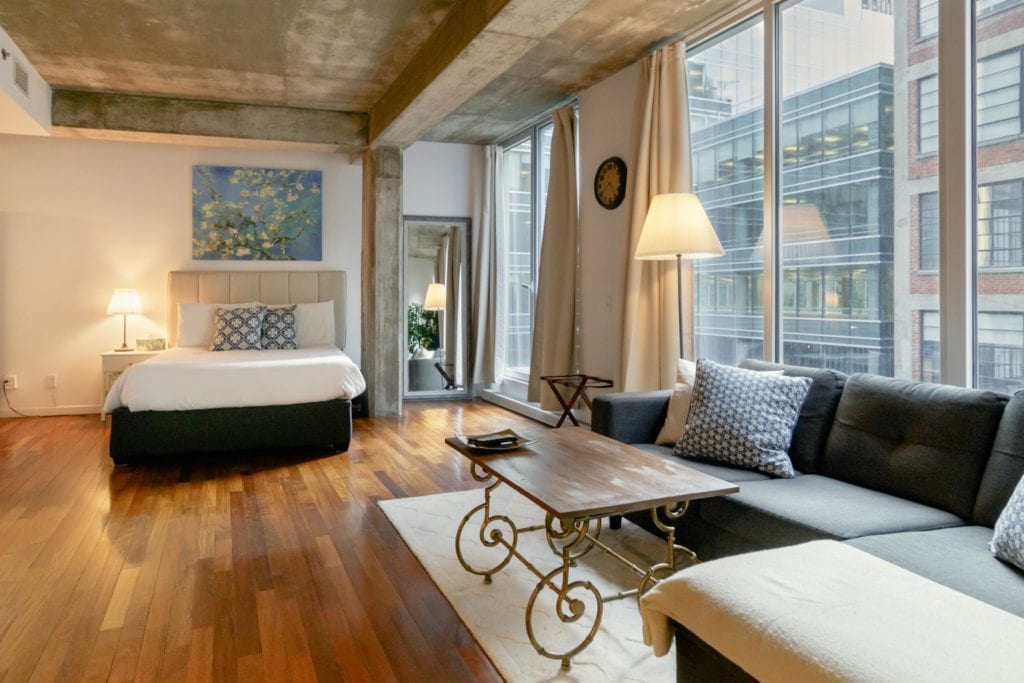 Situated in old Montreal this loft is decorated with modernly designed concrete pillars, a spacious king bedroom for two guests, well-lit entrance path and a furnished studio space. Facilities include WiFi, work space, and cable TV, all provided for guests comfort.
7 Cute But Affordable Airbnb Homes for Couples in Toronto
4-Bedroom Old Montreal – $385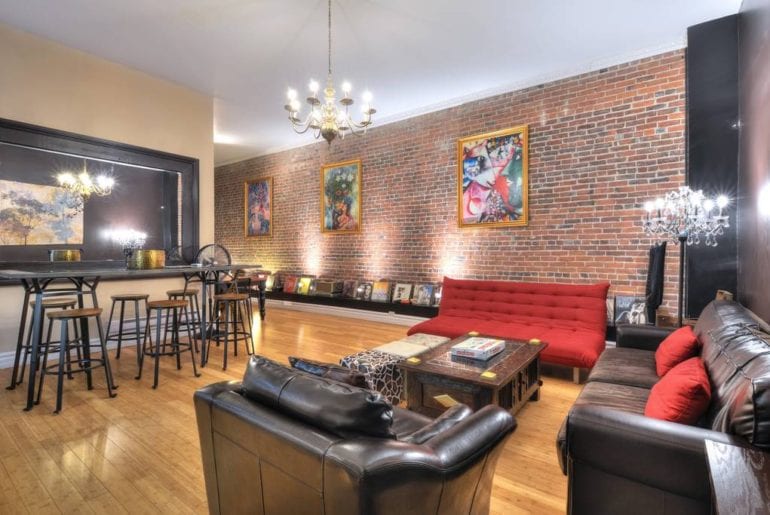 Sitting at the quiet and peaceful end of Montreal this is a 4-bedroom nicely decorated and tastefully furnished property. King sized beds and a well designed interior. The facilities and the décor of this home are lovely and relaxing. From the bathrooms, Kitchen, Laptop friendly work space to the cable TV, reliable, high speed WiFi, TV and lots of others, this luxurious Montreal property is extremely popular with guests.
Need the same amount of space but for better value? Find mid priced Montreal homes HERE.
3. Plush Loft with Private Elevator in Old Montreal – $334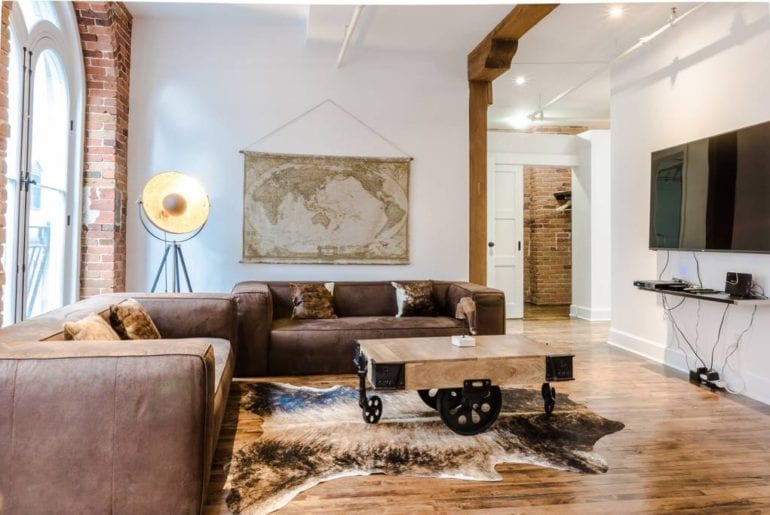 Located in a lively area of Old Montreal but quiet and peaceful. Here is a grand loft accessed with a private elevator and a tasteful interior. Everything is in its place; the cable TV, kitchen facilities, WiFi, relaxing work space, self-check-in system, TV and so much more. It is suitable for couples, families, or groups of friends.
2. Dream Penthouse Loft – $383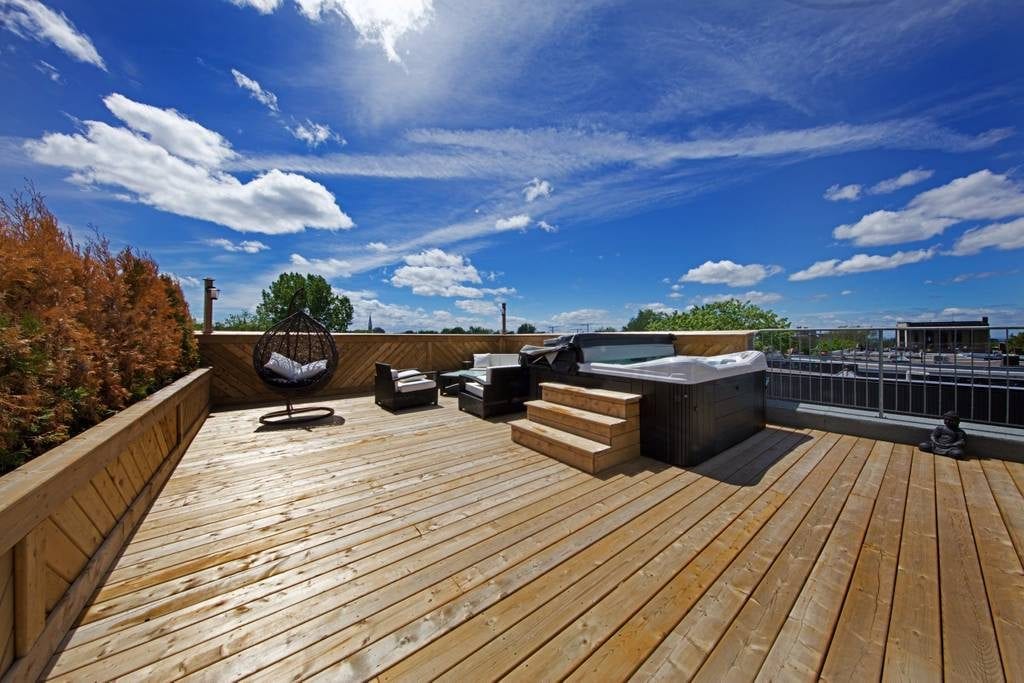 This is the perfect place for getting together with family or a group of friends. 2 units right next to each other that provides 6 bedrooms, 2 private rooftop terraces, 8 seater hot tub and 2 fully fitted kitchens. Great for large gatherings while keeping your own privacy. Secure electronic entry, large windows, Netflix, and free parking.
1. Gorgeous Dream Location – $360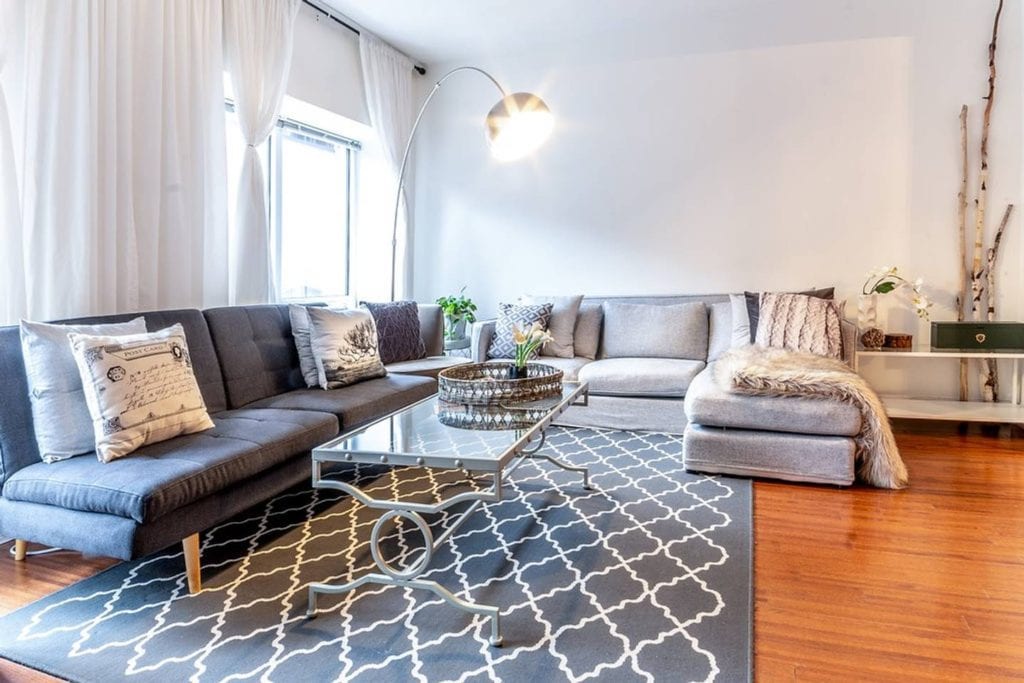 This beautifully decorated 2 bed 2 bath home is located 2 minutes from everything, Quartier des spectacles, Vieux Montreal; Shopping Centers, Underground City, Convention Center and some of the best restaurants and bars Montreal has to offer. The property also has wifi, access to the gym and a terrace.