Montréal is a top choice for many travelers and tourists. The impressive landscape and aesthetic scenery makes the city highly appealing to people of all ages.  The grand buildings, fancy hotels, and top class restaurants attract a high number of visitors each year. Montreal is the largest city in Canada's Québec province and a world UN headquarters. The city of is full of luxury, elegance, and charm, as you would expect from a large metropolitan area. Experience trendy neighborhoods, a great foodie scene, and top area attractions. This city has a wide choice of accommodation options to offer to its visitors.
You'll love these 6 luxury Airbnb homes in Toronto
7 Cute But Affordable Airbnb Homes for Couples in Toronto
We've put together this selection of Airbnb apartments are priced below $125 per night.
7. Charming New York-style Loft – Old Montreal – $79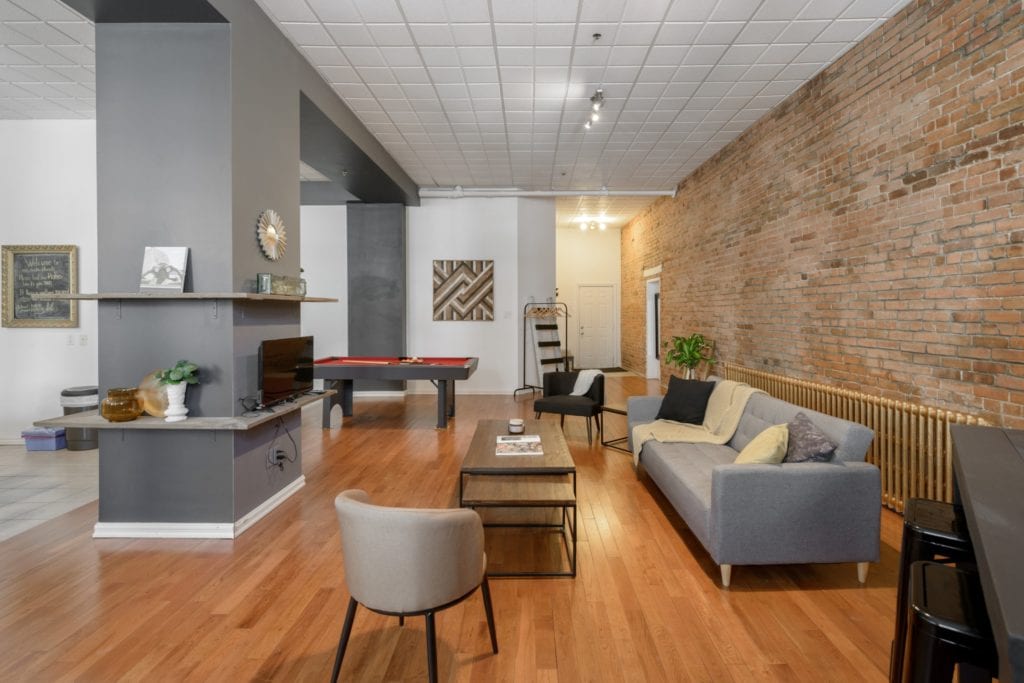 This modern loft offers plenty of relaxation. It is in Old Port, a city that with lots of great restaurants and is great for foodies. This luxury New York-style loft is a great home away from home. With a dazzling open-plan living space to a perfectly built outdoor area this home has everything you need.  A spacious living area links to the kitchen, dining and laundry areas. Includes Wi-Fi, laptop friendly work space. Laundry facilities and utensils are available for guests to use.
6. Mid-Century Modern Downtown Loft – $69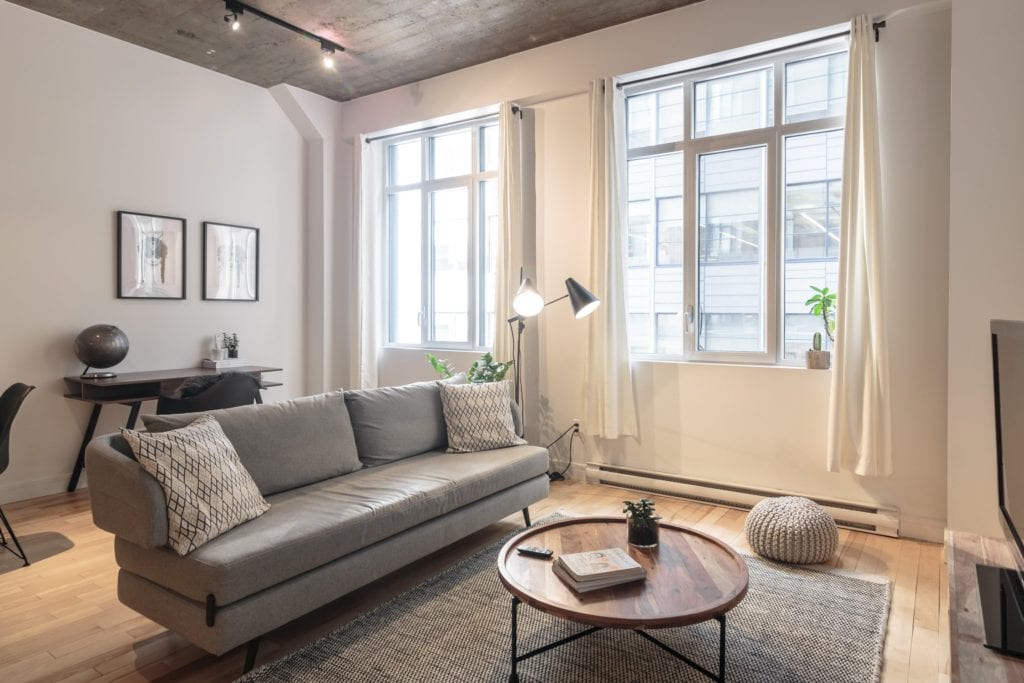 A modern loft with everything that you will need with a homely atmosphere. Located in downtown Montreal in an excellent location. Surrounded by grocery stores, the metro, pharmacy, and the Quartier des Spectacles.  This property is a 1 bed, 1 bathroom with the state-of-the-art facilities and high-end décor. It has high-speed WiFi, gym, self-check-in system, and lots of other facilities for your comfort. A bar and coffee shop is located right next door.
5. Romantic Old Port Apartment In Montreal – $78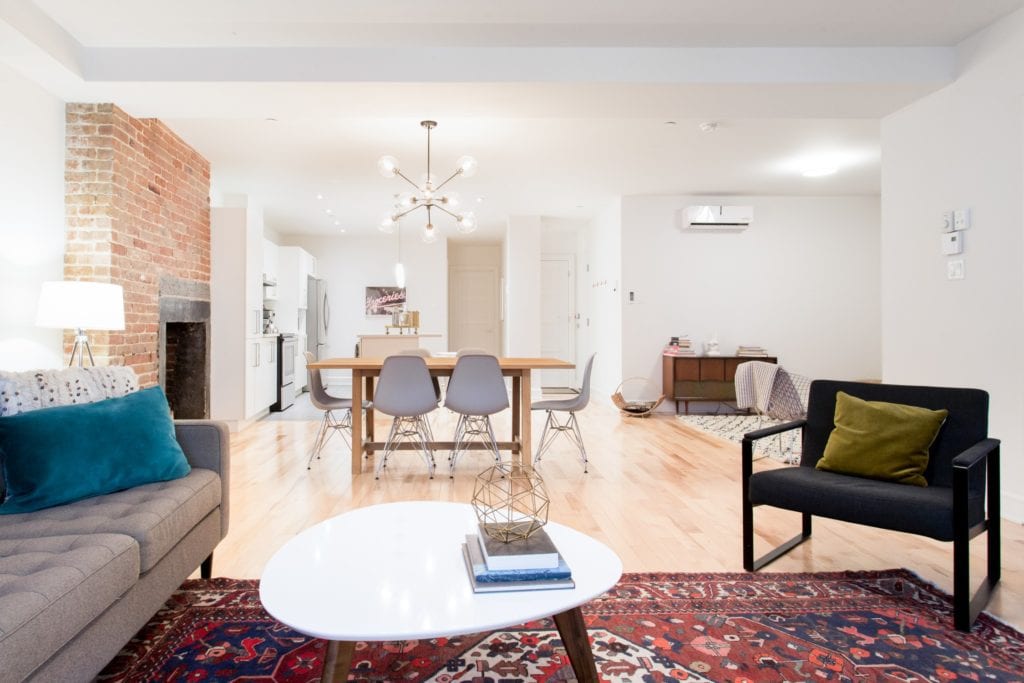 This tastefully decorated condominium feels like a home away from home. Located in Old Port in the heart of Montréal.  This is a lovely light-filled city home featuring modern decor, old stone, brick walls and luxury modern furnishings. So relax with a soak in the marble-clad bath tub. This apartment is roomy and can sleep up to 5 guests. Close to everything you will need.
Need something a bit better? Check out mid priced Montreal properties HERE. 
4. Modernized 1864 Loft in Old Montreal – $79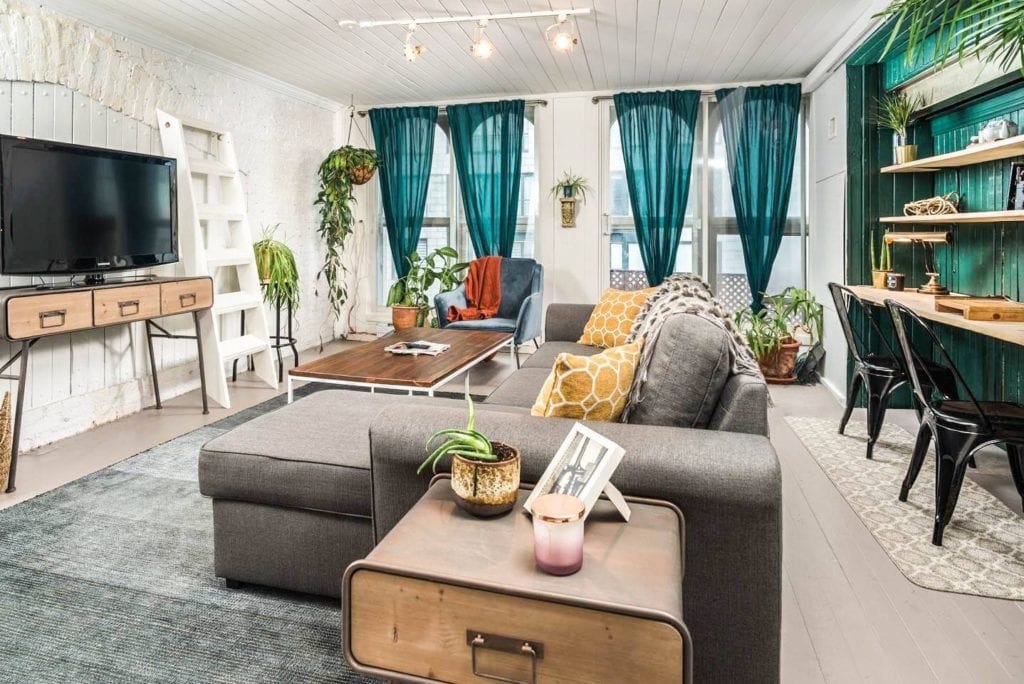 An 1864 loft with a luxury interior fit for royalty. Situated in a historic apartment building in Old Montreal. Well designed with contemporary and rustic elements.  It includes industrial modern furniture and exposed brick walls. The amenities provide everything you need. WiFi, Self-check-in system, guest studio, quality beauty products and well-furnished kitchen, so not bad.
3. Mid-Century Loft on Golden Square Mile – $67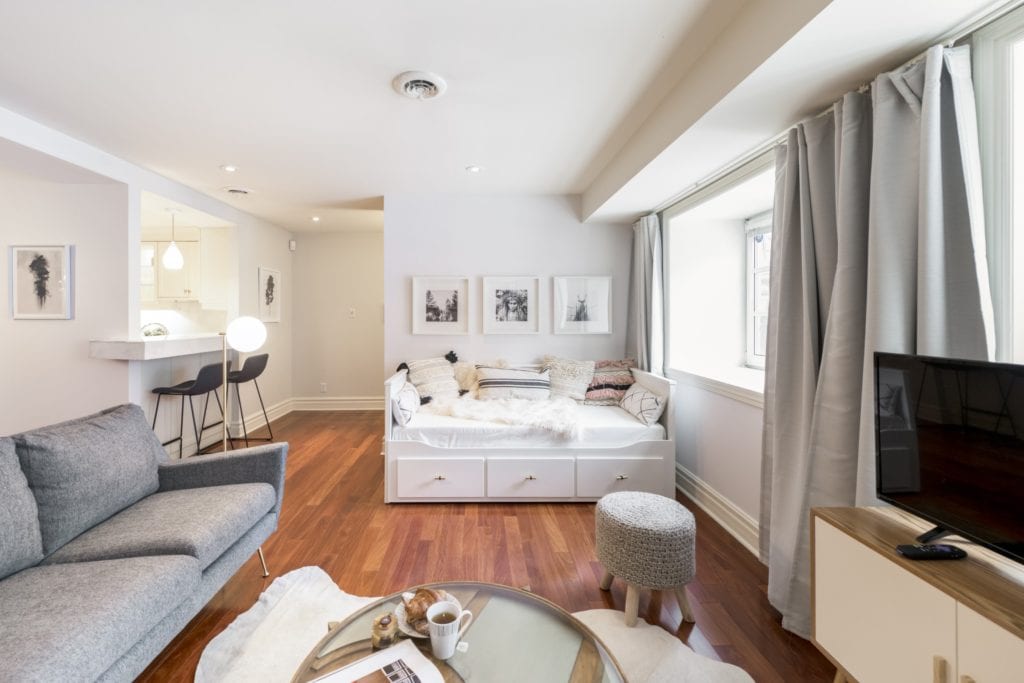 Luxury loft in a renovated Victorian mansion with vintage feel. All amenitites have been provided for the comfort of guests so your stay will be as comfortable as possible. High speed WiFi, fully equipped kitchen, luxury furnishings and self-check-in. Located in Ville-Marie, this loft is close to parks, historic Victorian homes, restaurants, and bars. The Parc Mont-Royal, Museum of Fine Arts, Rue Crescent, are just steps away. The property located just 15 minutes drive from the Airport.
Looking for high end luxury. Check out fabulous Montreal properties HERE.
2. Luxury Penthouse close to Downtown Montreal – $102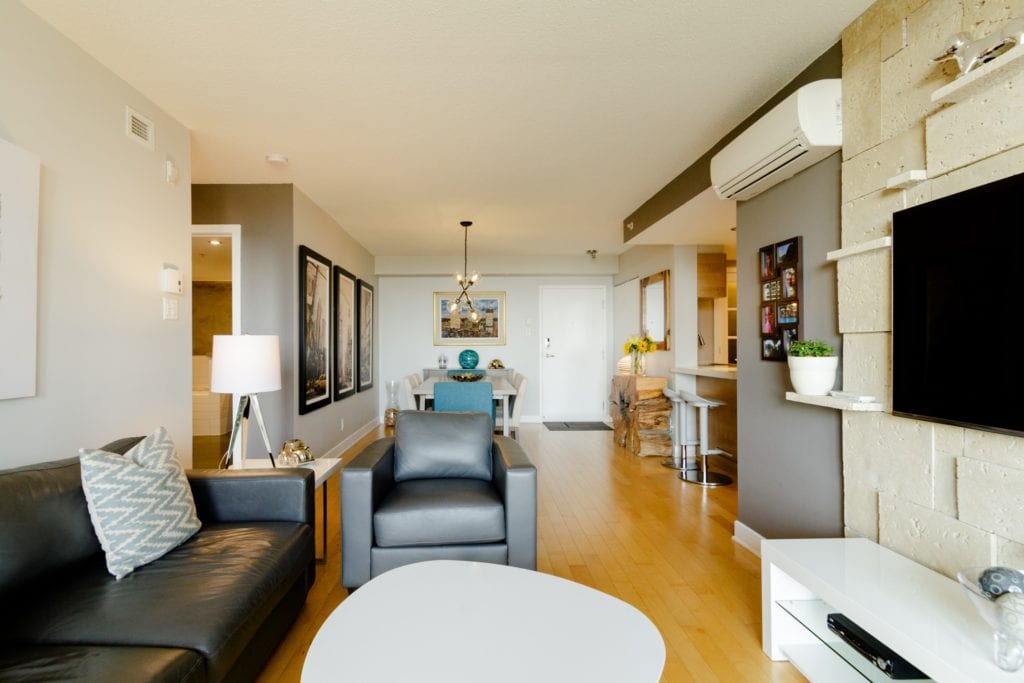 Located in Saint-Henri with easy access to highways and the Airport. This penthouse has been decorated with plants and flowers in every corner which creates a peaceful and calming atmosphere. Relax in the armchair in the modern-styled living space and read a book. A luxury home with tasteful décor and state-of-art-amenities.  WiFi, kitchen facility, bathroom and 2 bedrooms are all available for guests use.
1. Modern Condo with Free Parking – $121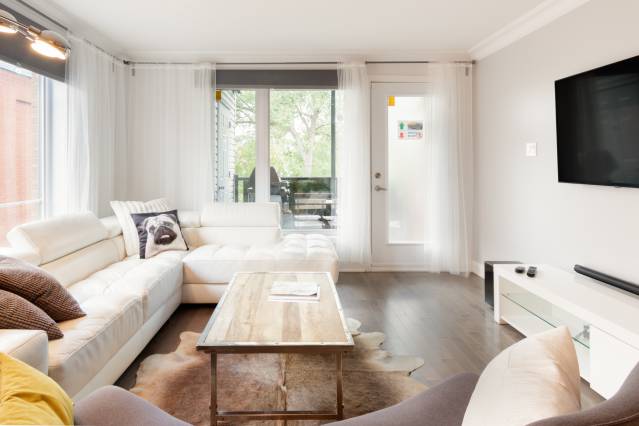 This loft is situated in the trendy Little Burgundy area of Montréal. A relaxing and comfortable home that can accommodate a total of 8 guests. The loft has a rooftop terrace with a great view across Montreal, so is a great place to relax with a glass of wine. This 3-bedroom home has a modern bathroom and all facilities needed to ensure a comfortable stay. WiFi, work space, modern kitchen, and relaxation room. It is a 15 minute drive from the airport.