These are the best Airbnb homes in Sun Valley, Idaho. Sun Valley Idaho is famous for its popular ski resort areas in Bald Mountain and Dollar Mountain and is a destination for winter vacationers. The summer months attract walkers, hikers, mountain bikers, and equine enthusiasts. Sun Valley is home to some of the best skiers and snow boarding athletes live here, including 56 current and former Olympians.
In a tradition spanning the past 70 years each gold medalist is awarded their own run on Sun Valley's Bald Mountain. The area also enjoys excellent fishing and a thriving arts community and these Airbnb homes will provide the perfect location for your stay.
7 Unbelievable Treehouse Airbnb Homes In The United States
8 magnificent Airbnb properties for rent in Maine
A Sun Valley Luxury Lodge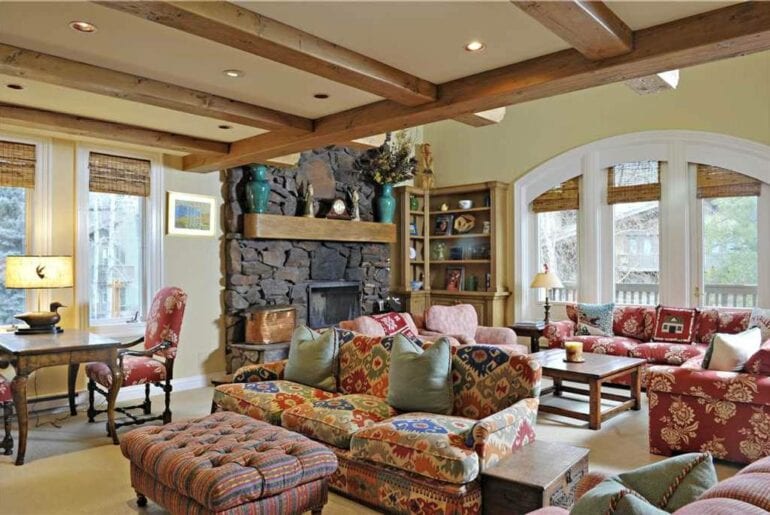 This large luxury Sun Valley lodge residence offers perfect accommodation for groups or families visiting the area. Enjoy access to the luxury amenities at the location. Olympic swimming pool, fitness center,  sauna and a kids splash park are all available for you to use. Hit the slopes during the day and at night, come back and relax in this well appointed Airbnb home. $971 per night.
A Historic Sun Valley Property with Mountain Views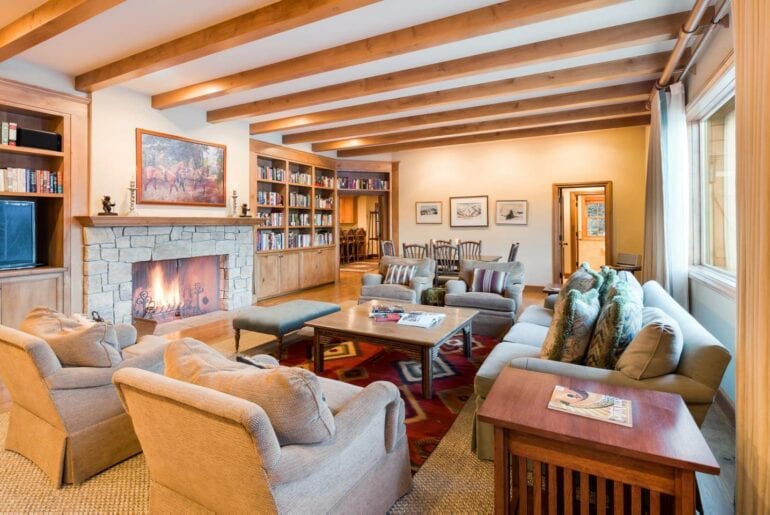 Enjoy this reconstructed and historic property situated right on the edge of Sun Valley lake.  Originally built for Averill Harriman the politician, this exquisite property offers luxury living. Enjoy the gourmet kitchen and experience beautiful year round views from the private patio. Use of all Sun Valley amenities is available for guests staying in this beautiful Airbnb. Pools, fitness rooms, sauna and more. $1376 per night. Definitely one of the best Airbnb homes in Sun Valley, Idaho.
A Lane Ranch home with Ralph Lauren furnishings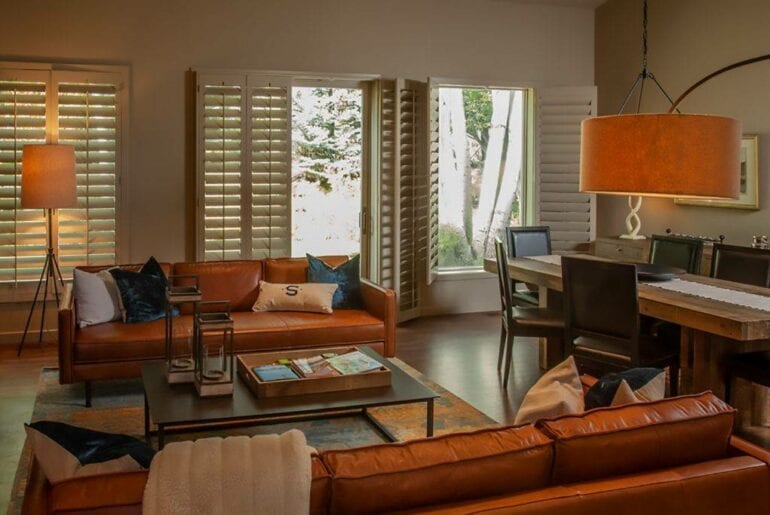 Refined rustic and modern style combined with contemporary furnishings. This gorgeous Sun Valley home features items from West Elm, Ralph Lauren and Restoration Hardware. High end and upscale with access to amazing amenities. Soak in the hot tub apres ski, enjoy the tennis and volley ball courts and win in one of the best pools in Sun Valley. $1012 per night.
A Contemporary Home with Beautiful Views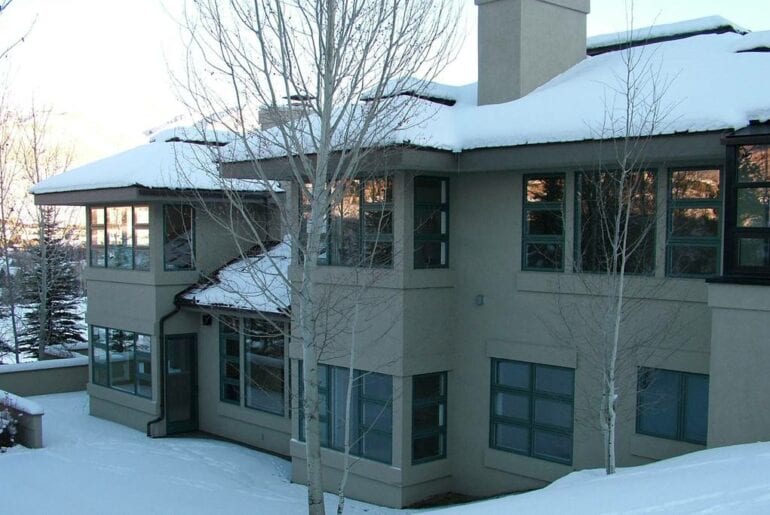 Ideal for large families this beautiful Sun Valley Airbnb home is less than a mile from popular Dollar Mountain, and right across the street from Elkhorn Golf Course. Enjoy skiing, hiking and biking and mountain views from every room. This large property offers warm and  comfortable accommodations and is furnished to a high standard. Features a jetted tub and a steam shower. $769 per night.
A Large Condo in Wildflower Village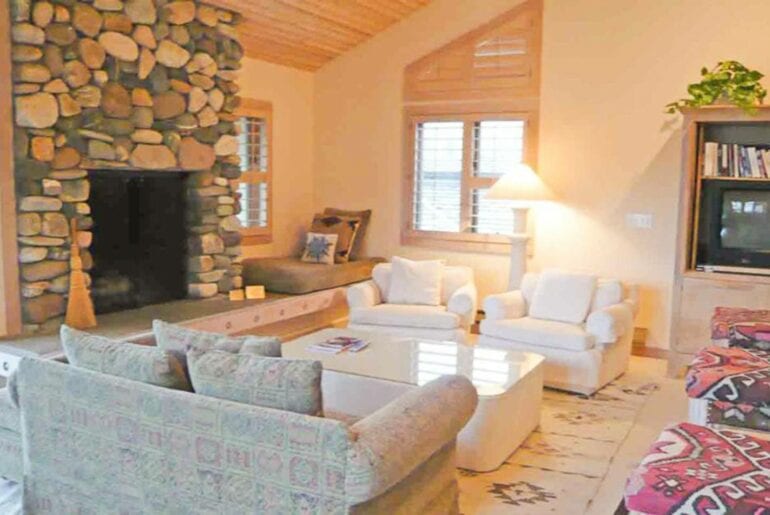 This nicely situated condo takes up the entire top floor of the building. Enjoy cathedral ceilings, a river rock fireplace and lovely views across Sun Valley. Just a short walk to everything you need with the area featuring many amenities. Swimming pools, hot tubs, sauna, tennis and golf. Close to restaurants, shopping and movie theaters. $1227 per night.
A Private Log cabin in Sun Valley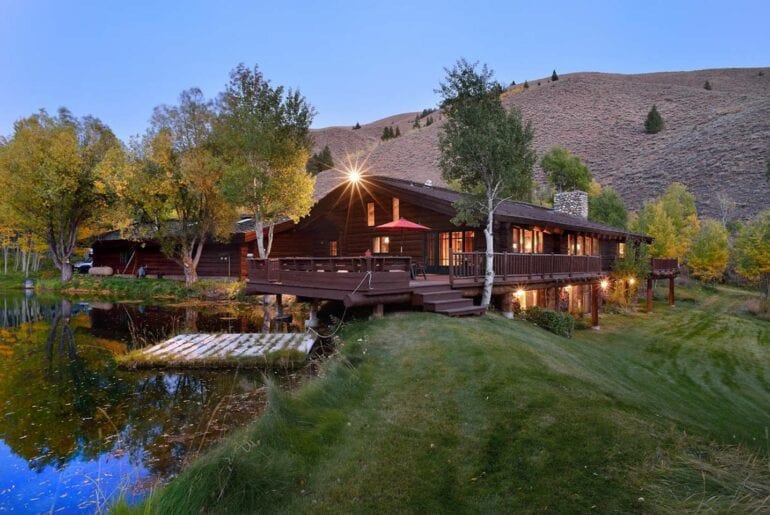 Situated in its own canyon and offering great views this gorgeous cabin can accommodate large groups of up to 18 guests. This lovely Sun Valley Airbnb home features 2 trout ponds, tennis courts and its own hot tub. Located in a peaceful and quiet area this is the perfect place to unwind. Tastefully decorated and offering all the amenities you will need for your stay. $952 per night.
A Luxury Log Home on Private Acreage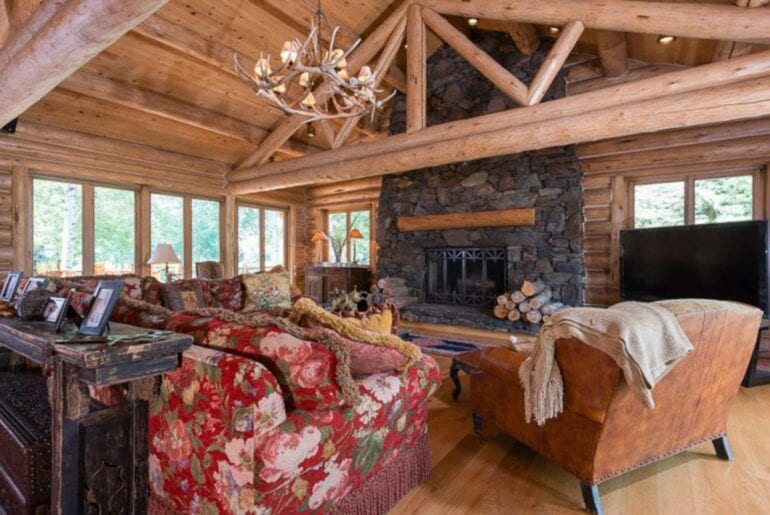 This beautiful luxury log home features and outdoor fireplace, game room and pool table. Situated on 13 acres of land this Airbnb property is peaceful and private. Relax on the private stone patio with fire pit or enjoy fishing in one of the 3 stocked ponds. Located just outside Ketchum not far from Sun Valley. $1611 per night.
A Beautiful Penthouse in Elkhorn Springs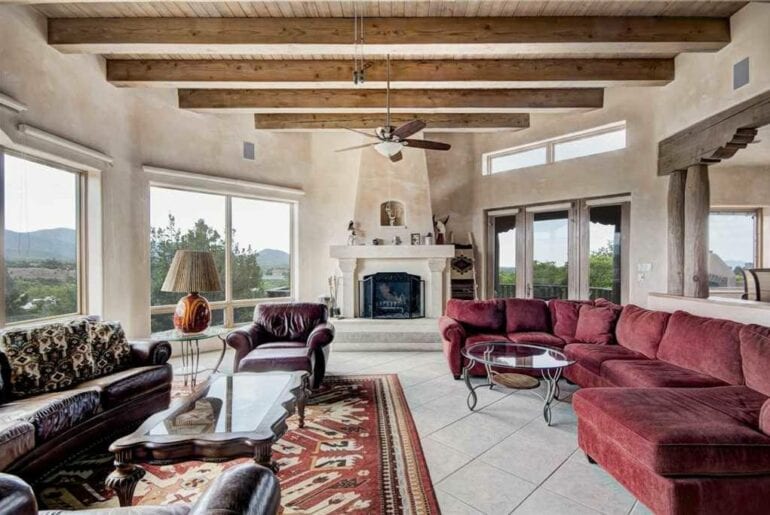 Located in the heart of Elkhorn village this gorgeous luxury penthouse has everything you will need. Oversized furniture and fine art make this condo a perfect getaway. Enjoy the gorgeous views from the deck and make use of area facilities. Pools, saunas, tennis courts and gold are all available for your use. $1028 per night.