Even if you've never visited Los Angeles, you probably know that the traffic on the 405 is like something out of a science fiction novel and since LAX is just off that dreaded freeway getting there can take longer than your actual flight. For that reason, we've put together this list of 8 fabulous Airbnb homes near LAX. All are within about half an hour of the airport, making them especially great for business travelers. Hopefully, these will give you just a bit more time at the beach!
5 Incredible Los Angeles Airbnbs For Architecture Lovers
6 Extremely Instagram-able Airbnbs In Santa Barbara
These 9 Los Angeles Airbnbs Will Have You Feeling Like An Entourage Cast Member
Airbnbs Perfect For Your Trip To Los Angeles Comic Con 2019
8. Quaint Little Cottage – approx. $1,200 a night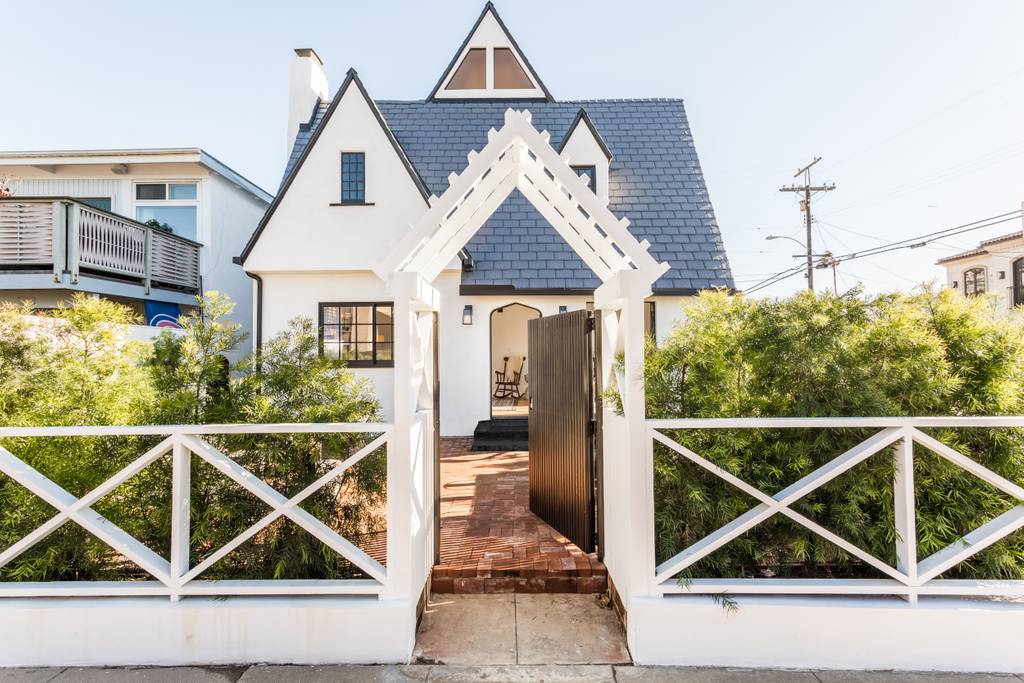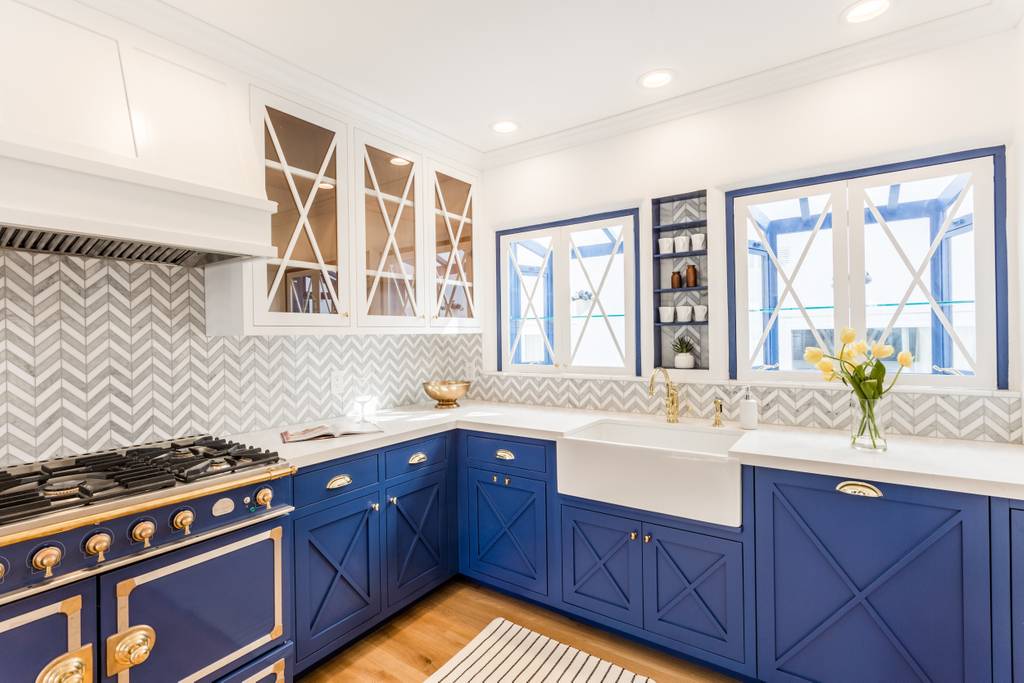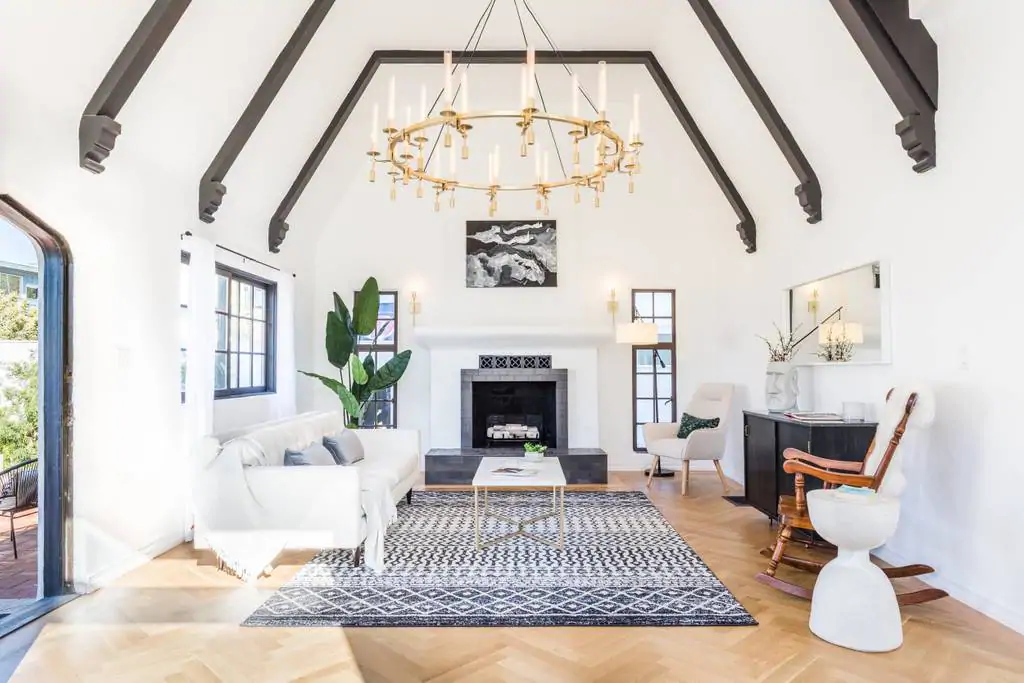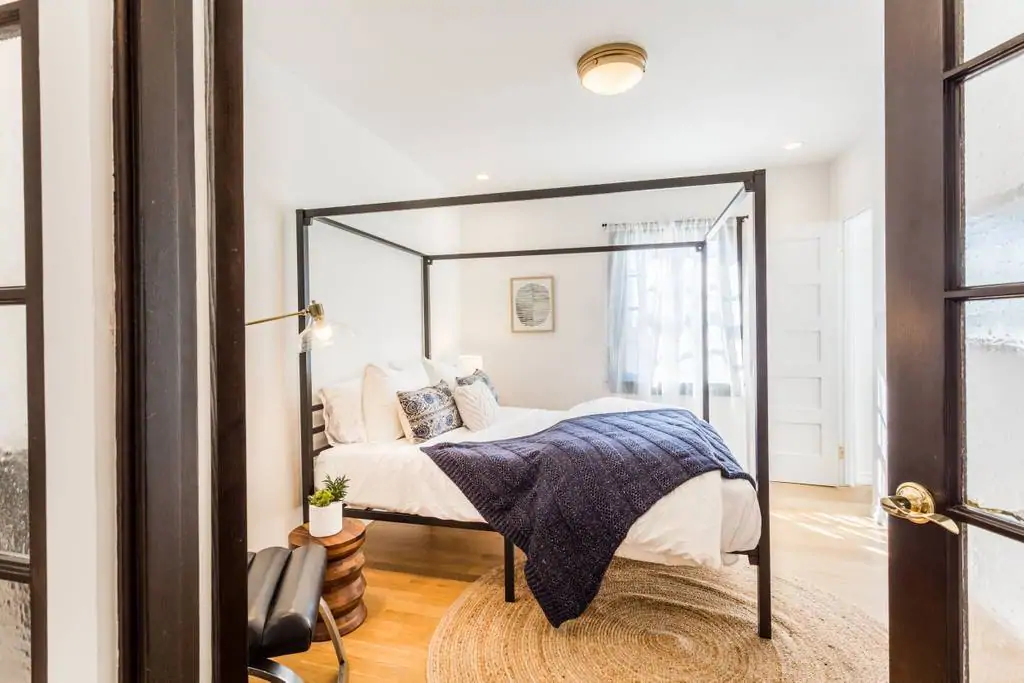 Deceptively small-looking on the outside, this Airbnb feels enormous on the inside.
Known as the Fowling House, this five-bedroom, four-bath house is located in "Silicon Beach," the tech capital of Southern California, making it a perfect choice for a business meeting or if you just need a place to stay for a job interview (but, of course, with five-bedrooms and four baths you might want to turn that business trip into a vacation).
Even with its modern vibe, it's got an unmistakably warm feel and is one of those Airbnbs that has such a crisp, fresh energy, you'll want to re-decorate your own house when you get home.
Best of all, it's a very, very short ride to LAX and in a place with so much traffic congestion, that is truly of paramount importance.
You'll also be a short car ride away from Venice where you can go shopping on Abbott-Kinney, a main artery of the town full of shops and great restaurants as well as the legendary but tourist-infested Venice Beach.
In spite of its name, there's nothing foul about this house! (See what we did there?)
7. Venice Dreams – approx. $795 a night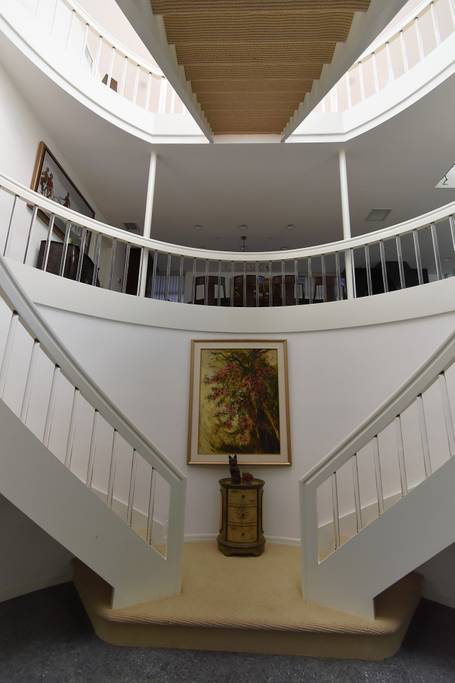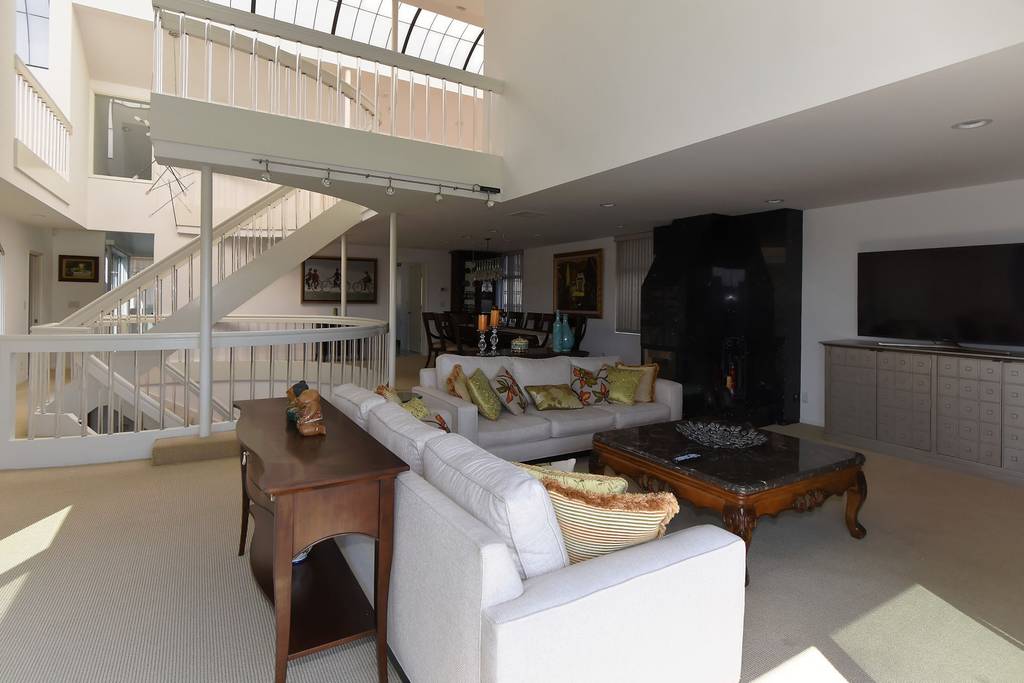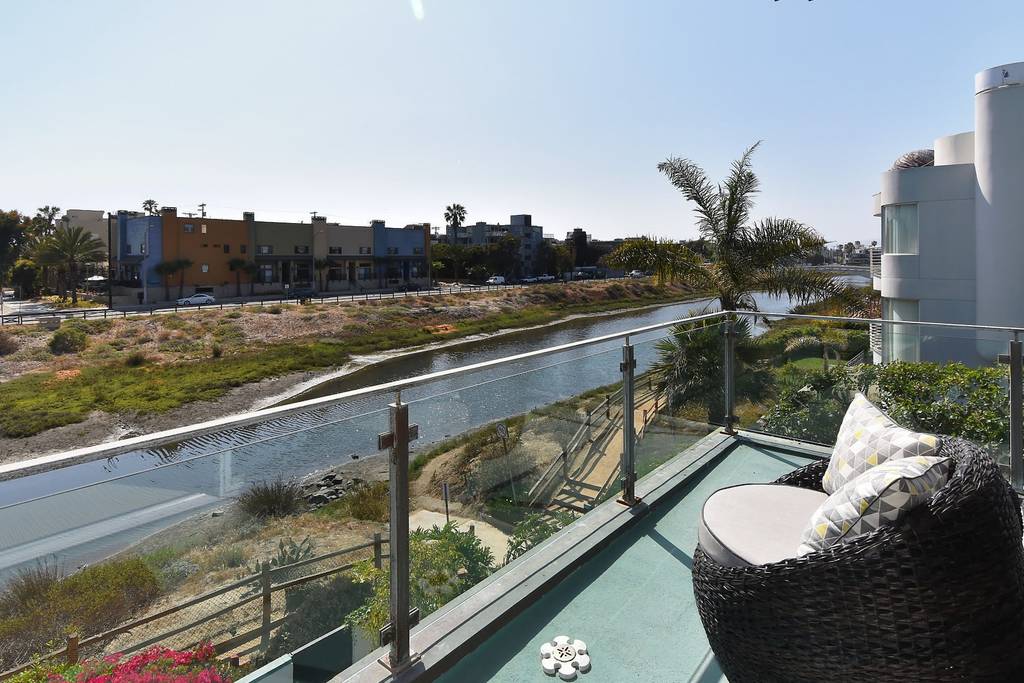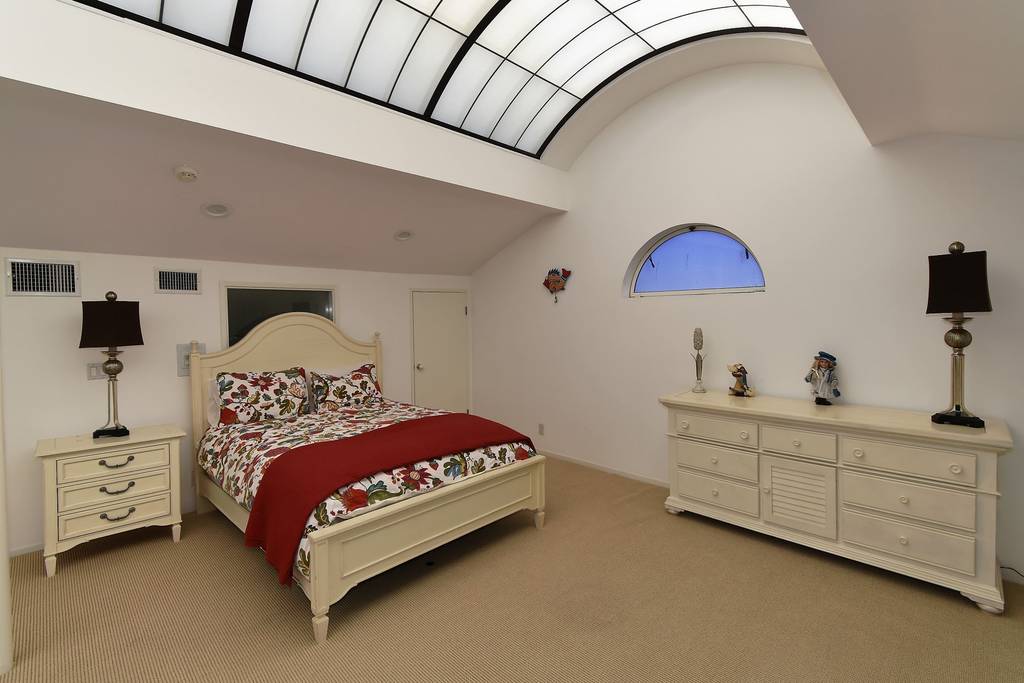 One of the great things about Venice, California is that you just never quite know what you're going to get (and that goes for both people and houses) and that's what we love about this house.
Offering surprises at every turn, this three-bedroom, three-and-a-half bath Airbnb in Marina del Rey, offers views of the town's famous canal as well as 4,000 square feet of living space.
Complete with a salt water pool, garage parking for two cars (which is crucial in this city), and wet bar, this property has all kinds of fun little goodies but the real showstopper here is probably the three-story entryway that impresses and welcomes immediately.
That said, the three-sided fireplace is pretty impressive, as is the wrap-around balcony.
The master bedroom is the size of some houses and includes a fireplace and even a private balcony but make sure you come out to play in the game room which has a pool table and wet bar.
The great thing is, this place is so close to LAX that you can shoot rounds right up until the last possible second and still make your flight!
6. French Fantasy – approx. $795 a night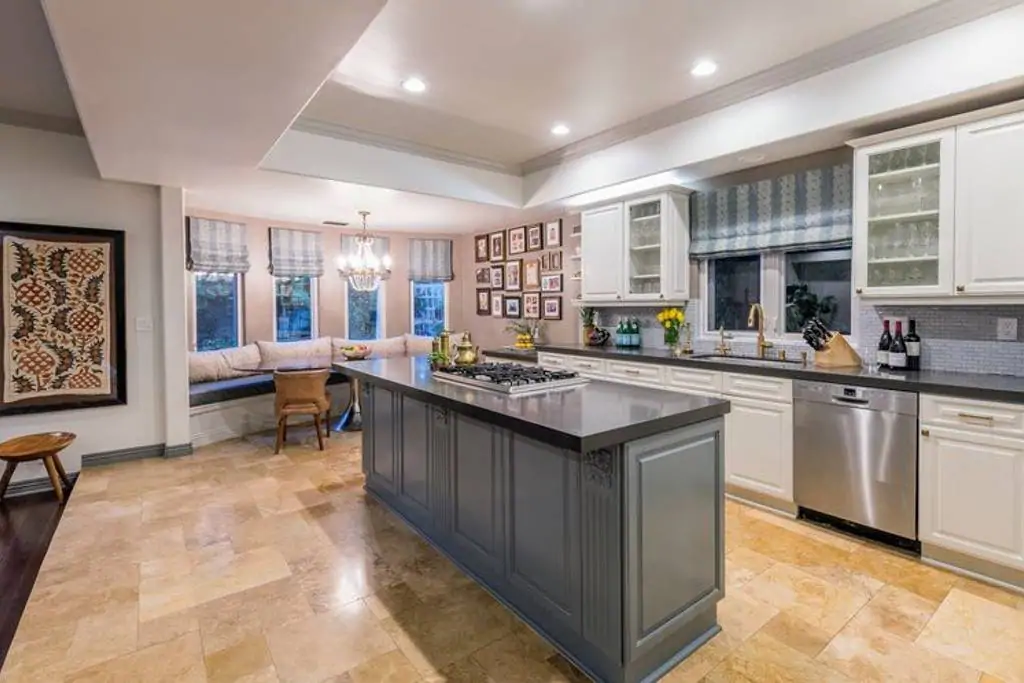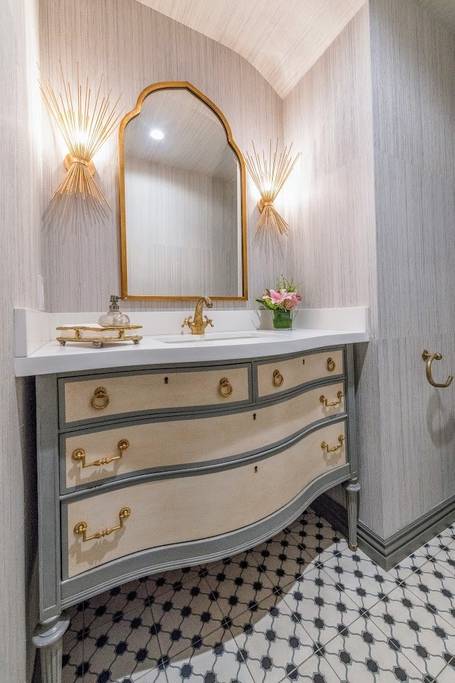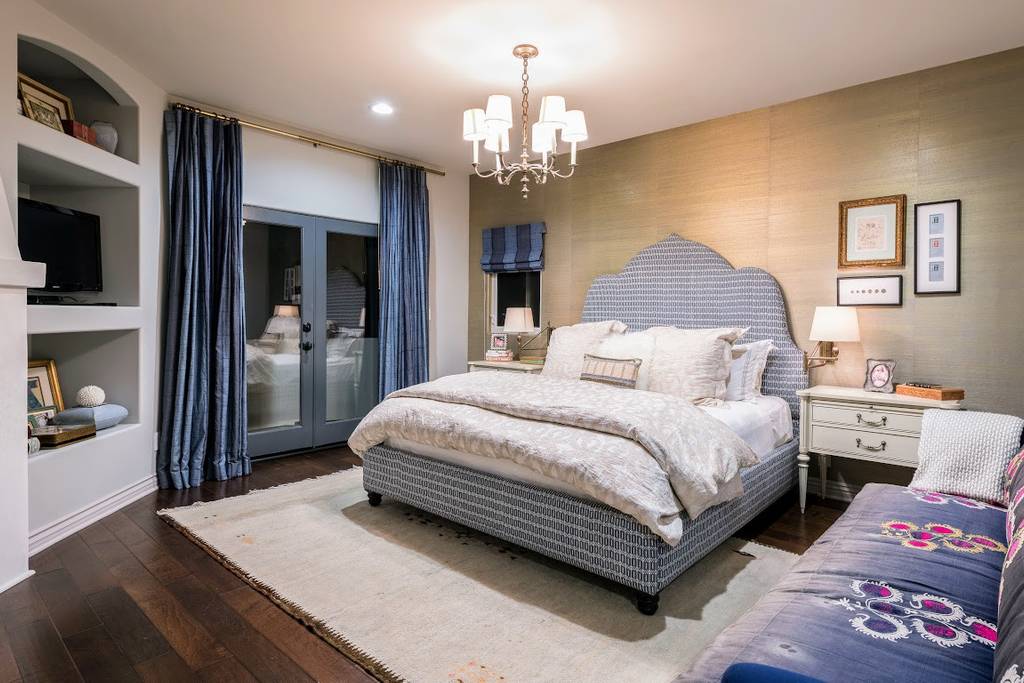 Talk about a family affair! This Manhattan Beach Airbnb was designed by mom and built by dad! The perfect place for a true California endless summer, this very livable property has everything parents need and everything kids want.
For instance, there's a washer/dryer on the premises as well as free parking and a bespoke kitchen so you don't have to spend all your hard-earned vacation money on eating out.
For kids, there are a couple of really cute bunk beds and a back yard with soccer nets and a basketball hoop. Artwork and interesting decorating touches abound here as do great amenities like a pizza oven and private patio.
It sleeps up to ten so why not invite the in-laws or some of the kids' friends to keep them company (and there are all kinds of bikes, wakeboards and beach chairs in the garage so they can spend the summer out on the water or on sandy Manhattan Beach making sand castles.
Just make sure they know they're not going to make anything as great as this Airbnb.
5. Azure Accommodations – approx. $1,000 a night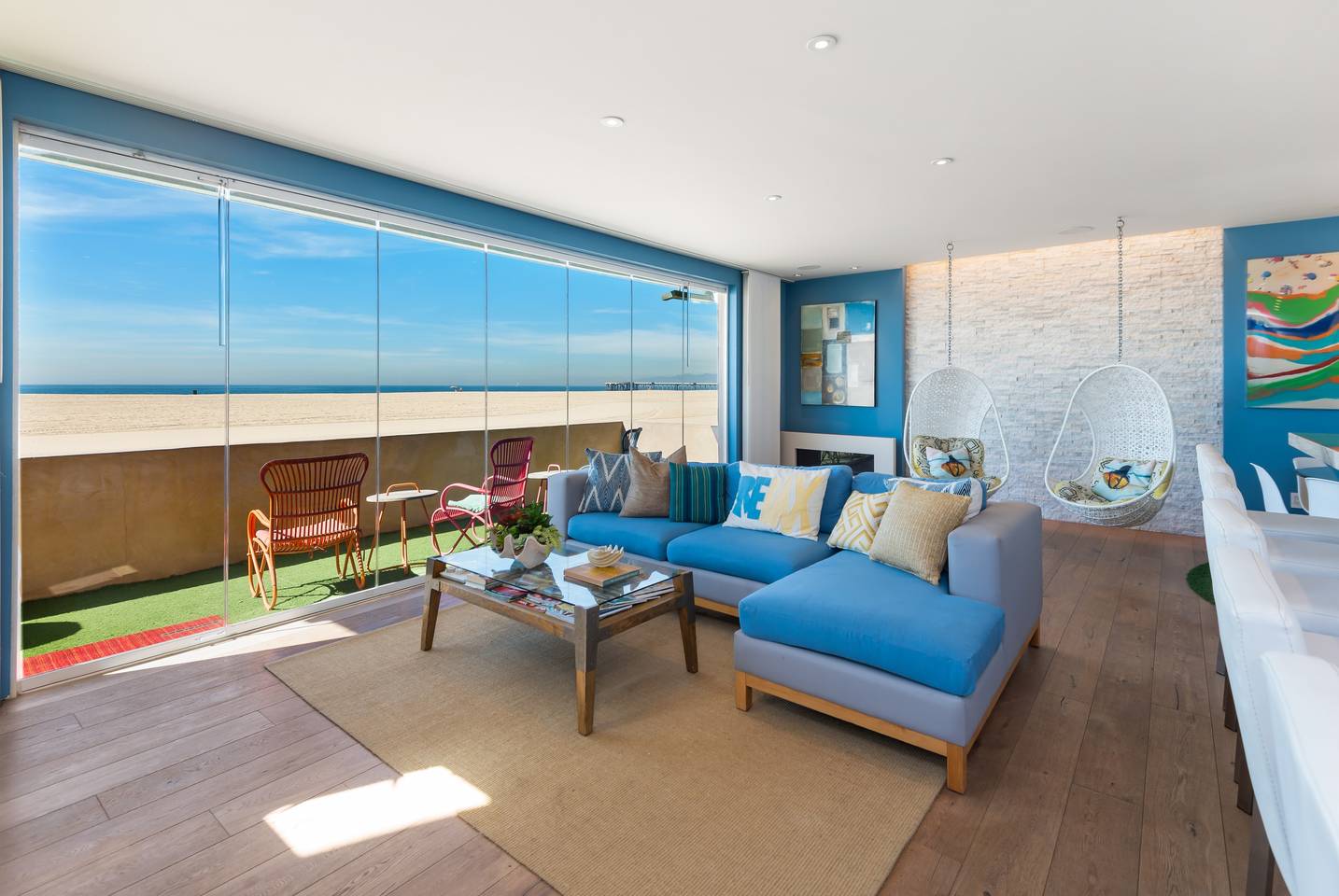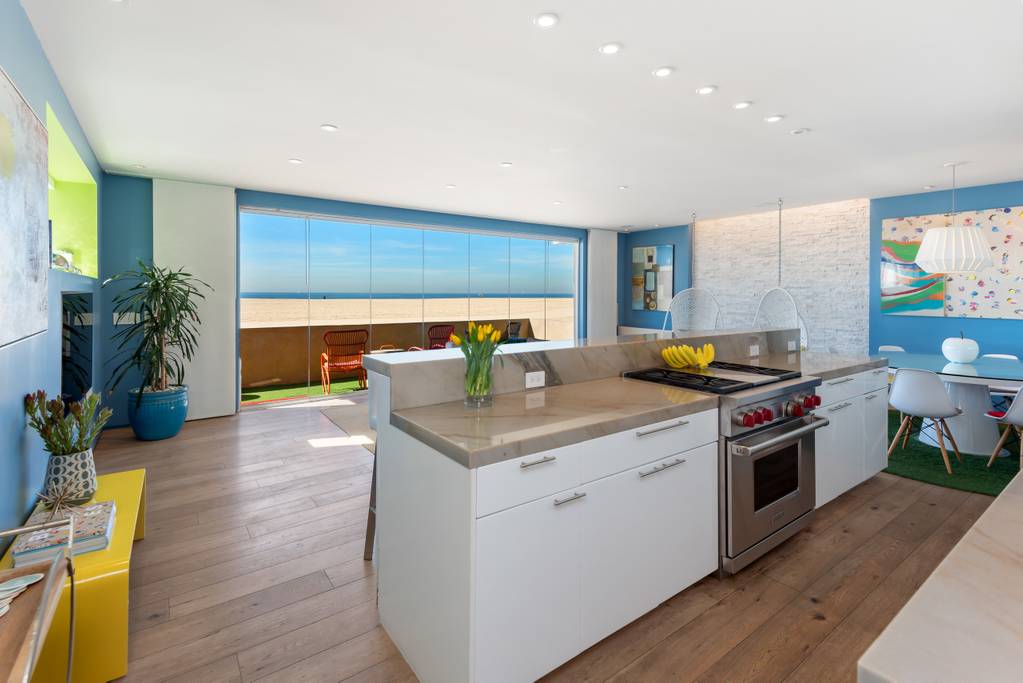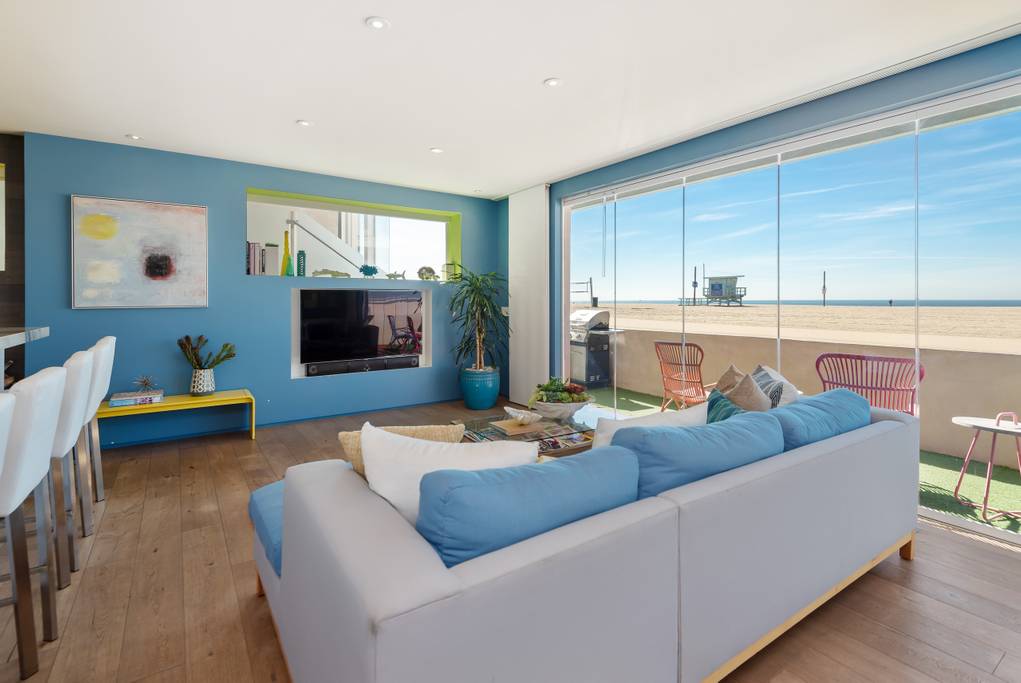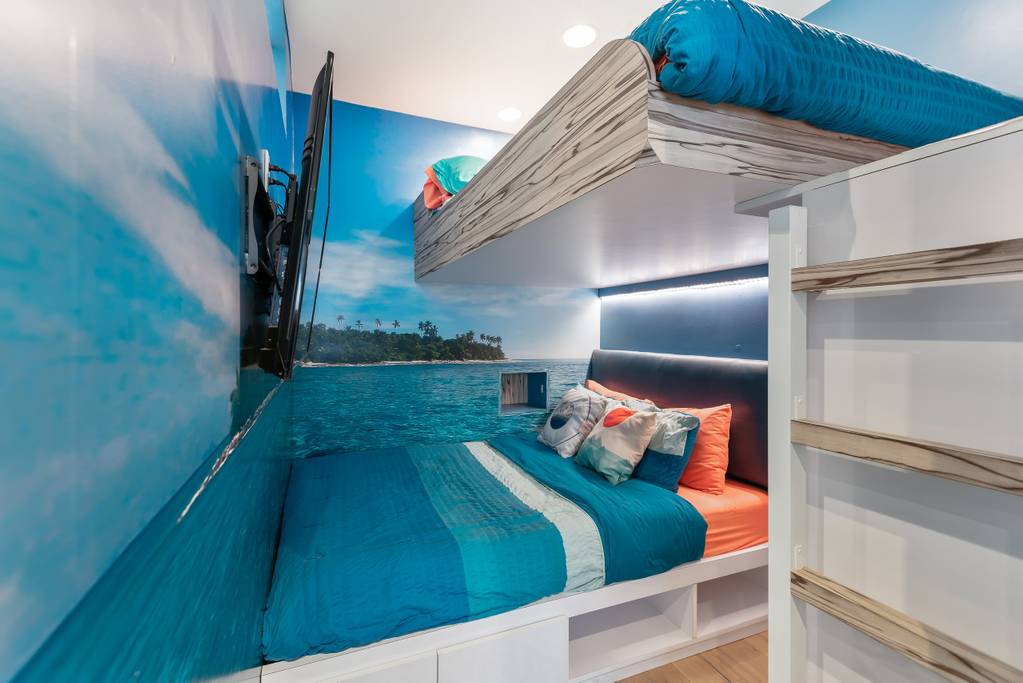 If you're looking for a touch of whimsy but still want to feel like a grown-up, this Airbnb is a great possibility. Alive with color, this two-bedroom, two-and-a-half bath home almost feels as if a wave from the Pacific just washed in and covered the entire house in Azure blue.
With one 18-foot glass wall that looks out on to the sandy beach, you'll be treated to a non-stop view some people have never even seen once and with an open floor plan and plenty of light, a spirit of happiness just seems to permeate this entire house.
Outfitted with an adorable set of bunk beds, this is a great place to bring kids, especially since there's a terrace that faces the beach so you can keep an eye on them when they go out to play volleyball or build sand castles or surf or whatever it is the kids do these days.
And how's this for a unique amenity: the windows in the master bedroom are actually two-way mirrors so you can see out, but beach-goers can't see in!
4. Family Farmhouse – approx. $750 a night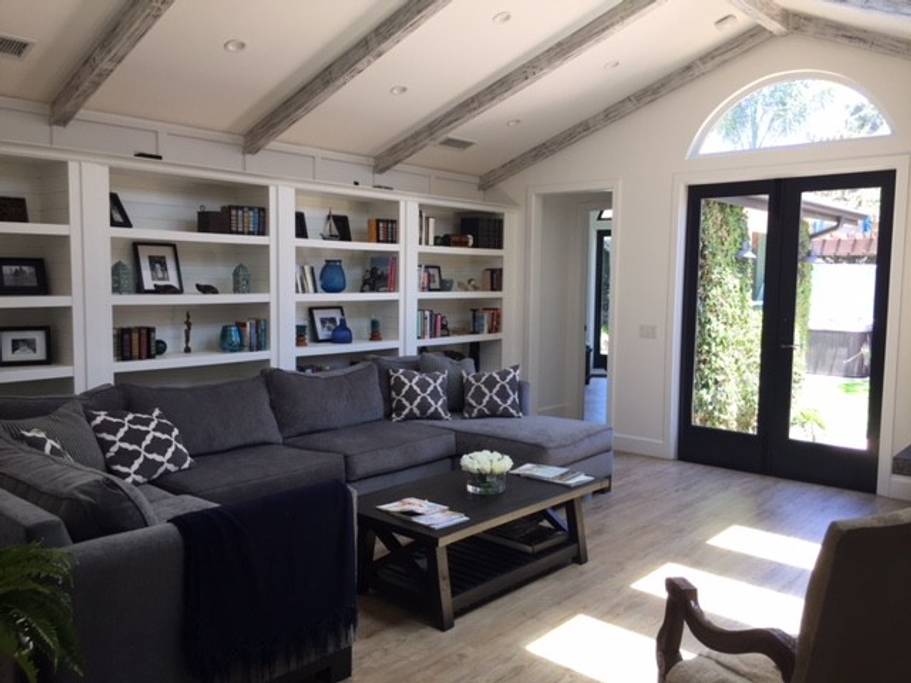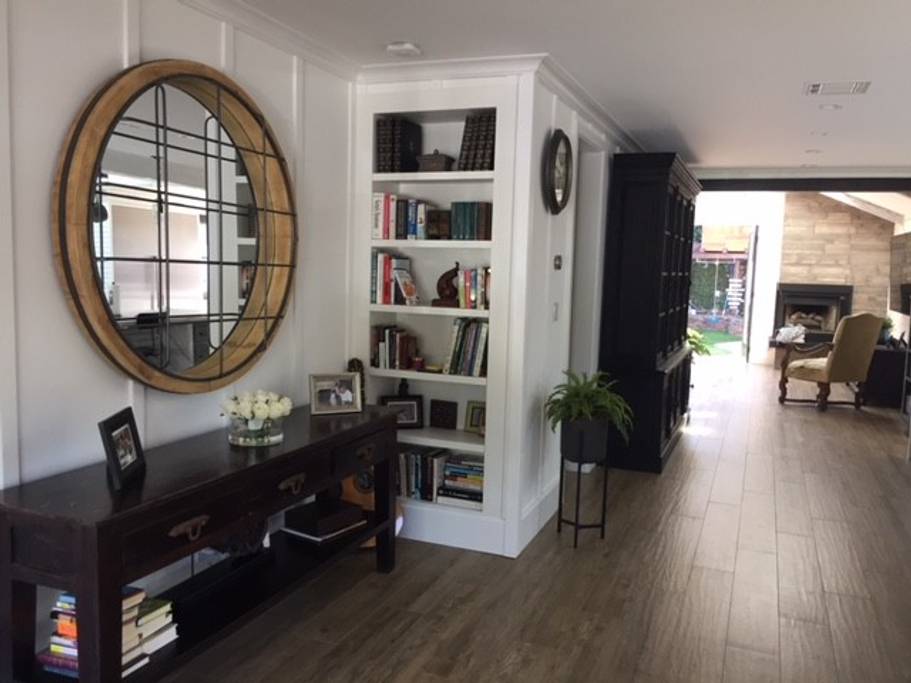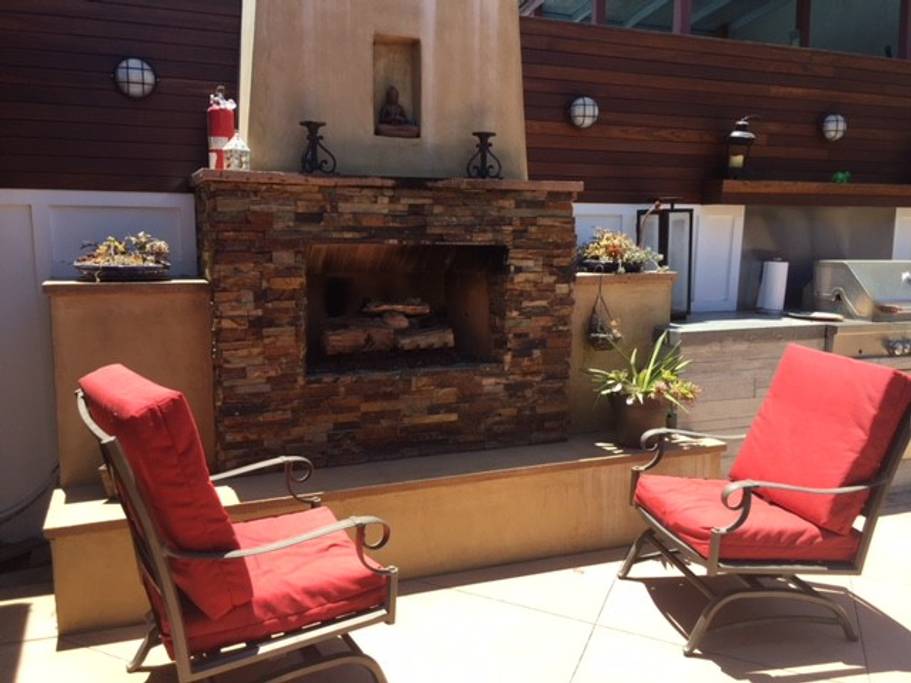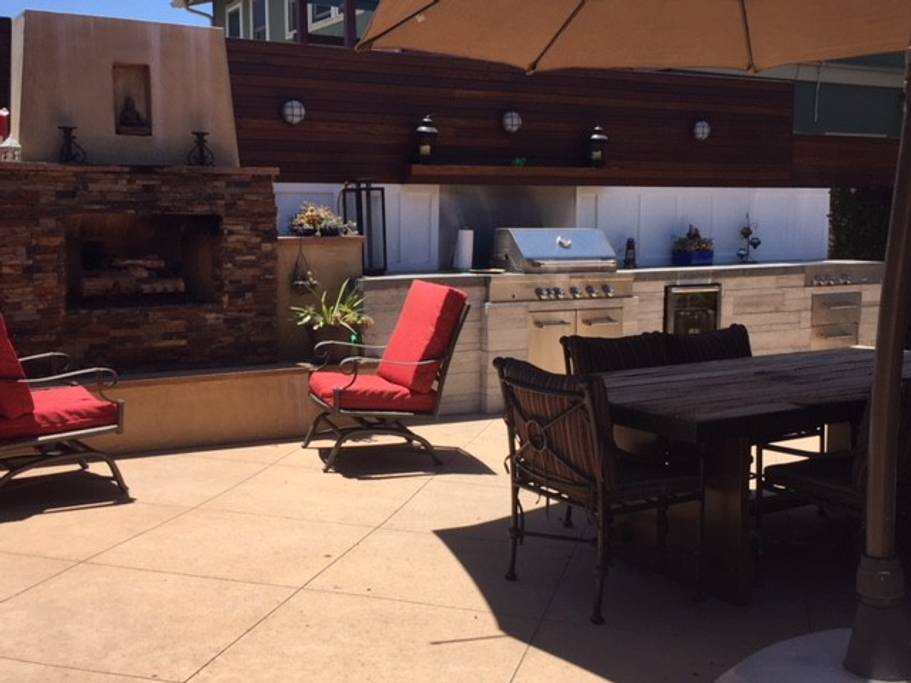 Who would have thought you could find a farm house in the middle of L.A.? Well, it's hard but we found one! This lovely three-bedroom, three-bath Airbnb in Westchester has rustic touches combined with Joanna Gaines-style farm house chic and the result is beyond charming.
Just five minutes from LAX, this home has a front patio area that's bigger than most people's living rooms and an open kitchen with skylights that are cleverly carried in to the living room.
Wonderfully spacious bathrooms can be found throughout the house so plan on a nice long soak in the tub or a long shower in the steam shower. Of course, you can also spend some time in Jacuzzi as you let yourself fall into the trance of the outdoor fireplace.
Just a few minutes from the 405, one of the city's major arteries, you can be just about anywhere if the traffic is reasonable.
We recommend a little shopping trip to Santa Monica's Main Street or even a visit to the one-of-a-kind Museum of Jurassic Technology in Culver City.
Just make sure you expand your definition of rush hour when planning to drive anywhere!
3. The Sanctuary – approx. $3,286 a night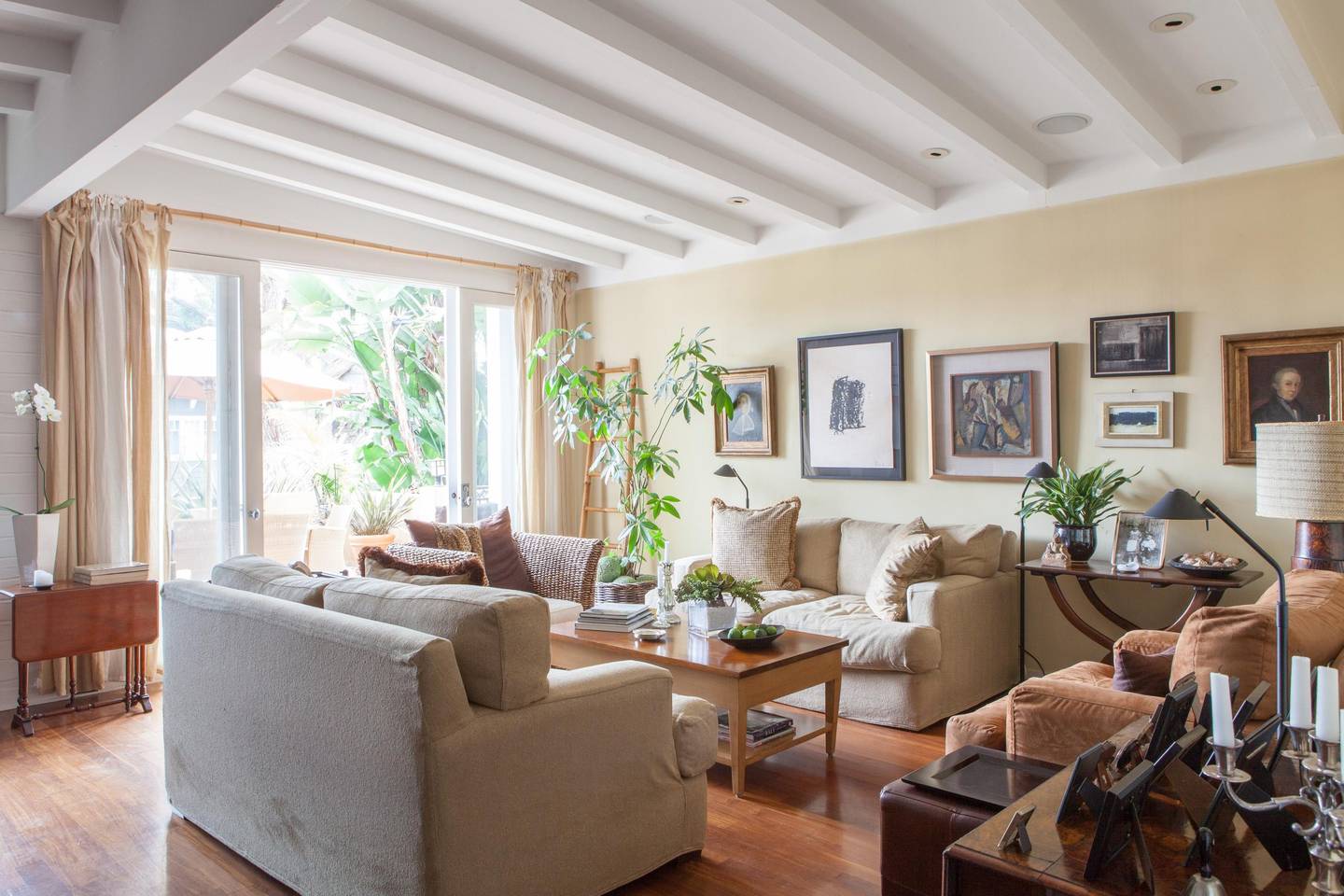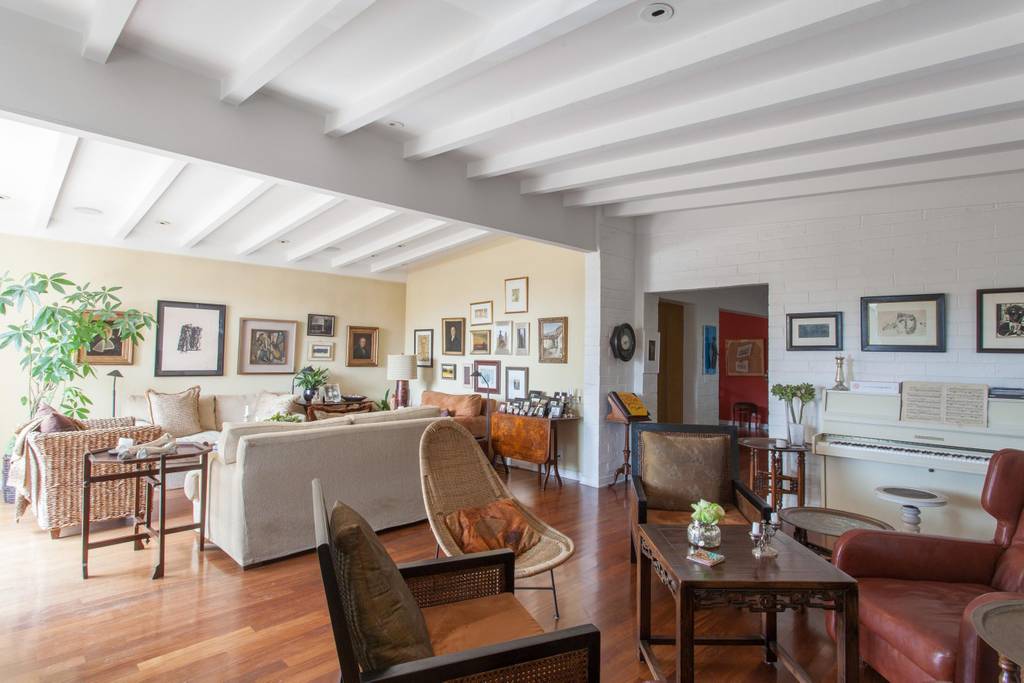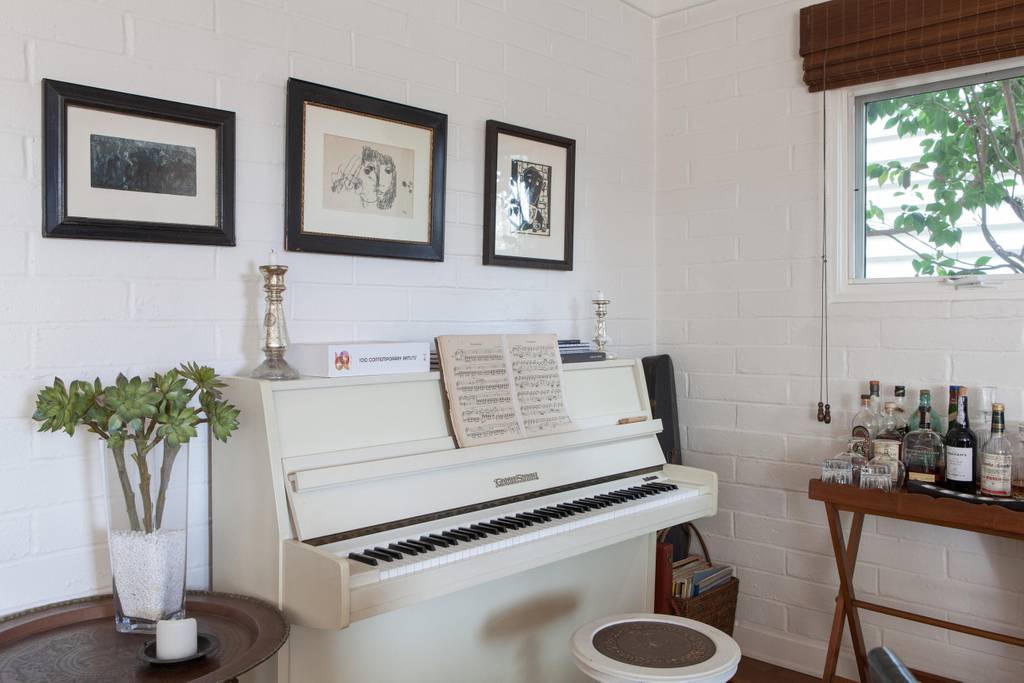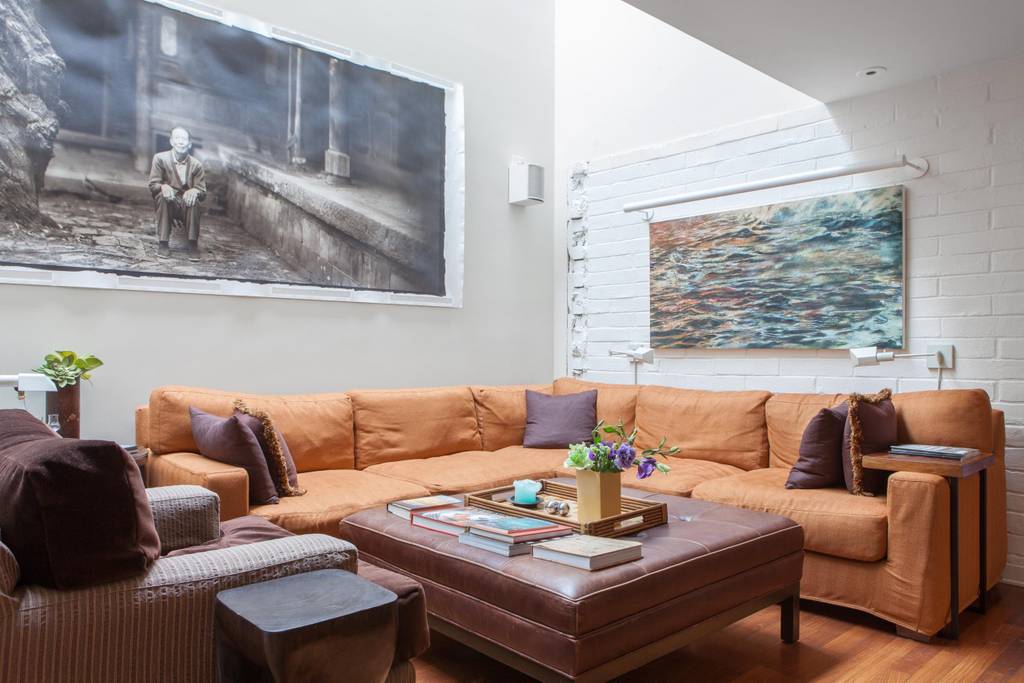 Think 70s loft meets mid-century meets Key West and you have the basic idea of this four-bedroom, three-and-a-half bath Airbnb near Manhattan Beach.
Built in the 1940s, this re-modeled retreat is affectionately called "The Sanctuary" by those who know her and it's easy to see why.
Even the color of the walls here give a sense of peace and calm as do the neutral furnishings and skylights that make it seem as if the sun is just outside the roof.
And that back porch is enough to make you want to move to some tropical desert island and live off coconuts. There are four bikes to take advantage of here as well as an upright piano and tons and tons of books to keep you occupied.
One of the biggest advantages is the three parking spaces that come with this house (not a big deal in other cities but absolutely crucial in this one).
There's no air conditioning but the cool sea air here means you most likely won't really need it. So if sanctuary is what you're after, this is the perfect place to find it.
2. Breathe Deep – approx. $495 a night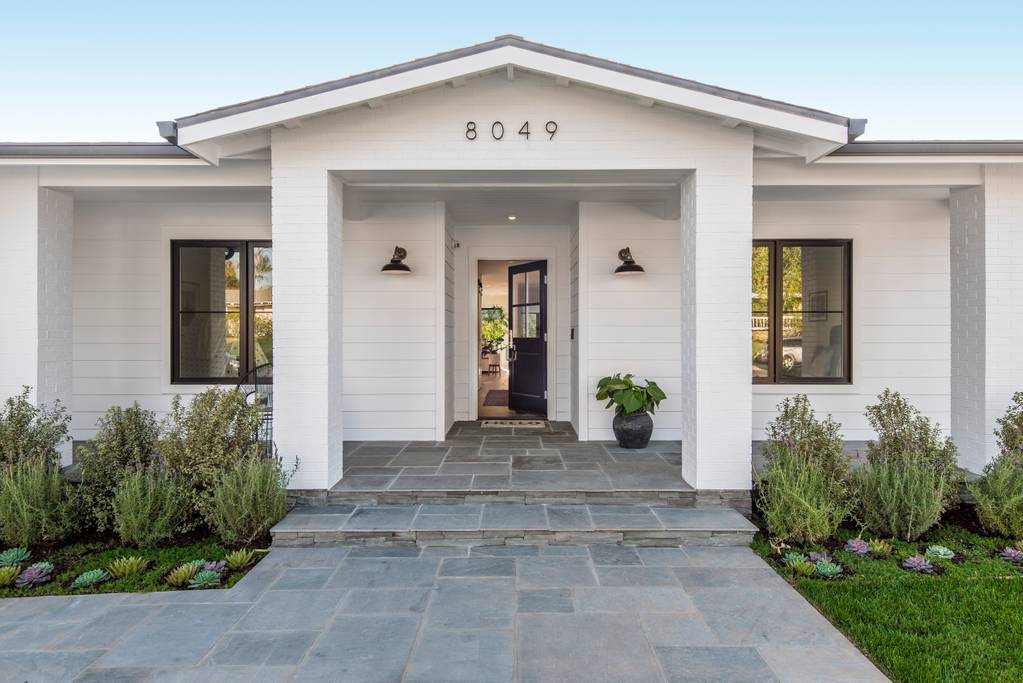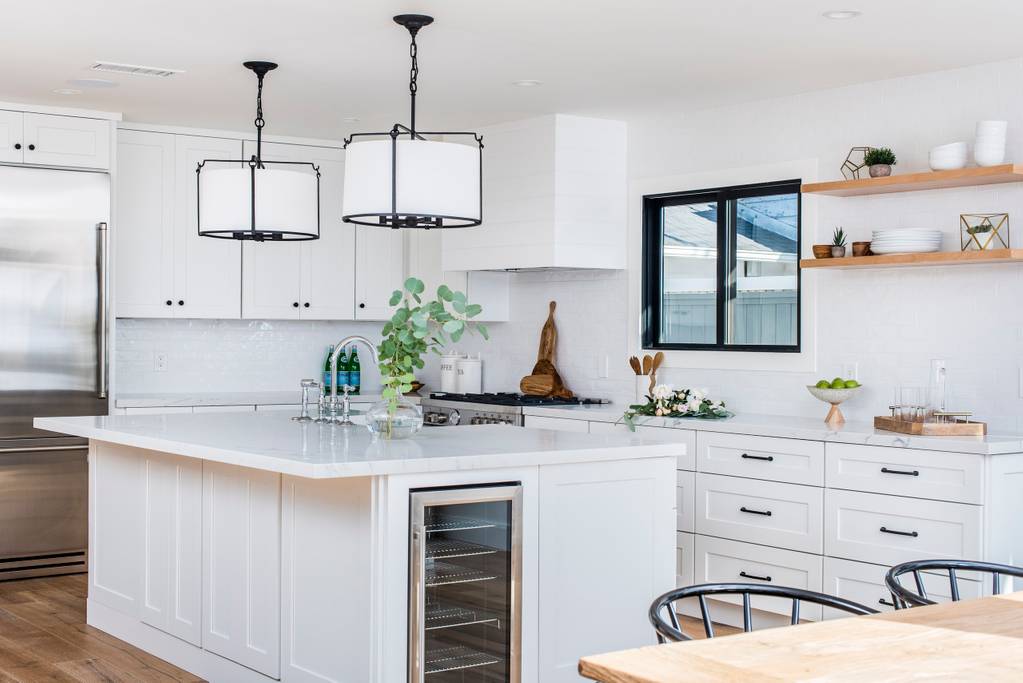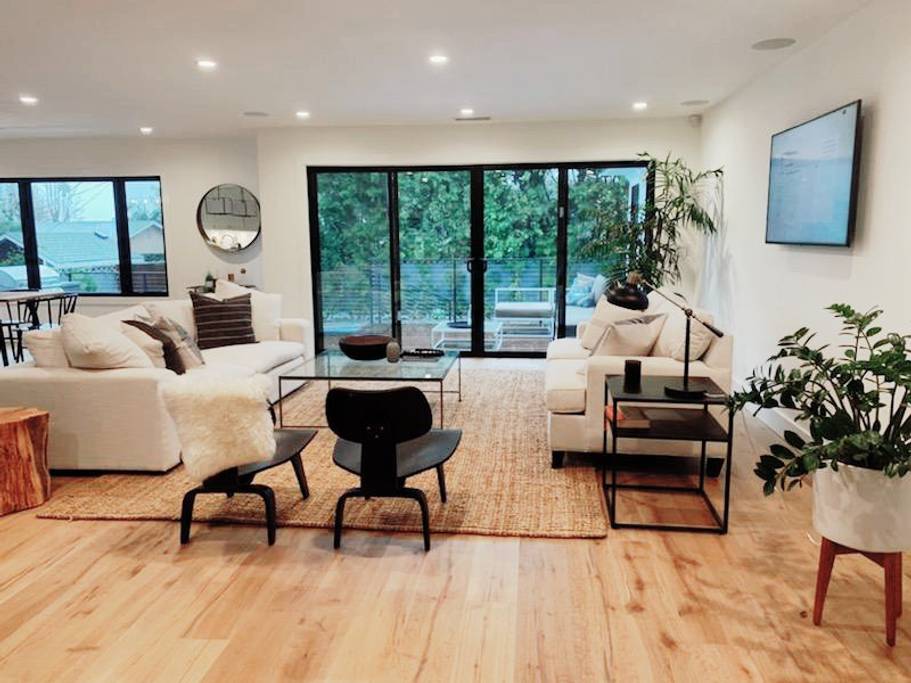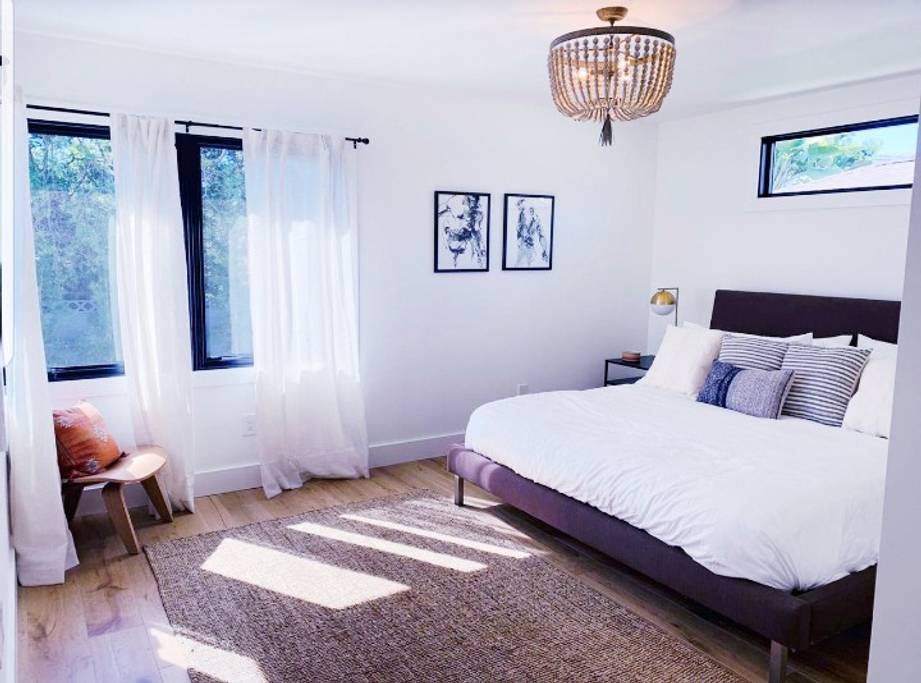 Remodeled as recently as 2018, this Manhattan Beach Airbnb is truly a breath of fresh air.
Awash in white, this five-bedroom, five-and-a-half bath farmhouse is perfect for entertaining so if you're looking for a place for a bachelorette or bachelor party, family reunion or you just happen to have a lot of kids, this is a perfect rental, especially given the multi-level deck, pool, outdoor firepit, BBQ, and surround sound system.
It's also just minutes from the beach which means you can take the party on the road. A big, open kitchen faces the living area so you can keep an eye on the kiddos as you prepare dinner (the kitchen, by the way, is fully stocked with basics so you don't have to load up on essentials the minute you arrive).
You can also count on luxuriating in the master bedroom at night which has a California King as well as a walk-in closet so big you could probably sleep in it.
As one guest said, this place really lets you breathe so be prepared to take some nice, deep breaths!
1. Movie Magic – approx. $2000 a night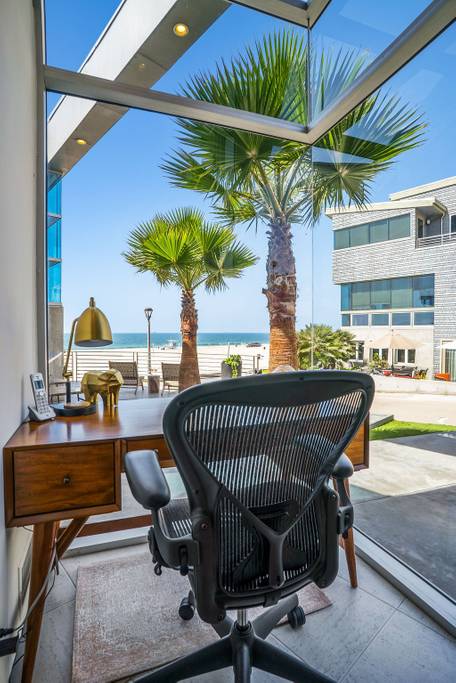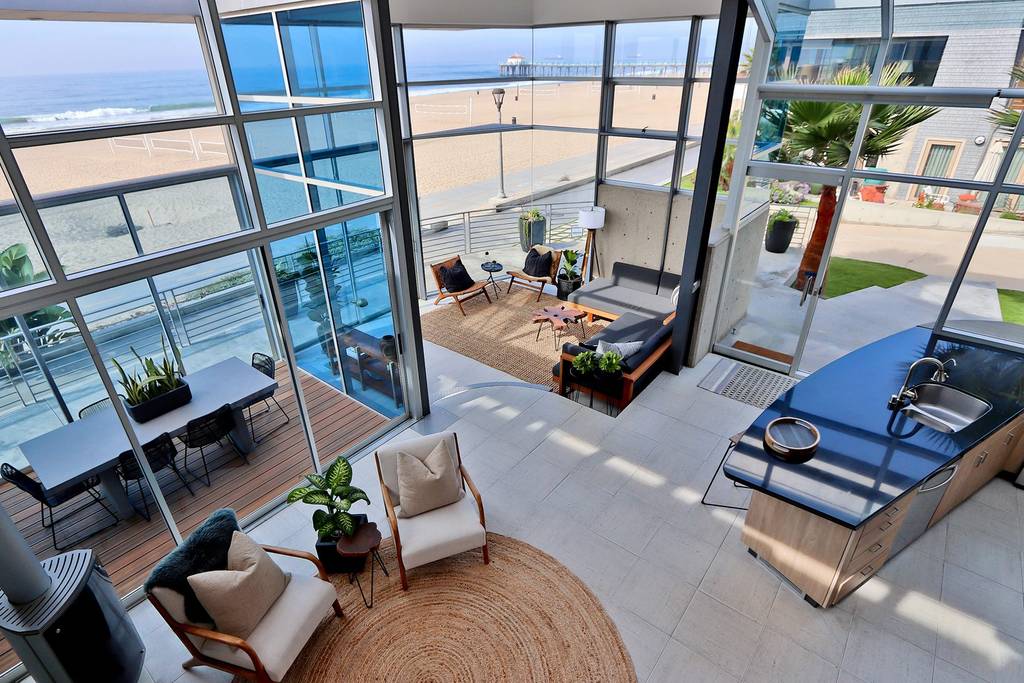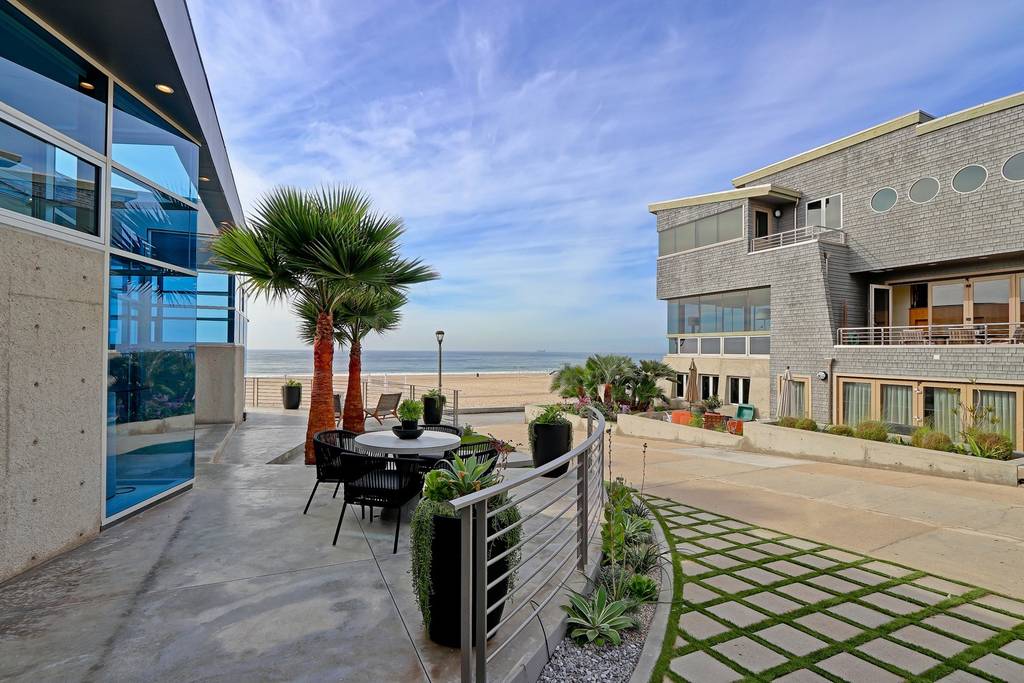 Picture this: A traveler is standing on the patio of a gorgeous Manhattan Beach house, enjoying a glass wine. The sun is setting over the Pacific Ocean.
Early evening bikers are gently riding down the Manhattan Beach Strand. Locals are taking slow strolls along the beach. Every now and then a few dolphins pop their heads out from the water.
The all-glass house glimmers in the descending sun and even in this community of breathtaking homes, this one stands above all the others.
It may seem like the opening scene of a movie, but actually, it's pretty much how it is every night at this gorgeous Airbnb. As close to the beach as you can get, this six-bedroom, two-bath, newly renovated home is like a dream for architecture enthusiasts and an incredibly versatile space.
This house is as perfect for a family of five as it is for a business traveler (and if this place doesn't make you feel like a boss, don't bother going to that interview).
You'll have endless toys and goodies to play with from paddle boards to surf boards to sand castle tools to bikes and since you'll be just feet from the beach, those will undoubtedly get a lot of use.
And those aren't the only toys you'll find here. Just to name a few of them, you'll have access to a Nespresso machine, reverse osmosis drinking water filtration, Subzero and Thermador appliances, a 70-inch TV, lightning-fast internet, and even motorized shades which you'll need given how incredible the light is here.
This is one movie you might have to see more than once!