The gorgeous surroundings of Vermont offer the perfect getaway any time of the year. The famously snowy state's natural beauty is basically unmatched on the east coast, and whenever you visit you want to find the perfect rental to allow you to get the most out of your trip. Airbnb's Vermont cabins offer a toasty, rustic feel, so you can curl up next to a fire with a hot chocolate after a day of woodland exploration, or to rest your feet after an exhaustive skiing session.
See also:
These are the best Airbnb homes in Northern Vermont
8 of the most gorgeous Airbnbs in Vermont
Here are 8 of the best cabins available, each unique in what they offer. You're bound to find your ideal cosy cabana in this list.
8. A Tree Cabin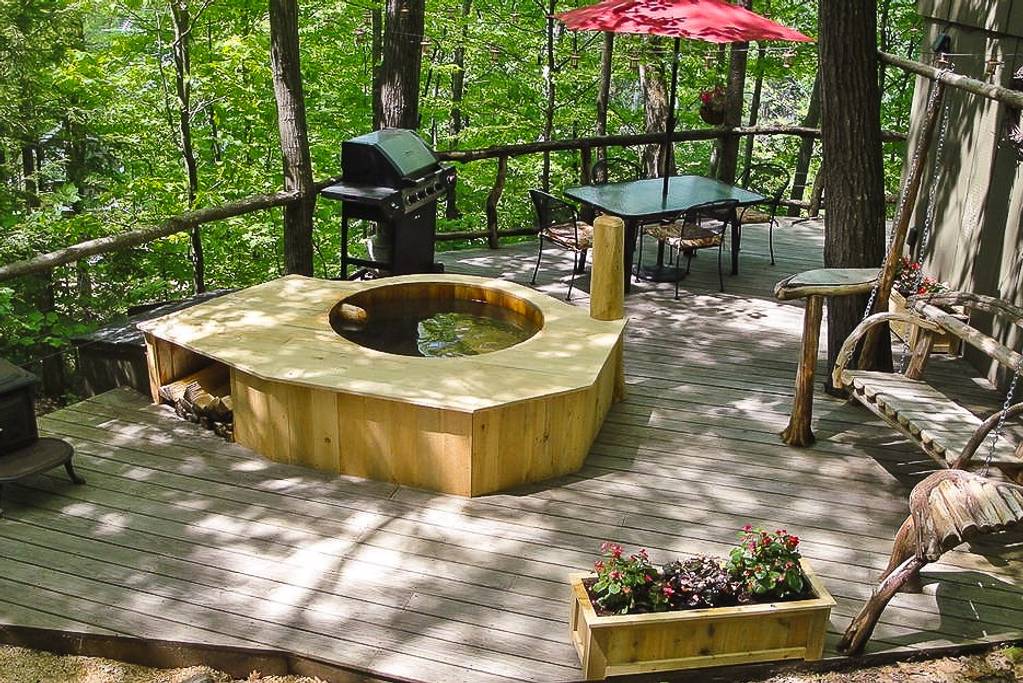 This treehouse, tucked away in a gorgeous forest, is perfect for those who want to be surrounded by nature. It can host three guests and there's even a hot tub if you're feeling frisky in the snow! A mere 30 minutes from two ski resorts, it's also a perfect resting stop for all you winter sports enthusiasts. Owners Andrew and Marilou have a strong five-star rating on Airbnb. And before you ask, that's five stars out of a possible five, guys!
You can rest up here from $120 per night, with the freedom to cancel with full refunds at any time.
7. Apple Blossom Cottage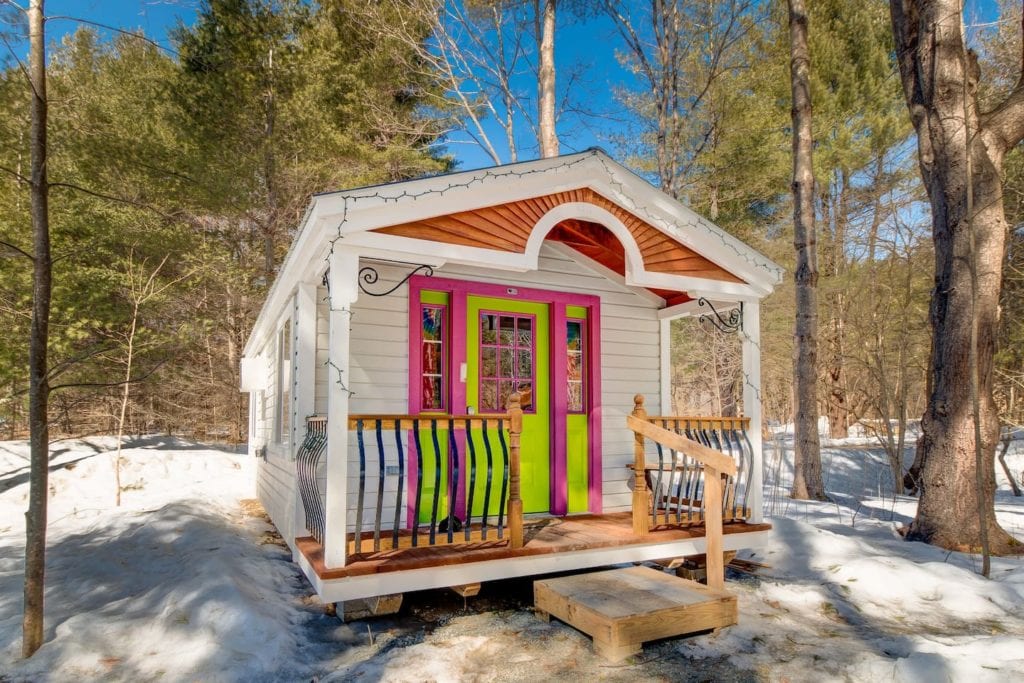 Another secret woodland grotto, this time in the midst of the bucolic Green Mountains. The cute and colorful Apple Blossom Cottage is close to the town of Manchester, where outlet stores abound, and a few ski slopes too. This place is dog friendly, and is ideal for letting the pet and kids run amok while you prepare food on the grill. Did we mention there's a grill?
Starting at a very reasonable $60 a night, this little place is an absolute steal!
6. A Luxury Barn Apartment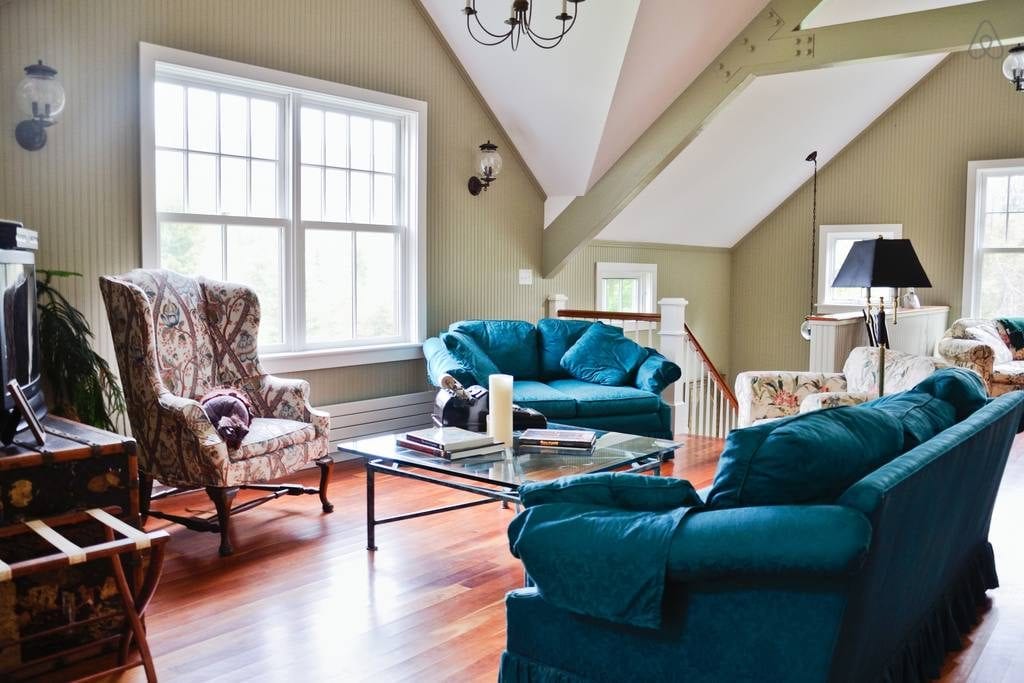 This luxury barn provides a great base while you explore the artisanal delights of the nearby towns of Middlebury and Burlington.
Cafes, bakeries, spa days, cheese-and-wine tastings – all types of relaxing, self-care-type activities are on your doorstep here, and host Christine is more than happy to recommend the best spots and arrange some things for you. This place is as good as it gets for the worn-out commuters and city slickers who are jonesing for a breathe of fresh air.
If you can't quite turn the emails off, WiFi is of course available while you stay, as well as cable TV and a free parking space. Prices start from $78 per night here.
5. A Tree Cabin on Walker Pond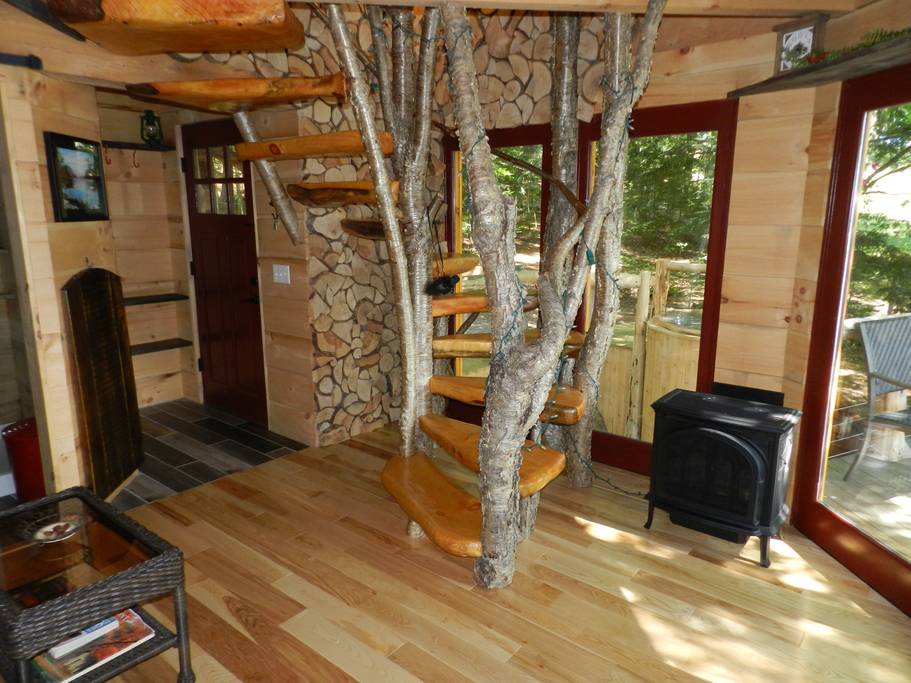 Back up among the pines for this lush cabin, another wooden palace from our old friends, superhosts Andrew and Marilou.
Overlooking the alluring blue of the Walker Pond, this equally spacious and comfy tree house brings perhaps a more rustic feel, the kind of place a lumber jack would rest his beard after a long day of wood-chucking.
The surroundings also offer their share of exciting wildlife spottings, with bears, moose, geese, deer and other adorable woodland critters hiding among the foliage. Or you could watch TV on the LCD. Hey, it's your vacay.
4. The Hyggelig Hytte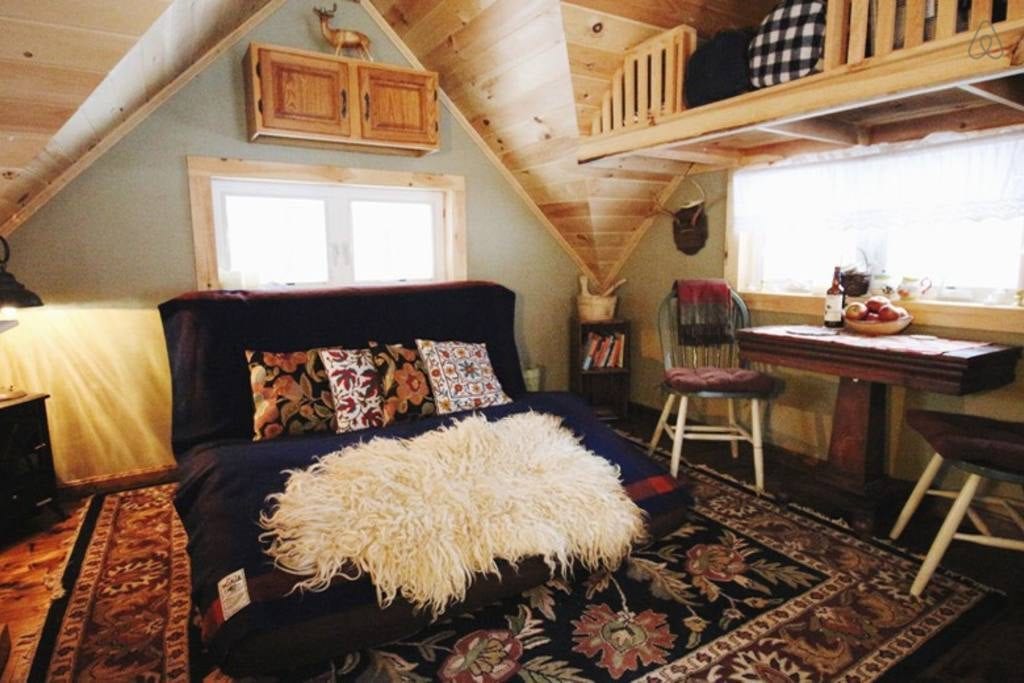 You might get déjà vu looking at the silhouette of this cabin as it's exactly the sort of thing you'd see in a particularly magical Christmas-y gingerbread town in a high end department store.
If a living-off-the-land vibe is what you're going for during your stay in Vermont then look no further than The Hyggelig Hytte. Nordic-theme peace and quiet runs through the beams of this sweet little home, with no light pollution around to ruin your view of the stars. Amenities are few and far between (you shower in the main house – if you want to shower at all, cowboy) and you may need snow shoes to get to it!
Looking for writing jobs? Check out GigLeads.
3. Mountainside Retreat Cabin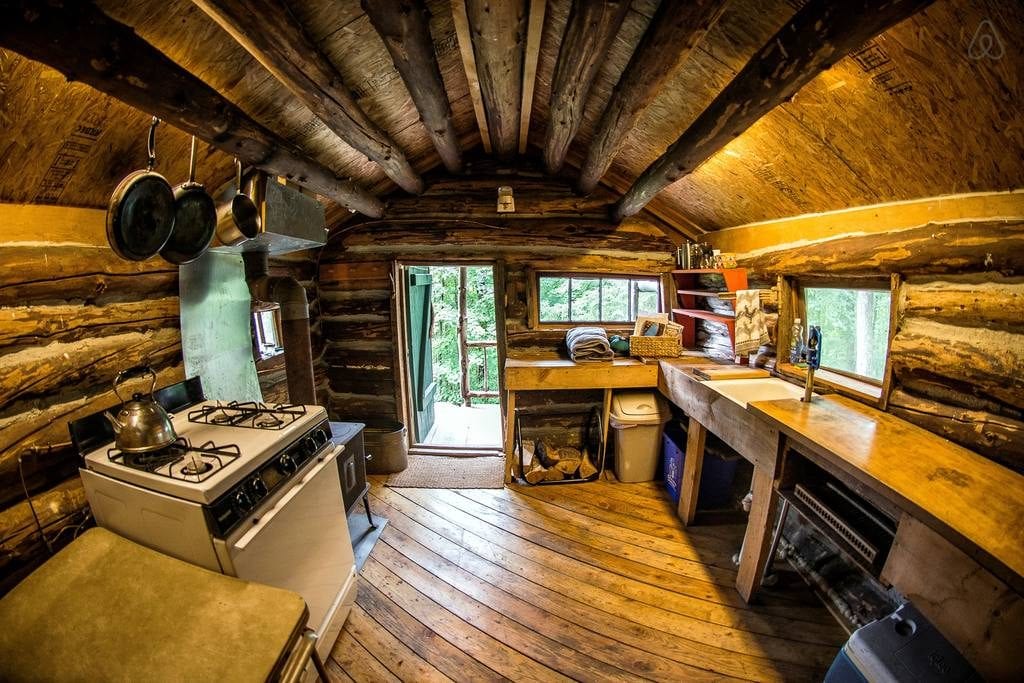 Jump in your time machine and head back to the great American frontier, patnah! This isolated mountainside cabin is exactly the kind of thing you can imagine your favourite gunslingers retiring in, when they get arthritis in their quick-draw hand, or something.
A rustic experience awaits all those who choose this characterful cabin, with an array of outdoors activities around to keep you occupied, including kayaking, mountain biking, rock climbing and some darn good swimmin' holes.
Live like the pilgrim you always wanted to be from $129 a night.
2. Yurt in the Woods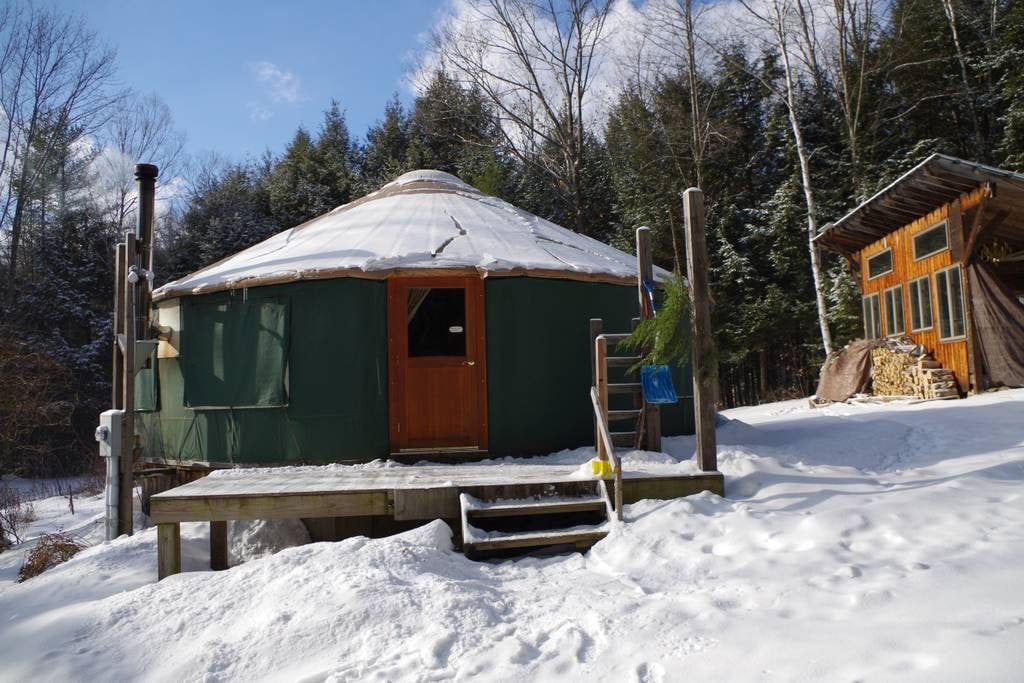 This wonderful yurt in the woods is glamping at its finest: a decent distance from all that nasty civilisation stuff, yet with all the comforts of the modern world within. All for a sensible $130 a night.
A unique, cozy and fabulous interior that allows you to enjoy peace and quiet but stay in touch with the mucky real world if you need to. If you can drag yourself out of this lovely warm yurt, there are trails ripe for mushroom picking in the summer, and if you're into craft beers (which we know you are) then the Harpoon Brewery is a mere 13 minutes away!
1. The Cabin at Killington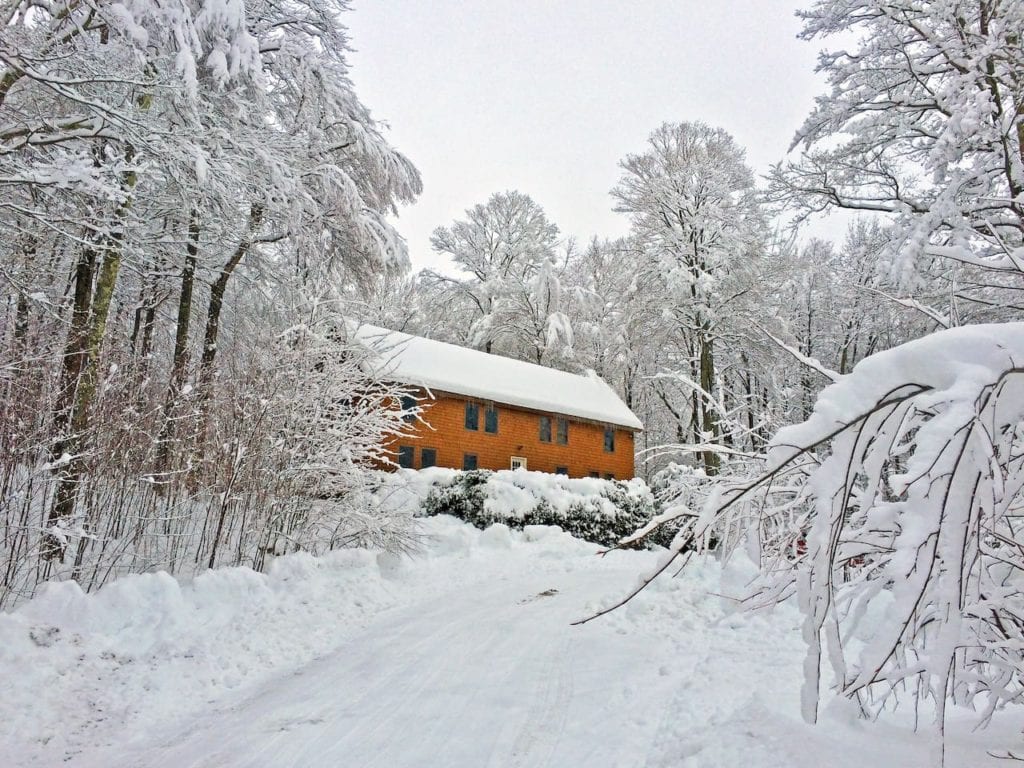 The Cabin at Killington is the sort of place you can imagine Brangelina (RIP) staying to get away from the paparazzis and autograph hounds. Spacious, made from warm timber and equipped for up to 12 people, this cabin is the perfect spot for couples retreats, and has all the homely accoutrements so you never have to leave.
If you get a bit of cabin fever, ski slopes are only 2 miles away. This home-away-from-home starts at a very reasonable $225.