Wondering where to stay for Wimbledon this year? We've rounded up the best Wimbledon Airbnbs in Southwest London below, so start planning that trip!
Tennis enthusiasts should mark their calendar for the 2019 Wimbledon Championships, a Grand Slam tennis tournament scheduled to take place from July 1-14 this year. The tournament is held annually at the All England Lawn Tennis and Croquet Club in Wimbledon, just outside of London, United Kingdom.
This could be the final tournament for World No. 1-ranked Andy Murray, while other pros likely to make an appearance include Serena Williams, Maria Sharapova, Roger Federer, and Rafael Nadal. There are many interesting things to do in Wimbledon, making it a fun destination for your next trip to the U.K.
The best places to stay for Wimbledon is around southwest London in neighborhoods such as Wimbledon itself, leafy Richmond, trendy Clapham, Battersea along the South Bank, or even Kensington in Central London. We found eight of the best Airbnbs for Wimbledon below.
Where to stay for the Kentucky Derby? Try these 6 Airbnb in Louisville
7 London Airbnbs Harry Potter Fans Will Love
6 of the Most Glamorous Airbnb Homes in Kensington and Chelsea, London
6 of the most gorgeous luxury Airbnb homes in Copenhagen
8. Glamorous, Vintage Victorian Vibe Near Wimbledon Park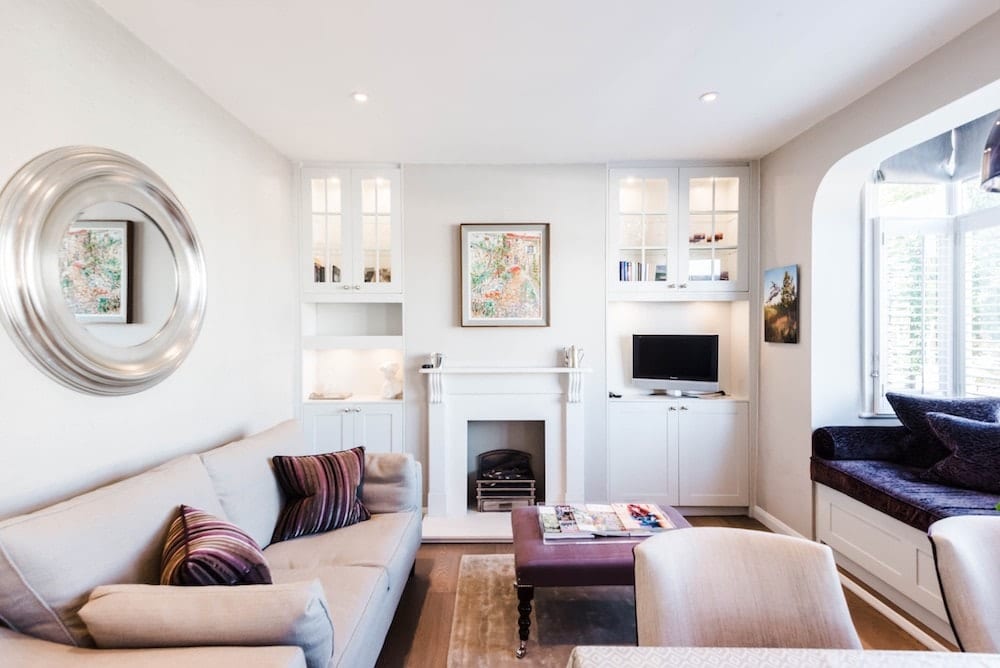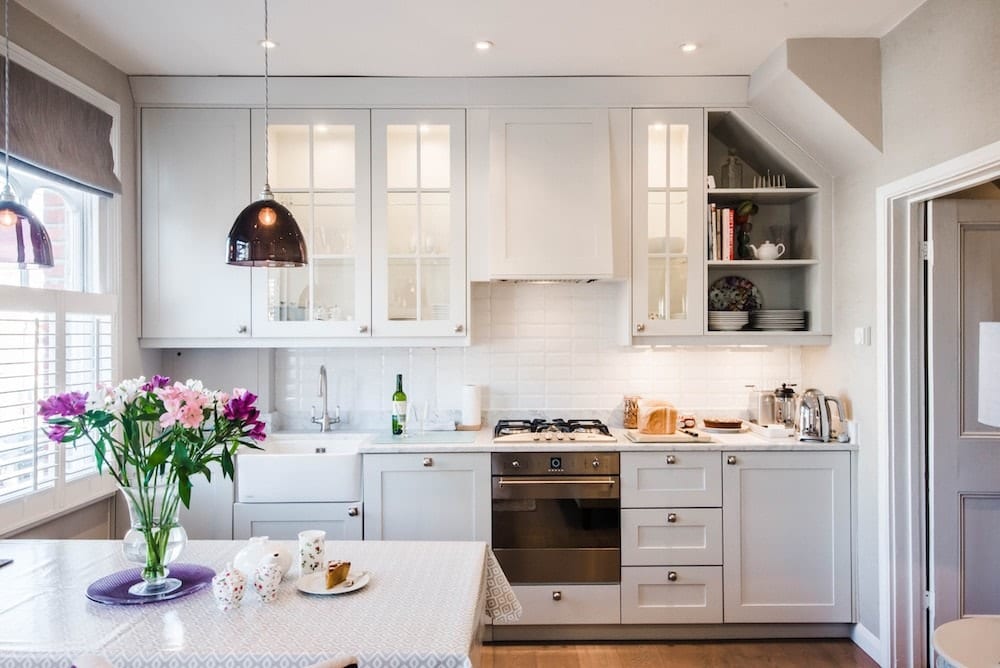 Wimbledon Airbnbs don't get much prettier or closer to the action than this glamorous, boutique apartment near Wimbledon Park.
It's also rare to find a 'flat' in SW London with so much space! This gorgeous home can accommodate up to 5 guests easily, with three bright bedrooms and one full bathroom.
There's even a bonus office with workspace and sleeper sofa. The entire home is still available during Wimbledon, from just around $320 a night.
This glamorous vacation rental has been lovingly renovated and designed to flatter the home's Victorian vintage charm, with plenty of modern upgrades.
The welcoming atmosphere represents true British hospitality — the sort of place that just begs for a relaxing cuppa on the couch with your dearest friends.
Best of all, the location is just moments away from all the excitement of Wimbledon tournaments, and convenient to central London thanks to multiple transportation links close by.
7. Bright & Elegant Airbnb For Wimbledon In Fulham, London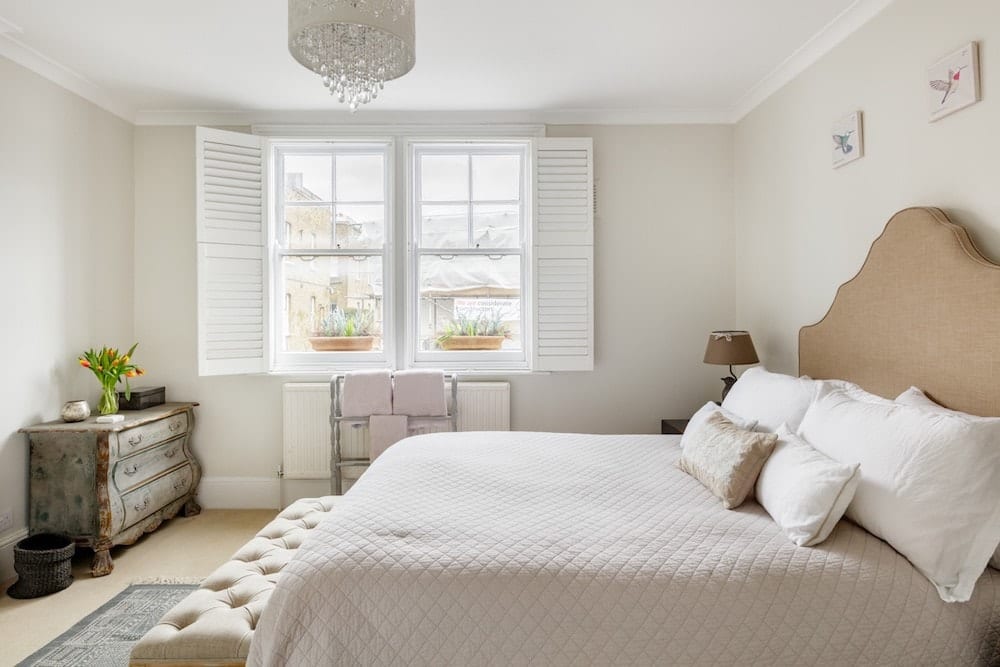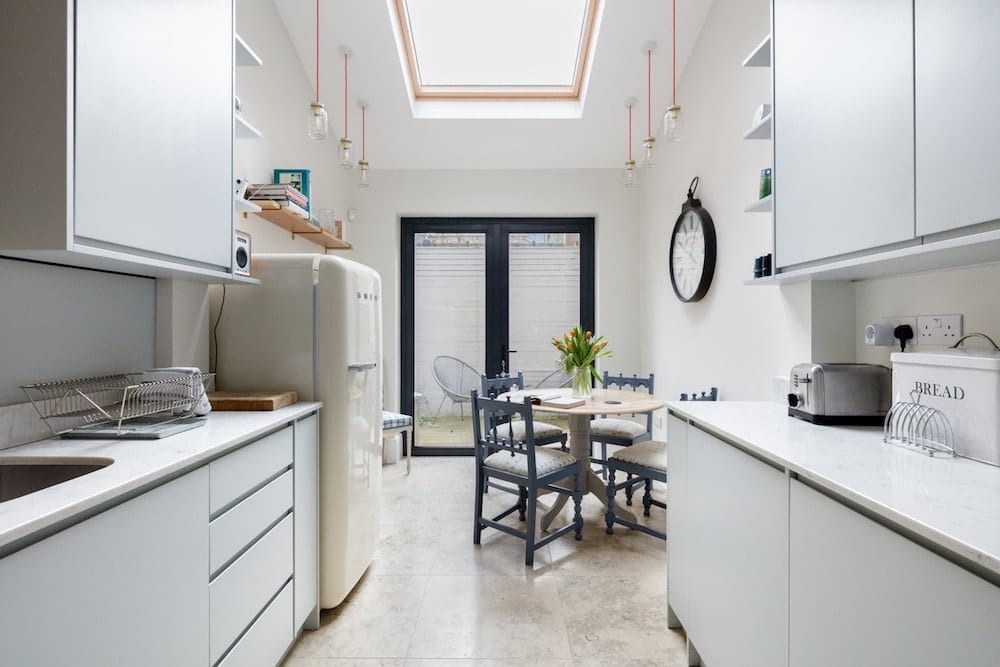 Among London's 'poshest' postcodes, Fulham is a desirable neighborhood close to good transportation links and other attractions around the city.
One of the best places to stay for Wimbledon is Fulham, just 30 minutes from Wimbledon Park on the District line.
That's why we love this well-positioned and stylish Fulham Airbnb for Wimbledon, still available during the tournament from around $200 a night.
Able to accommodate up to 4 guests easily, this two-bedroom, one-bathroom townhouse rental in Fulham has been beautifully decorated.
Its interiors are light and bright, with big windows and a soft, neutral color palette.
There's plenty of space to relax and hang out here, including a private patio with seating, but you're also well-positioned to explore London's vibrant nightlife, excellent shopping, world-renowned restaurants, and so much more during your Wimbledon stay.
6. Restored Victorian Glamour In Fulham Near River Thames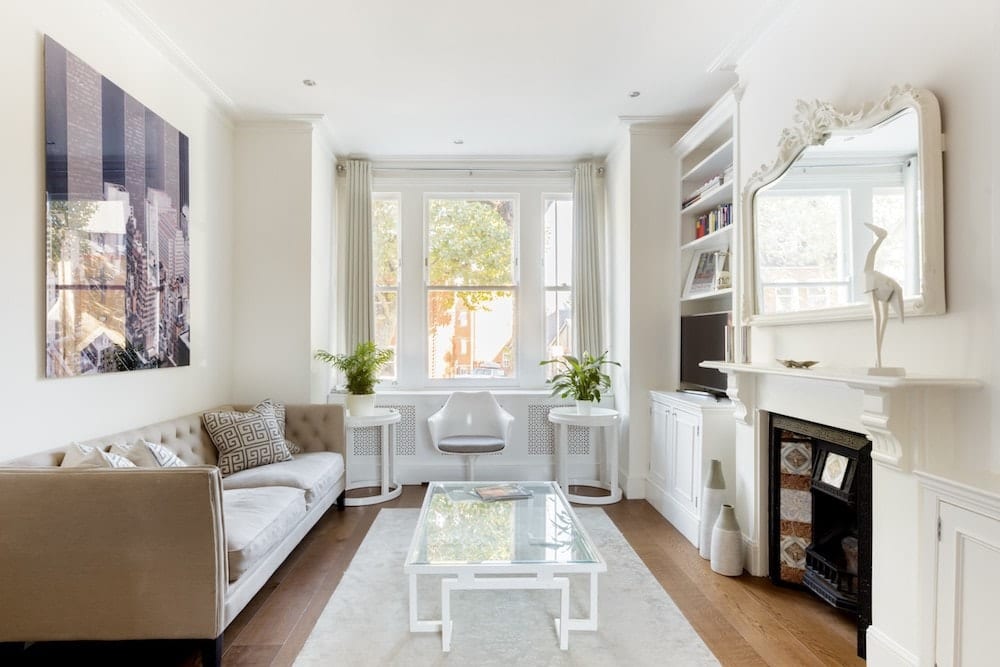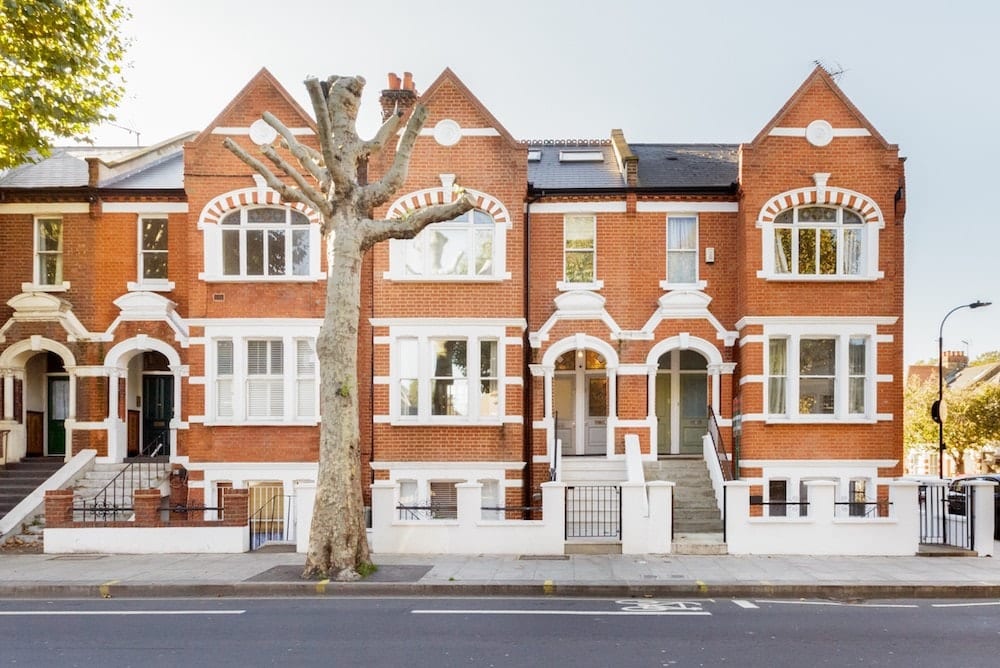 The traditional, red-brick exterior is the epitome of classic London row homes from the Victorian era.
Inside, this beautifully renovated, two-bedroom Airbnb in Fulham retains much of its original charm and character, with many modern upgrades.
The location is ideal for a Wimbledon Airbnb, as you're just a short walk away from the District Tube line, which connects Fulham to Wimbledon Park in under 30 minutes.
There are still a few dates left during Wimbledon to book this fantastic flat, for around $390 a night on average.
Up to 4 guests can stay together in the utmost style and comfort.
The private back garden is a lovely spot for your morning coffee, while the spacious living area is ideal for relaxing in the evenings.
If you do choose to venture out, there are many places in Fulham to grab a chic cocktail or a memorable dinner.
5. Sleek, Scandi-Style Wandsworth Flat For Wimbledon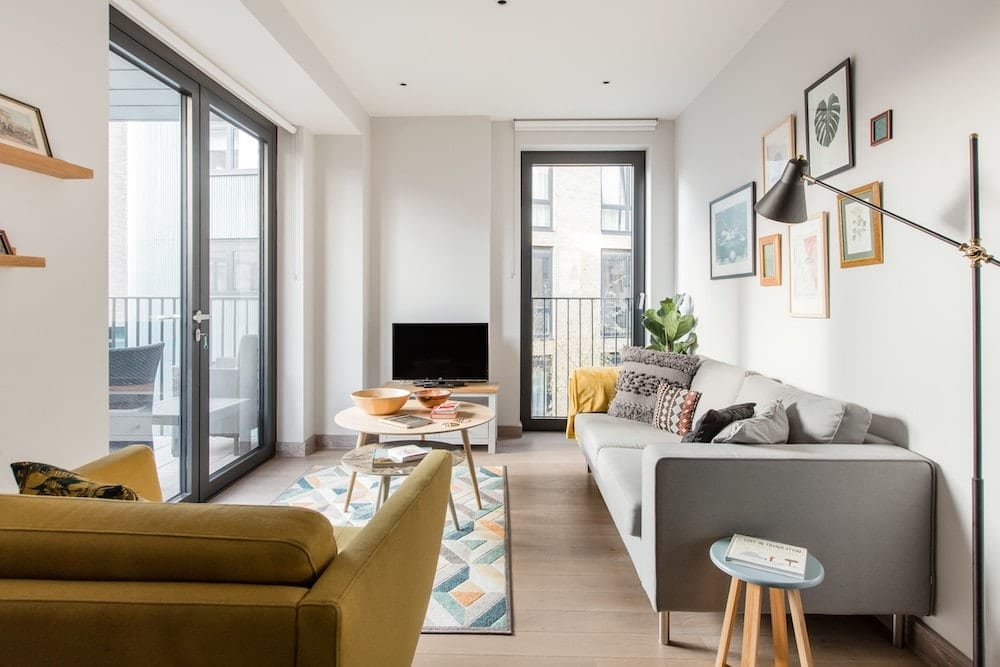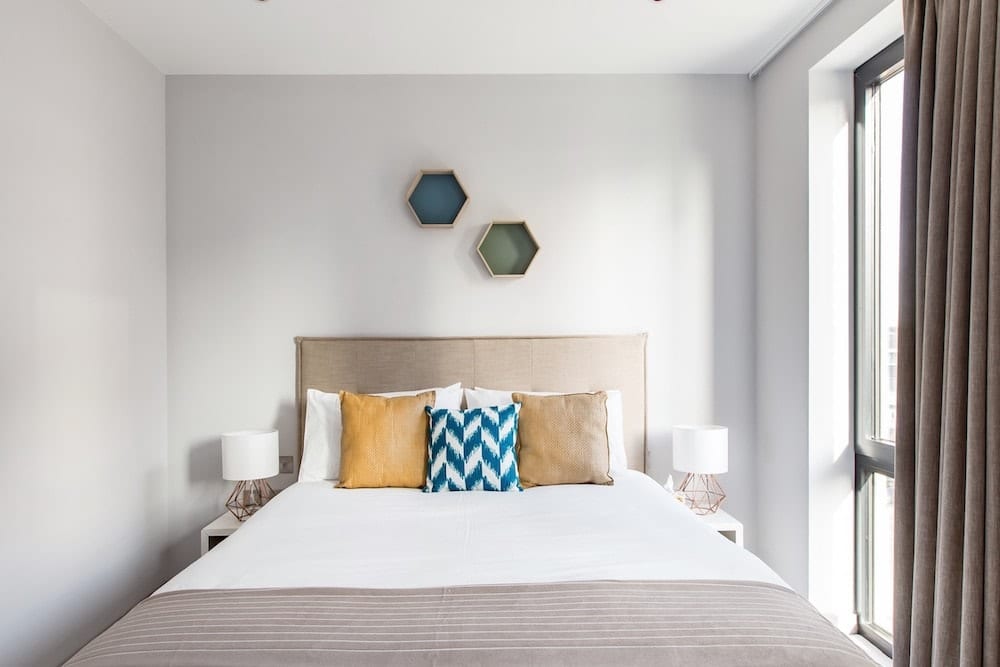 Just across the Thames from posh Fulham, you'll find the welcoming, small-town vibes of Wandsworth. Enjoy independent, locally-owned restaurants, cafes, and shops away from the hustle and bustle of Central London.
Not too far away, though; you can hop on the Tube and reach Waterloo in just 12 minutes, or arrive at Wimbledon Park by bus in under 30.
Thankfully, this Scandi-style Wimbledon Airbnb in Wandsworth is still available during the tournament for around $260 a night.
There's room for up to 5 guests to stay comfortably in this stylish, modern two-bedroom flat.
Enjoy the private balcony with garden views below, or simply slip between 500 thread-count Sheridan linens for a restful night's sleep after a fun-filled day at Wimbledon.
This flat is perfect for a small group and well-suited for self-catering, just in case you don't feel like wandering too far from home.
4. Modern Apartment For Wimbledon On Thames Riverside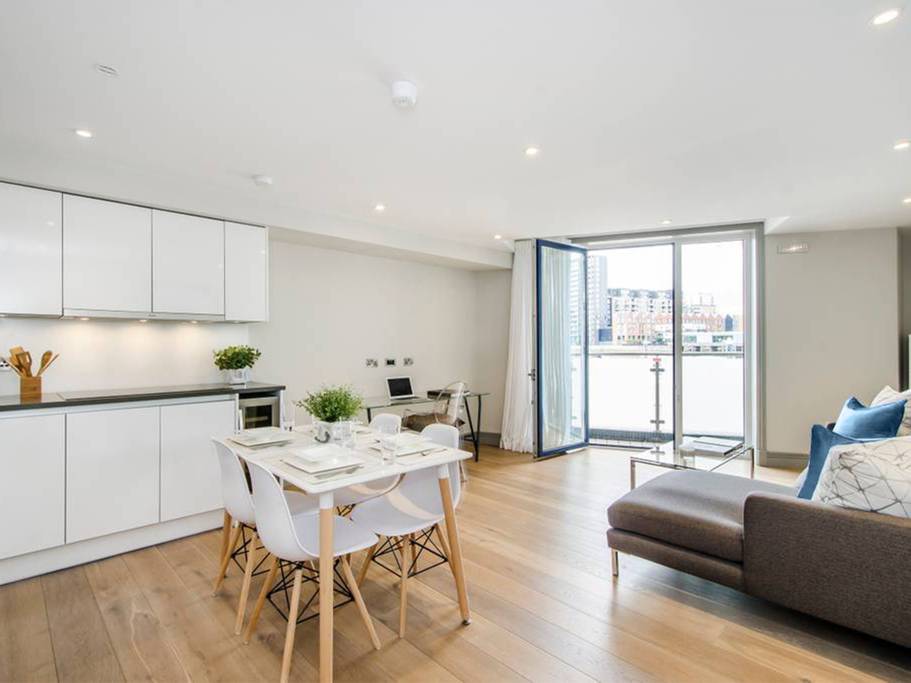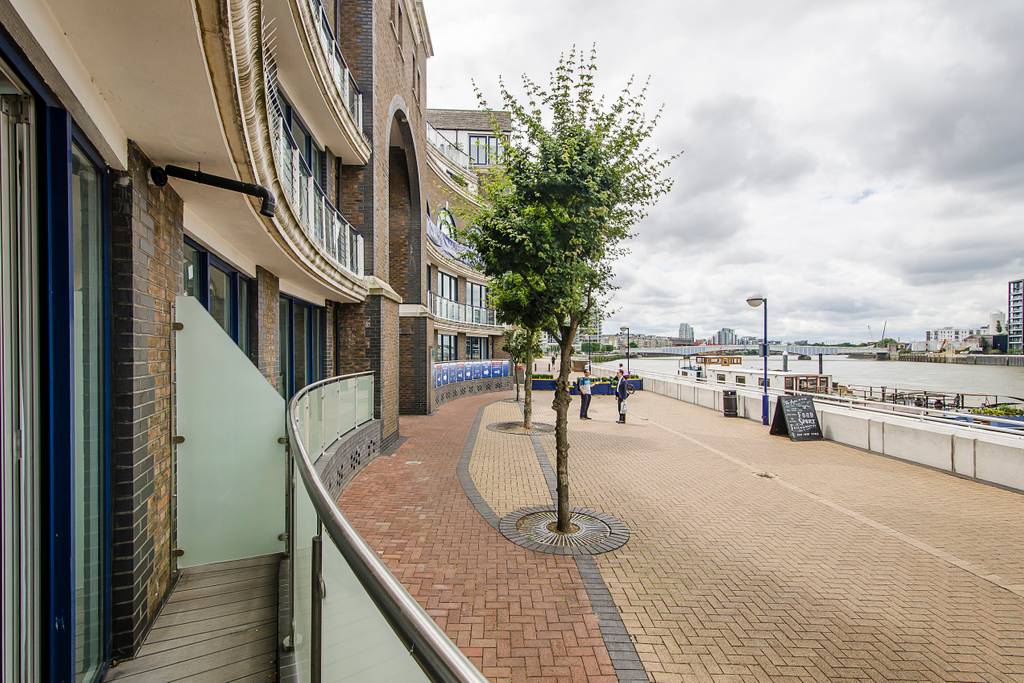 Tucked along the Thames between Wandsworth and Battersea, this modern riverside flat on London's South Bank would be ideal for Wimbledon.
Just a short walk away is Clapham Junction, a major transportation link that connects you to Wimbledon Park is under 30 minutes!
You can also easily reach the King's Road in Chelsea, hip cafes around Battersea, or simply head down to the pier and take a scenic river cruise along the Thames.
Available during Wimbledon from just $220 a night, this luxury South Bank apartment can accommodate 2-4 guests with one bedroom plus sleeper sofa and one bathroom.
Enjoy peaceful views of the river right from your living room with private balcony.
Start your day with a refreshing and scenic job along the Thames and return to a fresh, modern space you can call your own.
3. Magnificent Mews Home In Battersea Park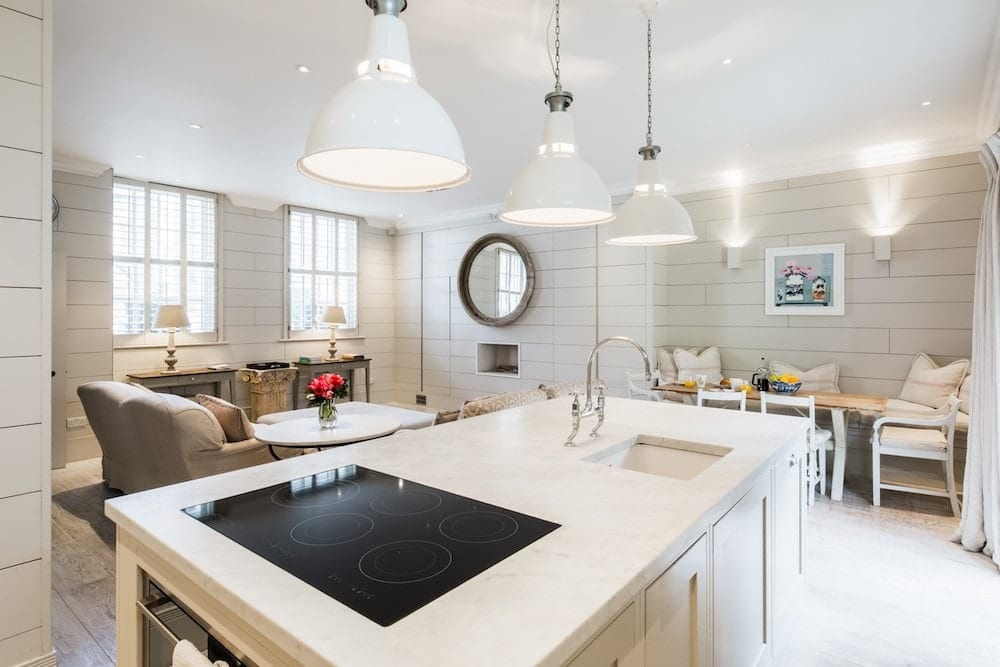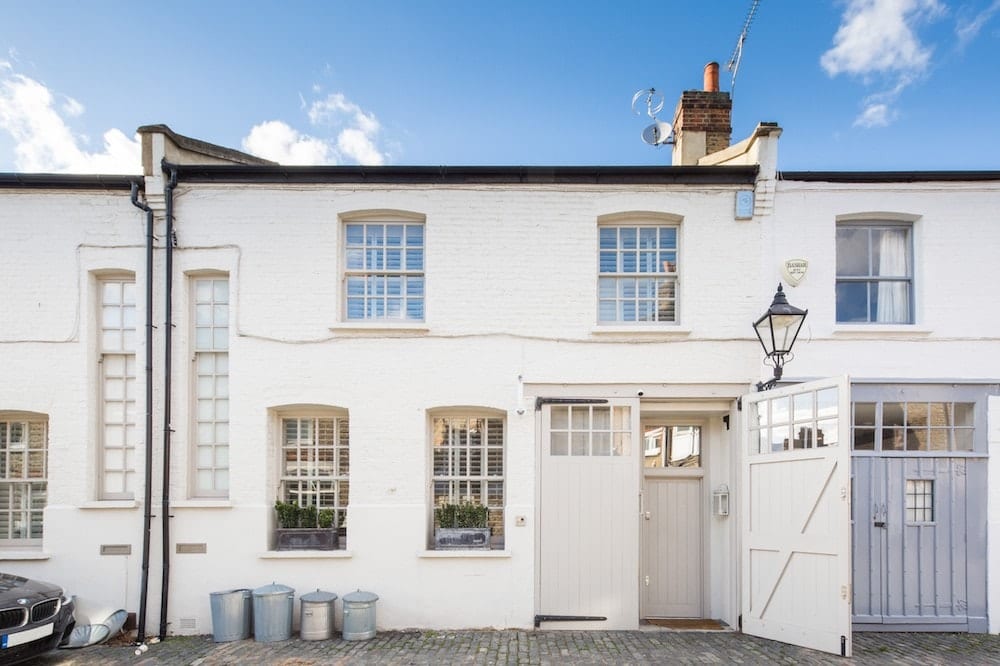 Historically, London's traditional mews homes were meant for stables and servants. They were typically found tucked away behind grand, Victorian mansions in London's most exclusive areas.
Nowadays, most have been lovingly restored and transformed into some of the city's most desirable real estate! This is one such example, a beautiful, renovated mews house in Battersea which would make a fantastic Wimbledon Airbnb.
Best of all, it's still available during Wimbledon from around $620 a night.
Deceptively spacious, this pretty London vacation rental can accommodate up to 6 guests with three bedrooms and two full bathrooms.
Lovely wood-paneled walls and whitewashed floors keep the space feeling open and bright, like your very own luxury retreat.
Enjoy the perks of mews-style living, like a quiet, residential street with very little vehicle traffic.
You'll be well-placed in Battersea to reach Wimbledon Park by bus or Tube in around 40-45 minutes.
2. Spacious Victorian Family Retreat In Residential Richmond Hill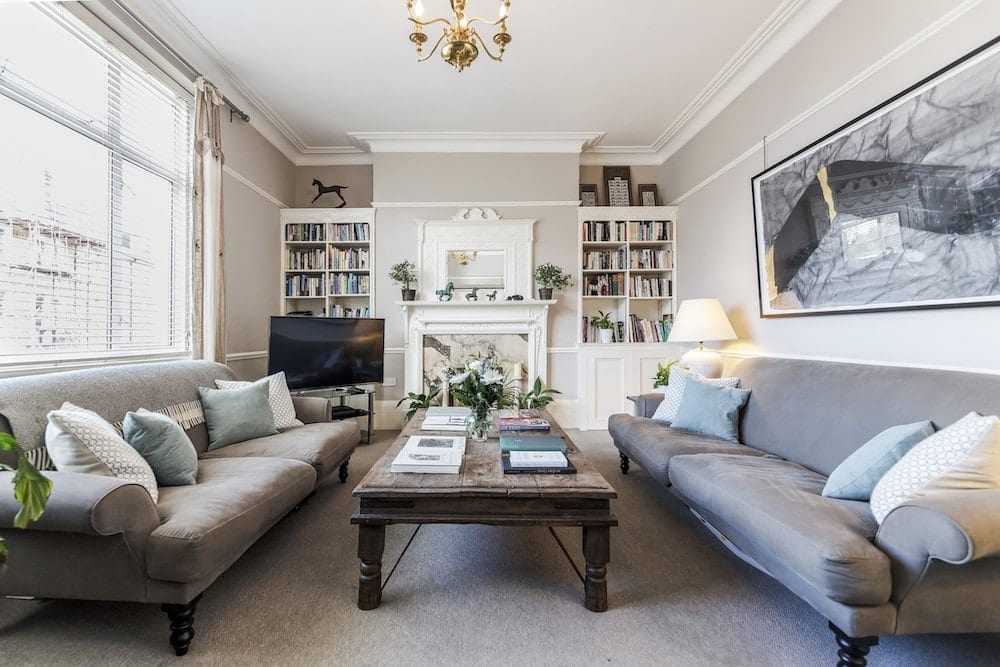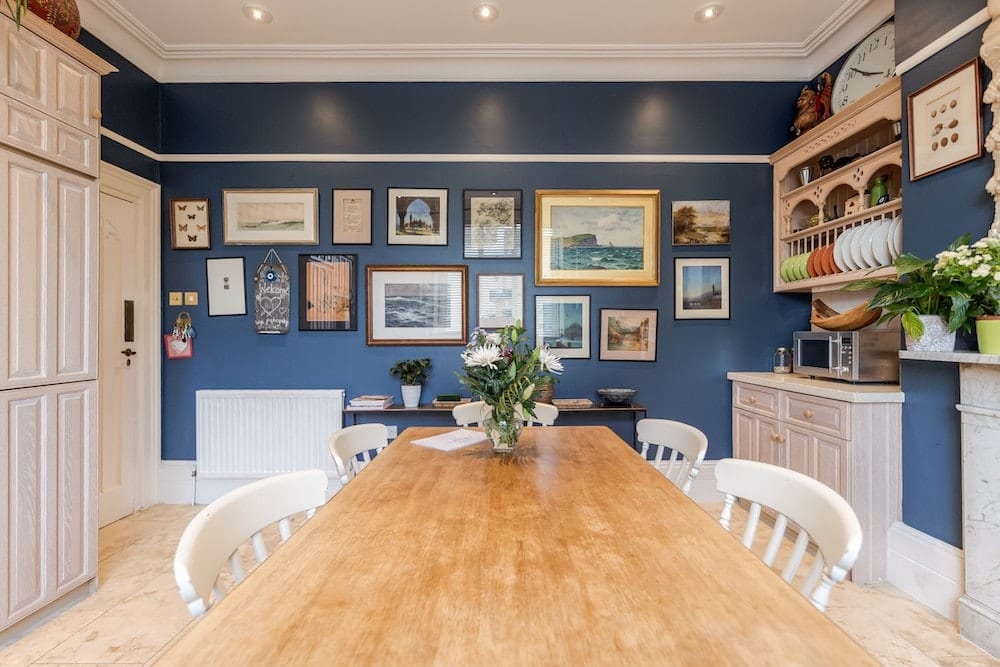 Leafy Richmond is an affluent, residential district southwest of London along the River Thames. Enjoy staying close to the expansive Richmond Park as well as numerous transportation links into Central London.
Reach Wimbledon Park easily in around 40-50 minutes, or even less by car. This spacious Victorian family home in Richmond Hill is still available as a Wimbledon Airbnb for around $510 a night.
Up to 6 guests can stay together in this large and light home, with three queen-sized bedrooms and 2.5 bathrooms.
There is a fully-stocked kitchen with eat-in dining table, perfect for groups who wish to self-cater in between Wimbledon matches.
There is an expansive collection of books to browse, along with interesting antiques and vintage art to enjoy throughout the home.
1. Light-Filled Luxury Apartment In Kensington, London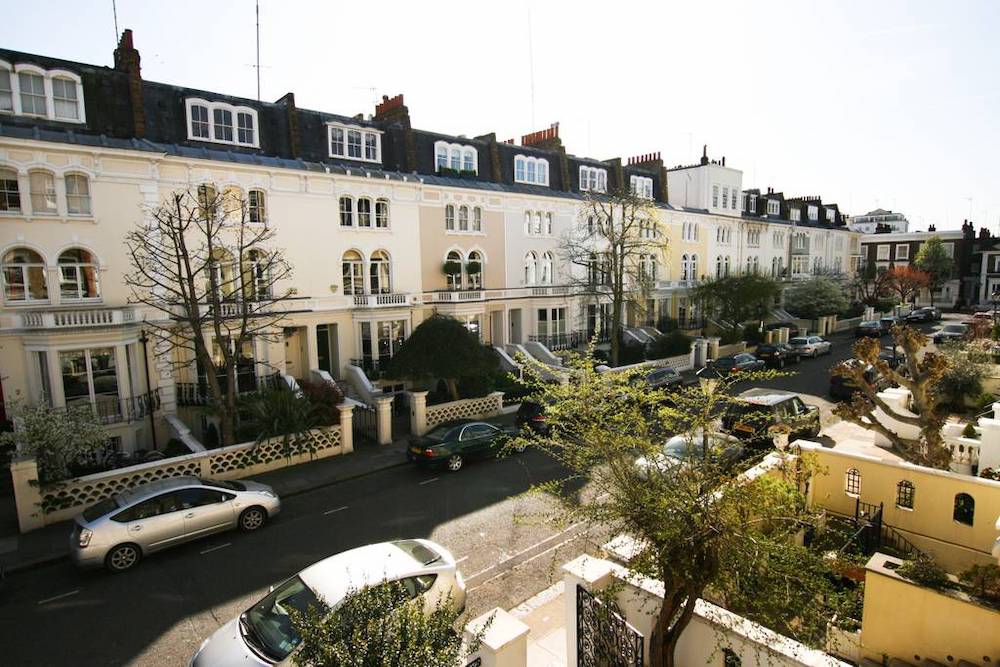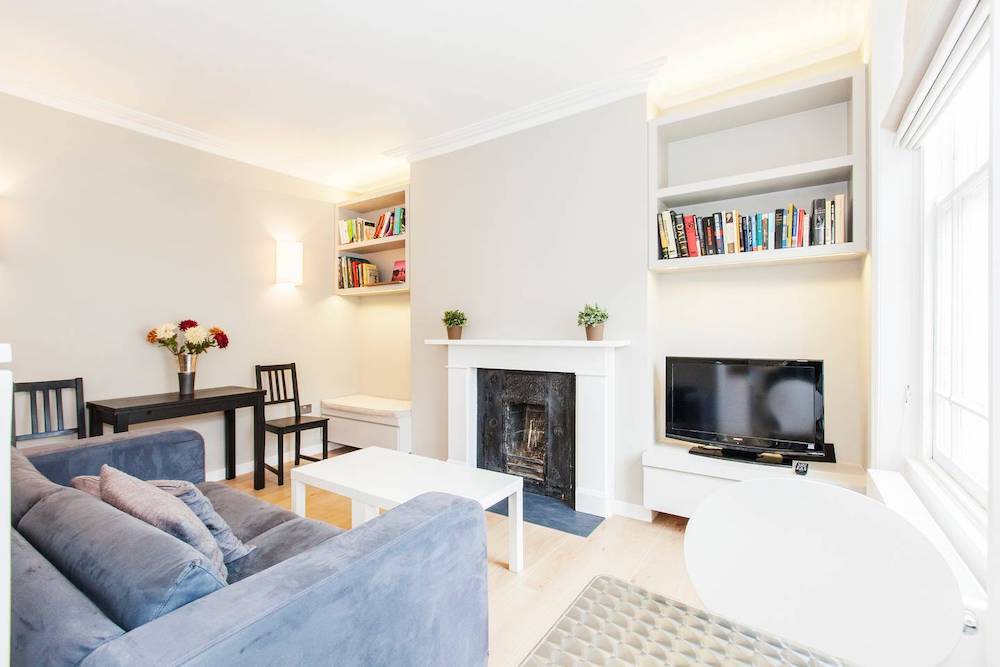 The most fashionable addresses in London are definitely in the boroughs of Kensington and Chelsea.
This architect-designed, luxury Kensington London Airbnb is steps away from the District Tube line, connecting you to Wimbledon Park in just around half an hour.
This gorgeous flat is still available during several key Wimbledon tournament dates from around $229 a night.
Ideal for a couple or luxury-conscious single traveler, this classic Kensington townhouse has one bedroom and one full bathroom, with an open-concept living room and sleek, chefs kitchen.
The apartment has been designed by an architect and refurbished to a very high specification.
There are wooden floors in the bedroom and drawing room, as well as state-of-the-art amenities like a washing machine, dryer, full dishwasher, and much more.
If you're traveling all the way to London for Wimbledon, why not choose the very best address?