If cool and sophisticated is what you're looking for during your stay in Atlanta then check out the elegant Virginia Highlands neighborhood, the Airbnb homes in the area are to die for. Known as 'VaHi' by the locals, the area is bordered by upscale Druid Hills and trendy urban midtown districts, and it's characterized by craftsman homes, 1920s houses and cool condos.
Visiting in early summer? Then you're in luck, because the whole neighborhood descends for the annual (and somewhat unimaginatively-named) Summerfest. Expect music, art, stalls selling all sorts, plus plenty of festival food and drinks, like frozen lemonade and funnel cakes. Delicious!
If you're swinging by Atlanta in winter, meanwhile, why not check out the Tour of Homes, which takes you on a – you guessed it – tour of eight magnificent houses in town. There's a chef from a local restaurant stationed inside each one cooking up delicious delights for you to sample as you wander round looking at the fancy decor. An excellent way to get to know the neighborhood inside and out.
Fancy channelling your inner Brit whilst in Atlanta? Then VaHi even has its own British Pub on main street where you can get (puts on British accent) bangers and mash or fish and chips! Cor blimey, guv'nor!
Here are some of the finest Virginia Highland vacation rentals available from our friends at Airbnb.
8 Amazing Airbnb Homes Near Atlanta's Funky Little 5 Points District
Staying outside of Buckhead? Find unique homes available for rent in other cool areas of Atlanta 
8. An Amazing Location Close To The Hottest Atlanta Areas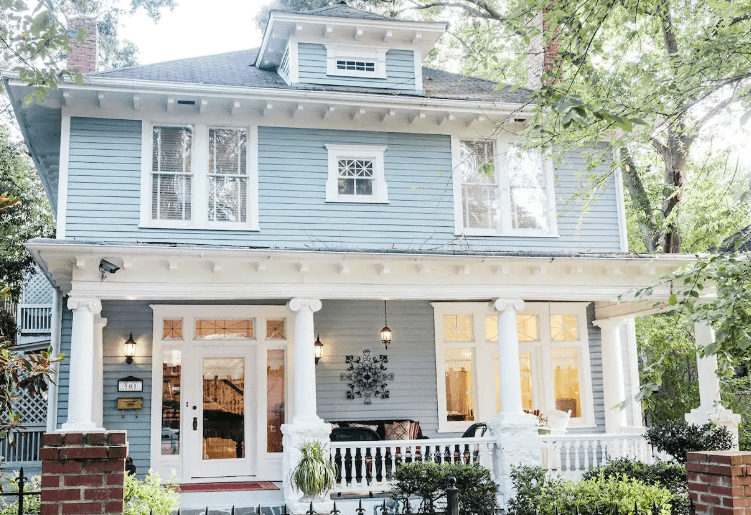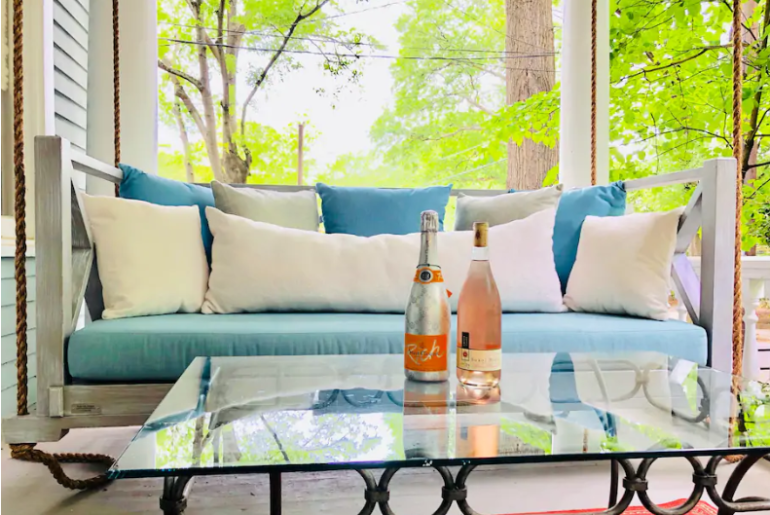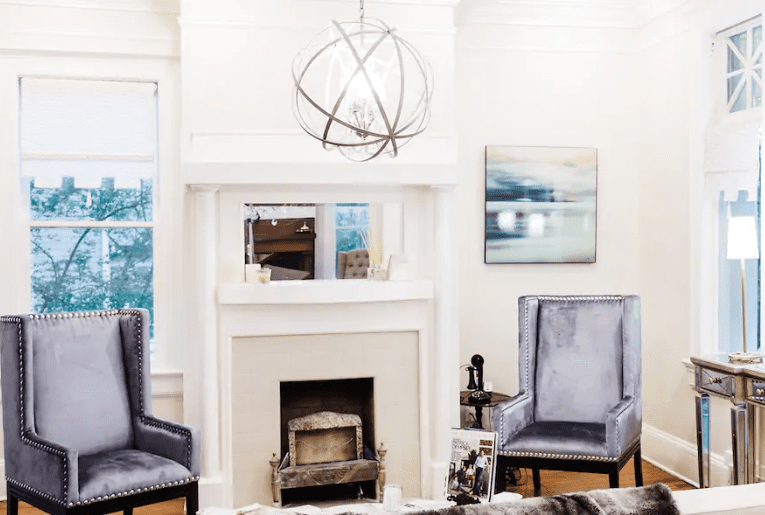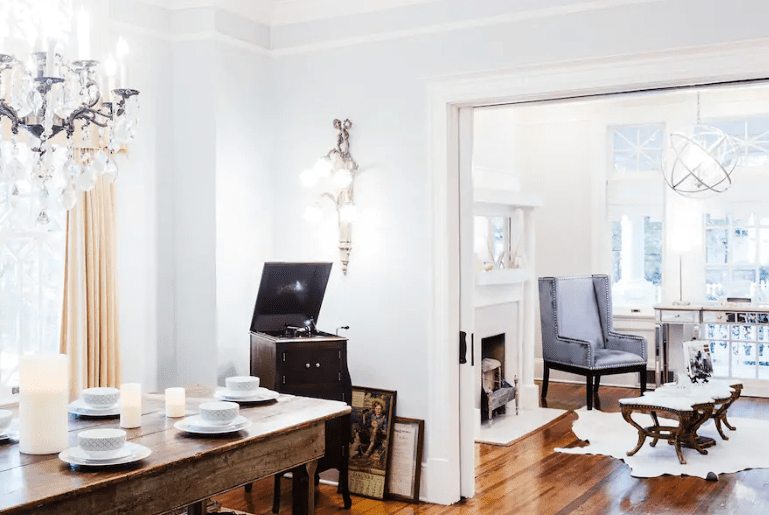 Talk about Real Housewives Of VaHi… this amazing home is stylish beyond belief. Relax in one of the bright and airy bedrooms whilst reading a copy of Cosmo, or sit on the porch swing and sip an ice-cold can of La Croix (heaven)! The main draw of the place is its natural lighting, which is why it's been featured in the Tour of Homes, as well as on TV and in films (2017 Own Wilson movie Father Figures) and in the Private Quarters section of the Atlanta Journal Constitution. If you're coming with a bridal party, just think how great the photos will be!
Fancy venturing out? Then this rental is close to all the main spots, including Piedmont Park (visit the honey bee exhibit or butterfly haven), the Beltline with its green spaces and art installations, Ponce City Market and Skyline Park (where you can ride the Skyline Slide, play mini golf, or just stuff your face with tasty eats). Whatever the reason for your visit this home will provide a peaceful place to stay. $600 per night.
7. A Super Luxury Virginia Highlands Home With 4 Master Suites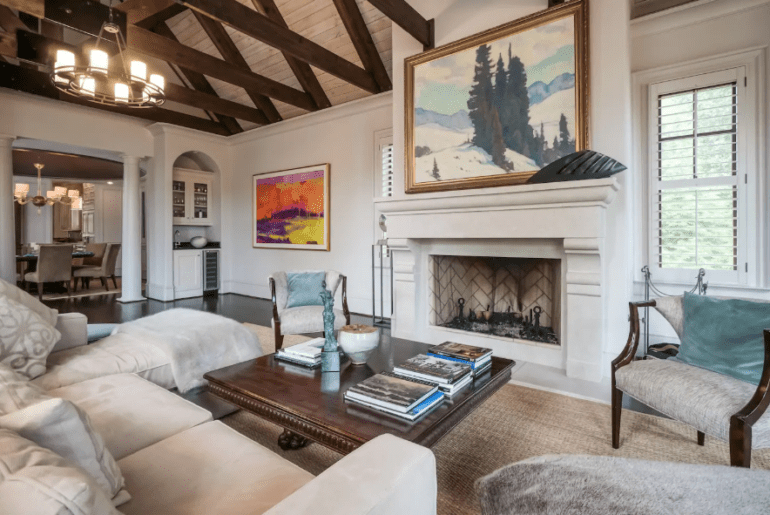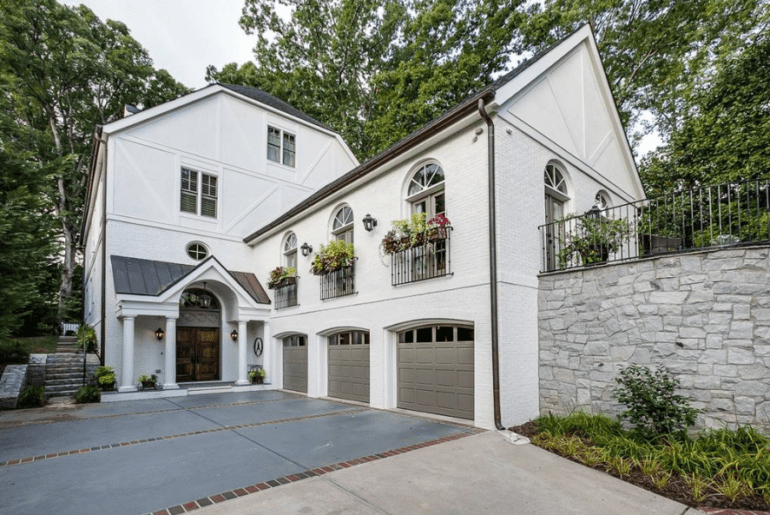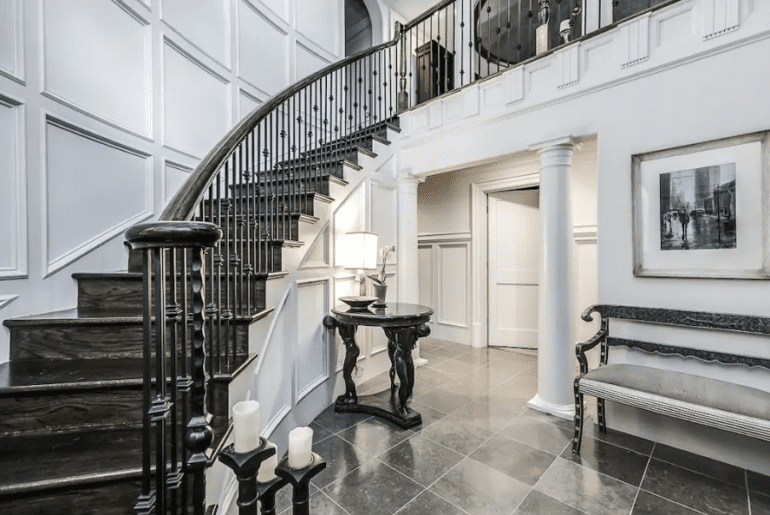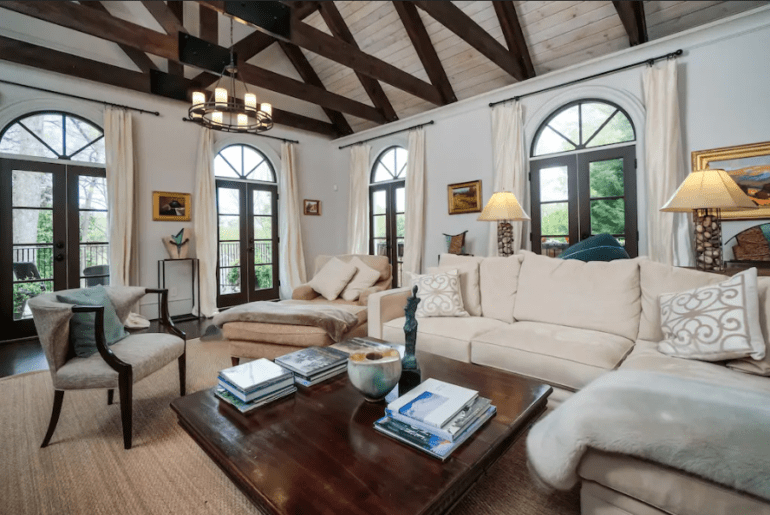 For 5-star elegance, look no further than this luxury single family home. Located on a historic tree-lined street with double sidewalks, you'll be wowed the second your car pulls up. The four bedrooms and four bathrooms are filled with original art and fine furnishings. There's also a workout room (should you be feeling energetic), a cinema room (no exertion required there), and an outdoor hot tub (yes, yes, yes!). Feeling extra lazy? Then there's even an elevator between floors.
The house is in close proximity to the Beltline and Piedmont Park areas, and there's a bike rental place a couple of blocks away if you fancy cycling the city. After exploring Atlanta for the the day, you can come home to this peaceful – and extremely luxurious – paradise and relax with a glass of wine on one of the three quiet porches (take your pick). $975 per night.
6. Stay In The Heart Of Atlanta In This Brand-New Carriage House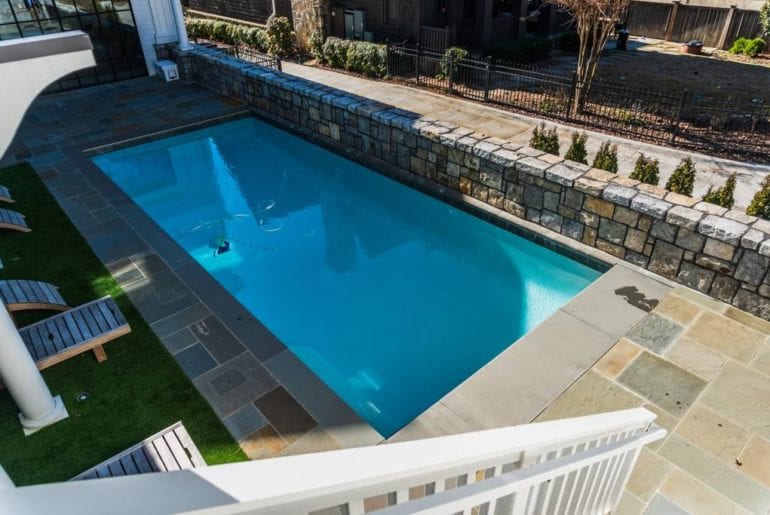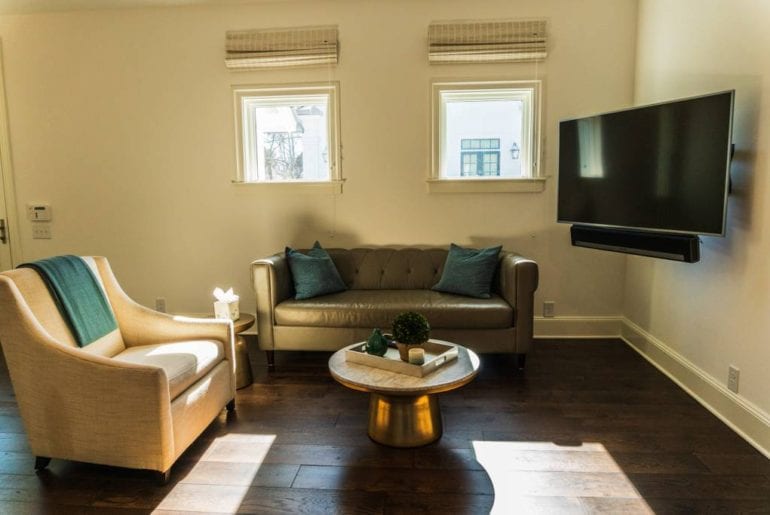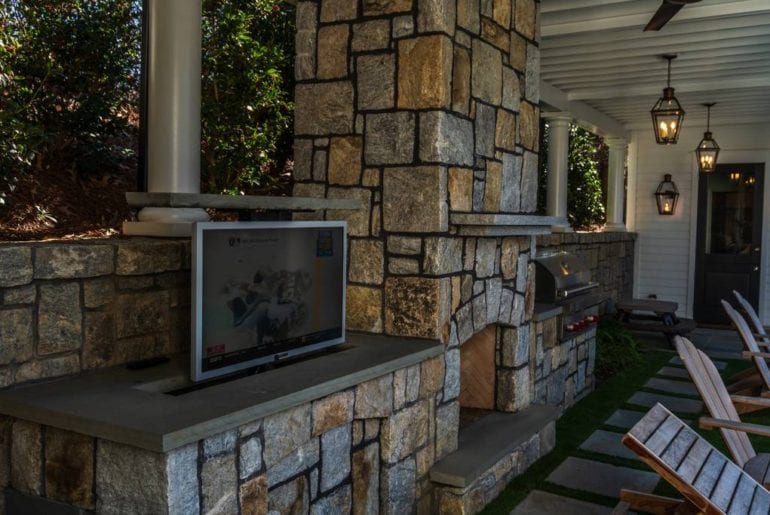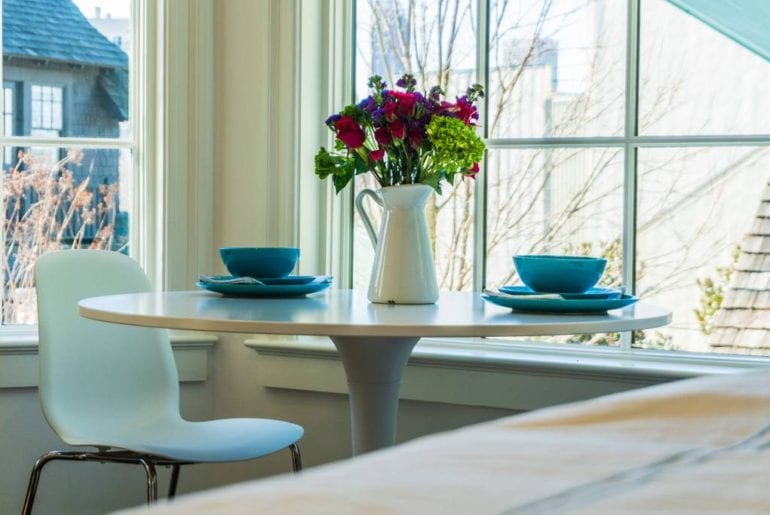 If you prefer your surroundings to be perfect at all times, then this newly-built home is the Airbnb for you. Not only is it sparkling clean and beautifully-decorated, but there's also a full swimming pool and an outdoor television (yes, those are a thing). The one bedroom and one bathroom make it ideal for a couple, or two pretty close friends.
Football fans will be pleased to know its situated just three miles from the Mercedes-Benz Stadium, while non-football fans will be more interested in it being just steps away from the Beltline, Piedmont Park and Ponce City Market, plus Starbucks for your morning coffee, and Trader Joe's for those important vacation snacks. There are also countless restaurants and dining options nearby. We've a feeling you'll quite like it here. $1,000 per night.
5. A Craftsman-Style Home In The Heart Of Virginia Highlands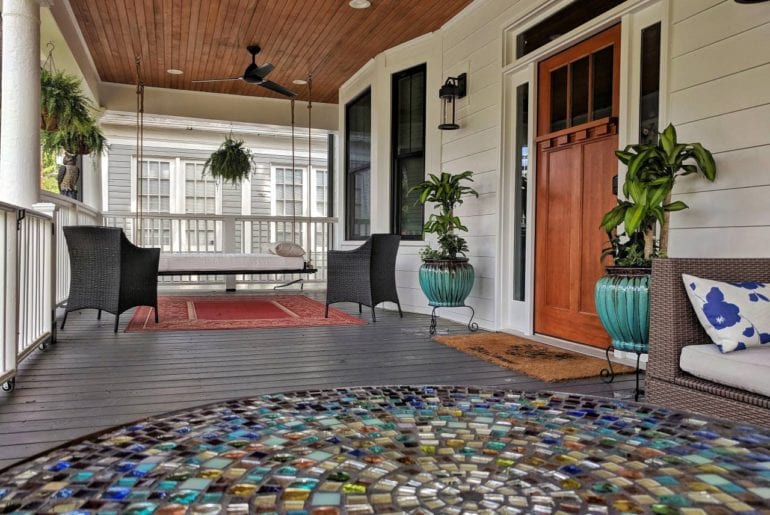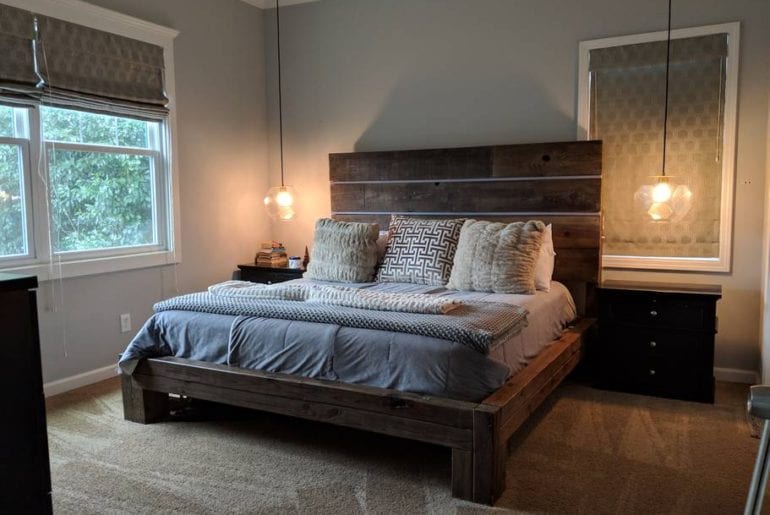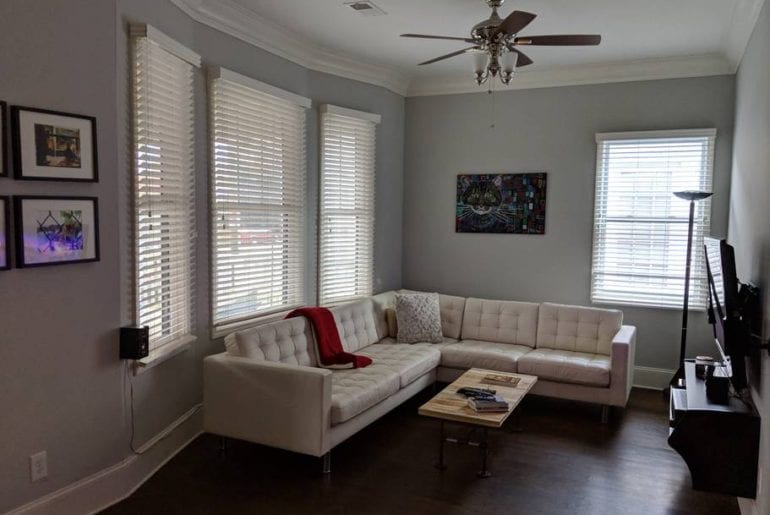 Wanna be in the middle of the action? Then this Virginia Highlands home will tick all your boxes, since it's just steps away from many of the best bars and restaurants in the city. When you've had your fill of the nightlife more peaceful pursuits can be found close by. Why not take a stroll along the Beltline and admire the creative art installations, watch skateboarders perform and practice their stunts at the skate park, or walk around the ever-popular Piedmont Park. Once you've tuckered yourself out, you can come back and relax in this comfy residence. Although it's close to many lively establishments this home is in an area with a noise ordinance so you can still be assured of peace and quiet during your stay. Ear plugs not necessary. $1,850 per night.
Check out 8 more of our luxury Atlanta properties for your vacation
Need smaller accommodations for your trip? Check out our Atlanta properties that are perfect for couples
The 6 best Tucson, AZ Airbnb homes for foodies
4.  A Gorgeous Bungalow In A Popular Atlanta Neighborhood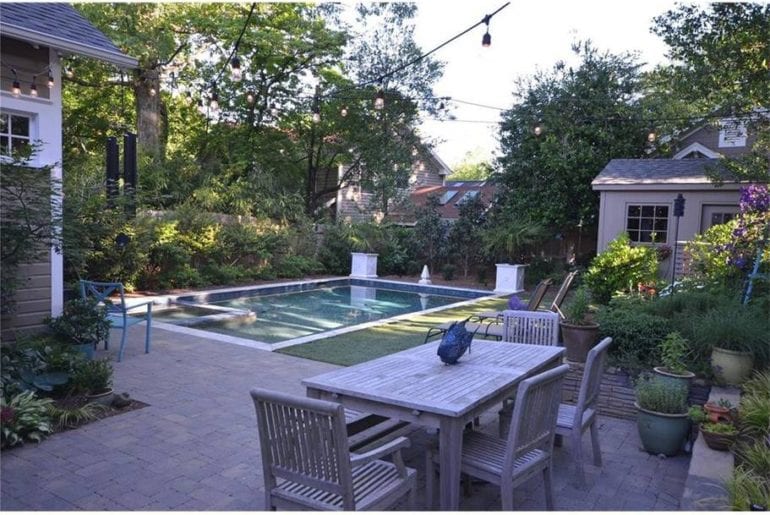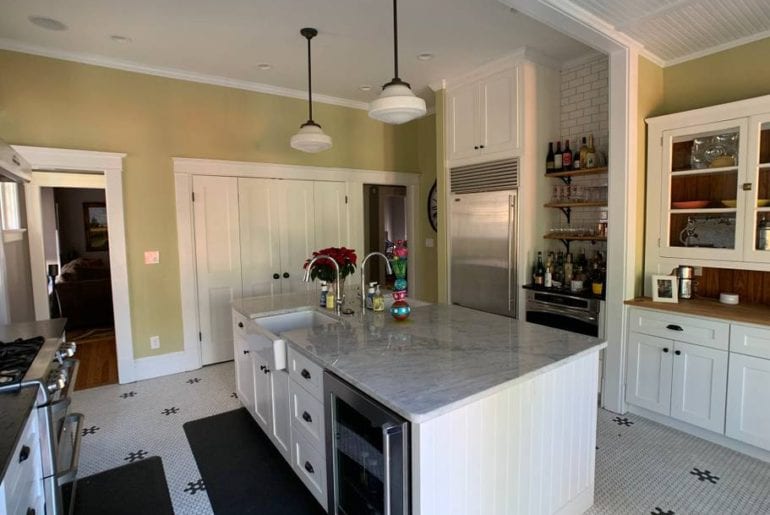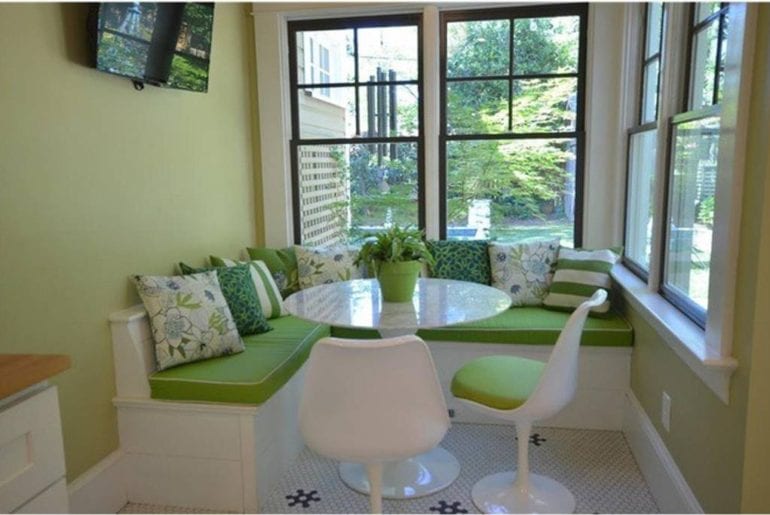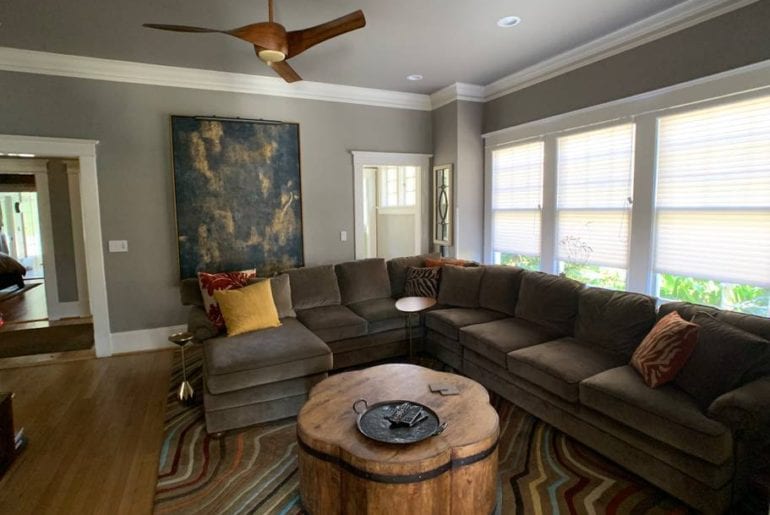 Big fan of Jon Hamm? Then now's your chance to get a little closer to him, since this Virginia Highlands home was featured in biographical baseball movie Million Dollar Arm. The first thing you'll want to do is stick that on the DVD player, then relax on the biggest sofa you've ever seen (good luck finding the clicker if you lose it).
The house was built in the 1900s, but has been renovated and restored, and now boasts a swimming pool with a built in hot tub (where's John Hamm when you need him, eh?) As always with this fantastic neighborhood, there's plenty of bars, shops and restaurants nearby, and Ponce City Market is literally just down the street, where you can sample any one of the 15 food vendors and restaurants. We're hungry just thinking about it. $995 per night.
3. A Large And Modern Home With Amazing Patio And Pool Area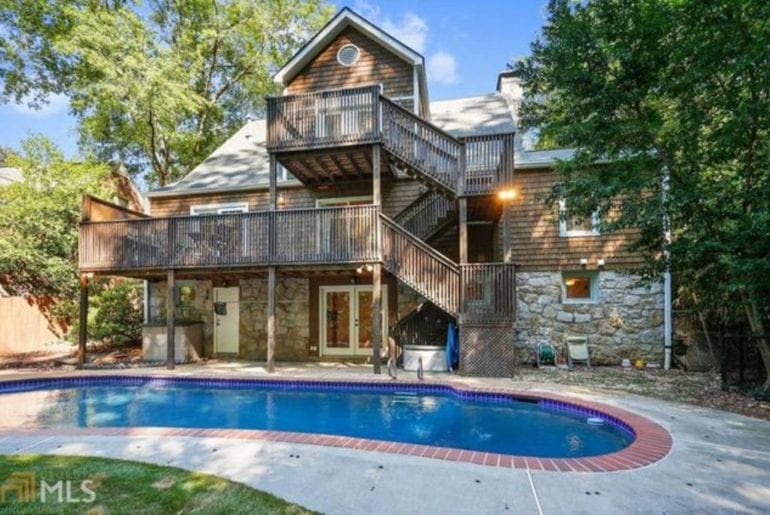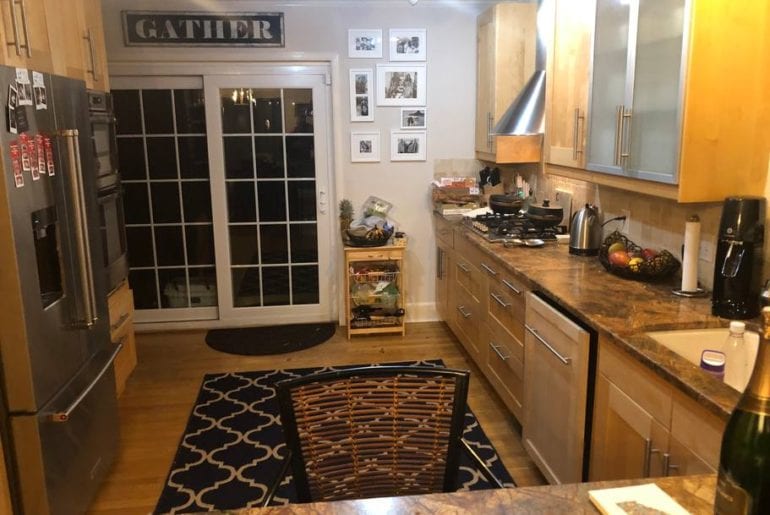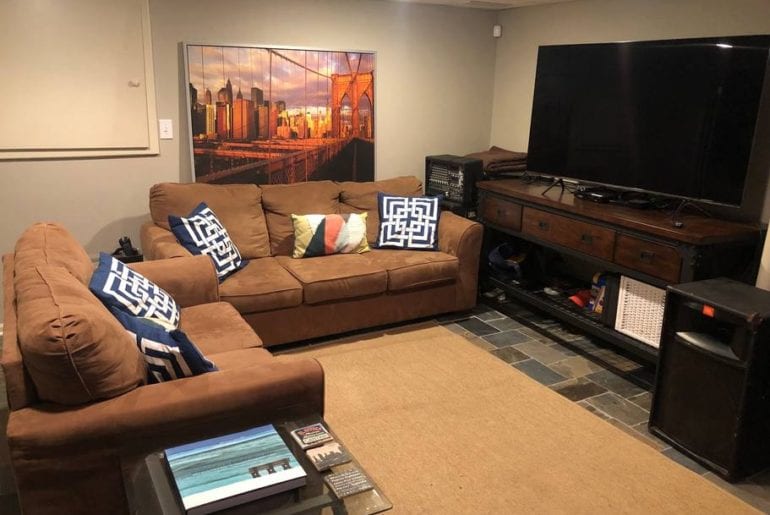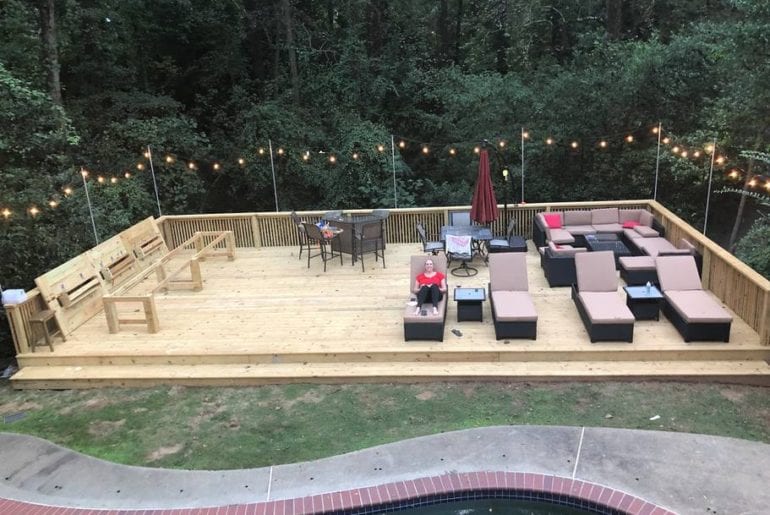 Staying in Atlanta with your family or entertaining a large group? Then this Virginia Highlands home has the most amazing patio and outdoor pool area, so dig out your inflatables immediately. As well as four bedrooms, and three bathrooms, this home features a generous kitchen and dining room area (so don't forget your chef's apron). Don't fancy cooking? You are on vacay after all! Then there are plenty of local bars and restaurants close by.
If you do fancy throwing some meat on the grill, however, (of tofu – we're not judging!) then this place is perfect for hosting a summer pool party. Stock up on red cups, eat al fresco, get some feel-good tunes blasting on the stereo, and do your best to stop anyone jumping straight off that balcony and into the pool. $2,000 per night.
2. Stay Right On The Atlanta Beltline In This Luxury Home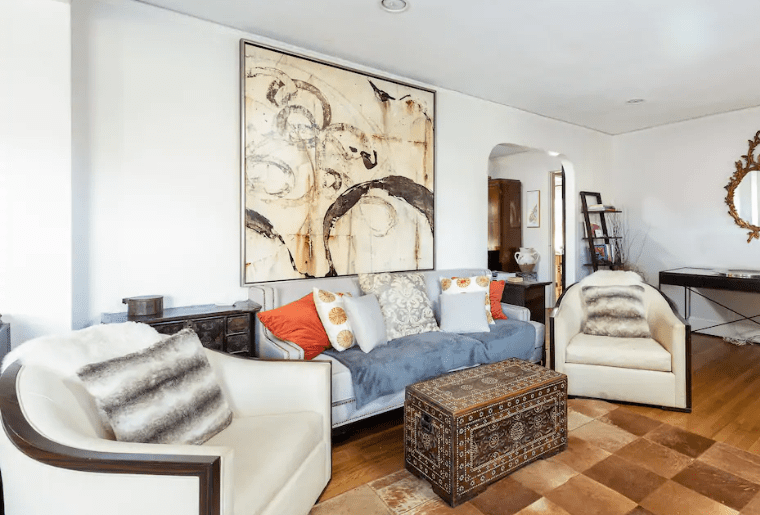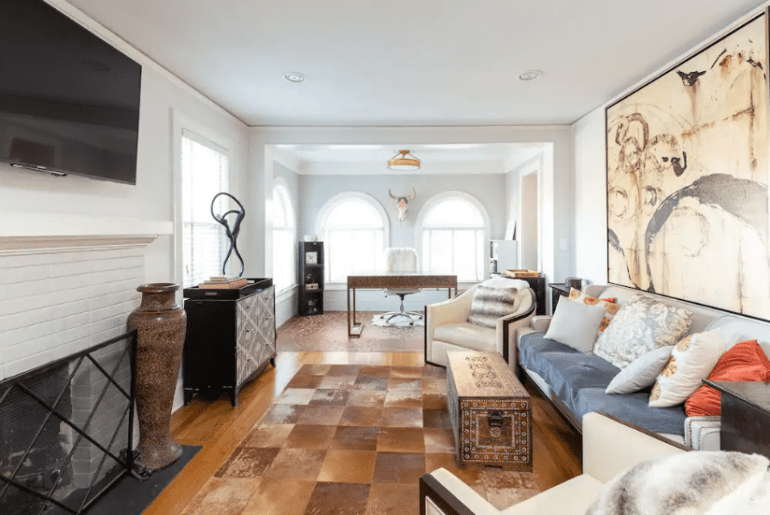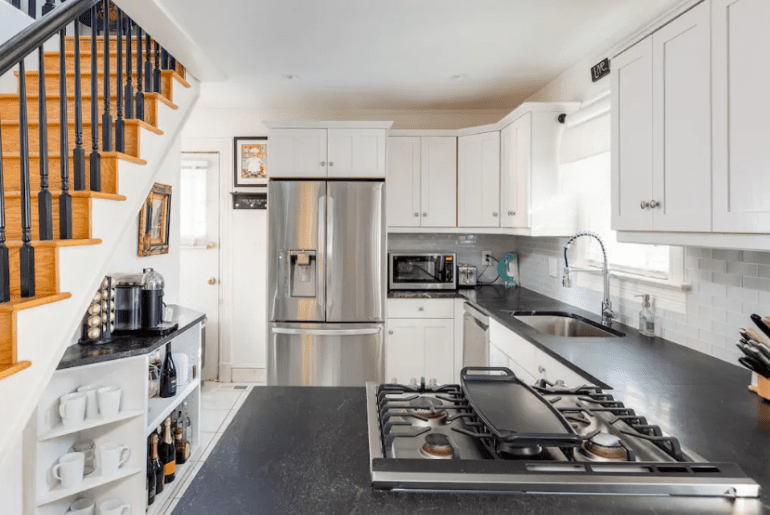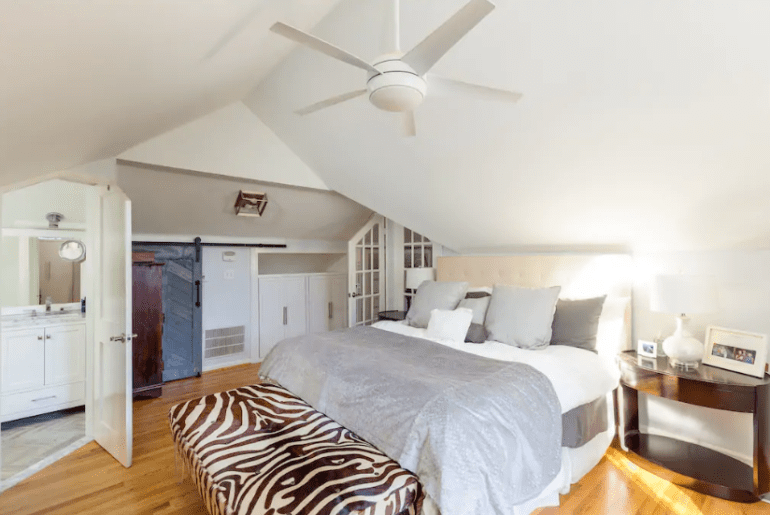 If the Beltine is on your 'must visit' list, then you can't get much closer than this modern home. You'll only have to walk 1.5 blocks to sample everything the 33 miles of former railway lines have to offer (that's food, drink, shopping, public parks and photo opportunities, incase you'd forgotten).
The decor in this property gives of African safari vibes (especially in the unique office area) and it offers three bedrooms and two bathrooms, making it perfect for up to six guests. If you like some peace and quiet on your travels, then you'll be pleased to hear it's situated on a beautiful residential street and has a private backyard with a deck, which is perfect for putting your feet up. $300 per night.
1. A Classic Craftsman Home Close To Trader Joes And The Beltline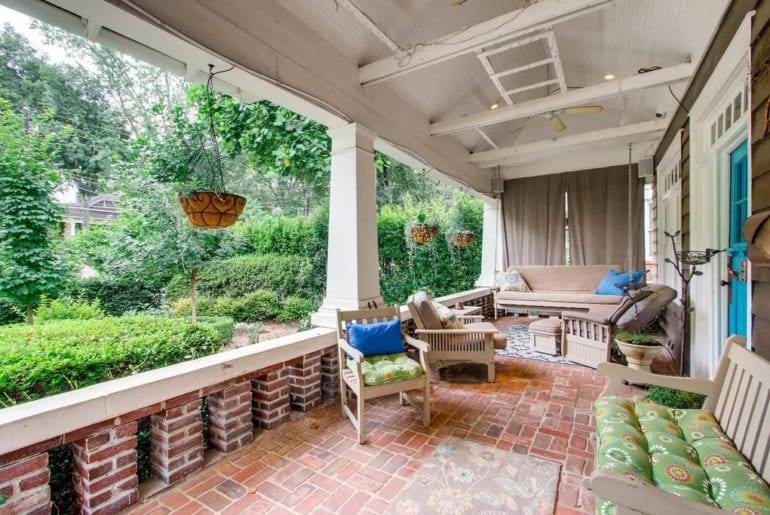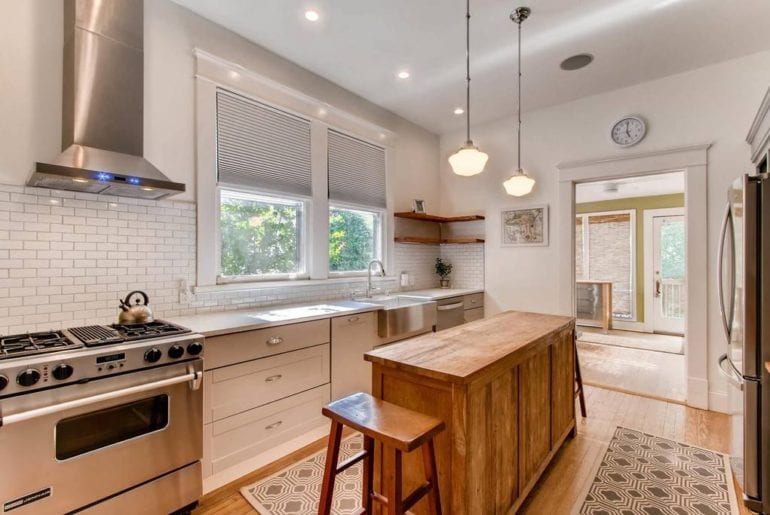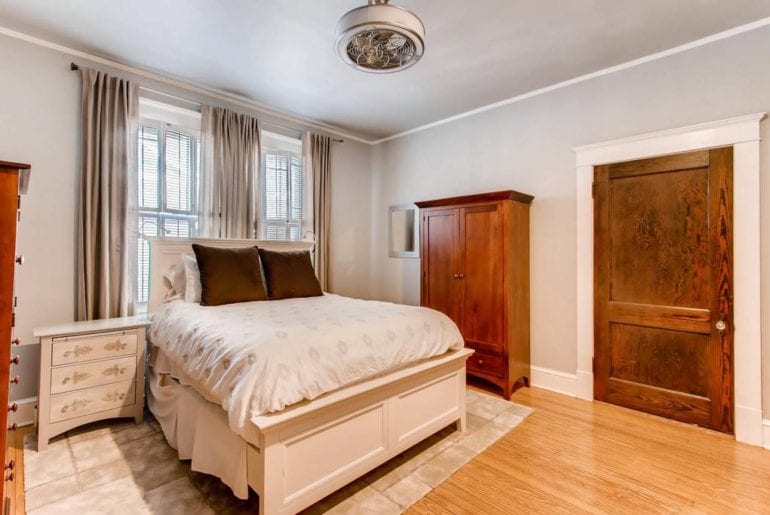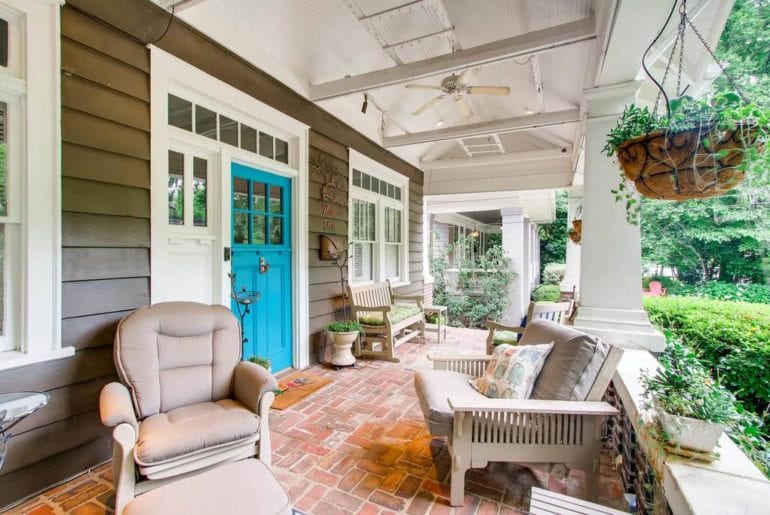 Another home that's previously featured on the Virginia Highland Tour of Homes (in 2018) is this one. This classic California craftsman property was built way back in 1919, but has, of course, been updated, and has everything you might need for your stay (including super-stylish decor and an extremely inviting walk-in shower).
The location is great – it's close to all the popular tourist spots – but the hosts are even better. "We want to spoil you" they promise on the listing, so let them know if you have food allergies, if you're in town celebrating a special occasion, or even how you take your coffee in the morning, and they'll sort you right out! Can we come stay here with you, please? $450 per night.