They say that people in glass houses shouldn't throw stones but you know what they should do? Rent out their houses as Airbnbs, especially in Southern California where the views of the Pacific Ocean are just not to be believed. From whale watching, to unobstructed morning sunrises, these 8 Incredible Los Angeles glass houses on Airbnb are a true experience in and of themselves. Even if all you do is stay inside these masterpieces, you'll feel as if you've seen the world.
Also worth a look:
5 Incredible Los Angeles Airbnbs For Architecture Lovers
8 Amazing Los Angeles Airbnbs Perfect For A Mindfulness Retreat 
Amazing Luxurious Airbnb Rentals in Big Sur, CA
These 9 Los Angeles Airbnbs Will Have You Feeling Like An Entourage Cast Member
8. The Glass Ceiling – approx. $1,900 a night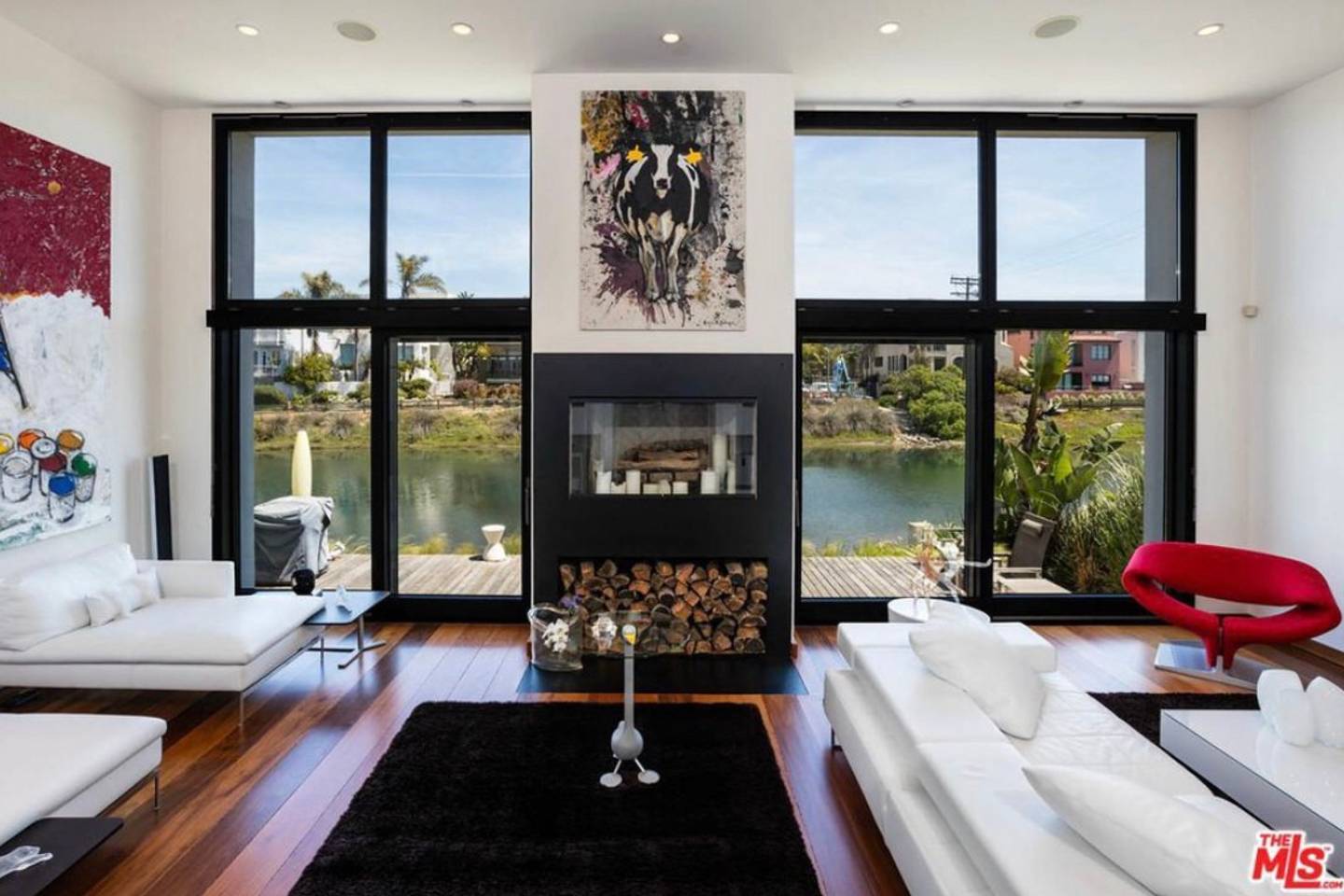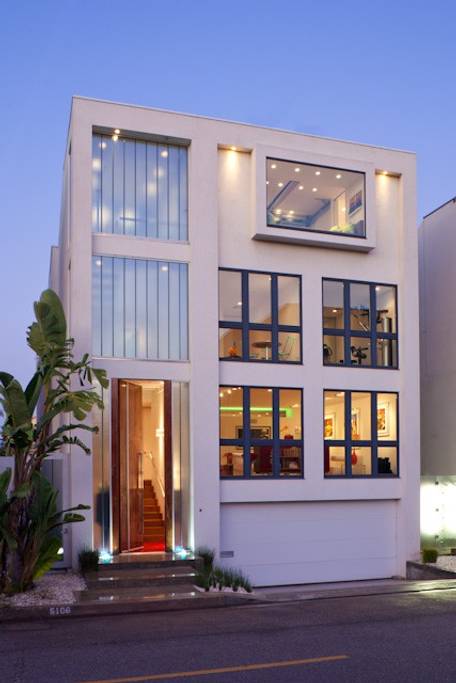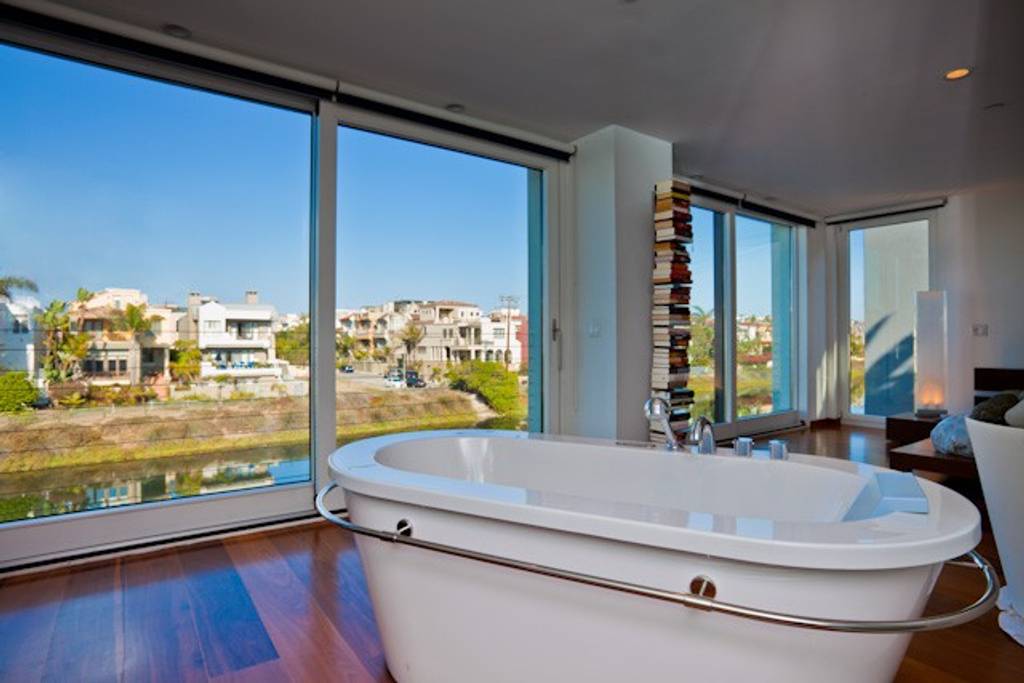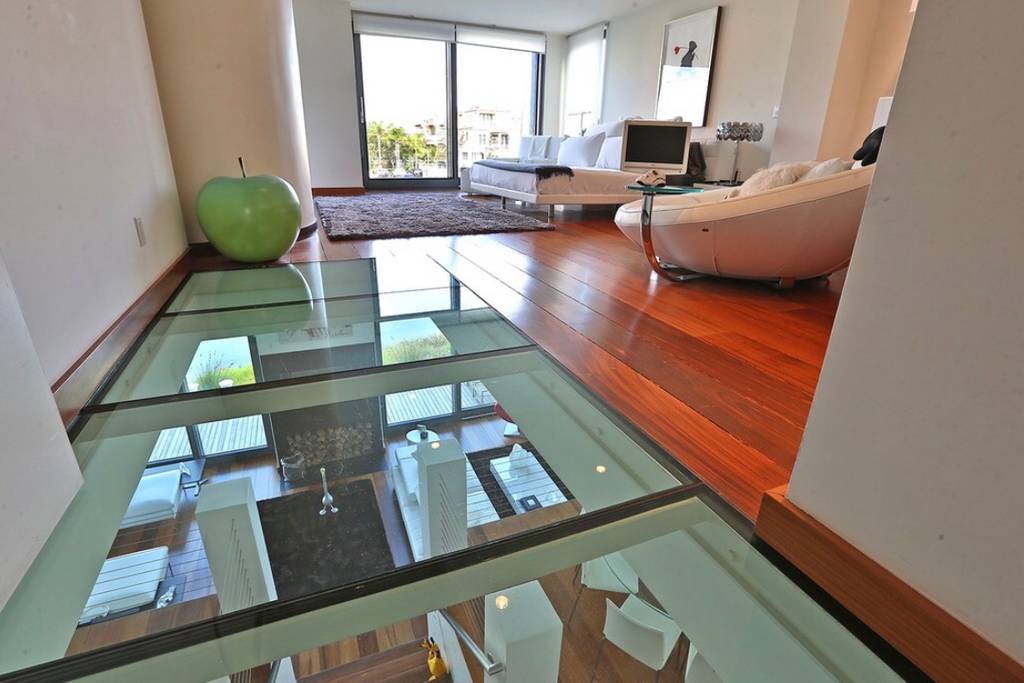 Like an art gallery/house hybrid, this five-bedroom, five-and-a-half bath Marina del Rey beach house has something interesting to look at in every corner. Sleeping ten, this Airbnb is just a block away from the beach and overlooks the famous Venice canals which, seen through the floor-to-ceiling windows, are like a piece of art themselves.
The enormous chef's kitchen with Italian marble and Miele appliances is perfect for group gatherings as is the deck which has a little slice of window that allows you to look into the house which is a great way to keep an eye on the kids while you have fun. In fact, you can even see into the lower level from upstairs as well.
Other communal spaces include the game room where you can shoot pool or the deck where you can look out on to the Venice canals. With iPads or televisions in pretty much every room you certainly won't have to miss a minute of your favorite show.
The entire house is controlled by a Lutron smart system (thus, the iPads in every room) and the sound system here is my Sonos.
7. Mt. Olympus – approx. $2,500 a night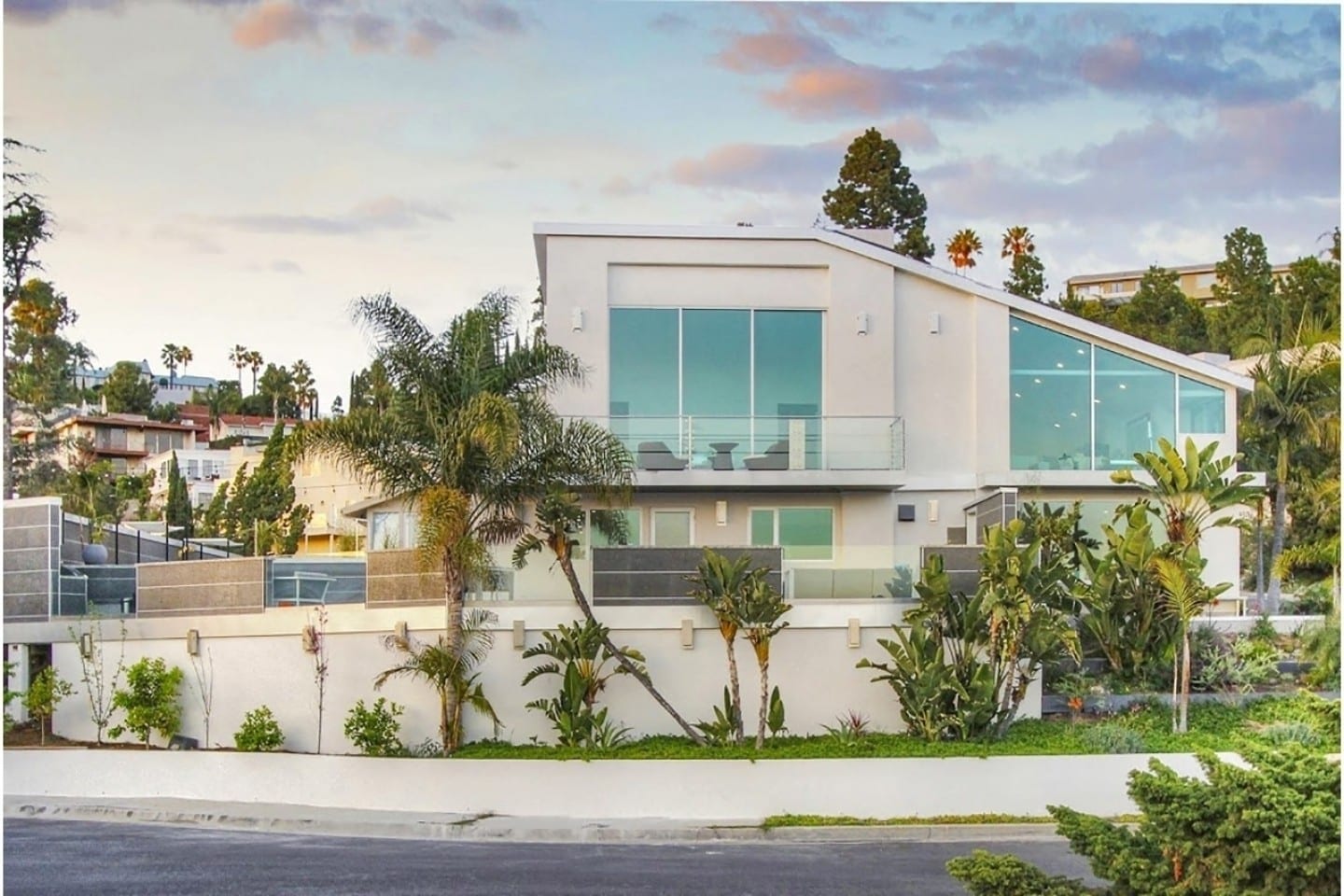 Located on historic Mount Olympus, this Los Angeles-area Airbnb certainly does things in a big way. With high-end furnishings, contemporary art work, and a steel-and-glass theme, this is modern living at its finest.
The outside entertaining area is not to be believed with an enormous pool with waterfall feature, hot tub, BBQ, bar, patio lights, fire pit, and plenty of seating.
In fact, our guess is that you'll be spending more time out here than inside. Soaring walls of glass offer movie star-worthy unobstructed views of Los Angeles (in fact, the glass in some of the rooms almost make it look as if the room is missing a wall) and a glass partition on the terrace gives the feeling of floating outside.
The bedrooms here are flooded with light and accented with rich, dark woods and sparkling mirror accents. In addition to the enormous kitchen, there's a full-on bar inside the house!
And if you think it's a stunner during the day time, you should see it at night when it looks like a modern-day castle.
6. Hollywood Hills Hacienda – approx. $1,800 a night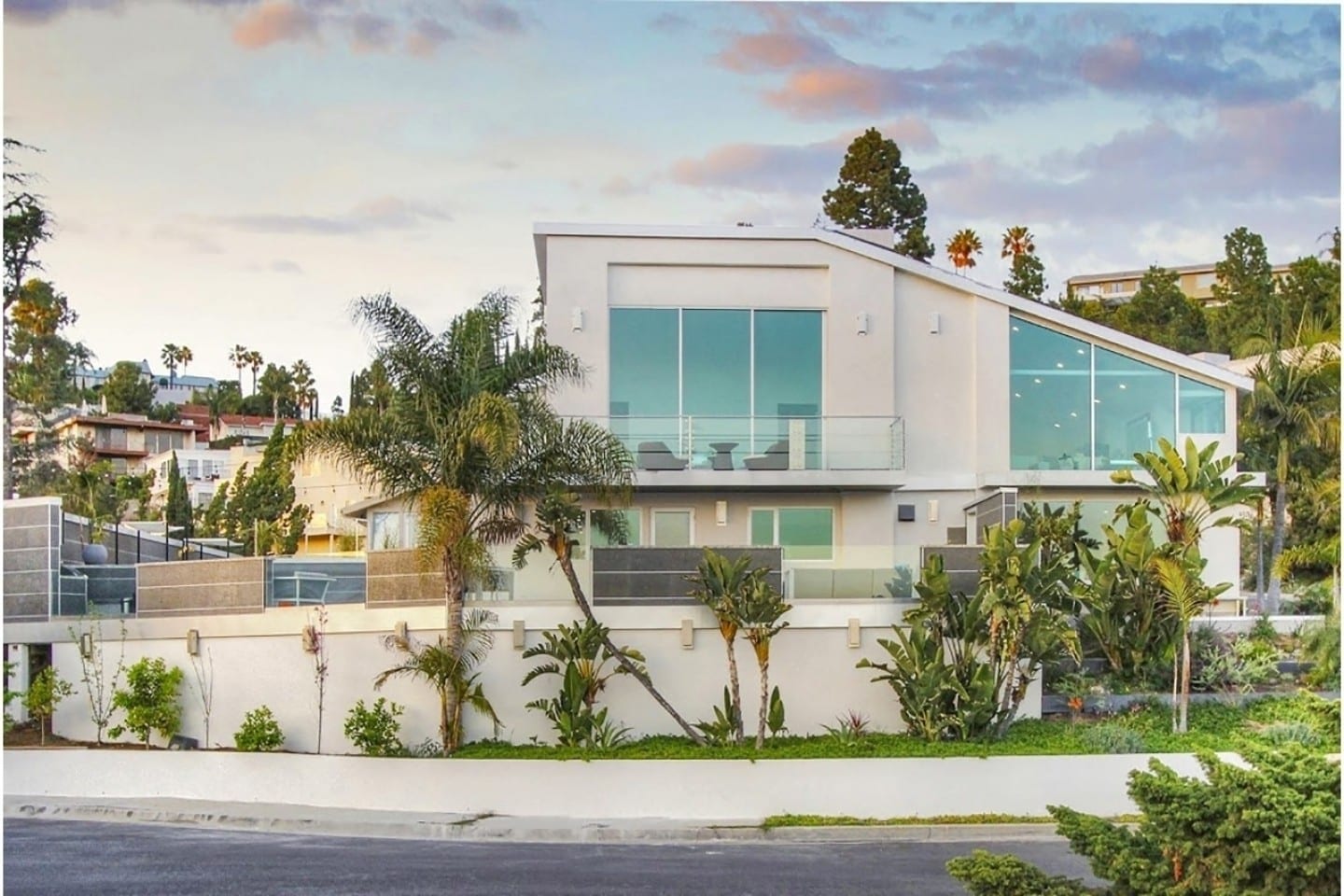 While we don't know what the actual stats are, we'd be willing to bet that there are more celebrities per capita in the Hollywood Hills than just about any other place on earth. With 4,000 square feet to romp around in, you're sure to feel like one in this incredible luxury Airbnb.
Containing four bedrooms and four baths, this sleek, modern property sleeps up to eight but has enough common areas for much more.
The high ceilings and Terrazzo floors give a feeling of space and light, especially when the sun shines through the floor-to-ceiling windows and glass doors that retract to allow access to terraces and a fabulous view of the elegant pool and seating area below.
Like any Hollywood Hills mansion worth its weight, there's a projection room so you can catch up on the town's latest flicks but if you feel like getting out, you'll be just a quick drive from the world-famous Chinese Theater where you can still see a movie to this day.
You'll also be just a few miles from The Grove where you can shop and see movies but if you'd rather experience a little nature, take a hike in Runyon Canyon (where you'll see more celebs than trees).
5. Hermosa Hideaway – approx. $650 a night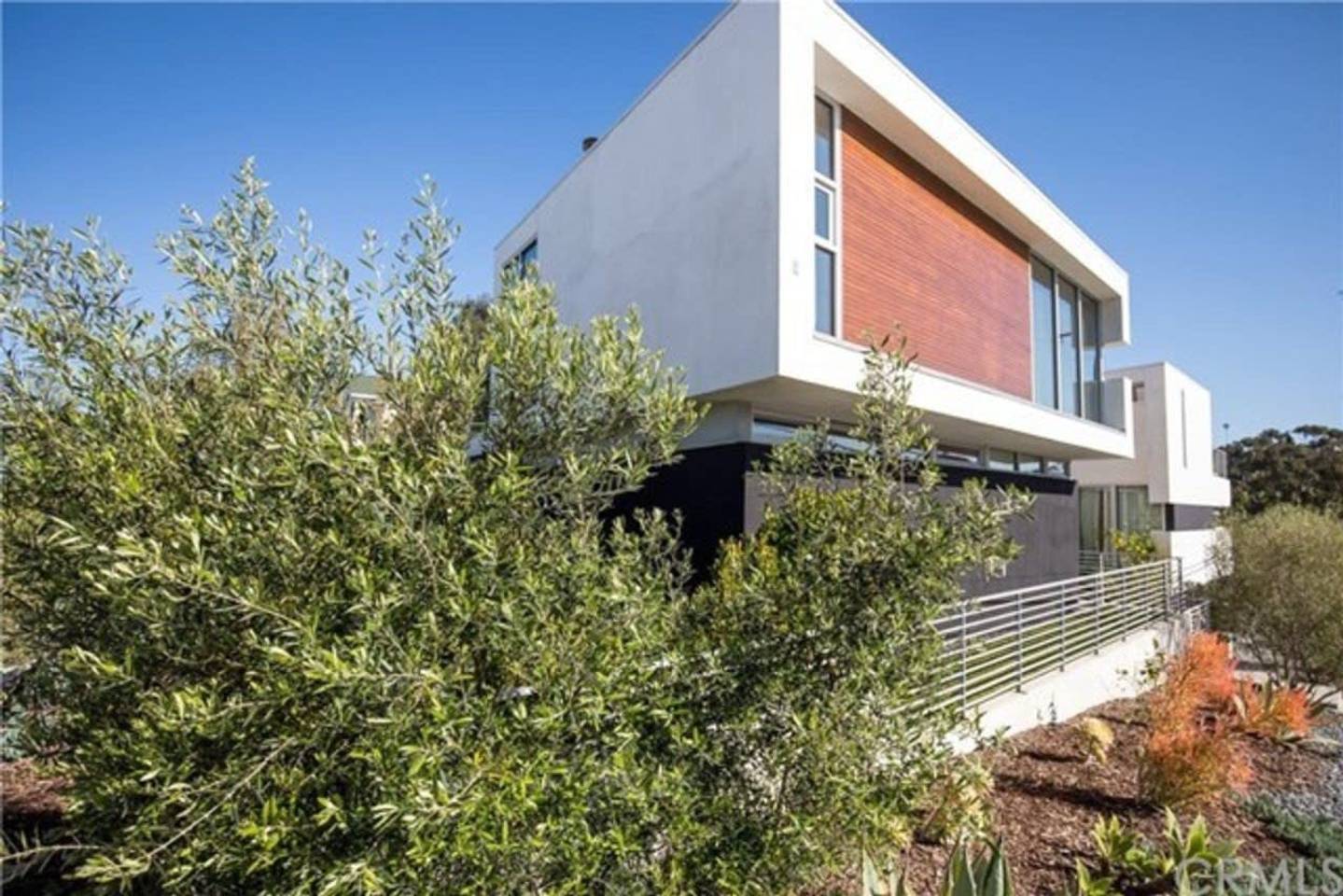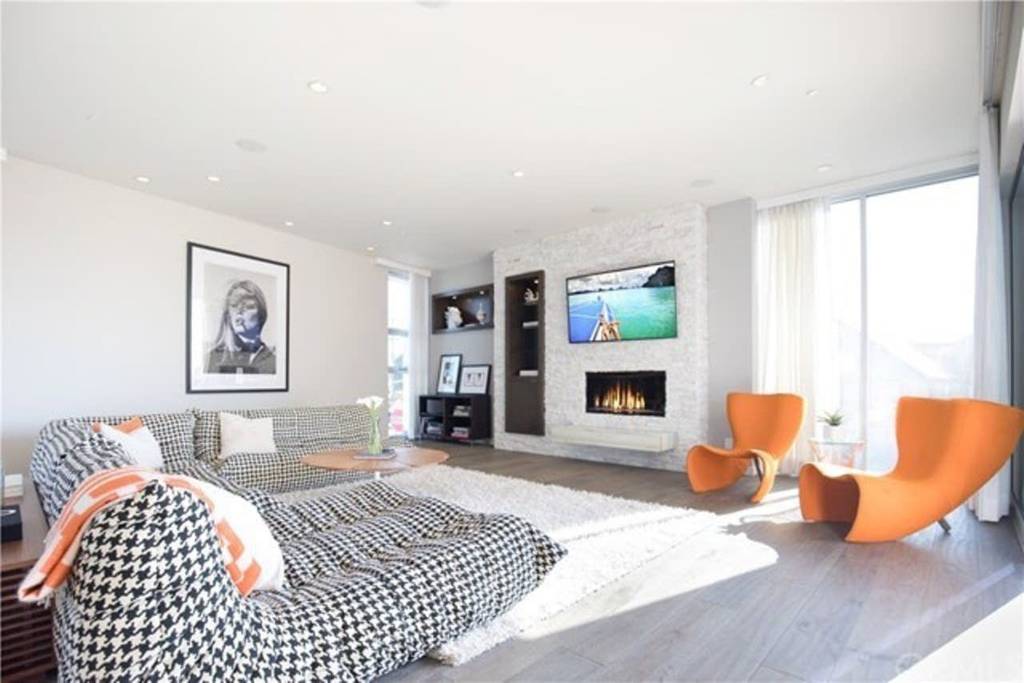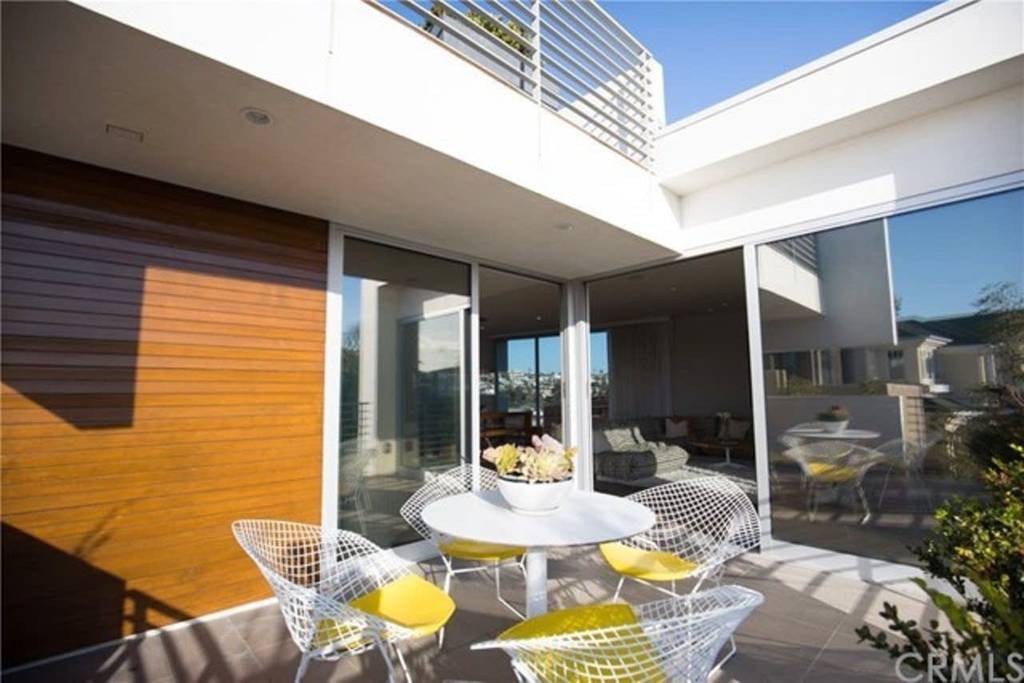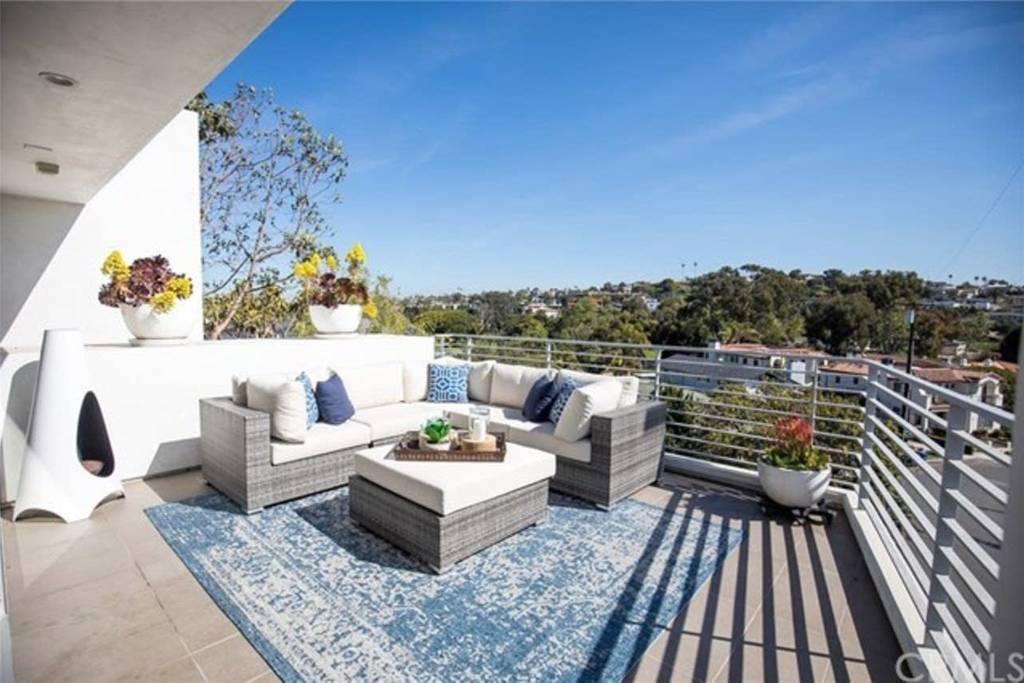 Once featured on the cover of "Home" magazine, this Hermosa Beach Airbnb surely has more magazine covers in its future. Just 500 yards from the beach, this house features not only enormous windows that face the outside but playful window features inside as well.
You can catch some rays on the deck or slide back the windows to open up the house but even if you just stay inside, the light exposure is such that all you have to do to feel the sun on your face is open the curtains.
At night be sure to light the fire pit on the deck and stare at views of the ocean or light a fire in the common area (yes, it does get that cold at night sometimes!).
You can even hang out on the rooftop and watch the lights of L.A. turn on. With three bedrooms and a guest suite, this home can sleep up to seven. one bedroom in particular is perfect for kids with books and décor to make them feel right at home.
Whatever you do, you must rent a bike and ride the South Bay's famous bike path called "The Strand." It'll give you a view of the ocean only dolphins and tech giants usually get to see!
4. Torrance Stunner – approx. $800 a night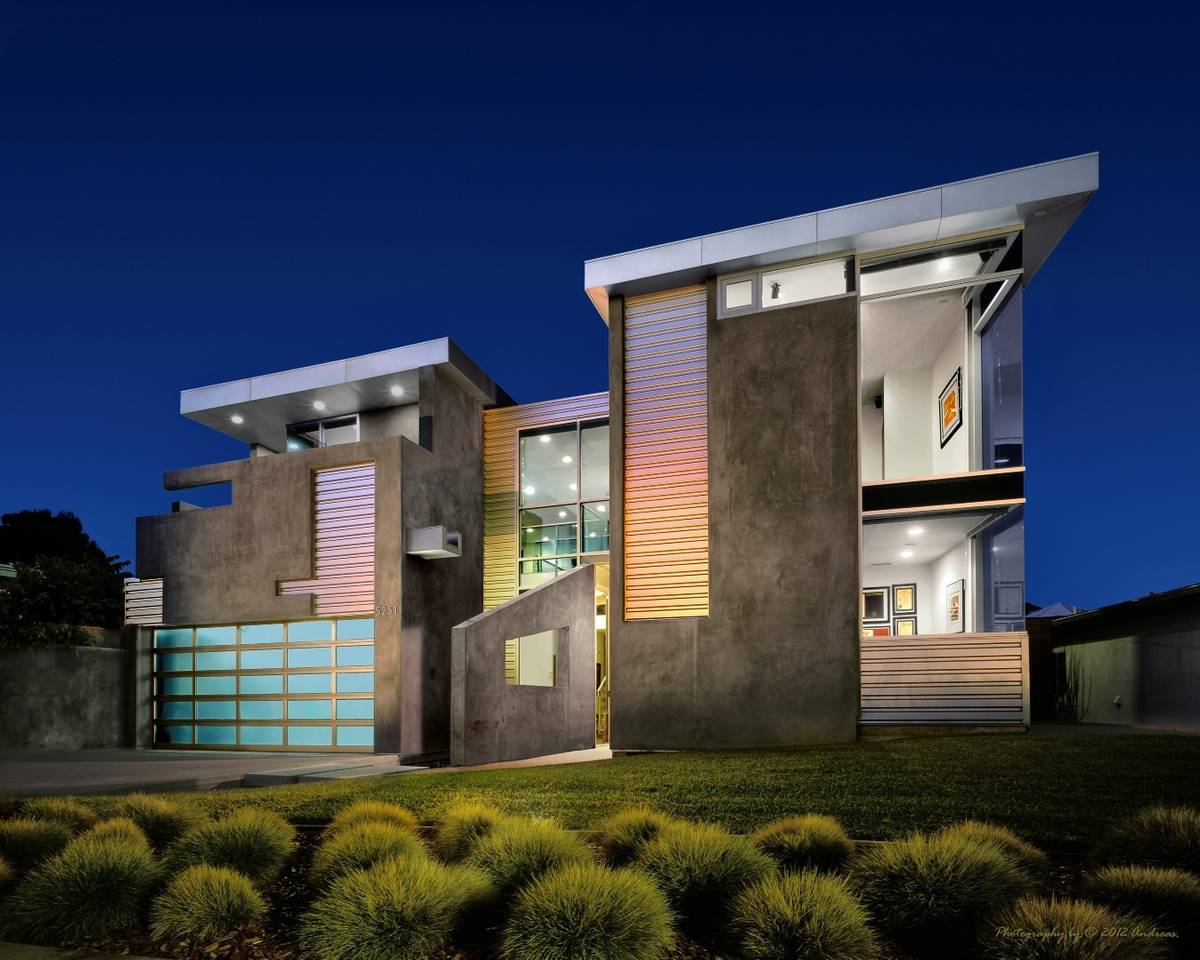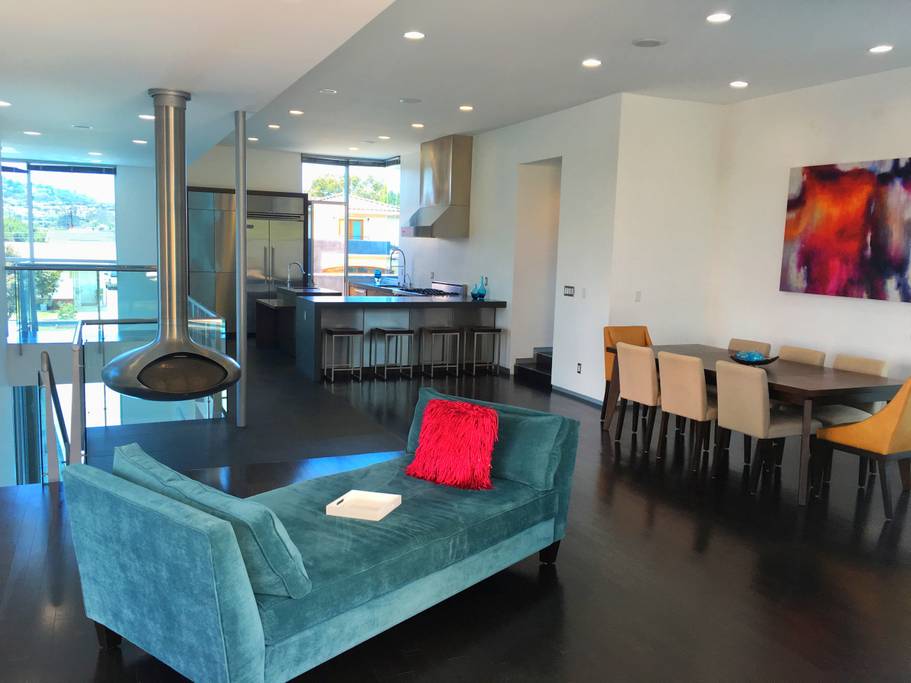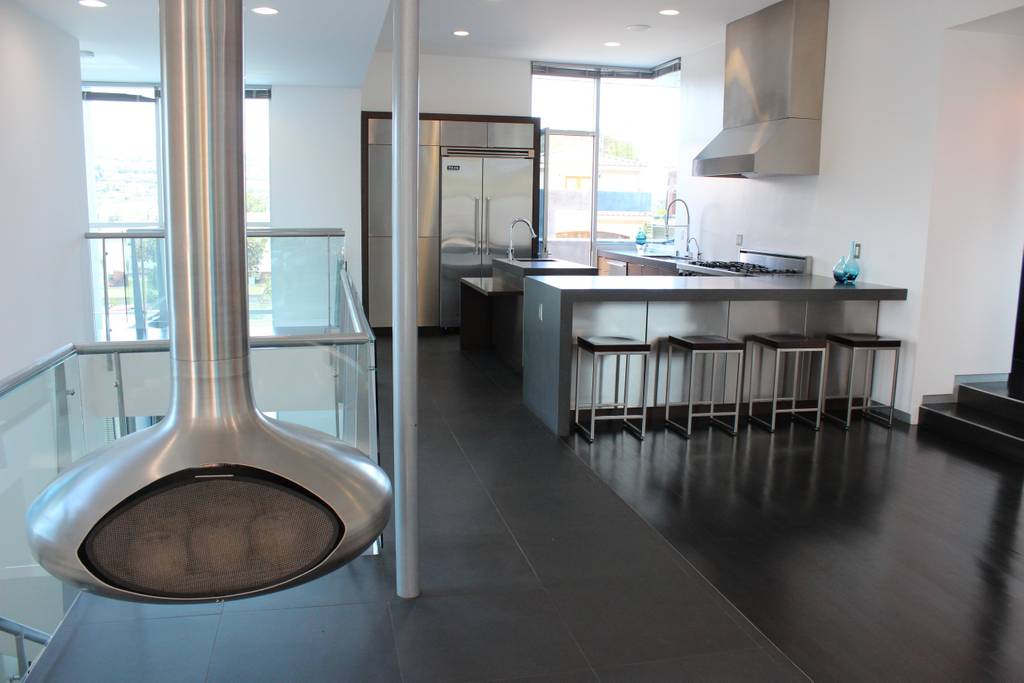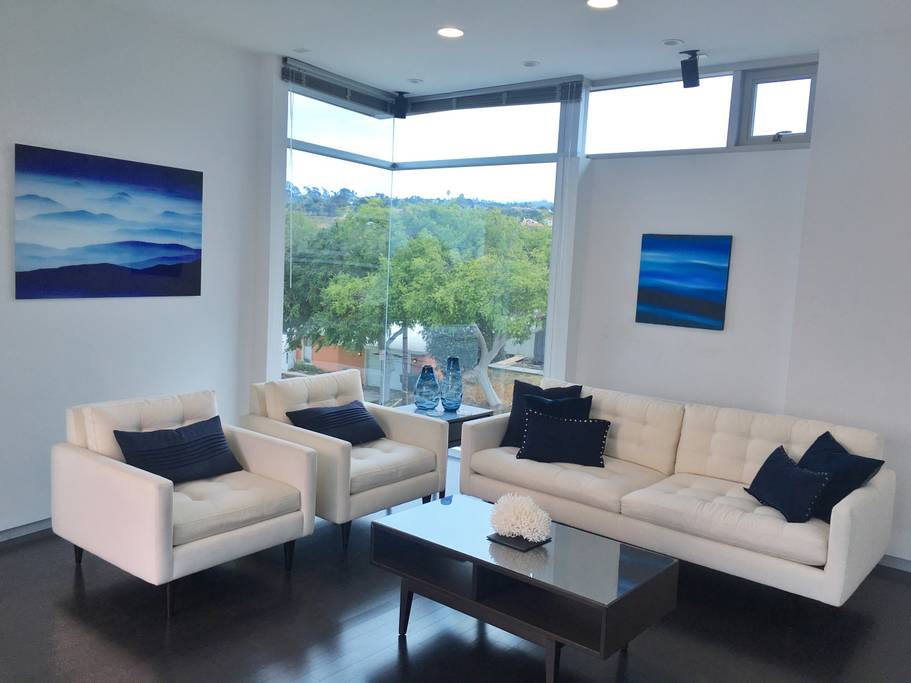 If you want luxury but need a more neighborhood-y kind of vibe, this Torrance Airbnb is a perfect choice. With two bedrooms, four beds, and most importantly, three baths, this is a perfect option for a small family.
Corner glass windows make a remarkable impression even before you step foot in the house as does the Jacques Tati-style water feature. Decorated in a sleek, modern minimalism, this striking property offers amenities that are not always that obvious until you experience them.
For example, the memory foam mattress in the master bedroom or the sound system with "Air Play" which can be found in almost every room.
The media room can function as an extra bedroom when you're not watching movies and if you book around Christmas time, you'll have to go over to what's known here as the "Christmas Tree" section which you'll just have to see to believe. You can even play carols on the baby grand here and start a fire in that incredible retro orb fireplace.
3. Malibu Magic – approx. $451 a night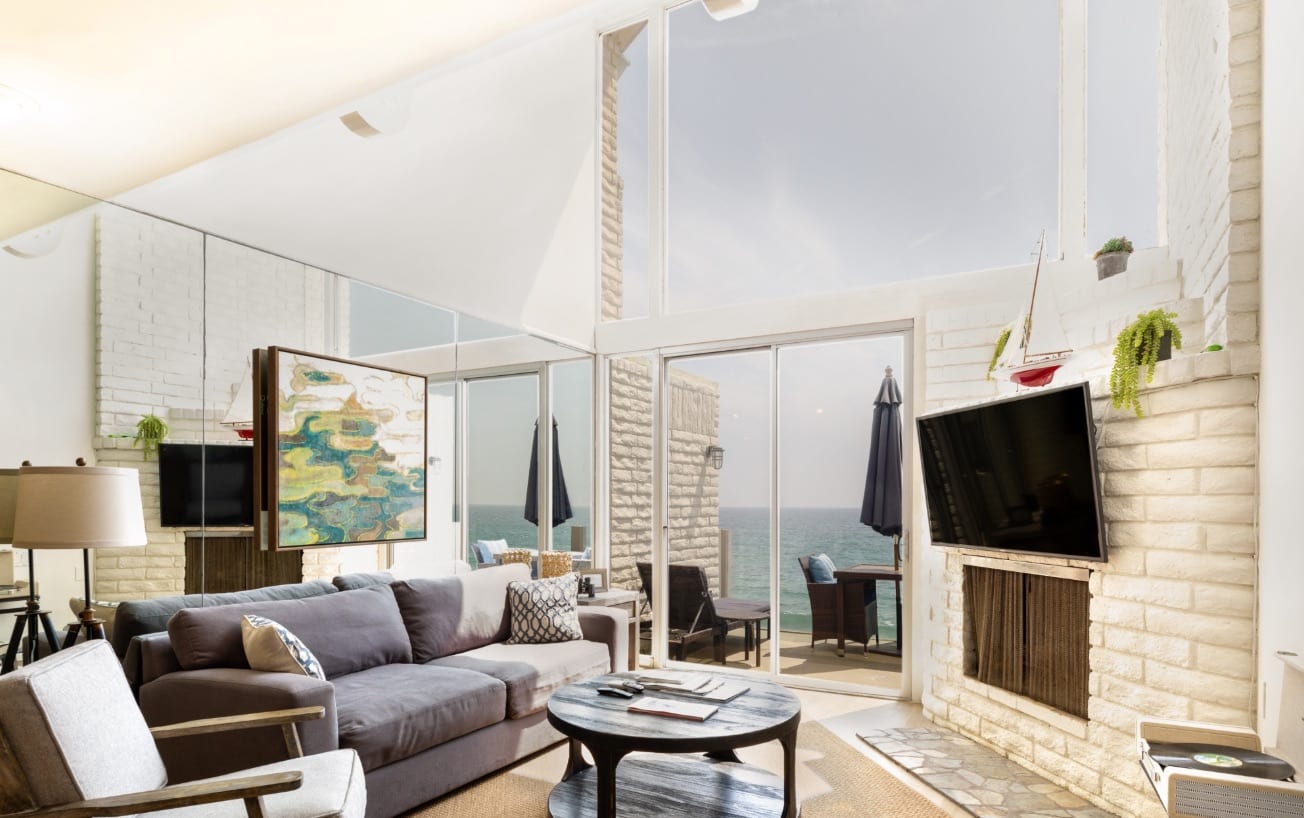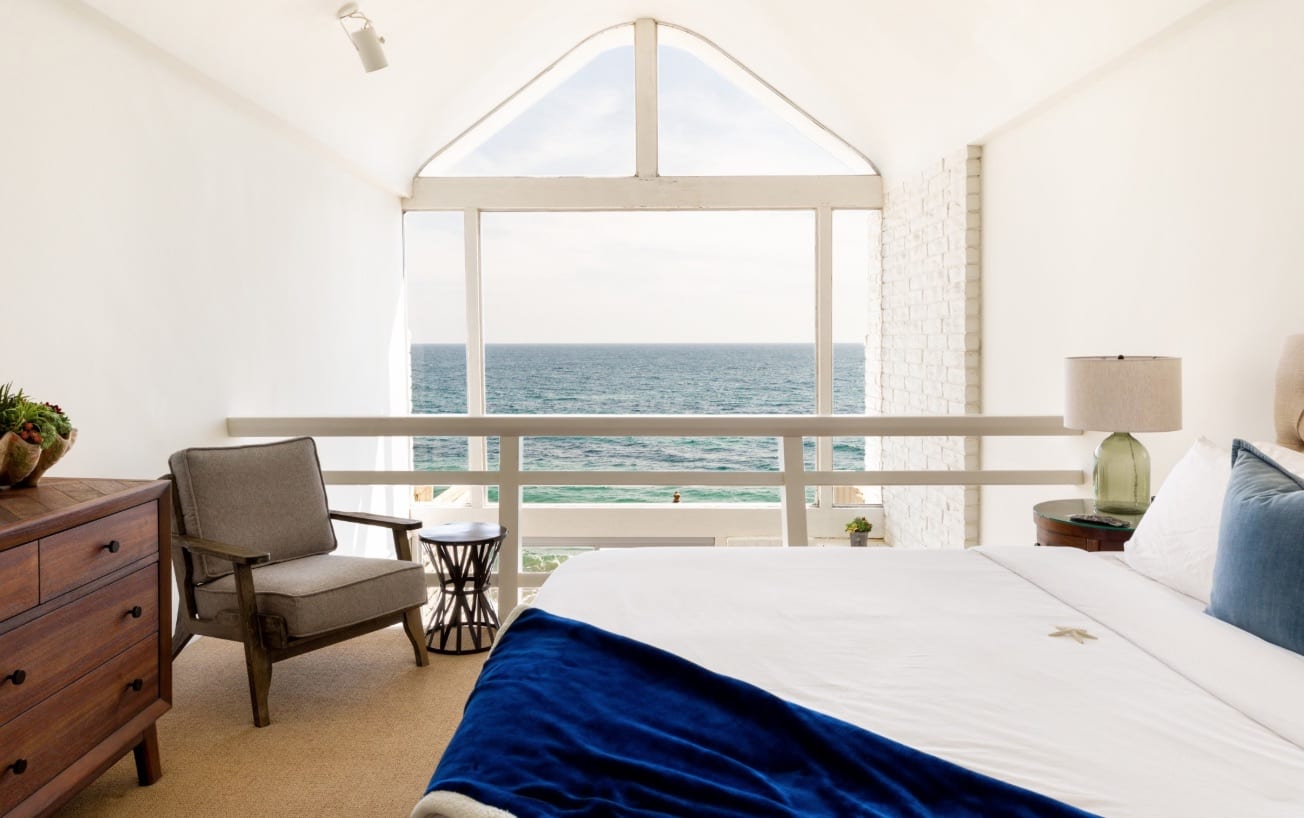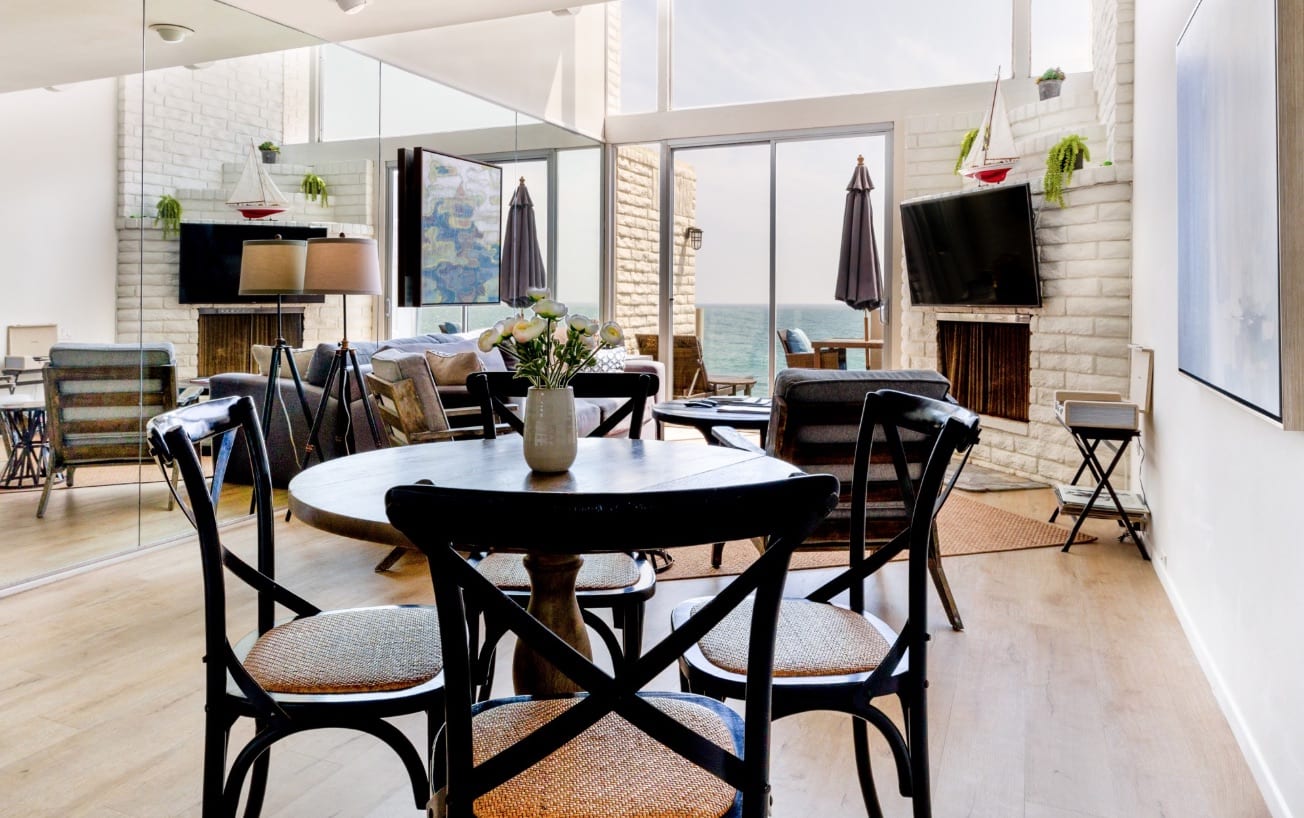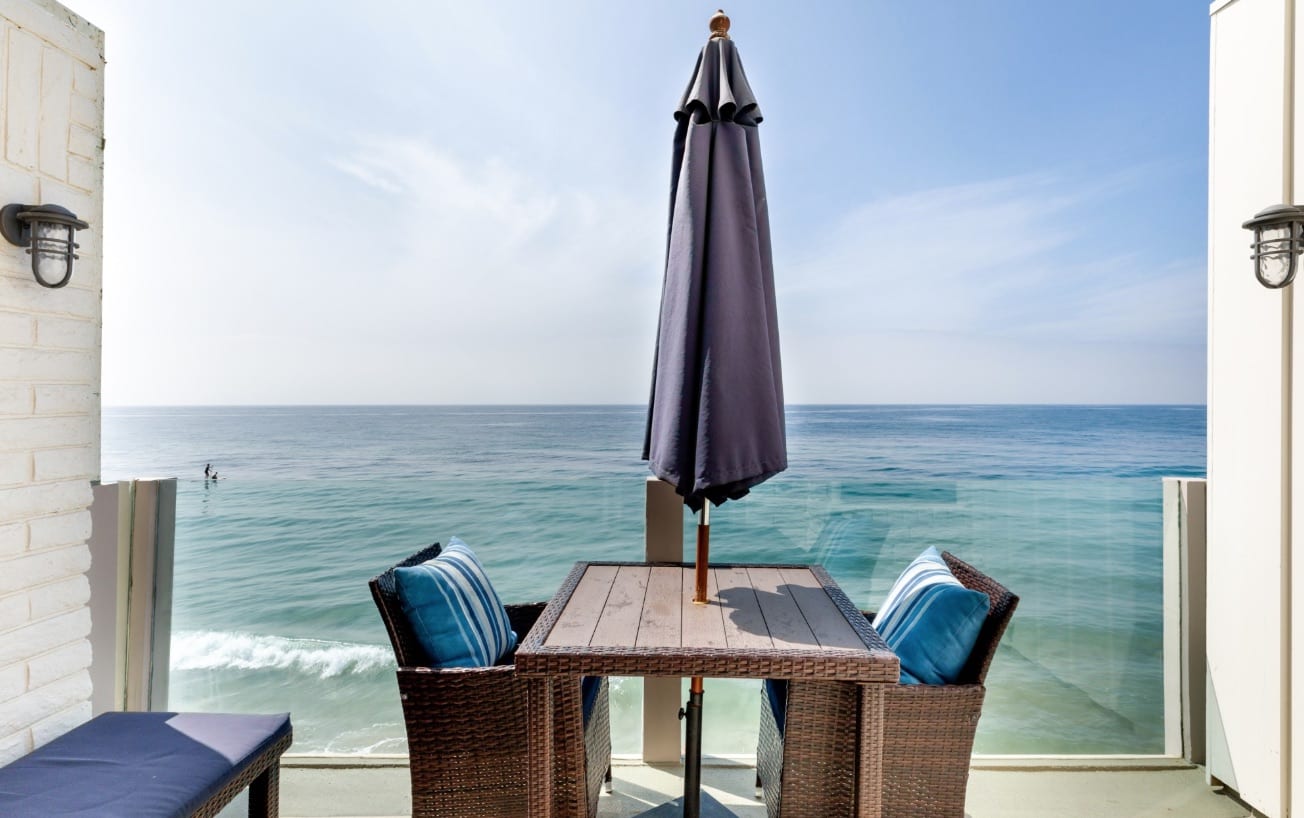 A list of glass houses wouldn't be complete without at least one Airbnb in Malibu which is why we've chosen this lovely three-bedroom, three-bath Airbnb to include on our list.
If it had no other feature other than that enormous two-story picture window that pretty much runs the entire height of the house, this would be an exceptional place to stay but this Malibu beach house has so many other great features like a bar from which you can walk directly on to the sand.
And that deck! Though tiny, it almost feels as if it's literally on the water, thanks to the illusion that glass barrier creates.
And how fabulous is that little outdoor BBQ not to mention that game room? While there are all the usual activities available here (surfing, biking, hiking, walking along the beach), if want to have a bit of an unusual experience, check out the Adamson House and Malibu Lagoon Museum, a stunning mansion which contains an incredible collection of the famous Malibu pottery and will fill you in on the history of Malibu.
2. Laid Back Luxury – approx. $1,300 a night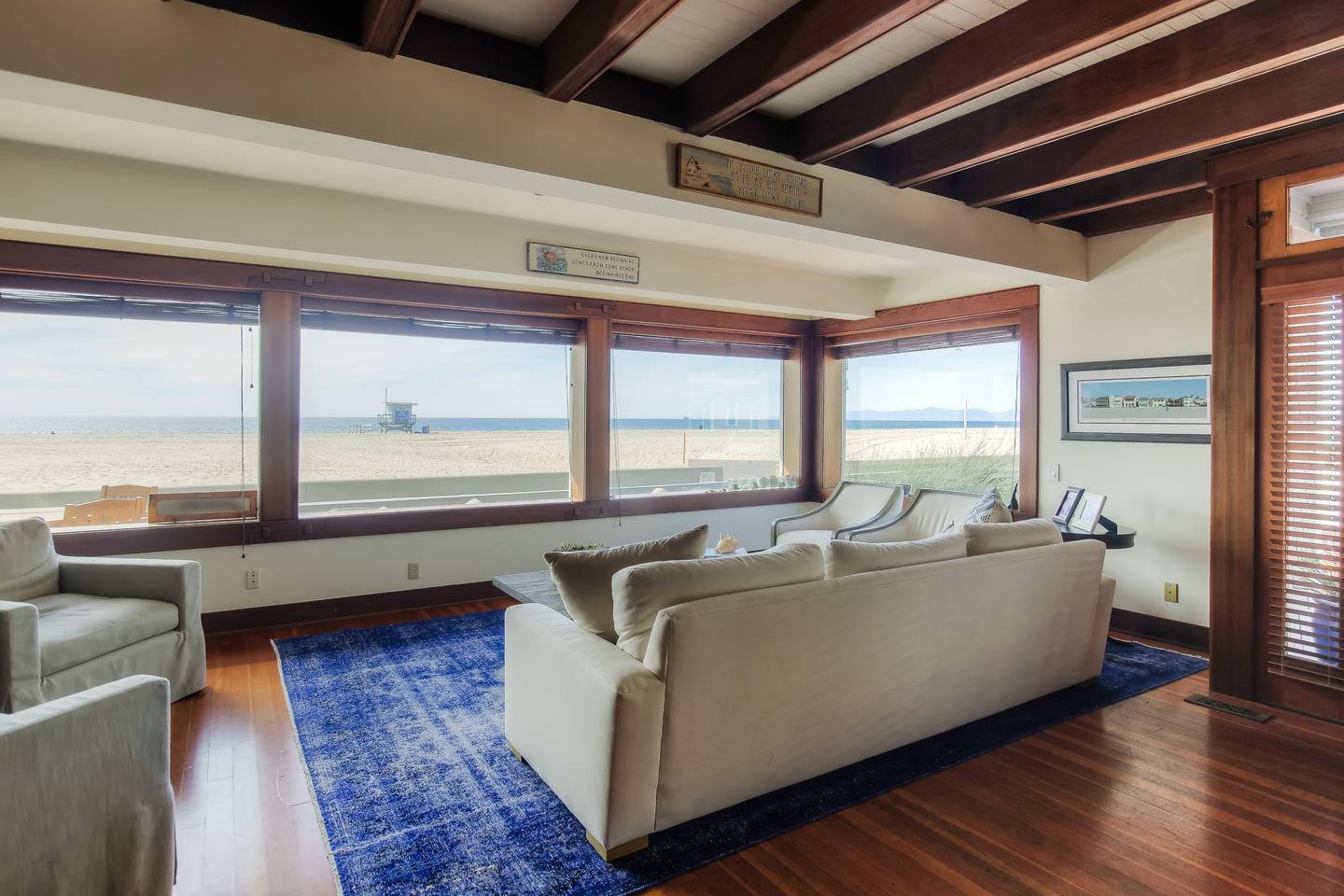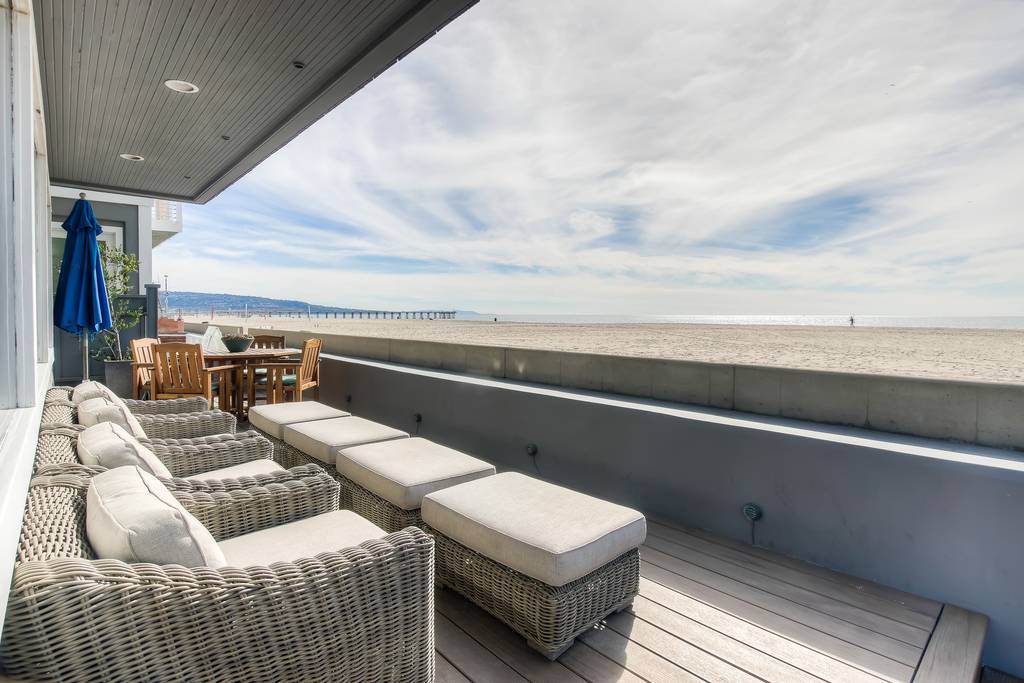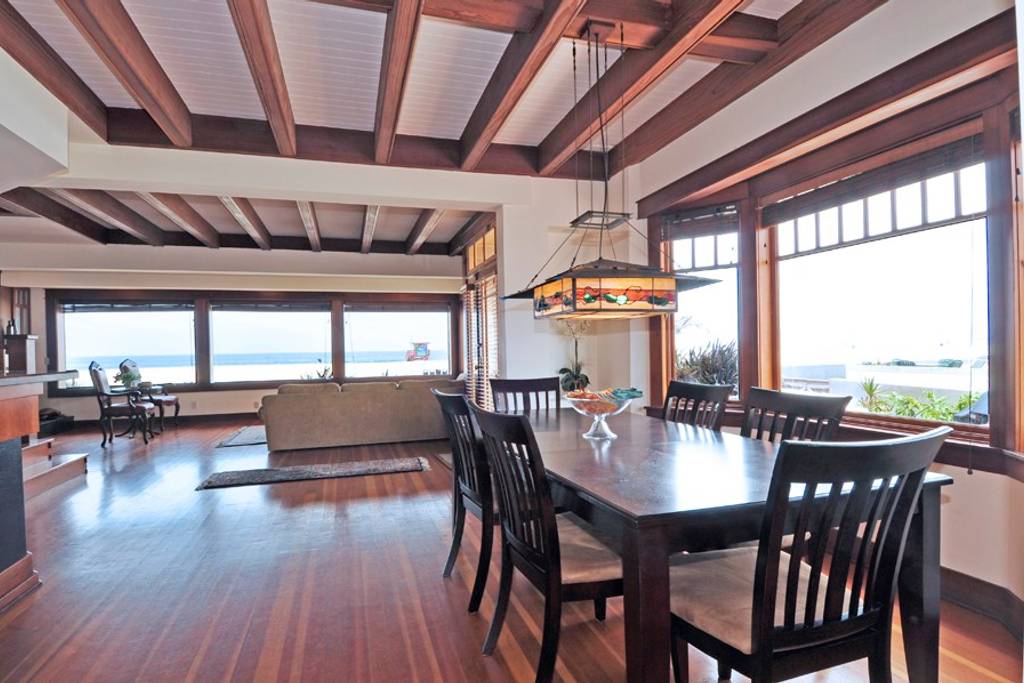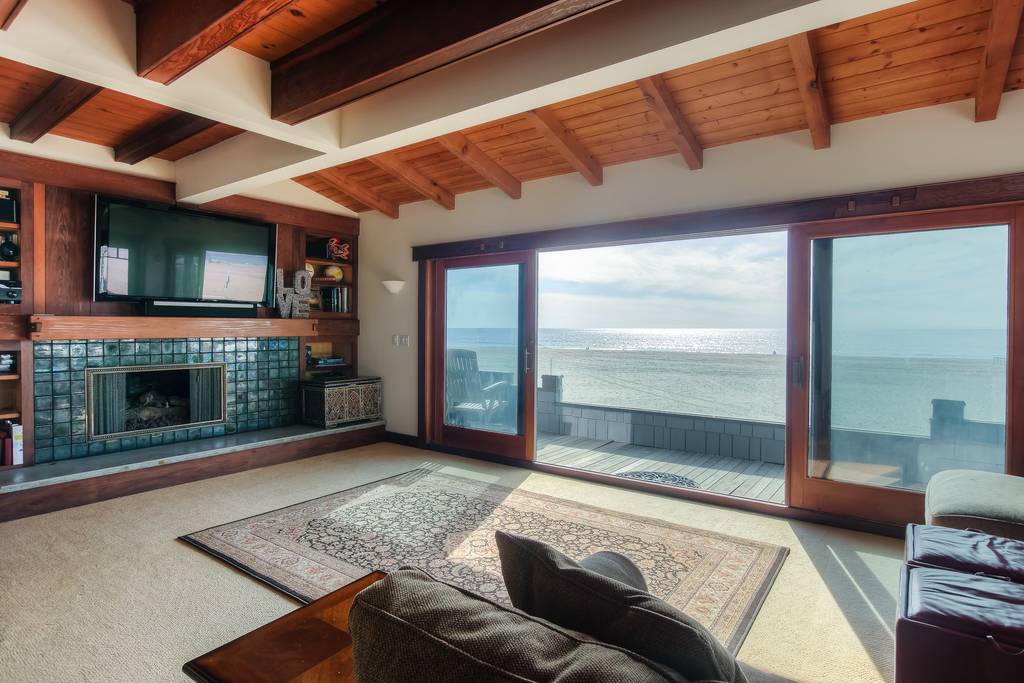 With all the modern architecture in the area, it's kind of great to see a relic of what used to be so profuse in this area and this Hermosa Beach Airbnb is a great example of that.
One of the first houses built on The Strand in the early 1900s, this Craftsman-style house has been fully remodeled but has retained enough of its original architecture and character to fully charm anyone who sees it.
With enormous picture windows that look right out on to the beach, it'll be tempting to just sit on the couch all day long and watch the world go by but try to get to the Hermosa Beach pier to see the ocean while staying dry and be sure to check out the home-grown Hermosa Beach Historical Society where you'll learn about local beach culture.
1. Sensational Strand – approx. $2000 a night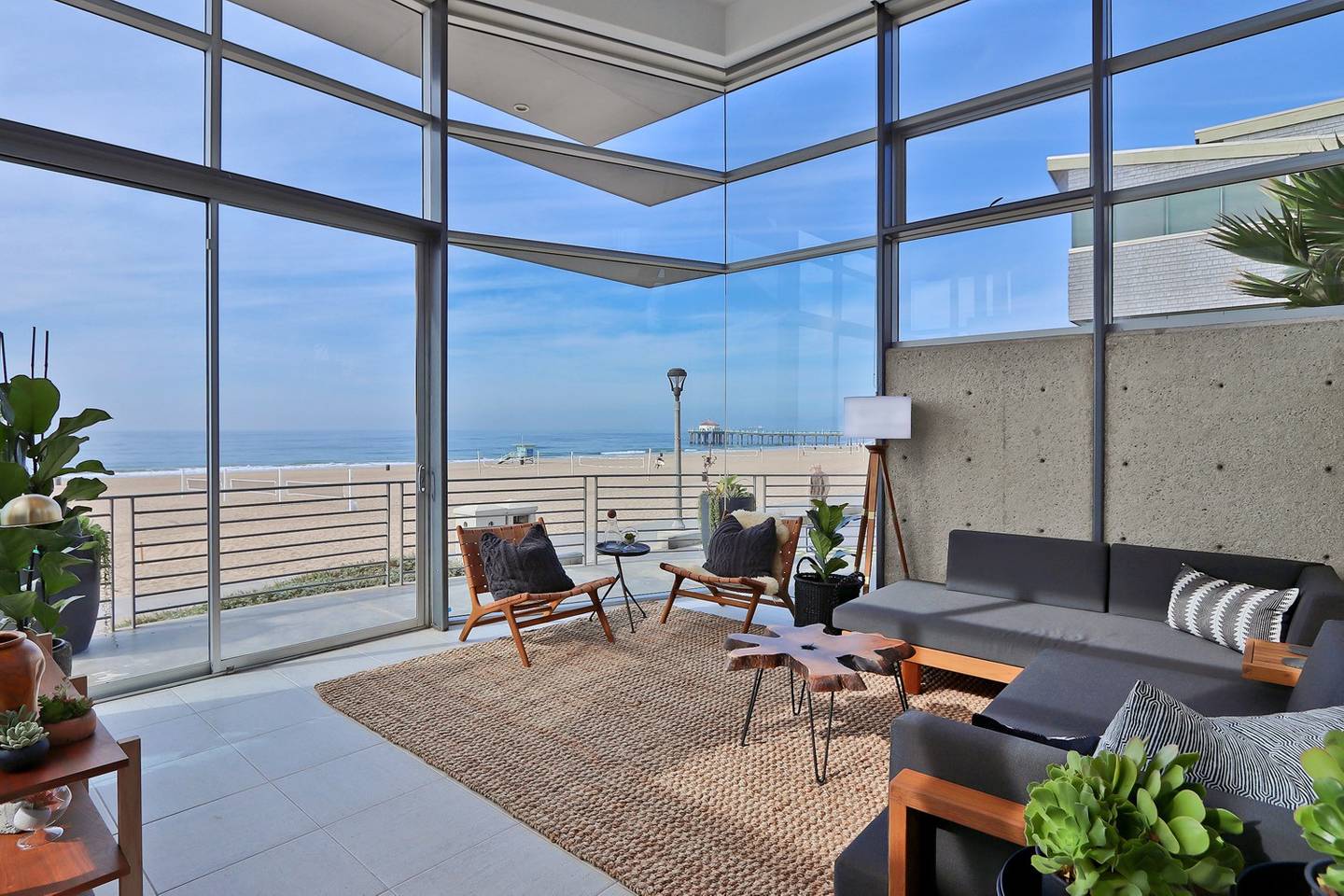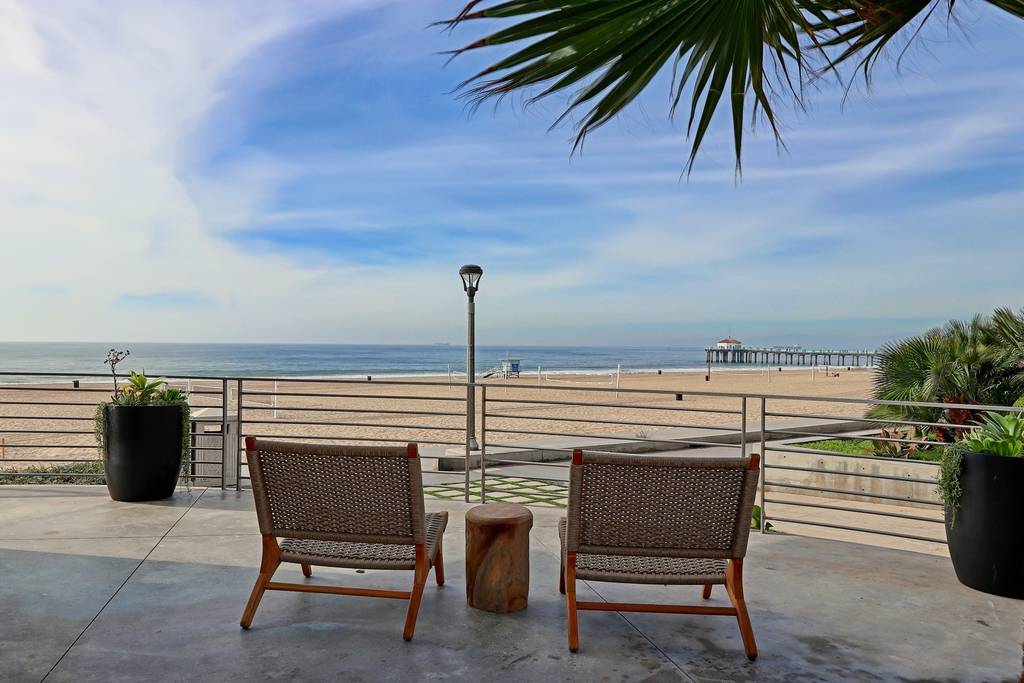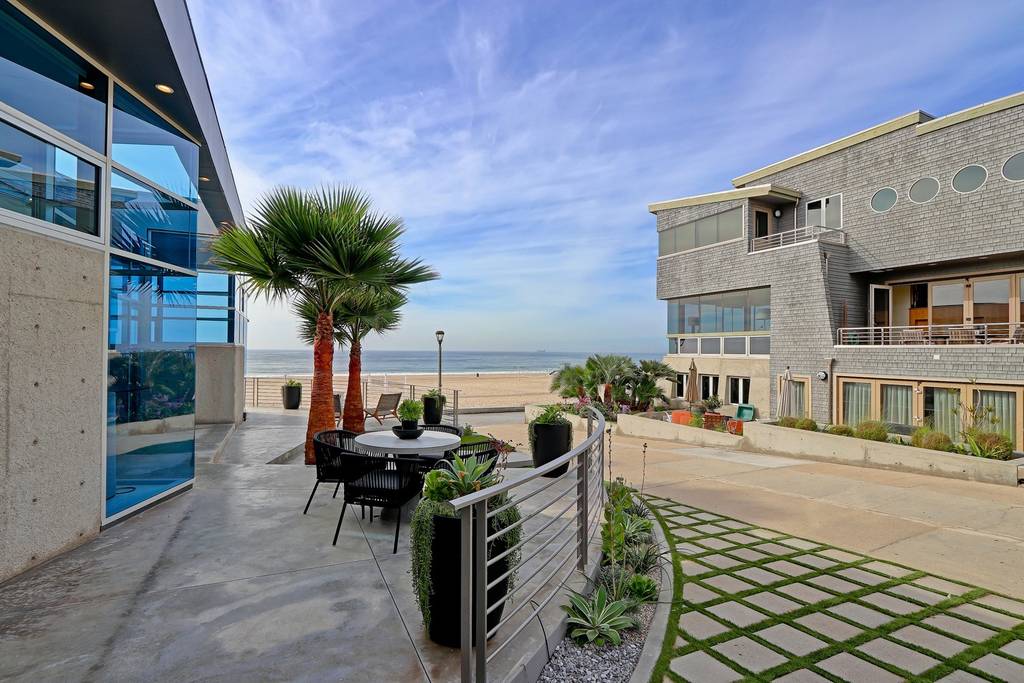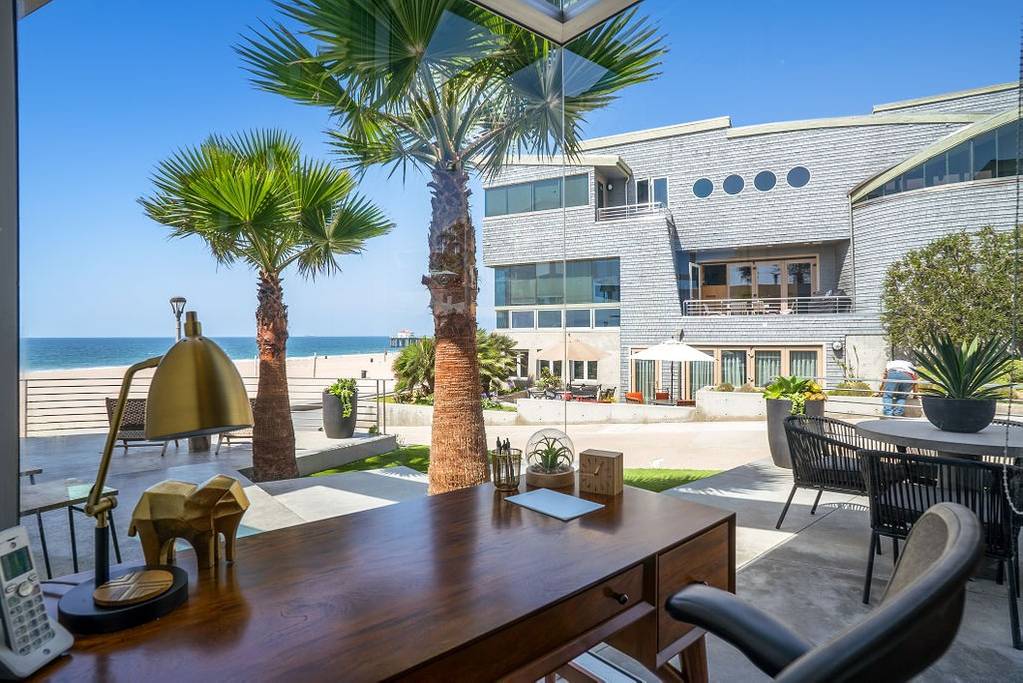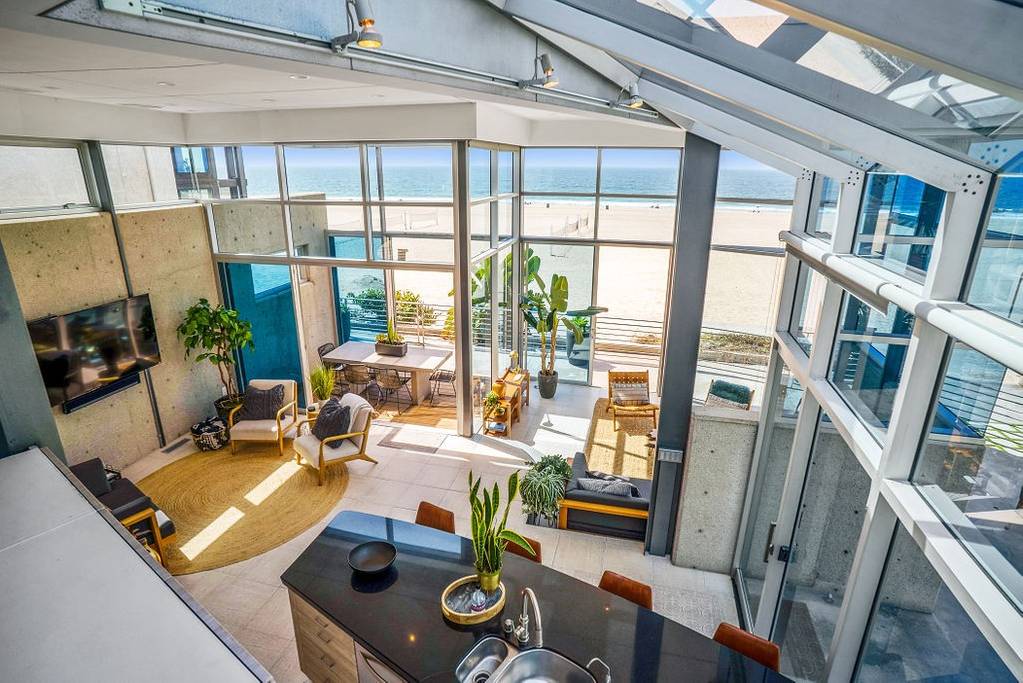 Not even the dolphins have this remarkable a view of the ocean. This incredible three-bedroom, two bath Airbnb in Manhattan Beach is just feet away from the beach and is so airy and light it almost feels as if you're just sitting right on the sand.
Situated right on the area's famous Strand biking/walking path, this gem of a property offers every beach toy you can think of (and usually have to rent or bring yourself) including beach cruiser bikes, stand up paddle boards, surfboards, boogie boards, beach chairs, beach umbrellas, towels, shovels and kids' sand toys, etc.
If you're not ready for a serious sandcastle competition after this we'll be shocked!
Newly remodeled and under new ownership, this mid-century-meets-modern house sits just in front of the owner's house so if you need anything, help is definitely on the way (and this particular host is GREAT with restaurant recommendations and itinerary suggestions so get their input for sure!).
In addition to kids' toys, there are plenty for adults, too, including a kitchen complete with Subzero and Thermador appliances, Nespresso machine and reverse osmosis drinking water filtration. For anyone on a "working vacation," there's super high-speed wifi, (100Mbps), and a fabulous little desk that looks right out on to the water.
The open floor plan is perfection if you want to keep your eyes on the little ones as they play indoors and out and the upstairs loft area complete with toys is like a kid's dream come true! Concerned about privacy? No worries! This Airbnb is equipped with motorized shades when you're ready to retreat.
There's truly one incredible feature after another in this remarkable glass Airbnb!