You're not ready. Of all cities in the world, Paris has some of the most extraordinary real estate on the planet which is why it also has some of the most incredible Airbnbs. Whether it's a houseboat on the Seine, a Bois de Boulogne mansion, or just a good old-fashioned classic Haussmann apartment, there are Paris Airbnb homes that are truly in the not-to-be-believed category, so much so that one list of 8 Truly Extraordinary Paris Airbnb homes was just not enough. With that in mind, here is our list of 8 Other Level Paris Airbnbs and while it's a great one, it's probably not our last so watch this space!
8 Cute Paris Airbnb Homes That Look Like Little Houses
8 Paris Airbnb Homes with Sick Views of the Eiffel Tower
These are the 8 weirdest Airbnb homes in France!
The 8 Most Romantic Airbnb Homes in Paris
The 6 best Airbnb for French Open 2019 near Stade Roland-Garros

8. Bois de Boulogne Mansion – $621 a night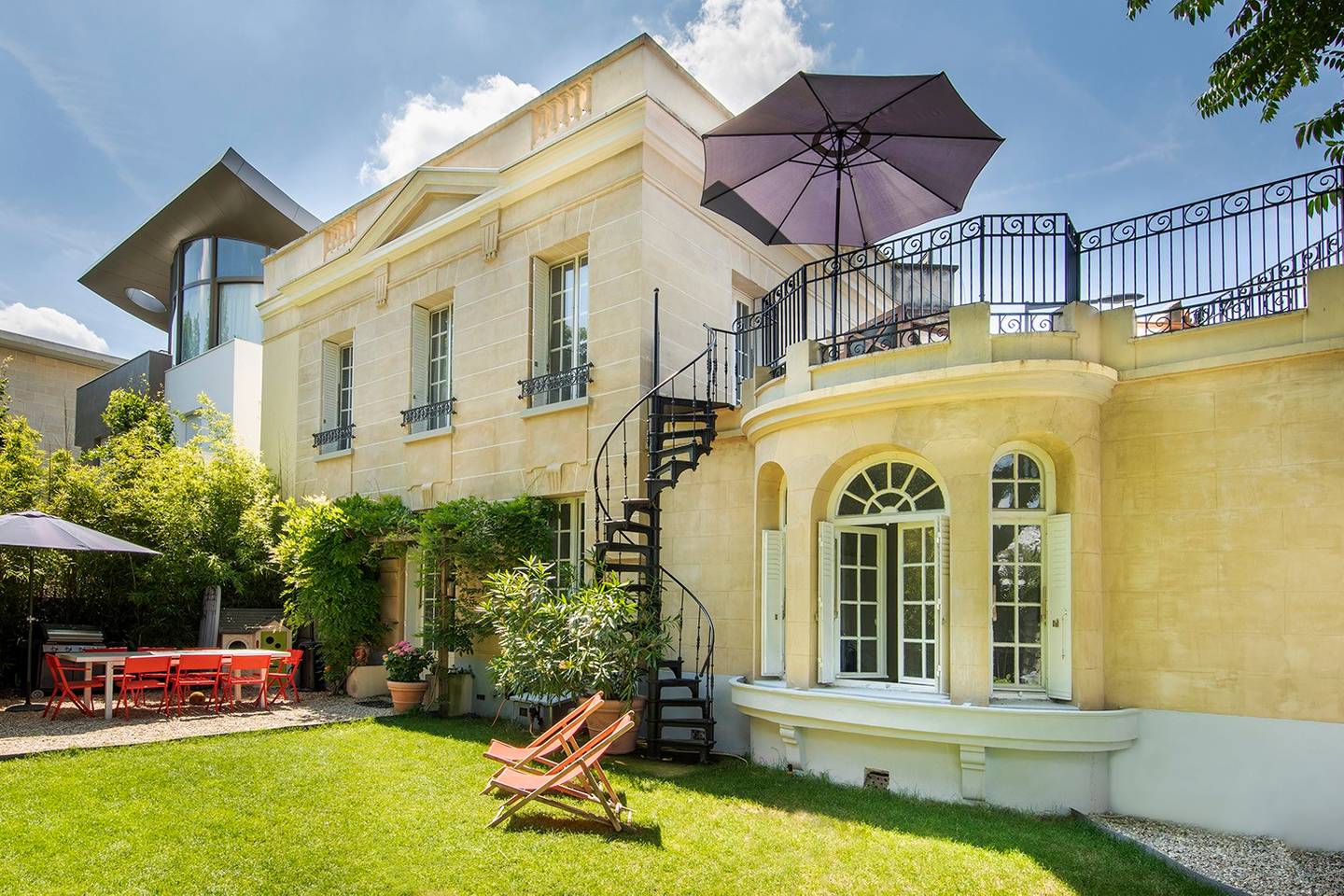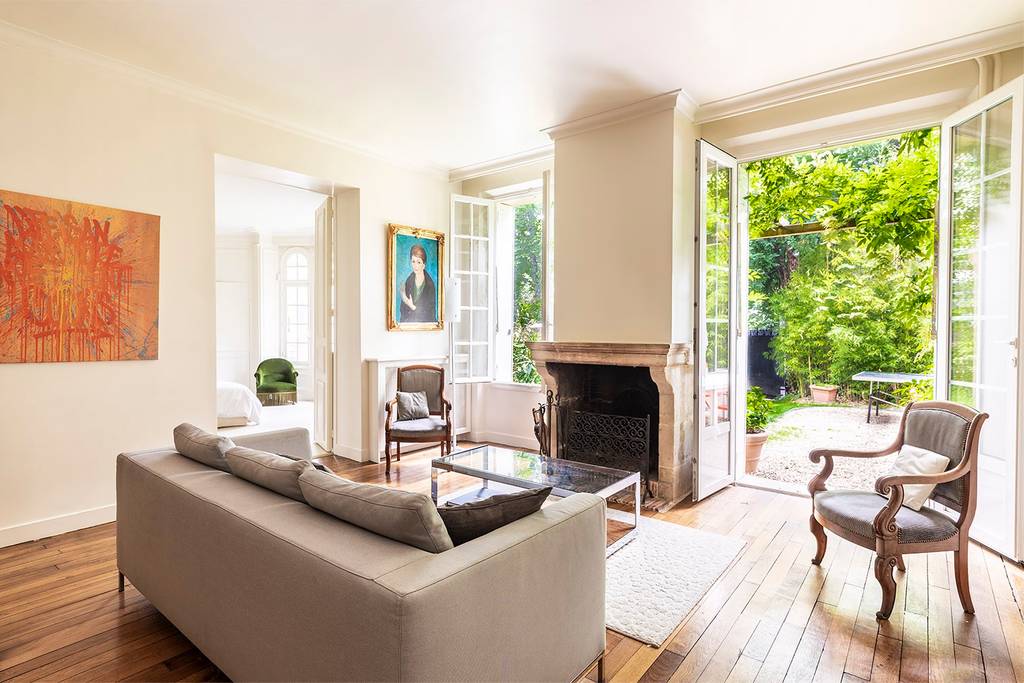 If you've ever wanted to stay in a mansion, this is your chance! At $621 a night, this five-bedroom mansion just off the stunning Bois de Boulogne park in Paris is not just one of the most extraordinary Airbnbs we've found but one of the best bargains as well. Within a short train ride to the center of the city, this mansion offers the peace and quiet of the suburbs as well as the excitement of Paris. A great place to stay with children, this Airbnb has a great outdoor space for dining, playing or just taking in the sun.
In addition to the garden, it also has a large deck so if you're coming with a big group you can cook your meals in the enormous kitchen (there are plenty of butchers, food markets, and cheese shops around), and then eat alfresco. There's also a piano to keep the kiddies occupied while you prepare the food.
Close to the elegant 16th arrondissement, this house will put you close so many Paris attractions including a branch of Bon Marché's La Grande Epicerie de Paris (one of the best food stores in all Paris), the Arc de Triomphe, the modern and not-so-well-known Beaugrenelle shopping mall (one of the few modern structures in Paris), the Musée de l'Homme, the Aquarium de Paris, and even a water park, the Aquaboulevard de Paris, and of course, the Eiffel Tower. With all this at your feet, it would be hard to find a more incredible place to stay.
7. That Loft Life – $734 a night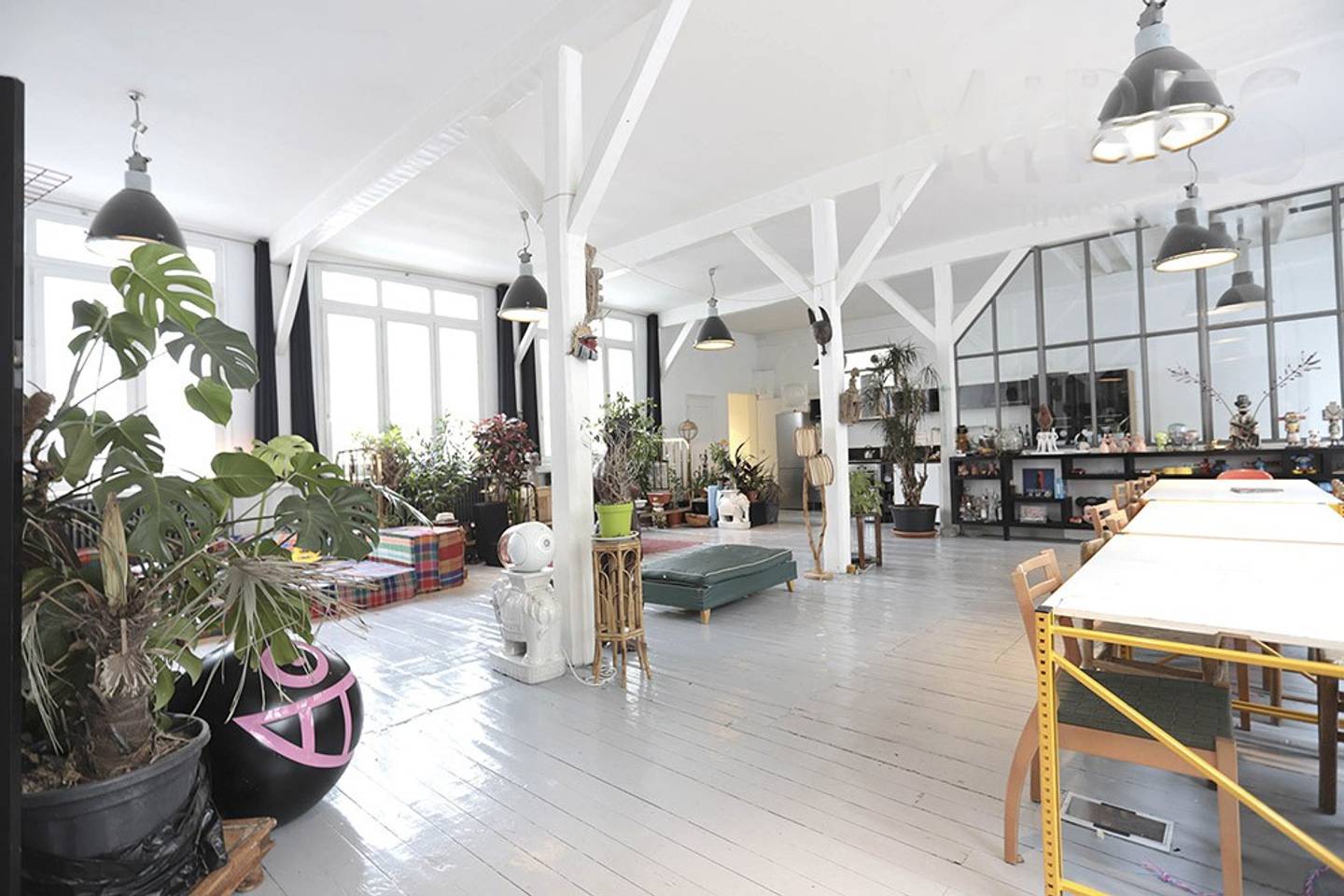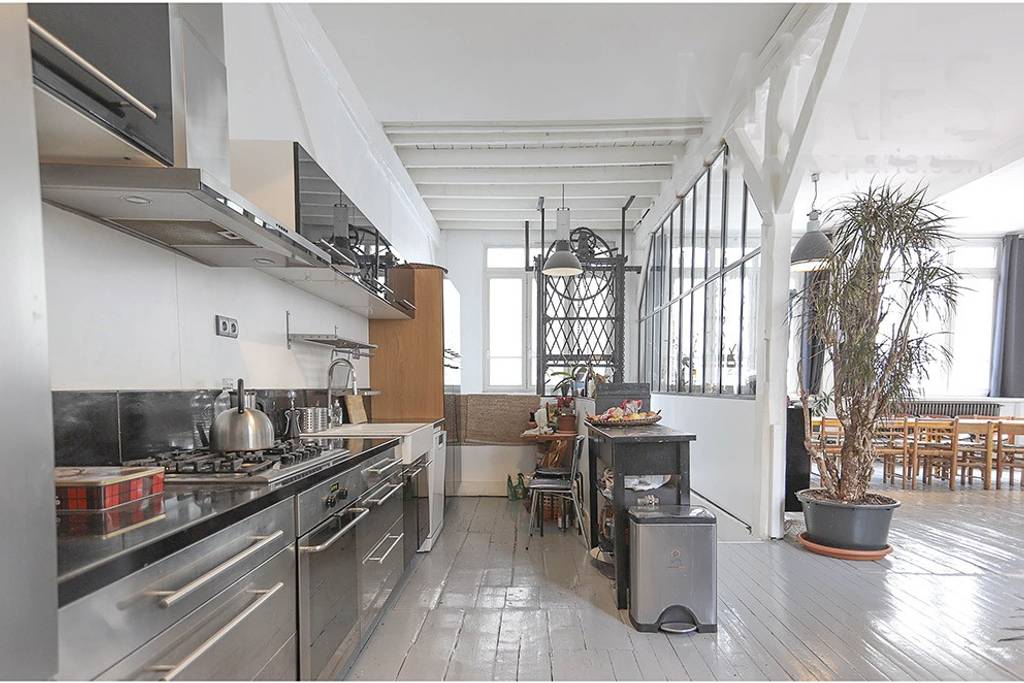 Think "Spacious Farmhouse Meets New York Cool" and you've pretty much got this amazing Paris loft space. Sleeping ten in five bedrooms and two baths, this place is actually also a great value at $734 a night! With a fabulous open kitchen, tons of communal space, lots of sun and plant life (there are several skylights), and a lot of very interesting art, this is a fabulous place to spend a big birthday, have a destination reunion or just fool yourself into thinking you're a great artist living in Paris.
Situated in the 10th district, it's located near some of the city's lesser-known attractions like the Musée Grevin (a wax museum founded in 1882), the Musée des Arts et Métiers (an industrial design museum perfect for Steampunk fans), the Musée de la Chasse et de la Nature (perfect if you're into taxidermy), and the fascinating Parc de Belleville. Of course, you'll also be near more mainstream places like the Sacré-Cœur as well as the entire Montmartre area where you can watch painters paint at the Place du Tertre.
6. Trocadéro Traditionalist – $734 a night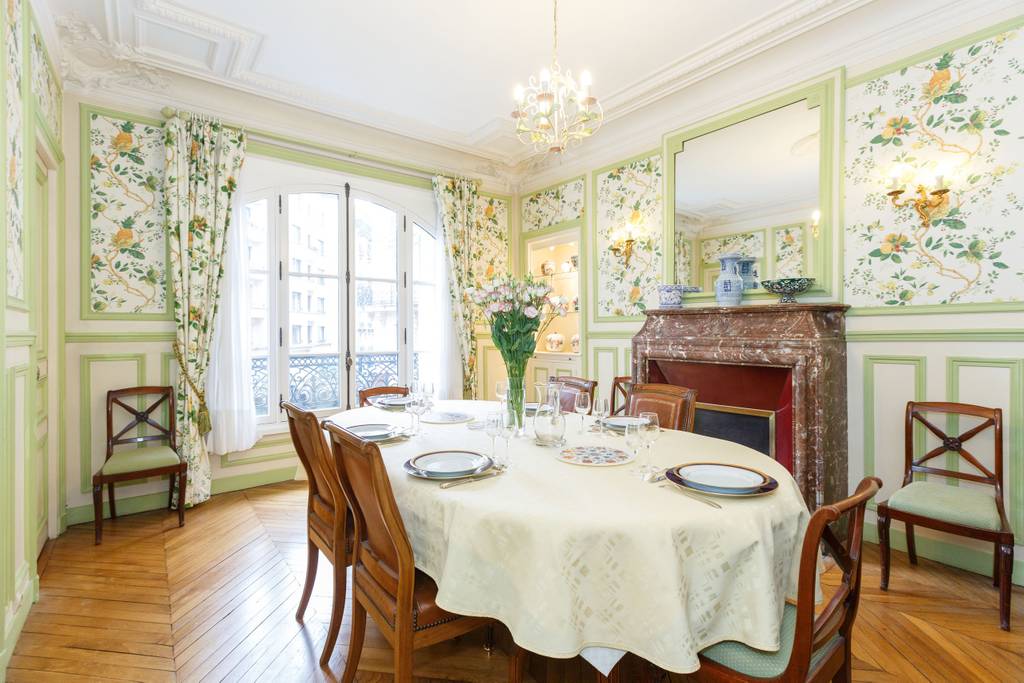 If this isn't the epitome of Parisian elegance and traditionalism, we don't know what is. Like something from the set of the movie, "Gigi," this four-bedroom, three-and-a-half bath Paris Airbnb is worth renting just for the building entrance alone. Decorated in traditional French chintz, toile de jouy, marble fireplaces, parquet floors, wall murals and some stunning antiques, this is the perfect place for those design freaks out there but don't fret if you hate to be away from modern conveniences.
There is the usual wifi, cable TV (with English instructions), and a full gourmet kitchen. A culture maven's dream come true, it's very close to the fashion museum, Musée Galliera (but check their website as they are currently undergoing renovations), the stunning Place d'Iéna where you'll find the Guimet Museum, a wonderful museum dedicated to Asian art, the Arc de Triomphe, and the inimitable Place de la Concorde. What could be more perfect than staying in the world's most picturesque city in the world's most picturesque apartment?
5. Seine-sational Sanctuary – $678 a night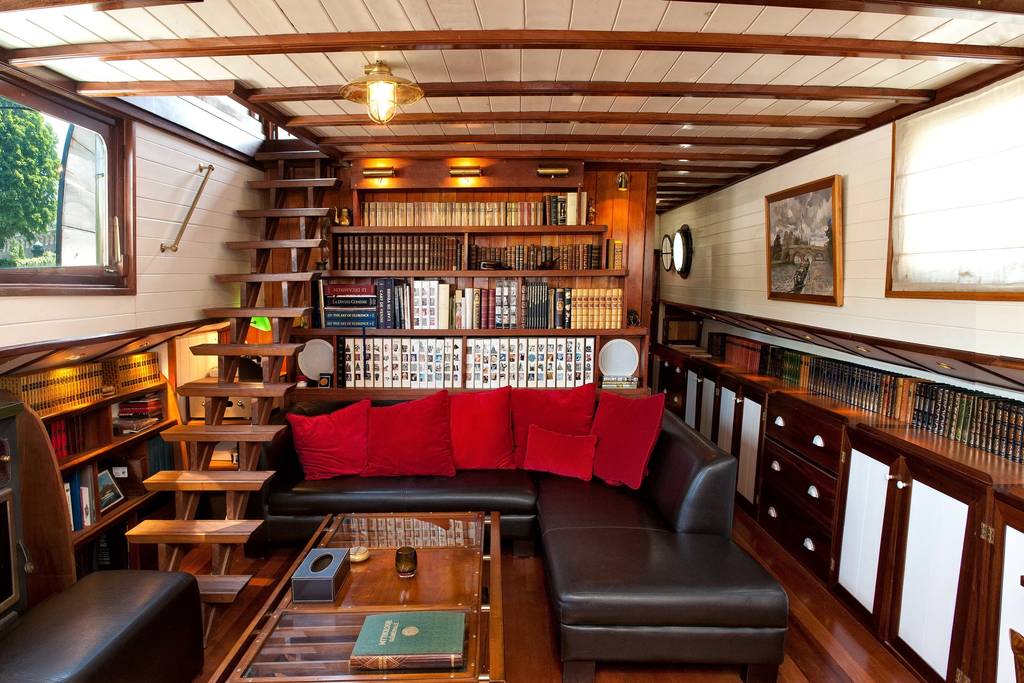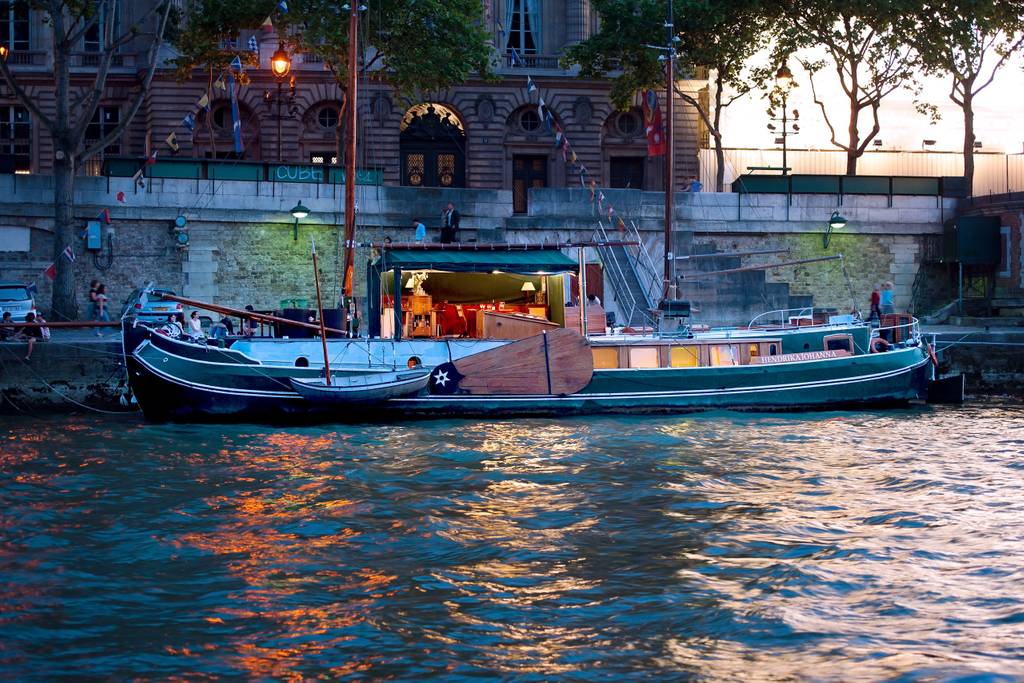 We apologize for the bad pun but how can you blame us? This incredible barge is docked right on the banks of the Seine and sleeps four within its two bedrooms. Moored between the stunning Pont Neuf and the Pont des Arts (that's the one with all the love locks) this barge offers one of the most unique travel experiences you'll ever have in Paris or any other city. Fully equipped with a kitchen, wifi, and even a hot tub, it has just about every amenity you would find in a hotel or regular Airbnb.
It also happens to be situated just steps from the literal heart of the city which will put you near every great attraction you can name: Notre Dame cathedral, the new Les Halles shopping center, the Pompidou Center, the Palais Royal gardens and the boutiques that surround it, the rue de Faubourg Saint Honoré, the Jardin du Luxembourg, and more bars, restaurants, boutiques and museums than you can name. Just be sure to book as early as possible as this floating home is in very high demand.
These 8 Gorgeous French Châteaux Are Available on Airbnb

8 Picture Perfect Airbnb Homes for Paris Fashion Week
8 Provence Airbnb Homes Perfect for Lavender and Sunflower Season
4. Paris Pool Party – $2,231 a night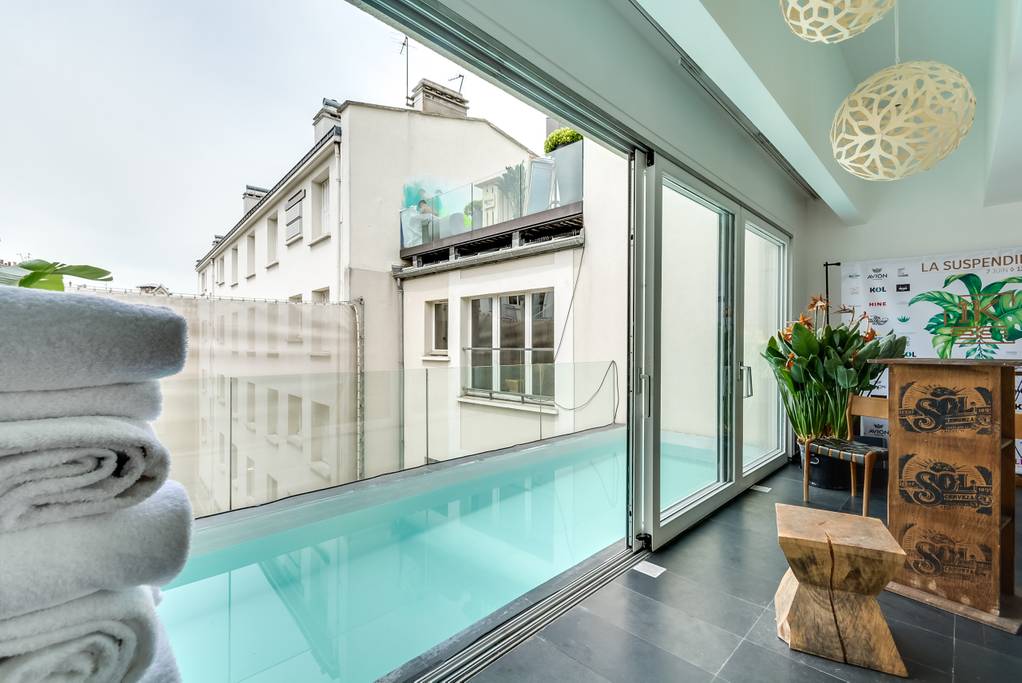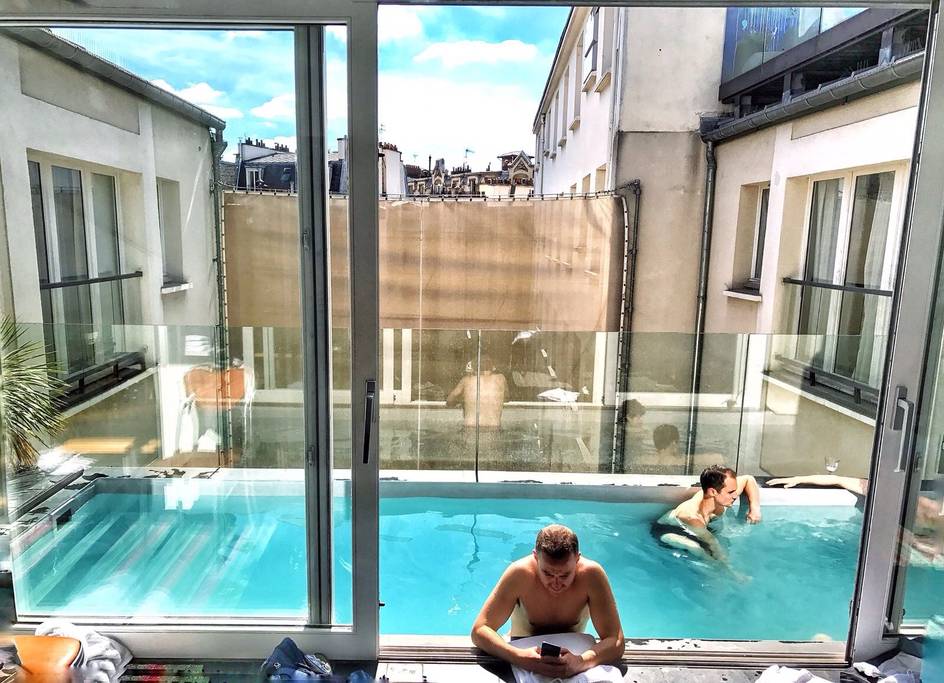 #OMG!!!, #parispoolparty, #lookwhereweare!!! Start thinking of the hashtags you want to use for this place because you're going to need them! While it's really just meant for parties (only two at a time can actually stay the night here), this insane studio accommodates 40 people and features an outdoor pool that is going to make you win Instagram. Complete with its own bar, this property is actually a suite in a boutique hotel.
You'll have access to their resident "mixologists" who are ready to make you and your friends all kinds of South American-inspired cocktails. The pool is literally right outside the sliding glass door and makes an amazing spot for a big celebration. Although it does come with heating (so you can use it in winter), it doesn't come with pool toys so you might want to stop at a CVS before flying over.
3. Mullet Masterpiece – $813 a night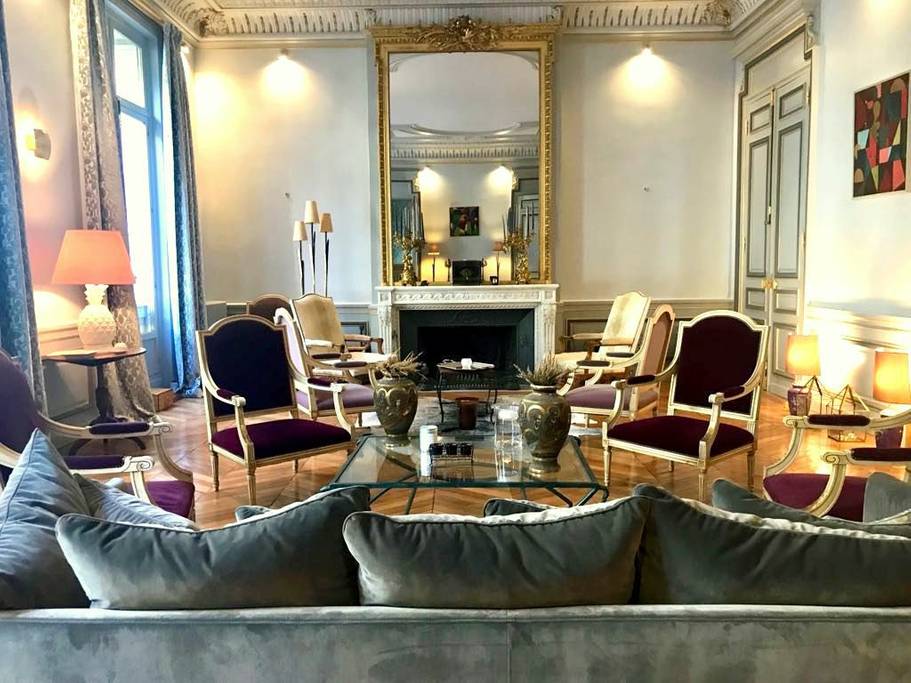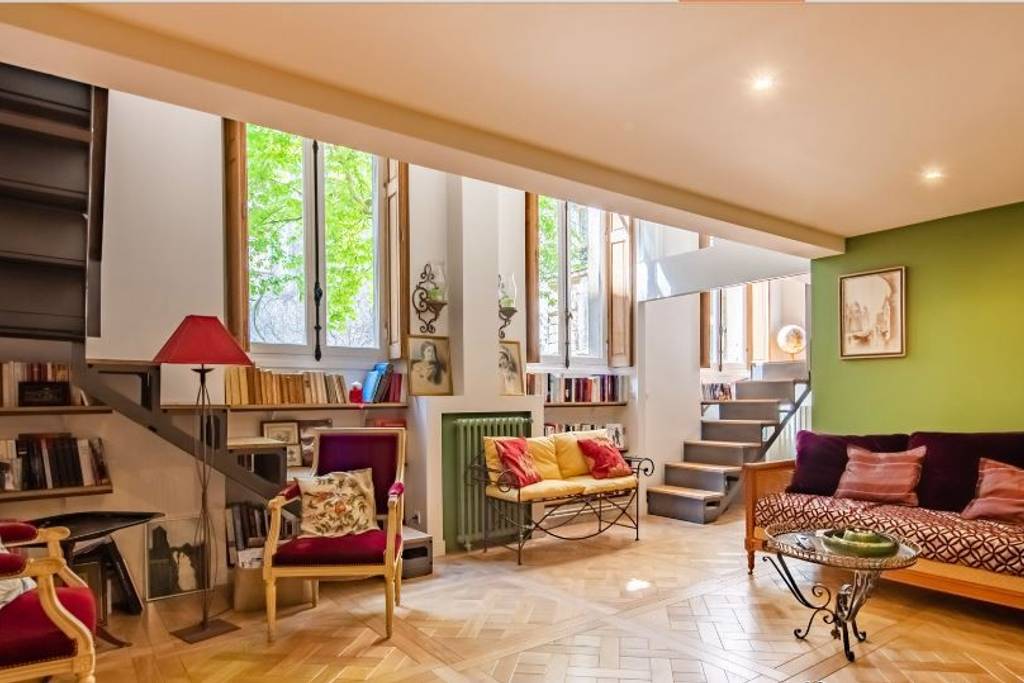 Talk about business in the front and a party in the back! This extraordinary Paris Airbnb combines strict traditionalism in the main living space with a loft-like coolness downstairs. Sleeping up to 12 guests, this apartment is in an 19th-century mansion just north of the glamorous 8th arrondissement and is decorated with tasteful antiques and lovely amenities (like that incredible marble bathroom).
Airy and comfortable, this Paris Airbnb is located in an exceptionally safe, quiet area, away from busy tourist districts but close enough to great attractions that you won't miss out on a thing. Located near the intriguingly stunning and lesser-visited Parc Monceau, this is a great place to stay with kids (there's even a merry-go-round in the park). You'll also be very close to Jardin d'Acclimatation which is almost a full-on amusement park that also has horseback riding. A great family rental, this is the perfect Paris Airbnb to make both parents and kids equally happy!
2. Rooftop Roost – $904 a night.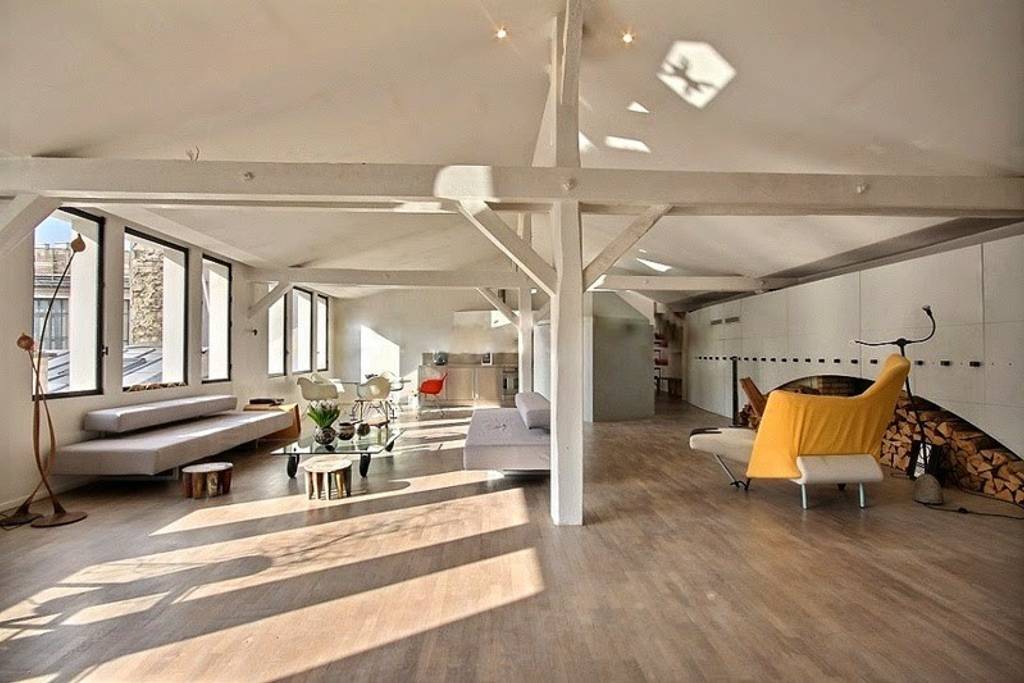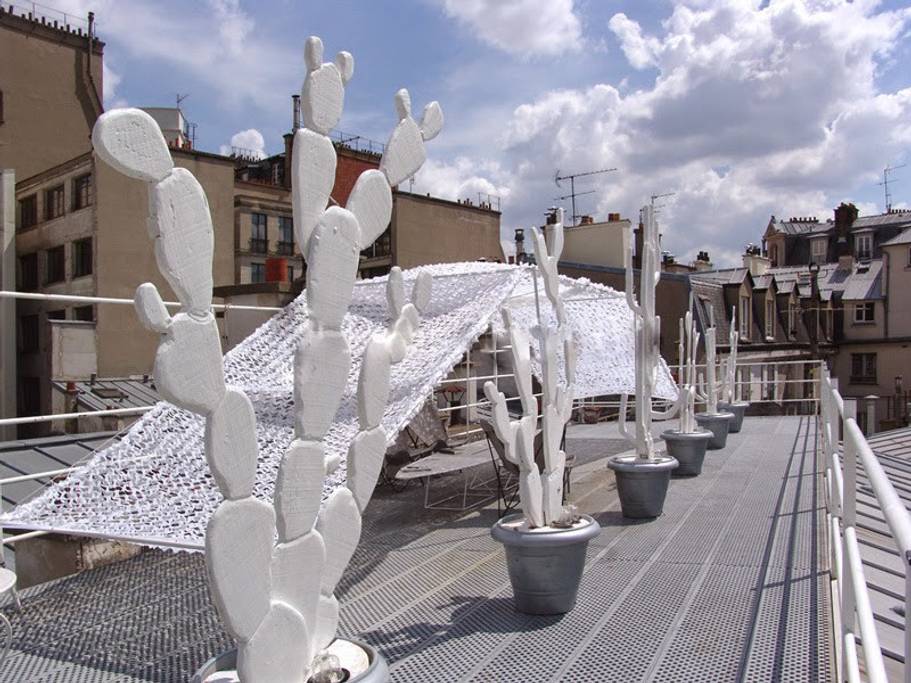 When even the firewood looks incredible, you know you're in a special place. Right in the heart of the Marais district, this incredibly special Paris Airbnb offers more space than most Parisian buildings, let alone apartments. Modern, avant-garde, and just plain cool, this Marais gem offers sunny bedrooms, cable TVs (which are built right into the walls), built-in closets (which are fairly rare in Paris apartments), lovely views of the building courtyard as well as the of the nearby rooftops of Paris, and an absolutely amazing fireplace.
The over 300-foot living room and lack of priceless antiques makes this a great place for families (there are three separate bedrooms so everyone can have their own space at the end of the day). There's also a huge rooftop terrace so you can catch some rays or just gaze at the other Paris rooftops.
1. Nôtre Dame? More Like Nôtre Day-ummmmm!!!! – $849 a night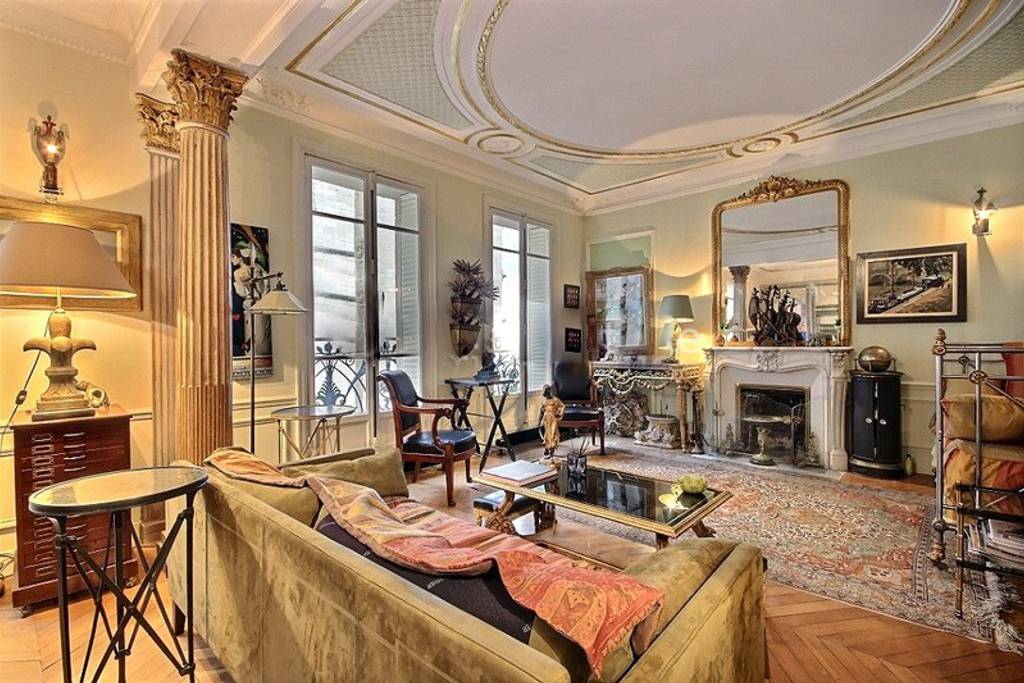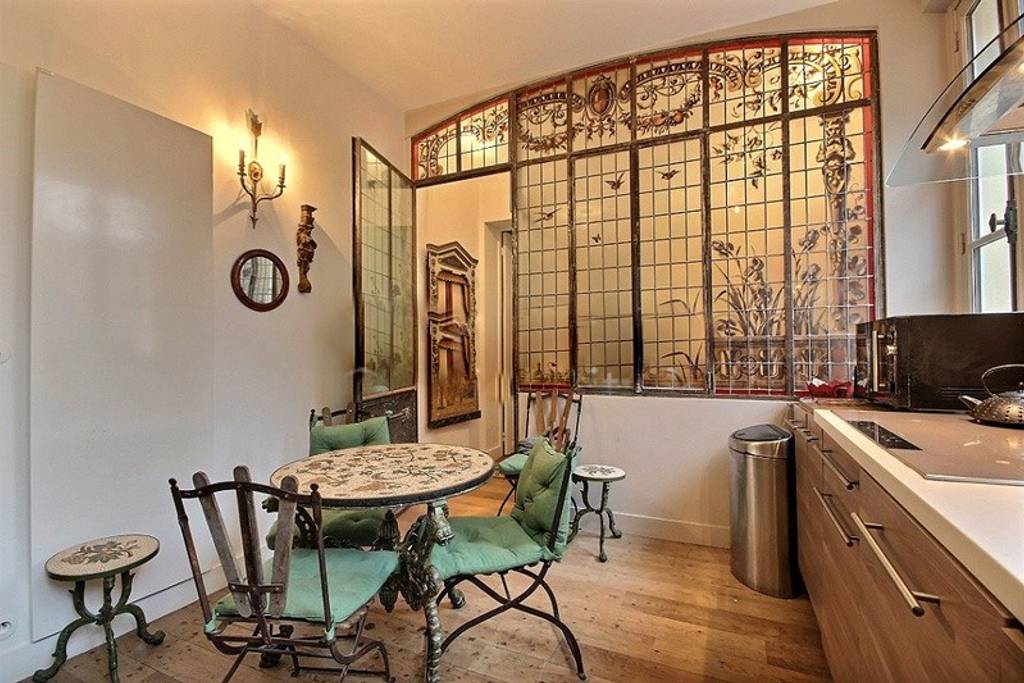 Where do we even start with this one? From the remarkable stained glass wall to the butterfly-themed room to the terraced bedrooms, to the guide book-perfect view of Nôtre Dame, if there is a more extraordinary Airbnb in all of Paris, we don't even need to know about it.
Filled with stunning artwork and precious antiques, this elegant, yet cozy Paris apartment looks like the Paris Airbnb Napoléon himself might have rented.
This three-bedroom, two-bathroom apartment is almost literally in the center of Paris which means the city is pretty much at your door step: the Marais district, the Latin Quarter, and Saint-Germain-des-Près are all within a short walk as are the Musée d'Orsay, La Conciergerie (where Marie Antoinette was kept before heading to the guillotine), the Louvre Museum, the Hôtel de Ville (Paris's City Hall which offers exhibits and even ice skating), and even the mysteriously addictive home improvement department store BHV.  You'll also be near famed ice cream shop Bertillon and legendary cafes like Café de Flore and Les Deux Magots where you can sit and people watch for hours and hours.