While Paris may be more associated with Haussmann buildings and Belle Époque masterpieces, that doesn't mean there aren't some really cool, modern loft spaces. A favorite of the city's artists, musicians and general bohemians, lofts and studios abound in this art-conscious city.
With raised beds, worn floors, and that quintessential loft symbol, the slanted skylight, these distinct spaces will make you feel like Toulouse Lautrec. From 17th-century studios to sophisticated lofts near the Eiffel Tower, here are some great Paris loft spaces on Airbnb.
Rooms With a View: 8 Florence Airbnb Homes with Incredible Views
8 Amazing Paris Airbnb Homes You're Gonna Love
8. Mini-House Airbnb Loft – $372 a night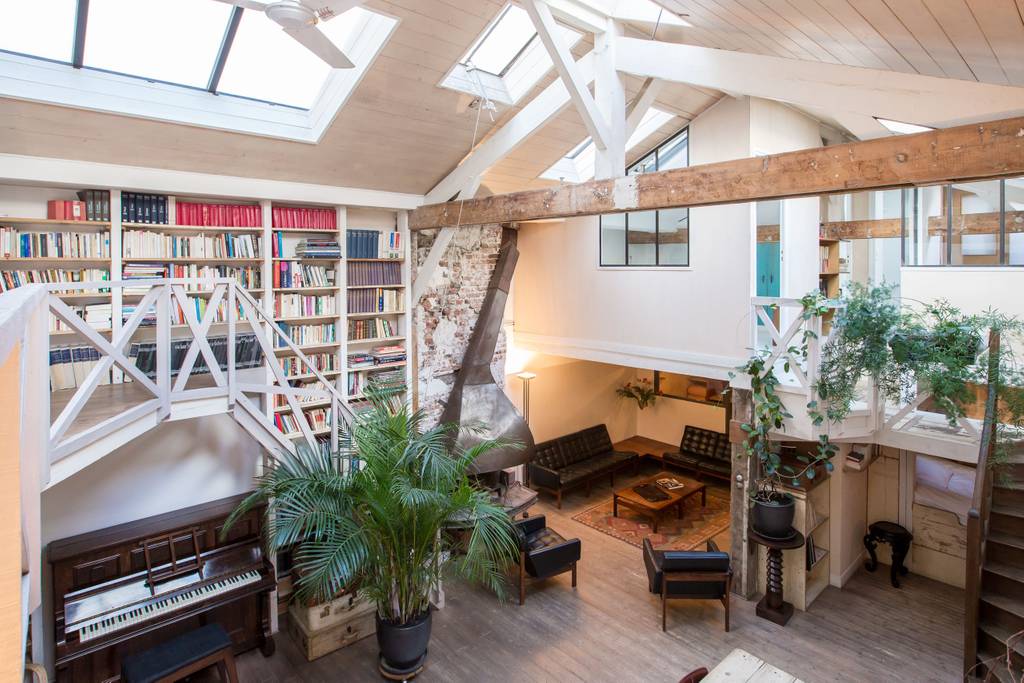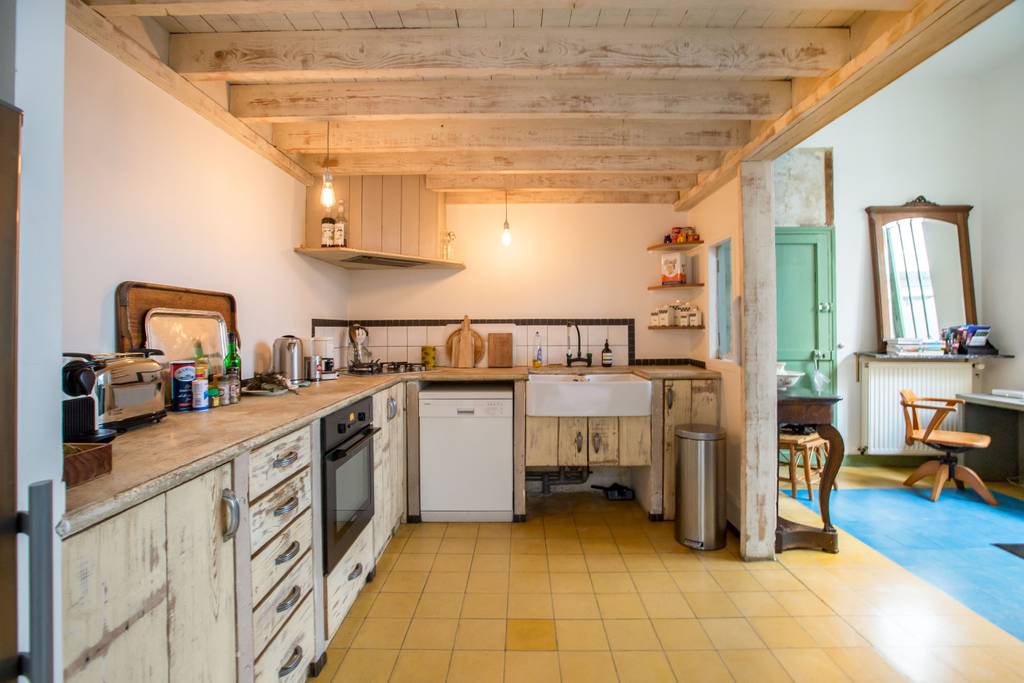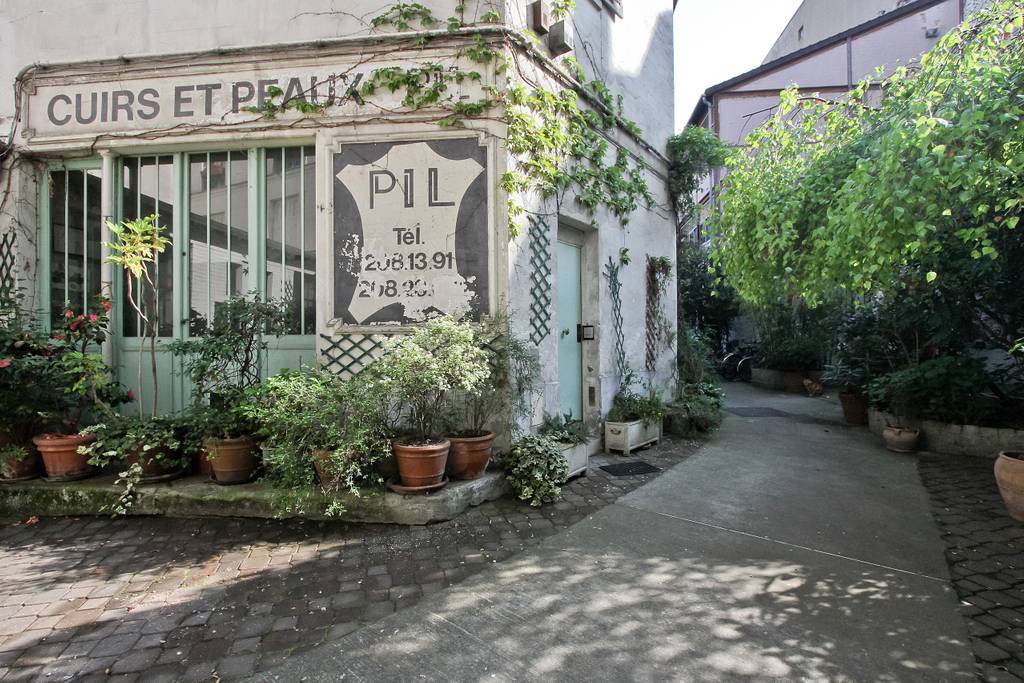 How do you say "Wow!!!" in French? This four-bedroom, two-and-a-half bath loft space near the Canal St. Martin is like something out of a movie.
A really, really, really great movie that you don't want to end. Sleeping 11 people, this Paris apartment has so many incredible features that it's hard to know where to start.
First of all, with multiple skylights, this place has tons of natural light.
An exceptionally large kitchen means no bumping into each other while trying to cook and a full library of French books means you'll always have something to read.
Adorable passageways, whitewashed walls and French antiques make this a truly exceptional place, especially for a big group (there's even a piano so get ready for the sing-alongs!).
As if the inside weren't enough, that incredible courtyard is beyond Instagram ready!
7. Marais Duplex, Paris – $286 a night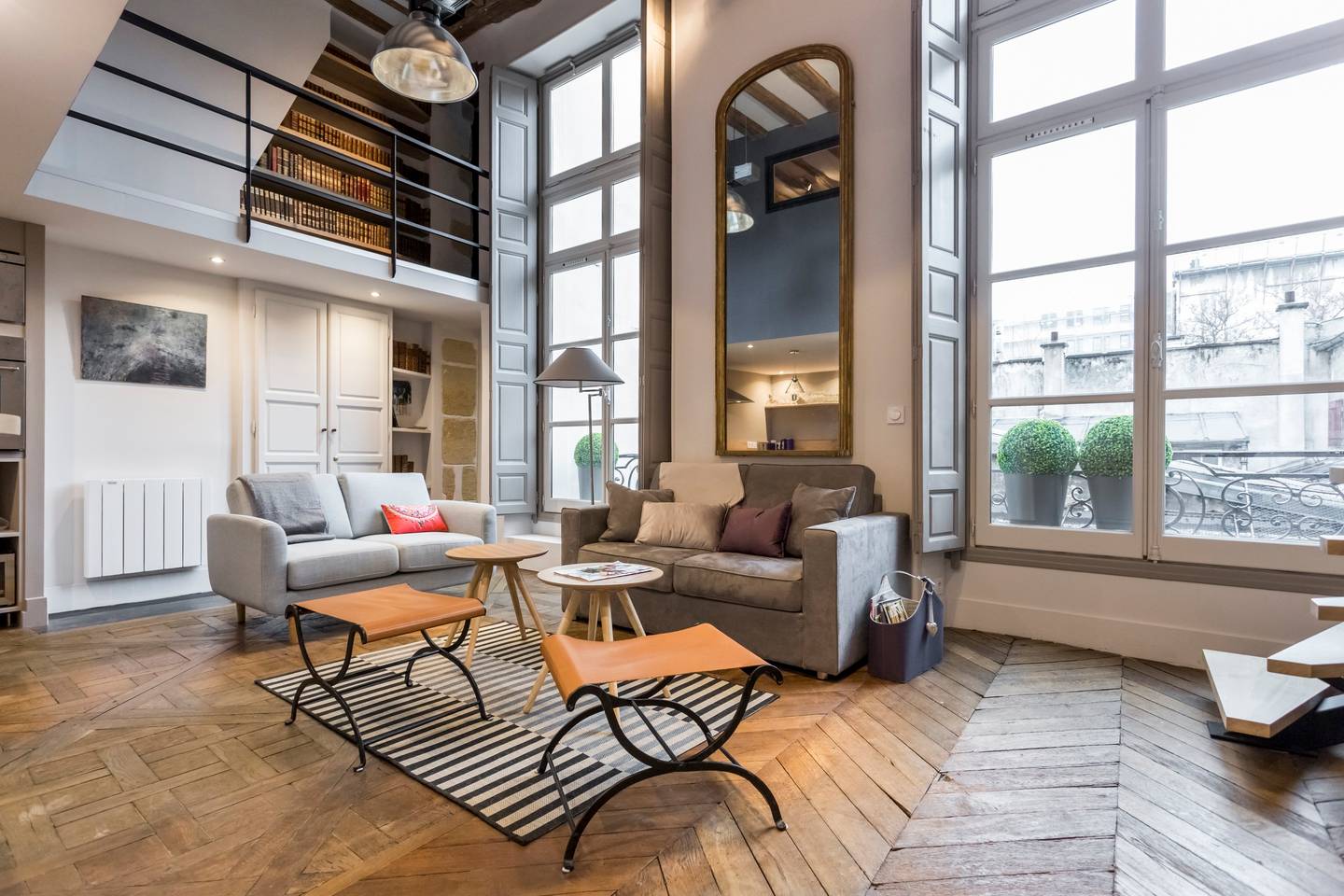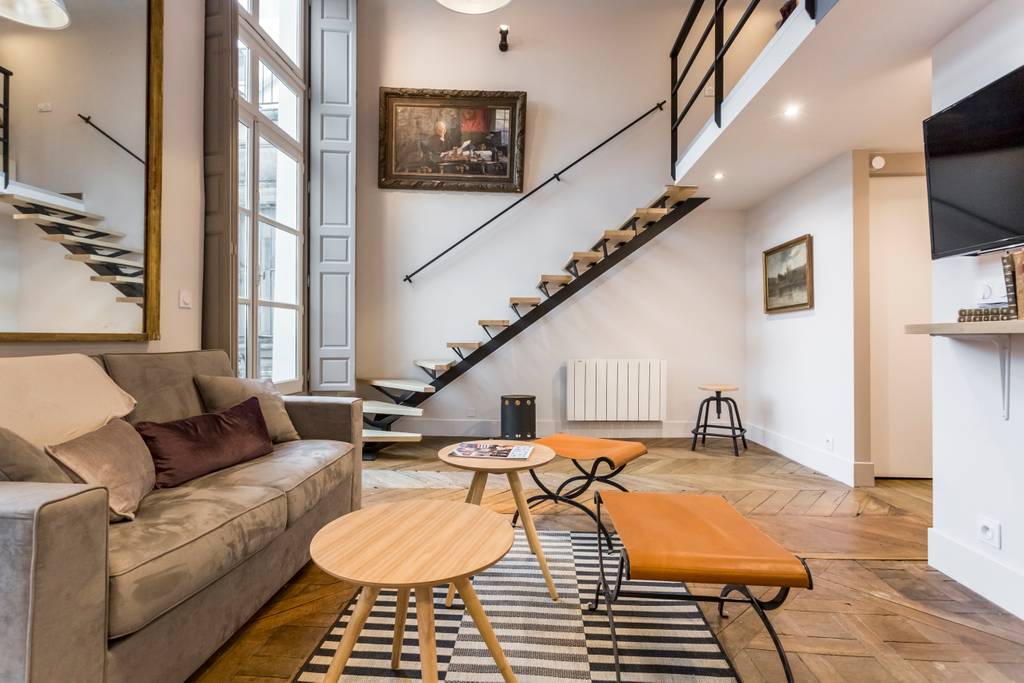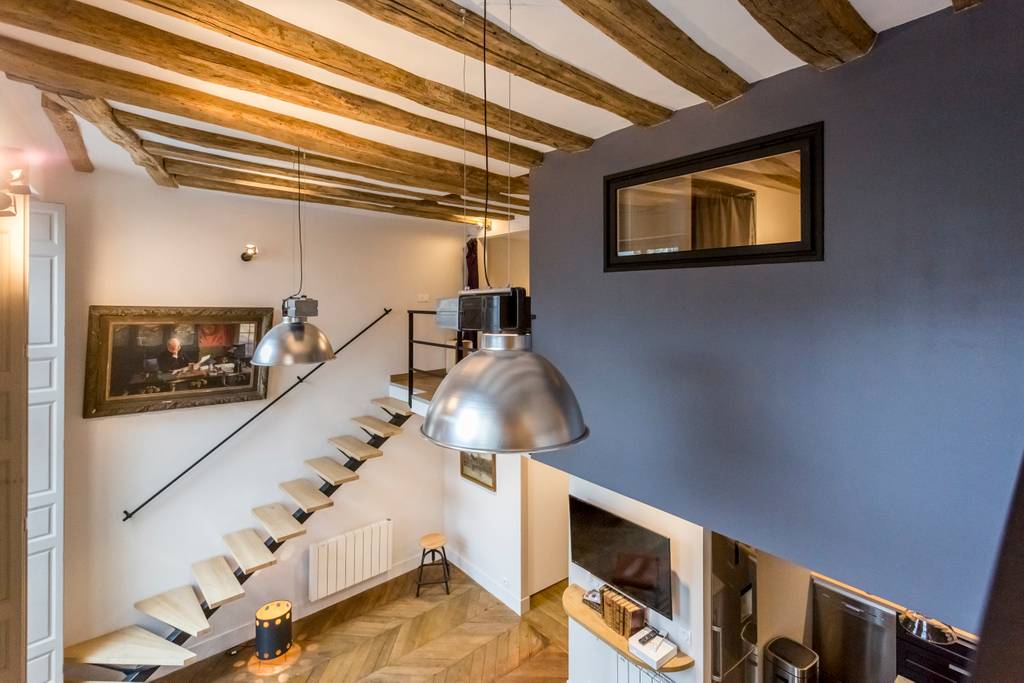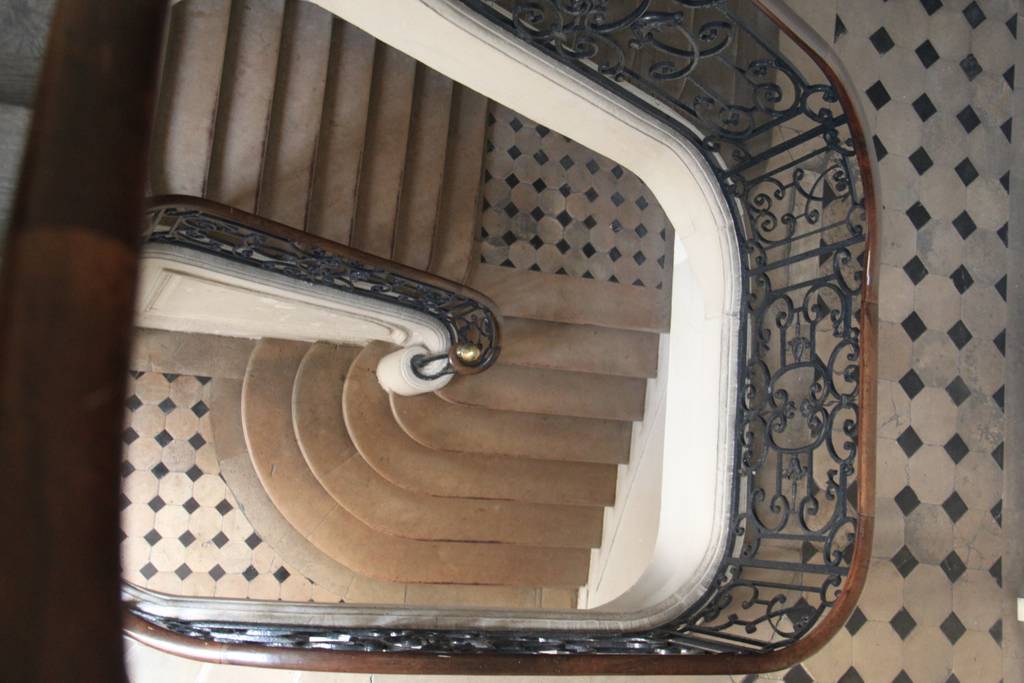 While you may love the idea of staying in a loft, the idea of living like a bohemian might not be all that appealing. For those people, we present this stunning Marais-area duplex.
This two-bedroom, one bath sleeps five, which is a lot more than many loft spaces. Located just between the Musée des Arts et Metiers (or Museum of Arts and Crafts) and the Musée National Picasso, this Paris loft couldn't be more centrally located.
If you stay here, you'll be within walking distance of the remarkable Paris-themed (and free!) Musée Carnavalet, the Hôtel de Ville (Paris's City Hall which hosts many French-themed exhibits, not to mention ice skating in the winter), Le Centre Pompidou (for modern art lovers), the Les Halles shopping center which has just been completely renovated, the breathtakingly stunning Musée Cognacq-Jay, and more shopping than you could ever do in a lifetime.
Of course, if you're feeling up to it, you can always stay home and crack open one of those antique books in the library, too!
6. Classic Artist's Atelier Airbnb – $309 a night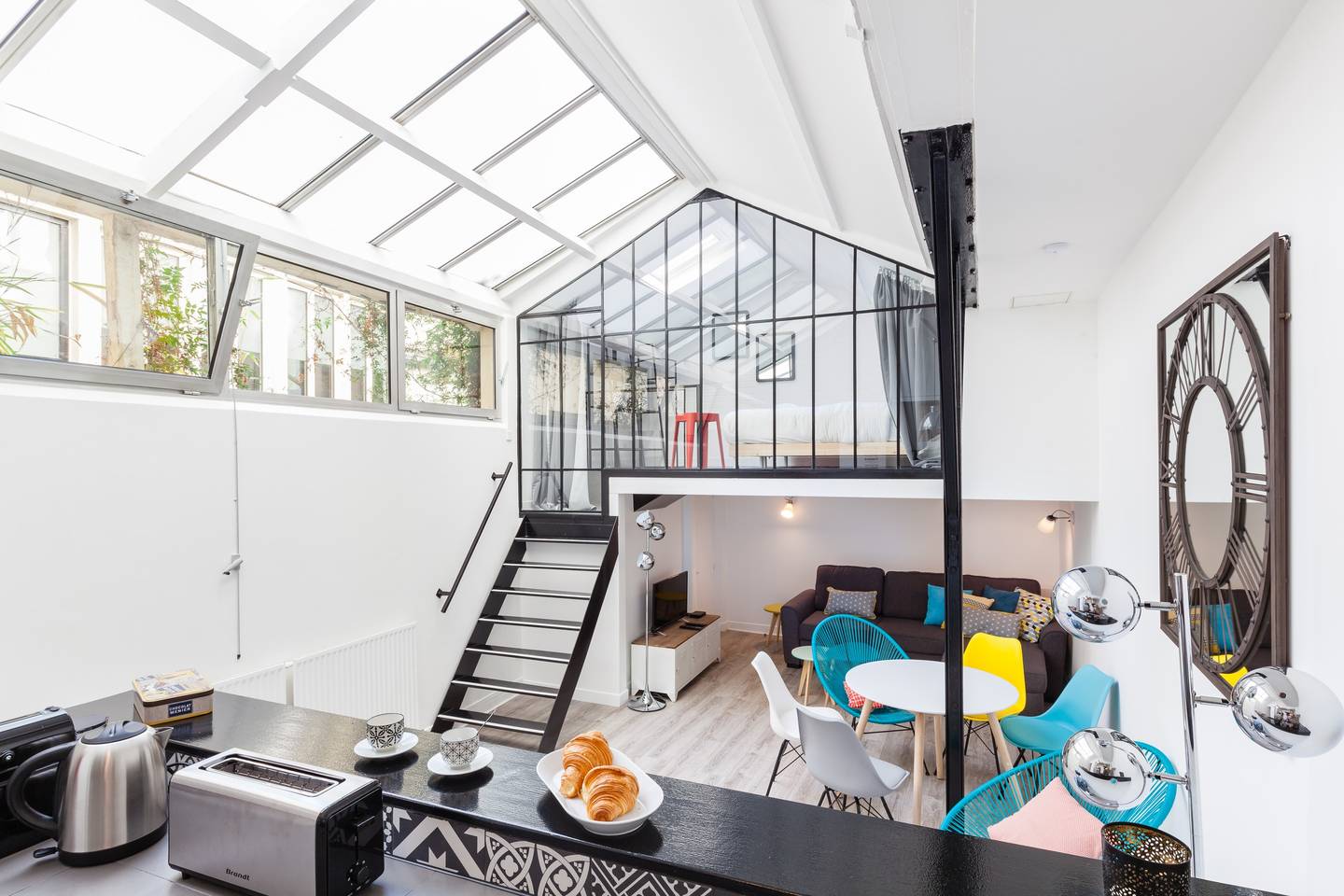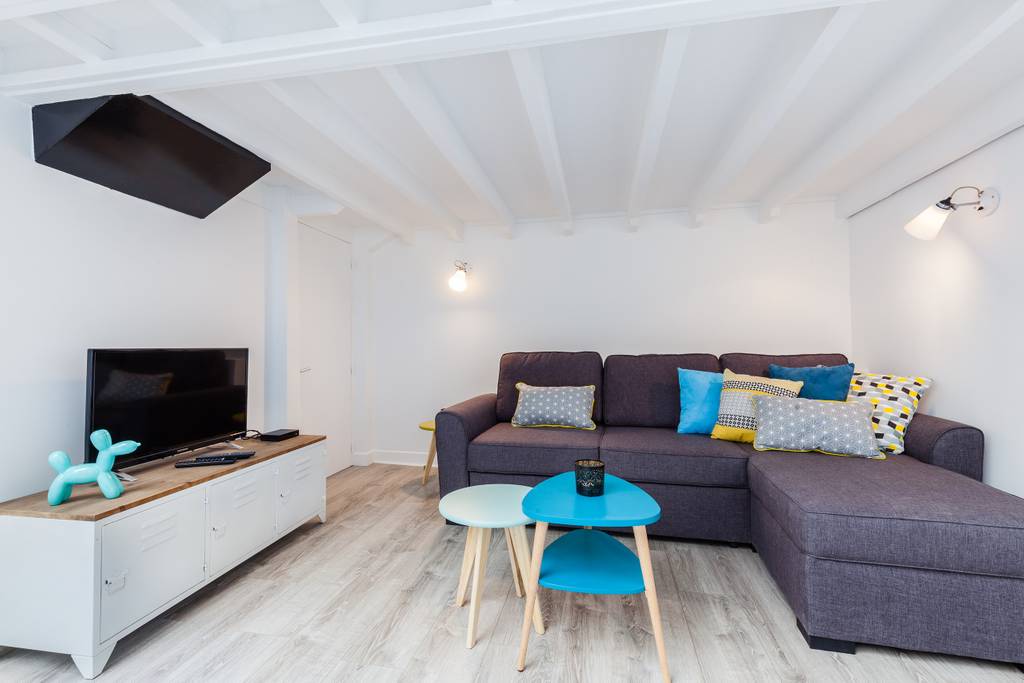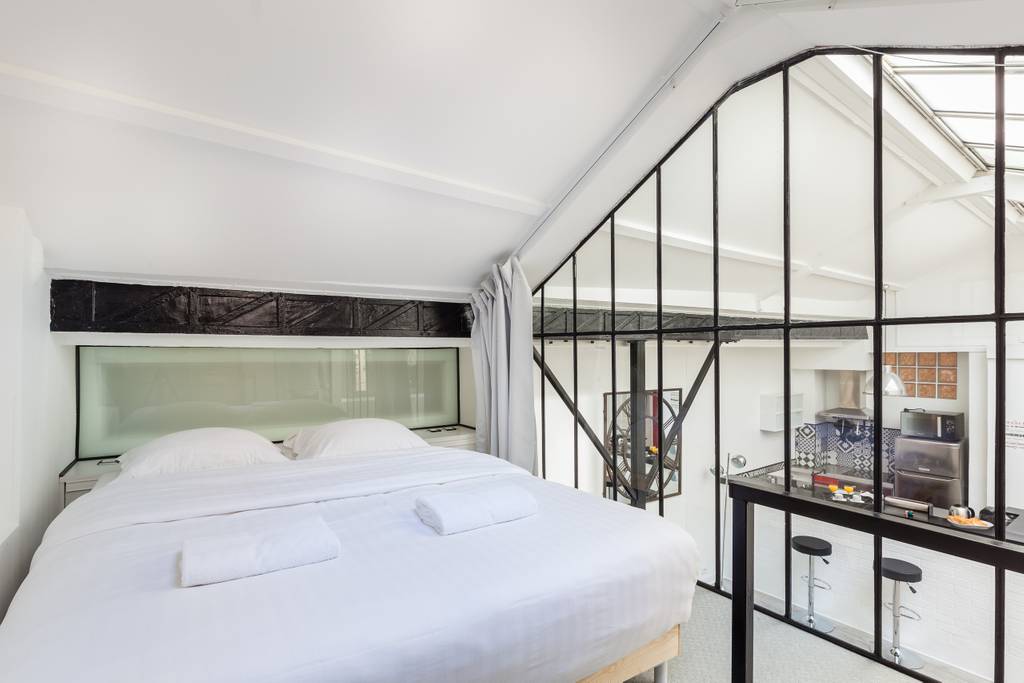 A true former sewing atelier, this Marais-area atelier is so full of natural light you'll be lucky if you don't get a sunburn! Happy and bright, there are multiple skylights that run the length of this Paris apartment not to mention an incredible glass wall that encloses the bedroom.
There are three separate bedrooms, making it a perfect place for a family. You'll be right near the food market, Les Enfants Rouges which is a perfect place to pick up food for dinner (and breakfast and lunch for that matter).
And of course, Place des Vosges is a perfect place to bring kids in Paris!
With tons of lawn, fountains, swings and sandboxes, they'll probably love being there than in the apartment.
You'll also be right near the lesser-visited Musée de la Chasse et de la Nature which is usually a big hit with kids since it's all about animals.
Speaking of that, you'll be just a short trip away from the Muséum National d'Histoire Naturelle which is perfect for kids! Just be sure to book quickly because this place fills up fast!
5. Montorgueil Bargain – $80 a night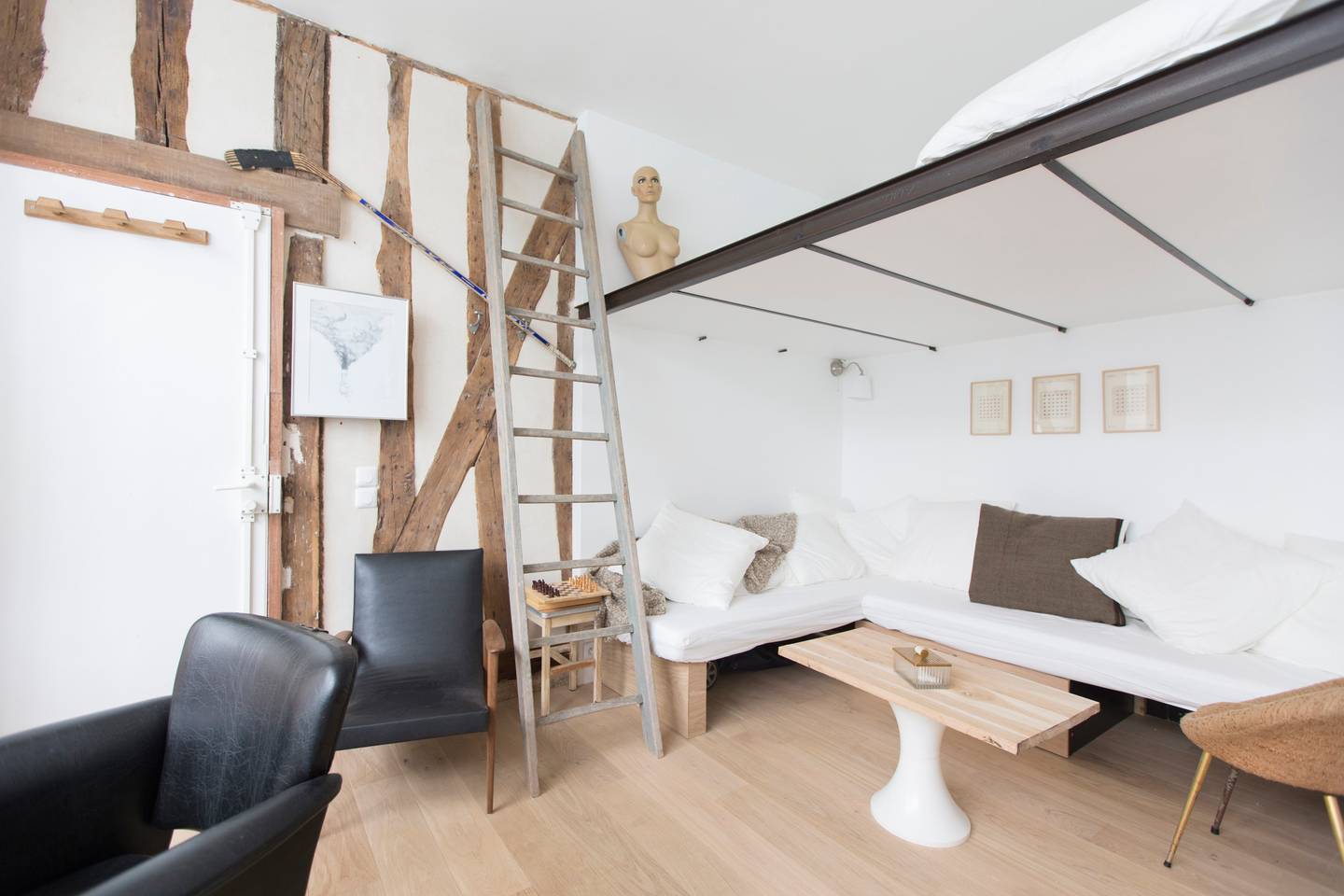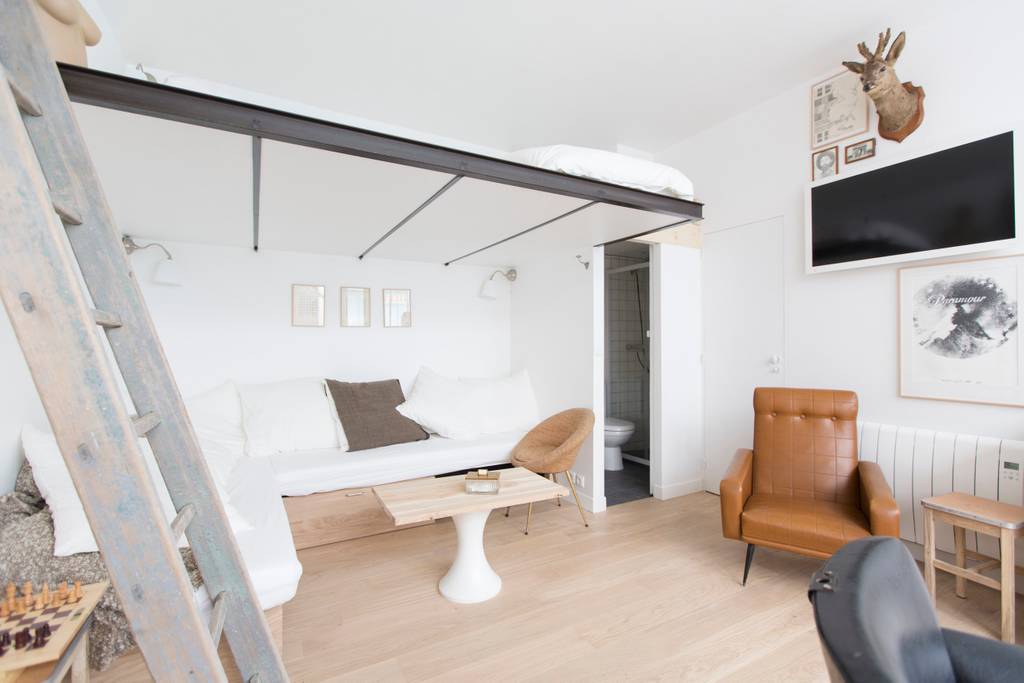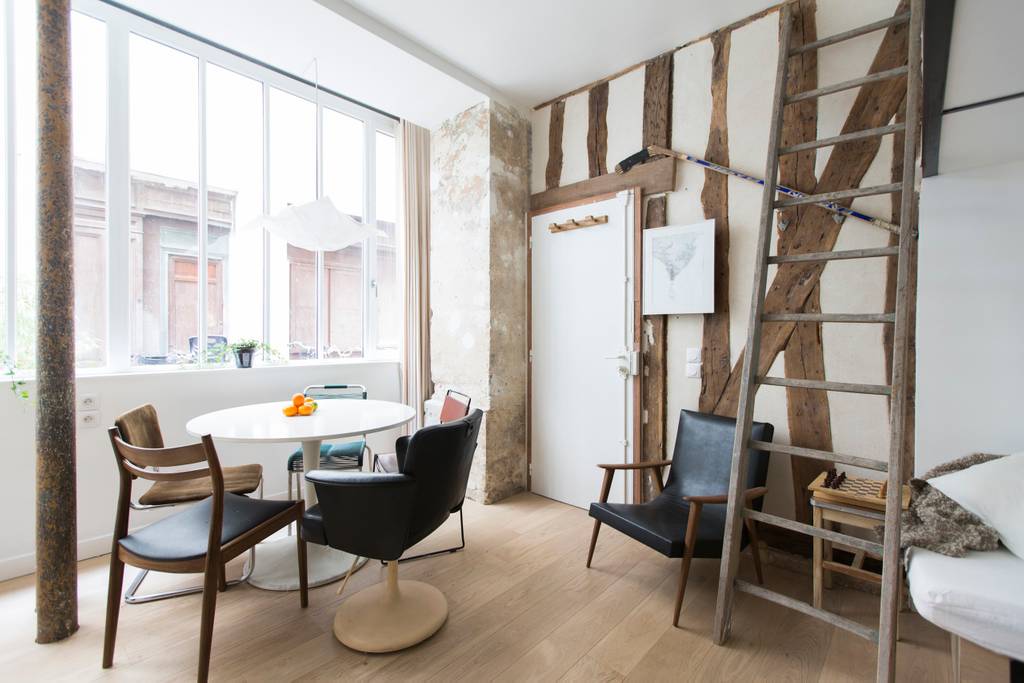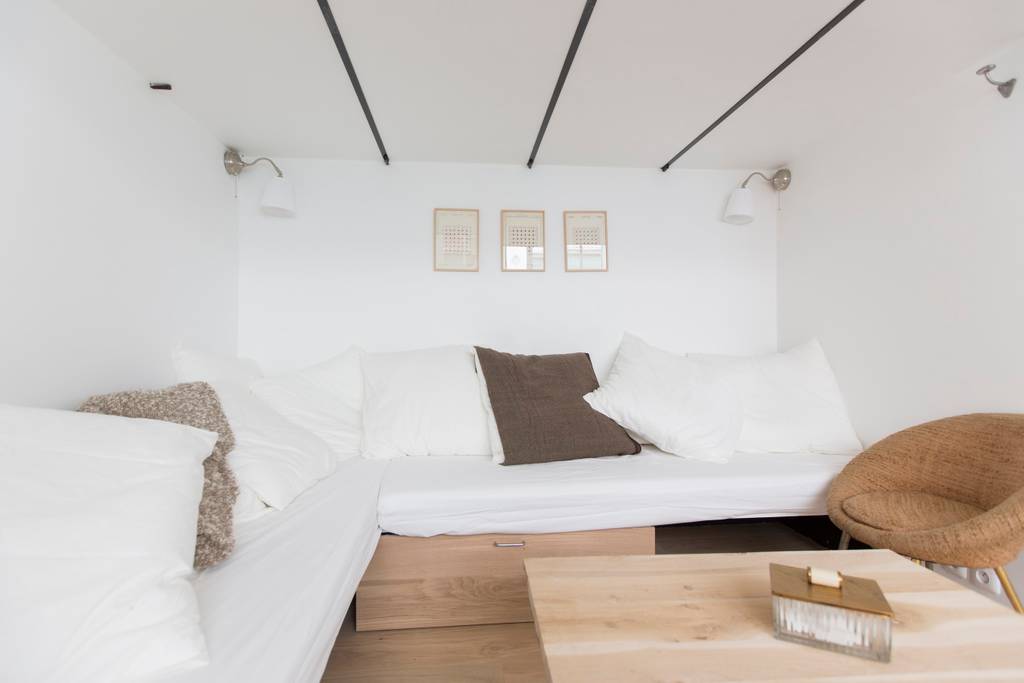 Location, location, location!!! Situated right in the middle of the Montorgueil area this is the place to be if you want to be surrounded by food markets, wine tasting stores, bars, great restaurants and a lot of interesting people.
Serene, this area is not, but it's certainly a lot of fun both day and night.
A minimalist's dream come true, this place is perfect for anyone who's been hit with the Marie Kondo bug. Clean and simple but very modern, there's a minimum of stuff here so if you don't like having to worry about taking care of a lot of stuff, this place is perfect (and at $115 a night a true bargain!).
Although there's only one bedroom, it sleeps five so it's great for families (less stuff makes less breakage!) and has a really cute loft bed that kids will love.
If you do come here with kids, make sure to visit the Jardin du Luxembourg where they can sail toy boats for a few euro and run around all day in the gardens.
Adults will love evening strolls in the nearby Palais Royal. Not only does it come with board games, books, wifi, television, and a washer/dryer, but it also happens to come with unlimited free phone use to 100 countries!
It's just around the corner from a Monoprix (basically France's version of Target), so you're always just steps from a store if you happen to need anything.
The 8 Most Romantic Airbnb Homes in Paris
8 Paris Airbnb Homes with Sick Views of the Eiffel Tower
8 Classic Paris Airbnb Homes That Will Make You Feel Like a True Parisian
4. Bohemia in Bastille – $213 a night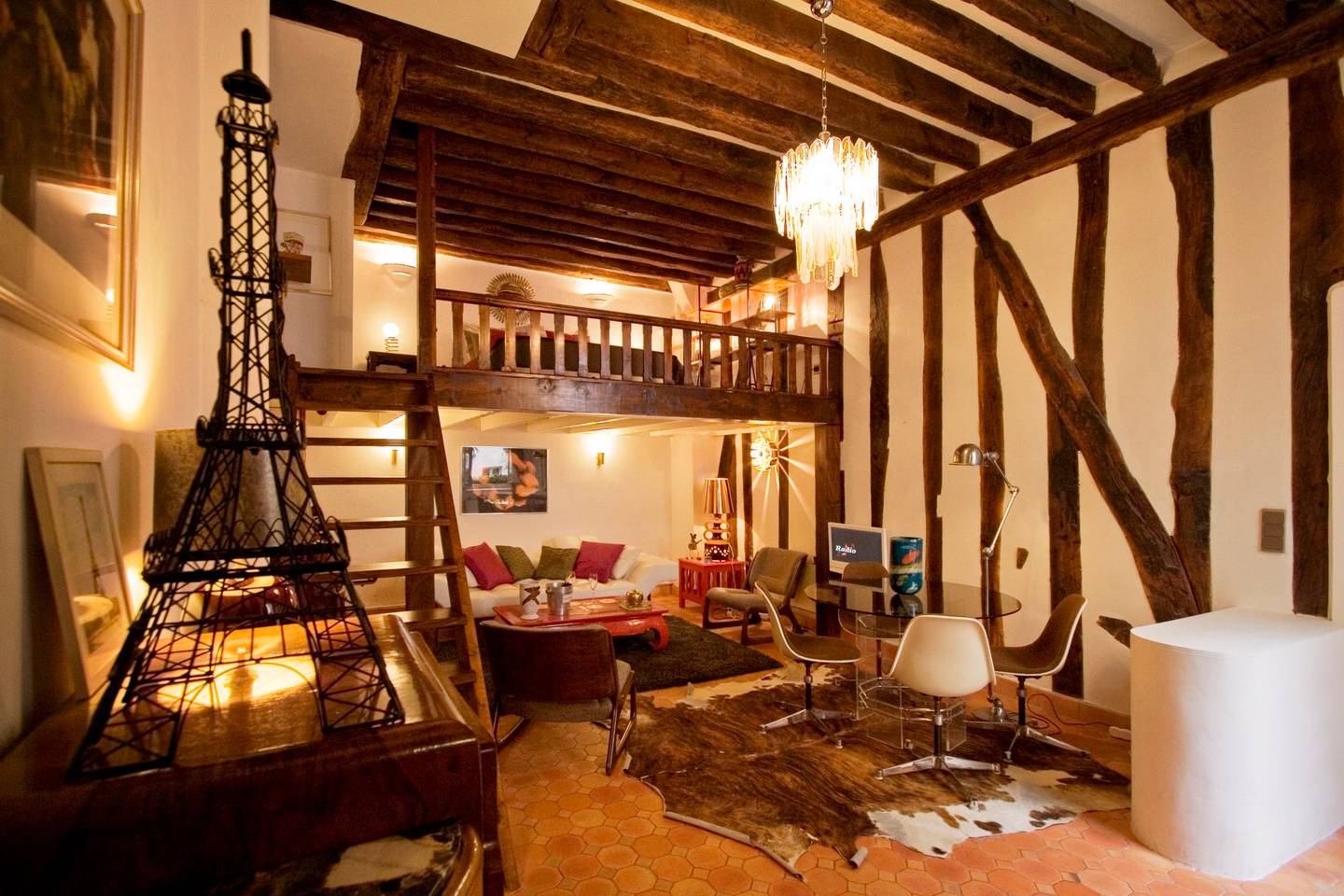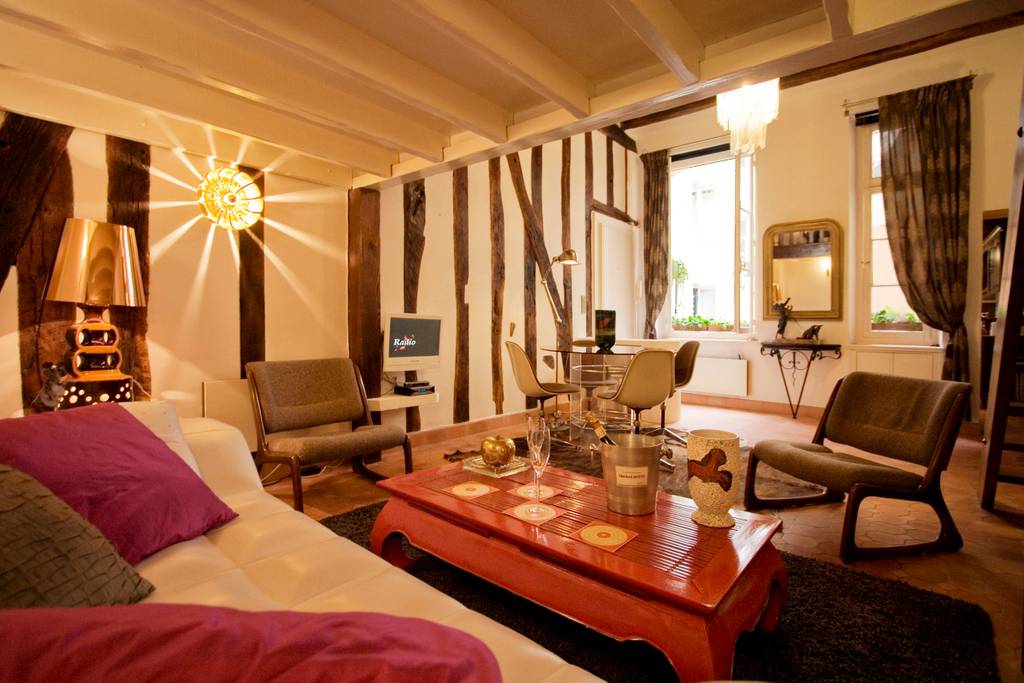 Is it us, or does this seem like where Mr. 24601, Jean Valjean himself would have lived (if he had a steady job and a little disposable income)?
Rustic, authentic, and even located right in the Bastille area where the revolution took place, this eclectic loft space is one of our favorites. With exposed wooden beams, a mix of different furniture styles and an adorable little loft bed, this super-cozy apartment is the perfect place to curl up and read "Les Mis" from cover to cover (and once you're finished you can head over to Victor Hugo's museum on the Place des Vosges).
Set in a building that looks more like it belongs in Normandy than the Bastille, the kitchen in particular will make you feel as if Julia Child is going to walk in any minute.
And have you ever used a hand-held shower head like the one in that bath? At $213 a night, this is a true find!
3. Saint Germain Old World Studio – $161 a night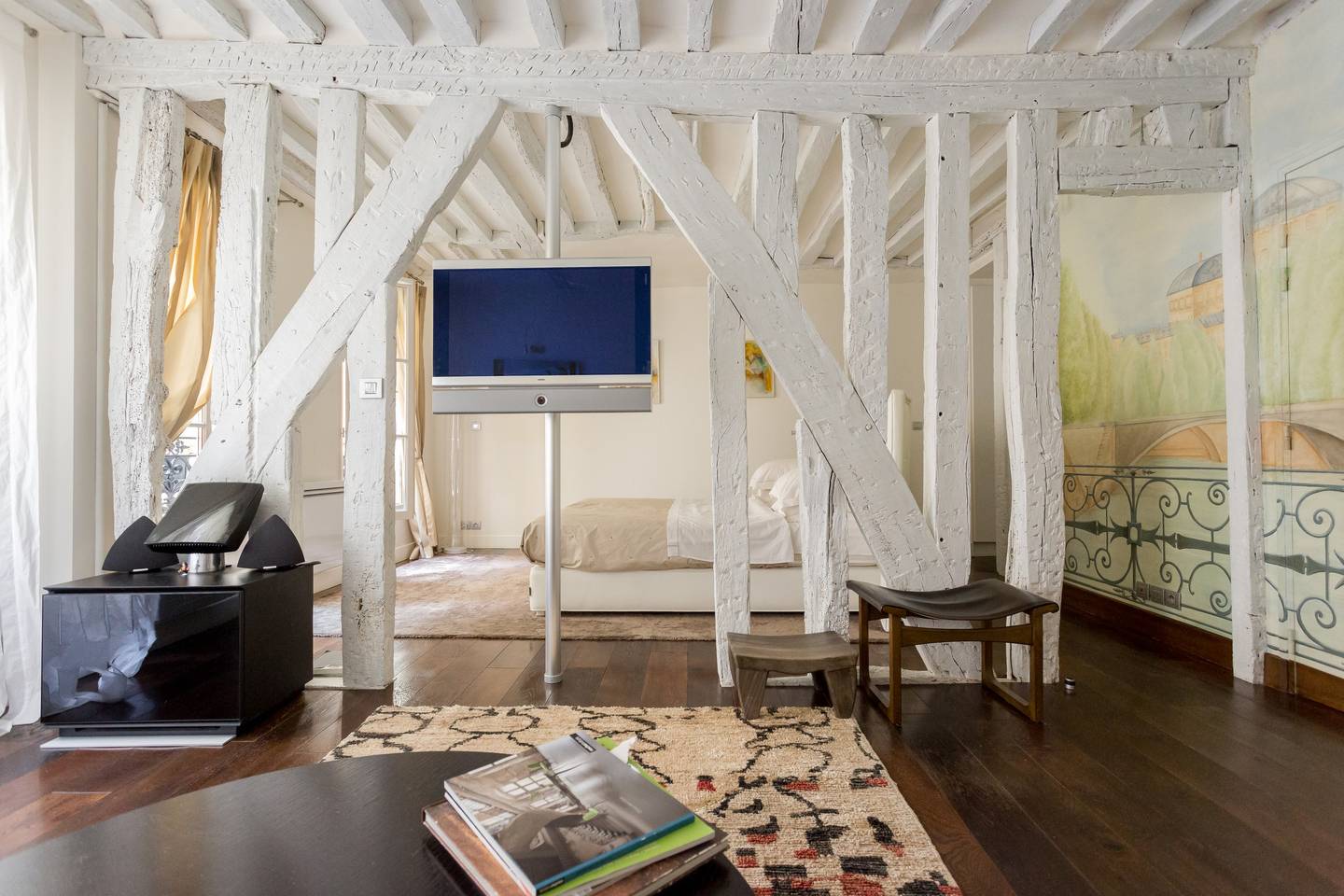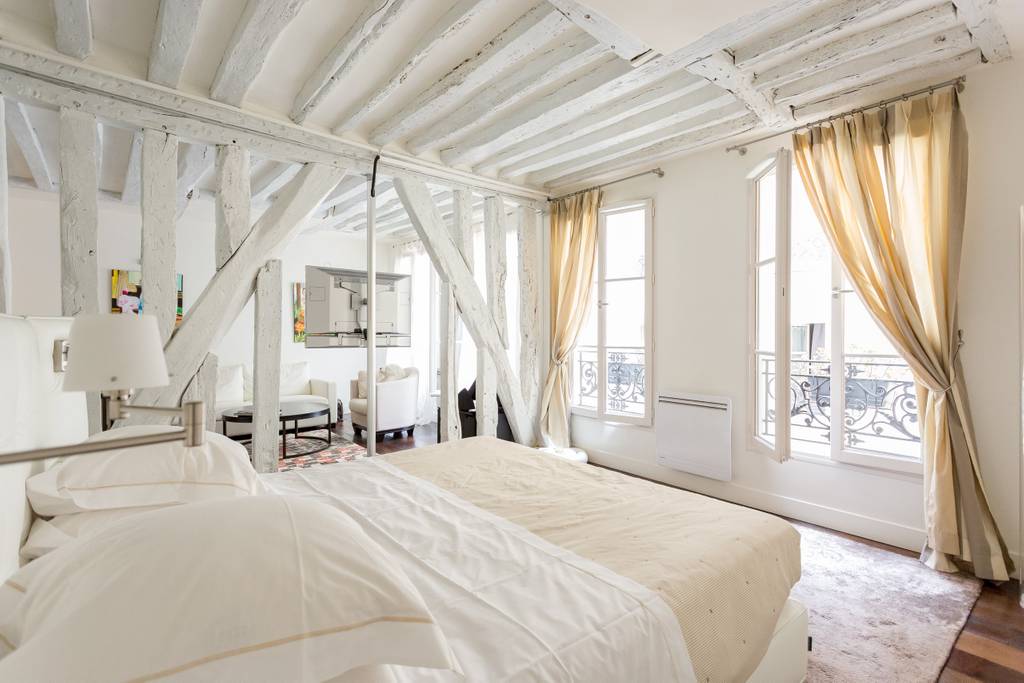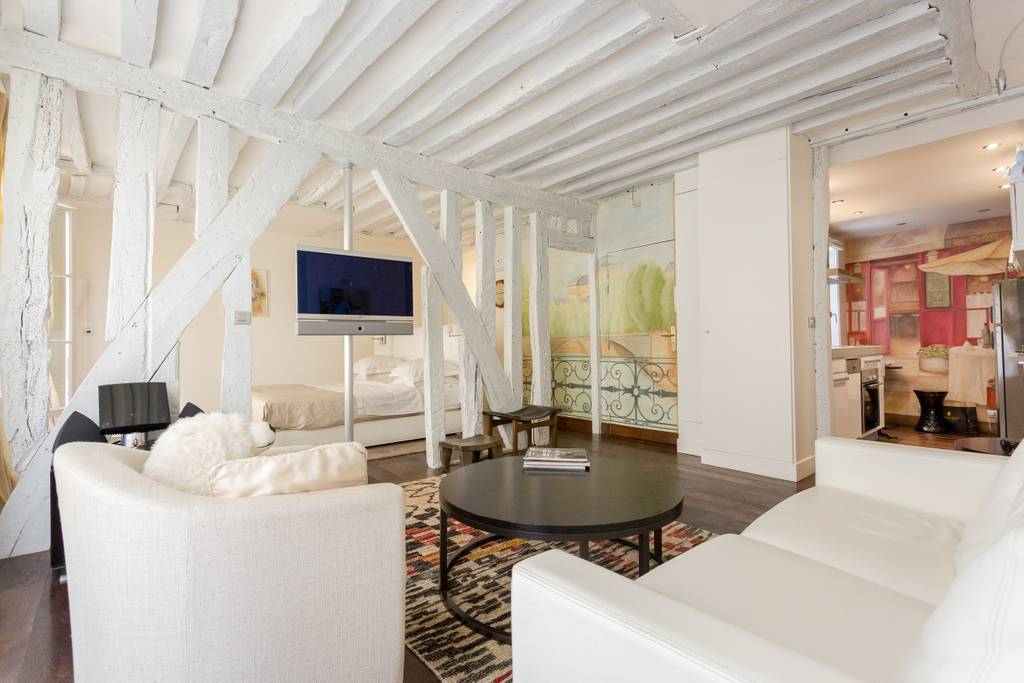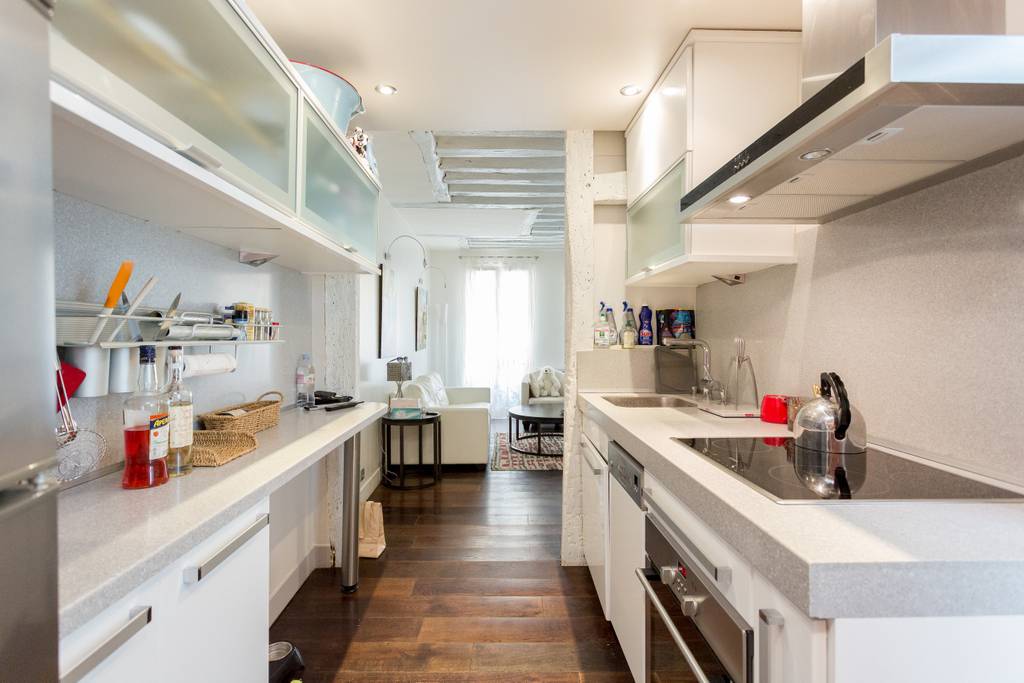 Between the two murals (one town, one country) and the gorgeous white-washed original beams, your Instagram feed is about to blow up.
This apartment, which is in a building that dates from the 17th century, is in a building with a lift which is a big deal if climbing stairs is difficult for you.
While this spotless apartment has everything you need including a fully equipped kitchen and enough space to really move around.
Located in the famous Saint-Germain-des-Près area, this Paris apartment will have you in close proximity to all the great cafés including Café de Flore, Brasserie Lipp, and Les Deux Magots.
It's also very close to the Jardin du Luxembourg as well as insane shopping.
The rue du Bac is just a short walk away as is the rue du Cherche-Midi and the Boulevard Saint Germain itself which hosts the Diptyque candle store and one specialty food store after another.
Speaking of food, you'll want to make sure to stop at Bon Marché, an internationally known department store, the bottom floor of which is one of the most renown food halls in the world.
From the best croissant amande you've ever had in your life to impossible-to-find-anywhere-else cooking products, "La Grande Epicerie," as it's called, is worth a day in and of itself.
You'll be grateful you're coming home to a fully equipped kitchen!
These 8 Paris Airbnb Homes Are On Another Level
8 French Airbnb Homes That Are Legit Castles
These 8 Gorgeous French Châteaux Are Available on Airbnb
2. Baker's Haven Loft – $136 a night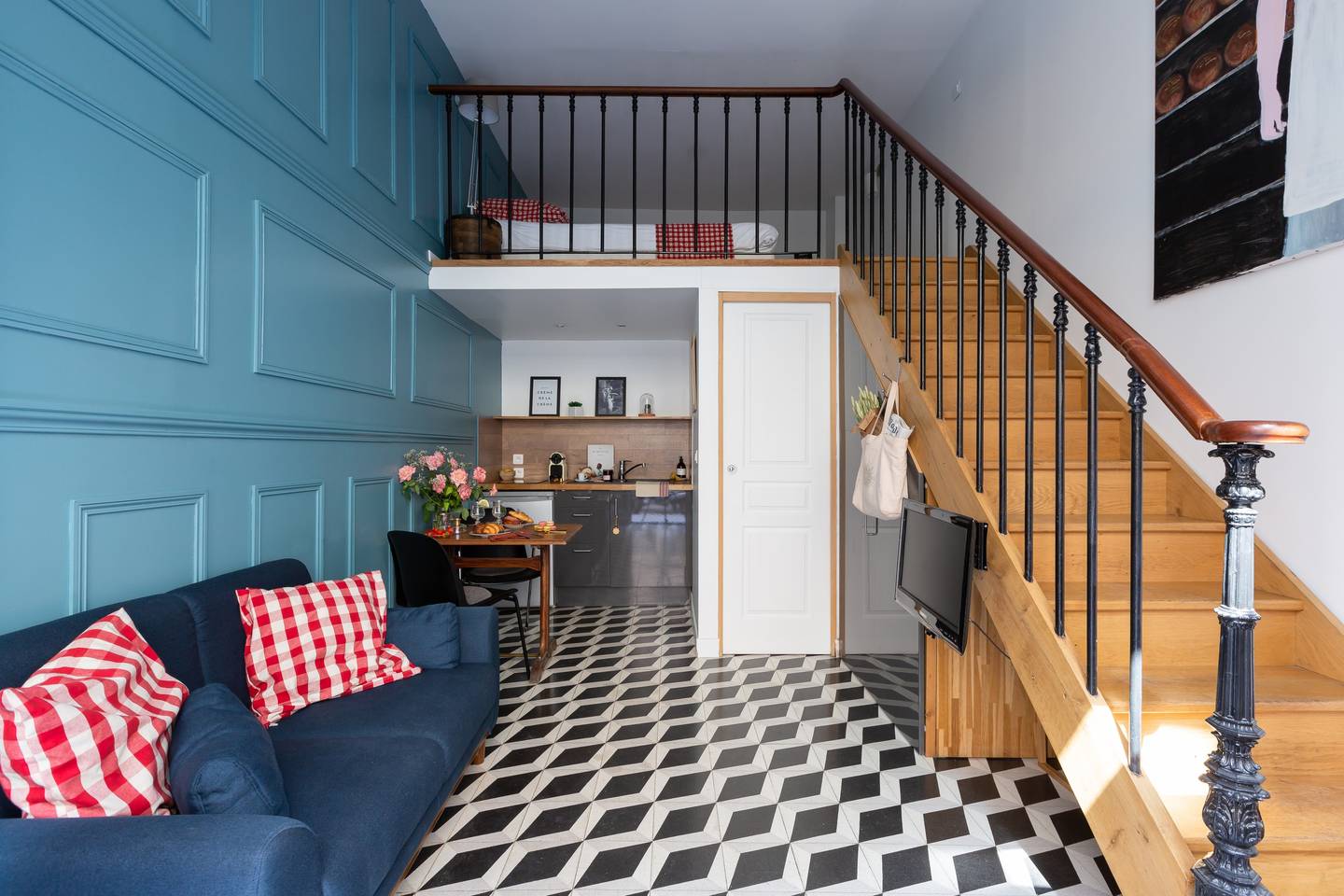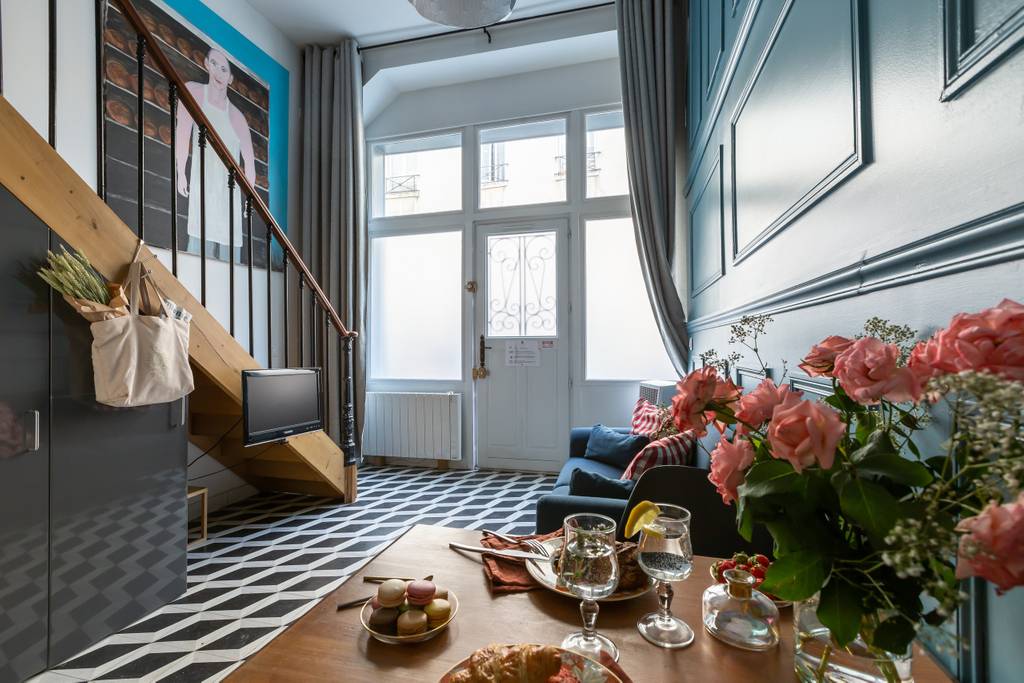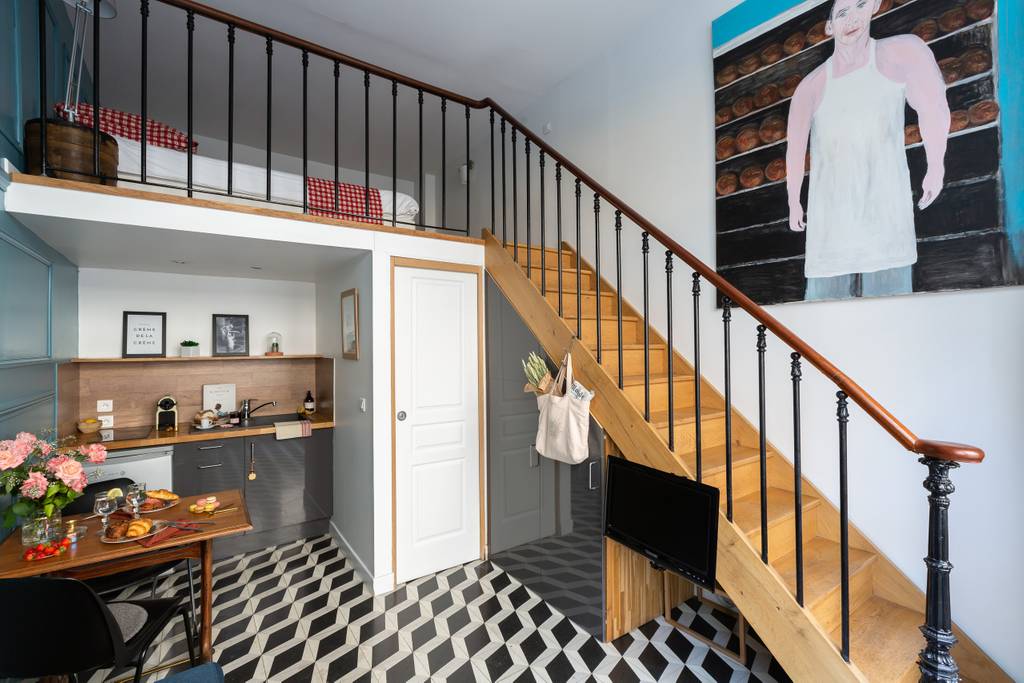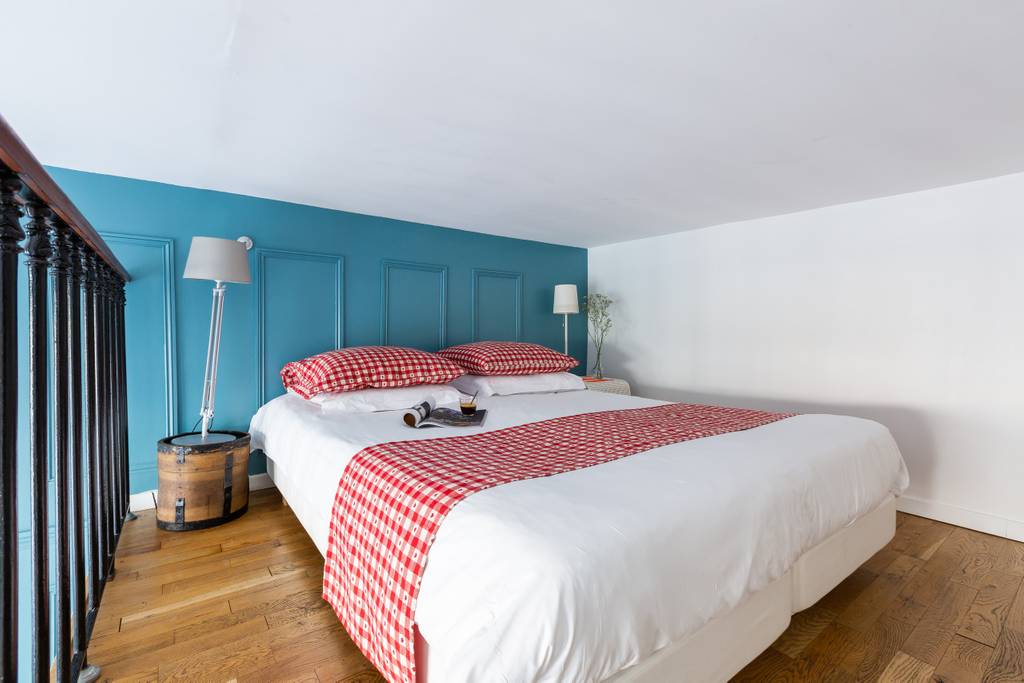 Well, we couldn't find a Paris bakery that will let you stay the night, so we've found the next best thing: a Paris loft that used to be a bakery.
The giant mural of a happy, buff, baker on the wall will have you thinking you can smell croissants and while that may just be in your head, what is completely real is the fact that this cool, romantic and historic one-bedroom loft is just steps from the coveted Marais district.
Within walking distance of the insanely incredible rue Montorgeuil food market street, Paris's Musée du Chocolat, Le Centre Pompidou, the Musée du Louvre, the Jardins des Tuileries and no end of other attractions, both major and minor.
Located on the ground floor, this easily accessible apartment has a charming loft-style bedroom that directly faces the almost floor-to-ceiling windows of this total gem of a flat.
1. Eiffel Tower Luxury Loft – $143 a night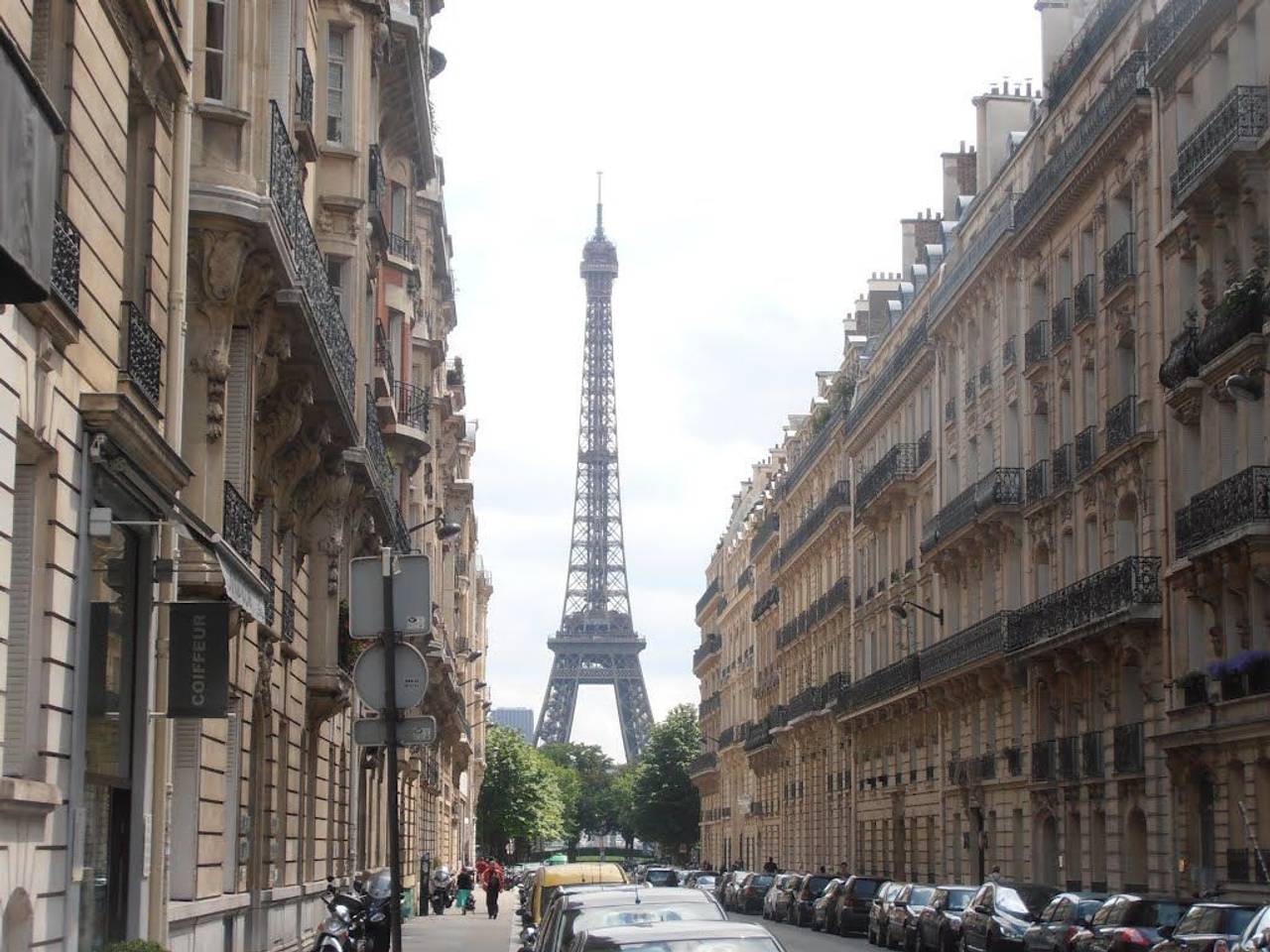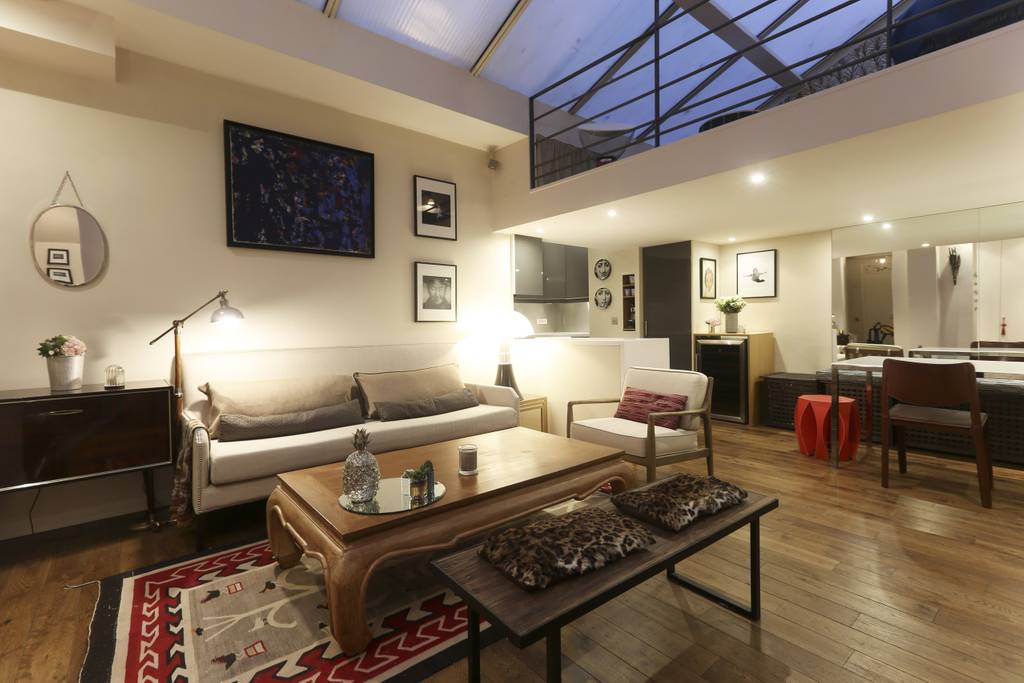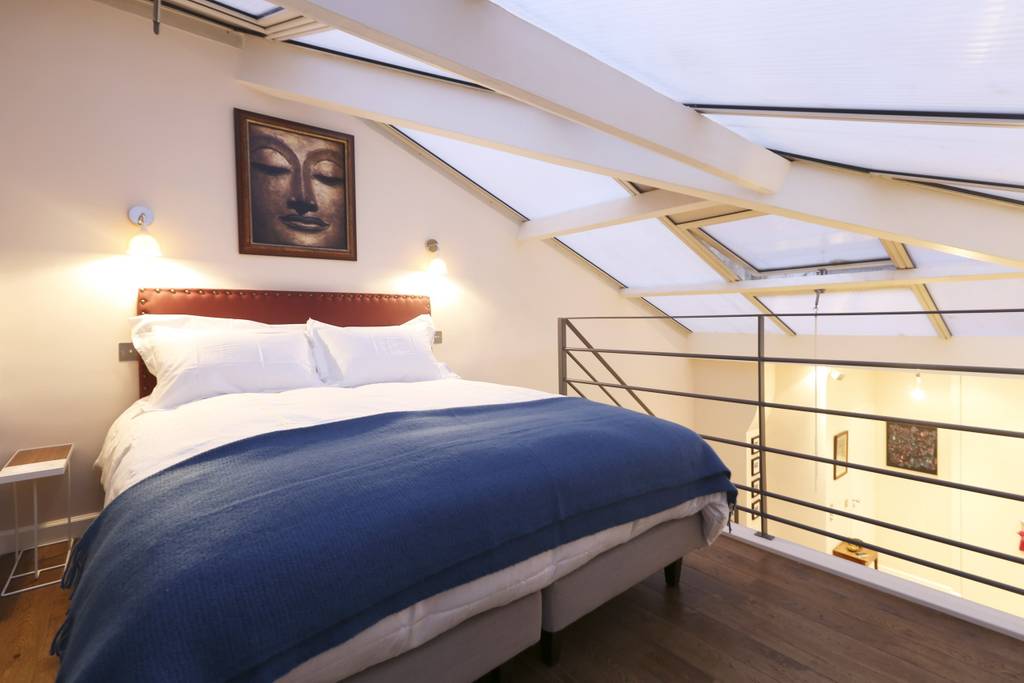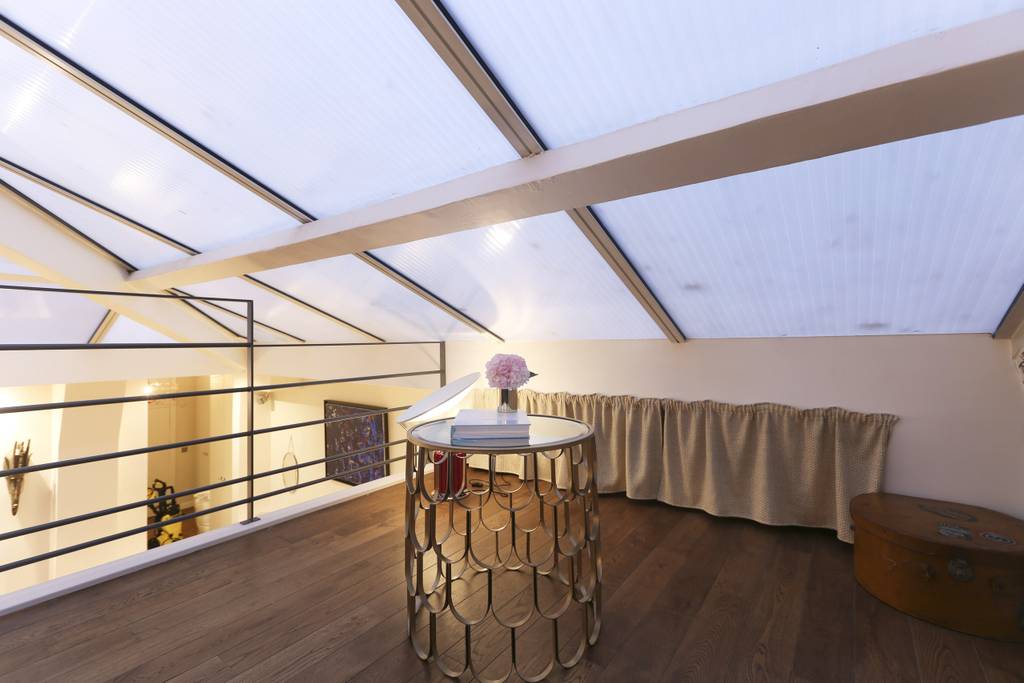 We can only imagine what it's like to stay in this Paris loft on a stormy night when the rain is hitting the skylight and you're curled up in bed, planning how you're going to take the city by storm the next day.
Or what it's like to walk out and immediately see the Eiffel Tower in front of you (which is exactly what will happen). This Trocadéro-area loft was a former photography studio and even though that's not what it's used for now, it's still undeniably picture-perfect.
Outfitted with a huge dressing room and lovely, contemporary furnishings, this apartment which is owned by an interior designer, always looks great (even if they have a tendency to switch up the décor every now and then).
With dozens of luxury accoutrements like a king-sized bed, wine fridge bar, fine linens, and even access to an ironing service if you need one, you can really tell that the owners know how to live well.
Within walking distance of the Eiffel Tower and just two metro stops away from the Champs-Elysées, there is no place you can't be in just a matter of minutes.
Located in an upscale, largely residential neighborhood, this is an especially lovely area in which to stay if you like to take a promenade in the evening. If you can pull yourself away from this oasis, that is.